People often complicate how to find a keyword's competition or use outdated tools that don't give them accurate numbers.
As a result, I'd like to show you a very simple method I personally use.It costs absolutely nothing and anyone can do it. 
This method is called QSR which stands for "Quoted search result". Sounds confusing but it really isn't. Let me explain:
Whenever you want to find the exact competition for your chosen keyword (KW), simple do this:
Step 1: Go to Google
Step 2: Type your KW into quotes! So if my keyword was diets for obesity, I would type it as "diets for obesity" into Google (With quotes!). Then hit search.
Step 3: Now whatever your results, go to the very last page of your results. When you have no more pages, look under the search box at the top. It'll say: Page (whatever your last page) of 212.  The 212 is your KW's exact competition or QSR. 
Step 4: If the  QSR is less than 300 (in this case it is!) then you have a keyword whose competition is low enough for you to reach the first page! 
Video Tutorial:
Text tutorial (with pictures):
1. Type your keyword into quotes:
2. Go to the last page possible for this keyword.
3. Now find your QSR (exact keyword competition)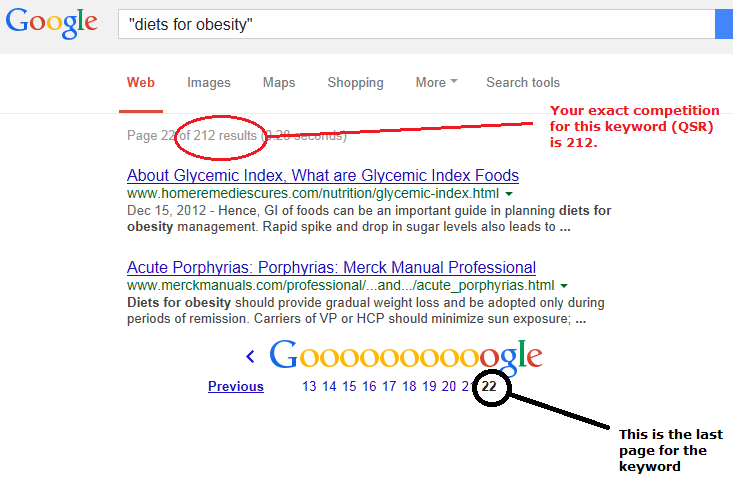 And there you go! A very simple and legitimate way of finding a keyword's competition. I'd like to also add a few very important things:
If the QSR of your keyword is less than 300, you have a good chance of getting to the first page of Google with it.
The less the QSR the better. The best possible QSR is 0.
Generally, the longer your keyword, the less the QSR (99% of the time this is true).
Not every low QSR keyword you find will land you on the first page (right away).
A lot of what determines if you'll make it to the first page is: QSR, content, the age of your site, how many comments it has.

Full tutorial

on this here. 
Not every KW with a low QSR automatically means a lot of traffic. Every keyword is different. In order to find how many people search the keyword, you'll need a keyword tool. I personally use

Jaaxy

. It's very accurate and provides QSR and monthly searches as well as other results. 
Other helpful tips:
If you ever get stuck on which keywords to find, you can try a couple of things:
Put yourself in the shoes of the person typing the keyword. What would they type? How would they type it?
Use Google Instant to get ideas. Each time you type a keyword, Google will display keyword ideas you can use. 
Use a keyword tool such a

s

Jaaxy

to find out just how many people search your keyword.
Finding the exact competition of a keyword isn't difficult at all. Using the QSR approach, you should have no difficulty whatsoever in finding your keyword ever again 🙂
If you have any questions on this tutorial or would like to share your own personal approach to this subject, feel free to leave a comment below! Happy keyword hunting!