This review of Clickbank University is probably unlike any you'll read and this is because:
I was a member (I left because I found better places to teach me how to make money, ironically through Clickbank).

I was actually a top affiliate for Clickbank for 2 years. 
So the review you'll get here is pretty in-depth and honestly, Clickbank University is pretty good, but there's better options.
Quick Report on Clickbank University: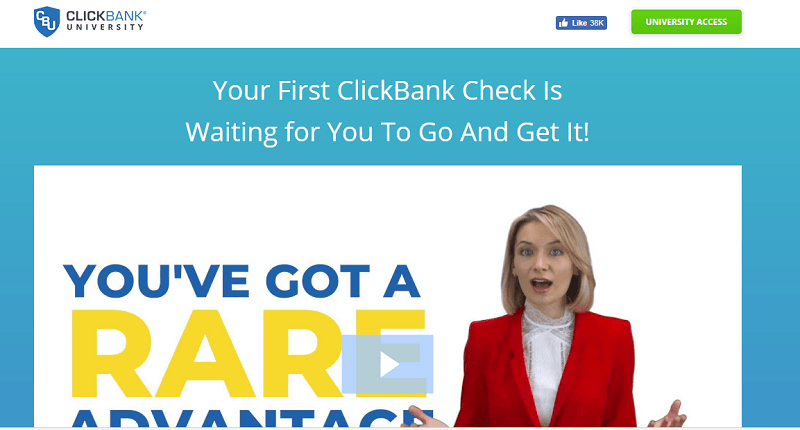 Creator: Clickbank.
Price: $47 a month (as of 2018).
Overall Rating:

5 out of 10 stars

.
I enjoyed going through this program and having personally dealt with this organization and done business with it before, I know for a fact that it's not a scam and is a legitimate place but it does have certain issues that need to be improved upon, including it's support, the level of training it provides and a few other things.
Overall, I like the program and have rated it favorably.
Like I said, there are some parts that I believe could have improvement, but I'll get to all those details in this review. But you should also know this:

Clickbank University in a nutshell:
It is a training program that teaches you how to become a successful vendor and/or affiliate marketer with Clickbank (CB) itself. Training goes over things such as:
Taking your knowledge and turning it into an informational resource to sell on CB.

Creating a website to sell your product through.

How to market your product and have affiliates sell it for you.

Training goes over SEO, PPC, JV's (Joint Ventures), list building.

And more.
A majority of the training within this program is in video format. Some training tools have PDF guides available, but not all. This is a mixed bag if you prefer video training over reading or vice versa.
Additionally there is a community where members can share information, make partnerships, share advice and become acquaintances. There is also an option to communicate with both the support staff of CB University and it's main people, Adam & Justin. The community is growing which is very good.
Overall the amount of information you get within this program is very vast and it is very easy to understand most of it. Beginners to online marketing should have no problem with this program (understanding the lessons and what to do).
My quick success history with Clickbank summarized:
As I've said before, I've done business there and in fact, I've made $500,000 on Clickbank promoting some of their products.
I love this program and that money I made helped me pay for school and enjoy other awesome benefits.
However, while the opportunity to make money came from Clickbank itself, the training I got to actually achieve those results came from elsewhere.
The training I received came from a program called Wealthy Affiliate, and it taught me the key ways to make money online as an affiliate marketer, which I applied to promoting stuff on Clickbank.
To this day, I still promote products from that place and as long as they keep evolving, I'll keep promoting what they have inside.
But I have to say that if you wish to have success with Clickbank or promoting anything online, the very same Wealthy Affiliate program I suggested is the best choice to learn how to do this too:
The real purpose of Clickbank University: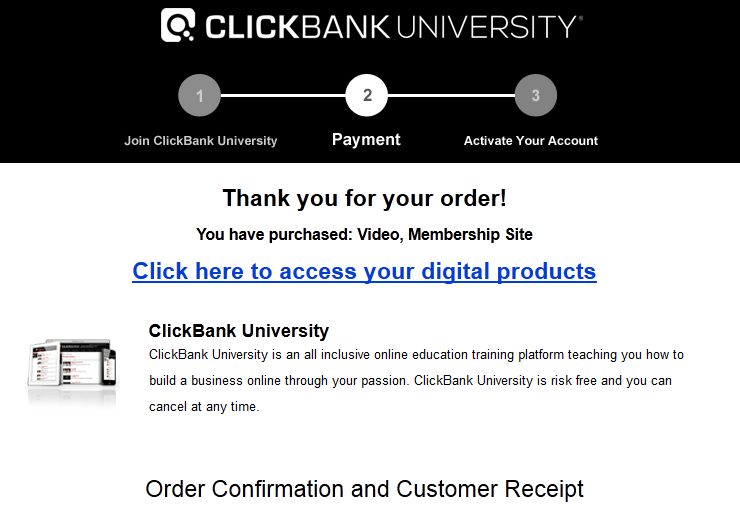 So just to show proof that I did join this place, I've included a receipt to the right:
But to the point (purpose), I believe CB wants to have more affiliates promote it's products so they in turn can make more money, but the good news is that with the very favorable commission rates there, it's a win-win.
You see, CB University is a part of Clickbank itself, which is a business where people who have products to sell (Vendors) can have affiliates (middlemen) sell those products for them. Clickbank is the business which connects these 2 groups together and keeps a small portion of the profits made by both parties. This is how they make money.
The benefit of Clickbank is that it usually has very high commissions being offered to promote products. Their customer service is good, their support is excellent and the opportunity within this program certainly does exist.
I've personally been doing business with them as a vendor & affiliate for a number of years. They are always polite, pay people on time and answer questions promptly.
Here are things Clickbank University can improve upon:
No program is perfect, and frankly, not even Wealthy Affiliate, my top rated program is either (although it gets closer and closer every time), but regarding Clickbank specifically, here are a few things I though could use improving:
1) There are a lot of products within CB that I would personally consider low quality.
Those products have a high percentage of refunds. In fact, I've reviewed a few of them on this site and called Clickbank out on it for that. Now this isn't a reflection of Clickbank itself, but rather the sleazy independent vendor who wanted to join CB and make money with them.
What is good in regards to this con is that CB is making improvements to their service. Currently they rank products on certain measurements which does sort of "filter out" the bad programs. But still, I have found that they let too many low quality products in and they need to make better filters. 
2) One "complaint" I have is that much of the training within the program is very broad and could be a lot more developed.
For example they offer you some great ideas whether as being an affiliate marketer or vendor, but at the same time, they don't offer a lot of these ideas of don't explain other various ways to succeed within the field. 
It's sort of like they give you a plan A and in some cases a plan B approach to certain things, but what happens if that's not for you or there's no ways to. I really believe they need to offer more in-depth training on things like:
SEO

The importance of

keywords

and how to find them.

More overall methods to generate sales as an affiliate/vendor.
I know from experience with CB that they are working to constantly add/improve their business so I'm almost certain that this will be done sometime. Regardless, the main purpose of Clickbank University is as I said earlier to help you become successful with CB itself whether as an affiliate or vendor and I do believe it works.
Inside the members area of Clickbank University:
Here is a screenshot of what you'll see when you enter this place:
Now let me give you a summary of each place:
Home: You get a welcome message and are told where to go and what to do next.
Orientation: Helps you set up a profile as a member of Clickbank University. You also get some good starting tips.
Site Builder: Currently it's in the process of being finished so it's not up yet but this feature will help you build sales pages very quickly if you are going to be a vendor for Clickbank.
Beginners: 8 courses, each 1 week long that walk you in a step-by-step way on how to become a vendor on CB. You will basically learn how to take a passion/hobby, find your niche, make a sales page out of it and market it on CB. Most of the training within this area are done in videos.
Advanced: Gives you more lessons on being a successful vendor with Clickbank. 
Affiliates: Teaches you how to become a successful affiliate with CB. You learn how to do list building, PPC & SEO advice is given in addition to social network marketing tips. On this part, I didn't really agree with what they said about SEO. They were giving a short video talking about the benefits of doing backlinking. 
There are many ways to do backlinking, good & bad. What they explained was OK, but I just believe there are much better ways to do SEO. My only issue with this part was that some of the training isn't exactly "complete". I think it could use more work and I'm sure they'll be making improvements soon.
Live Classes: Just as the name suggests, you get to see classes hosted by CB elites where they share tips. There's also recordings of previous classes also available. When I looked, there were only 2 recordings. This is because they are still new. 
University Talks: It's actually similar to the Live Classes feature as Adam & Justin talk to you about their experiences online here.
Done for you: They say they'll build a website for you based on your interest and help you set it up. There is no set price for this offer which is technically a good thing. You basically select how much you're willing to spend on this. This will range from $500-$10,000. 
On a personal note, I strongly feel there's no need to use any king of done for you type services as you can do this on your own. As long as you have proper guidance, you can become very successful without investing a lot of money to have someone do it for you. Plus you're also in full control if you do it on your own. 
Community: Basically a forum type feature where you get to communicate, introduce and partner up with people who are also members of CB University. You can share information, creating JV's and more. It's a good feature of the program as it helps people support and guide one another.
Pros:
Very much oriented to newbies.

A community option available to communicate with fellow members.

Ability to rate training and ask questions of support on each lesson.

Good support from what I've seen.

Training ranges from all sorts of important aspects of online marketing: PPC, SEO, Vendor/Affiliate, List Building & more.

Originally it was priced at $97/month, but now it's $47/month. Learn more. 

There are many benefits of doing business with with CB as a vendor or affiliate.

Clickbank itself is an honest company with great support.
Cons:
Some of the training could be improved upon by adding more options and tutorials.

I feel there could be better details on some of the lessons as a few felt a little too broad for me.

Final Rating: Clickbank University

Green Light (It's legit!)
5 out of 10 stars. Good overall program, legitimate and a FAR second to my #1 recommendation Wealthy Affiliate. 
Final thoughts:
I really liked Clickbank University. It is NOT a scam and has good training. I did learn a lot of new things.
What I do know about Clickbank from my experience with them in the past is that they are an honest company and are striving to achieve betterment of themselves so the cons that I did notice within the program are things I'm sure they are working to improve upon. 
That being said, I still believe that Wealthy Affiliate is far better in terms of price, support and training (and all the freebies like 2 websites):

But in spite of all that, CB University is still a program I would definitely recommend to anyone (as a second alternative) who is either getting started in internet marketing, wanting to take their passion to the world and do business. There are MANY benefits of having an online business whether as a vendor or affiliate and it doesn't have the same red tape you'd encounter in the offline world. 
If you have any questions about this program, please let me know and I will be more than happy to answer it :). I hope this review has been helpful to you.
Update: 5/27/18: 2 reasons why my top pick beats Clickbank University:
So ever since I first reviewed CB University, and said it was second to my top pick, a lot of things have changed:
1) CB University has evolved a bit since the last time I covered it. It offers more valuable stuff now in terms of training.
2) But in terms of evolution, my #1 recommendation has evolved too, and by a lot I must say. It now holds over a million members, has even more training to offer and people can check it out for free. 
Overall the original gap between the 2 programs that I mentioned has actually widened a bit. While CB University is good and has evolved, it has not evolved as much as my #1 recommendation has. 
I upgraded my rating of CB University from 6 out of 10 stars to 7 out of 10.
But I also upgraded my #1 recommendation, Wealthy Affiliate, from 9 out of 10 stars, to a perfect 10 out of 10. That's how good it's gotten. 
While I like both programs, I can tell you that Wealthy Affiliate will give you better training, more tools and a bigger community to get support from, including access to professionals like myself who work online full time. Learn more about Wealthy Affiliate.
And as I said before, you can actually use the training inside Wealthy Affiliate to promote Clickbank products. The beauty of this is that the training itself there is very open ended so you can choose to promote CB products, Amazon products, or any other affiliate network you wish to do business with, the system works all around and like I've said before, using the training inside Wealthy Affiliate, I've promoted numerous Clickbank products, with amazing success over the years.