I've heard a lot of craze about Coffee Shop Millionaire and want to clarify if it's really legit.
Though I've never purchased this
program, I did take a look at their main homepage, watched the entire sale's video, questioned both current/former members and wasn't very surprised by what I heard or saw.
One thing's for sure, if you're looking to get an unbiased review of this program, you've come to the right place.
What exactly is Coffee Shop Millionaire (CSM)? 
This is a program developed by Anthony Trister, who I would like to say is an incredibly good salesman after watching his video presentation of CSM.
Fortunately to those who understand online marketing, they can quickly spot any red flags which I happened to do so (full details on the final thoughts section below) and that's exactly what I did and saw when I visited the page.
In a nutshell, Coffee Shop Millionaire is basically a program which teaches you how to make money online, by either choosing a niche product and/or promoting Coffee Shop Millionaire itself to other people. The way it teaches you to do this is through their training.
What sort of training does Coffee Shop Millionaire provide you?
There are 12 training modules which go over basically everything online marketing related. Here are some of the modules:
4 Cash Machines: Local, article, video, newsletter (all dealing with email marketing).

Million dollar launch.

Video Cash Machine.

Skillset videos.

$21,000 system.

Ezine article submission.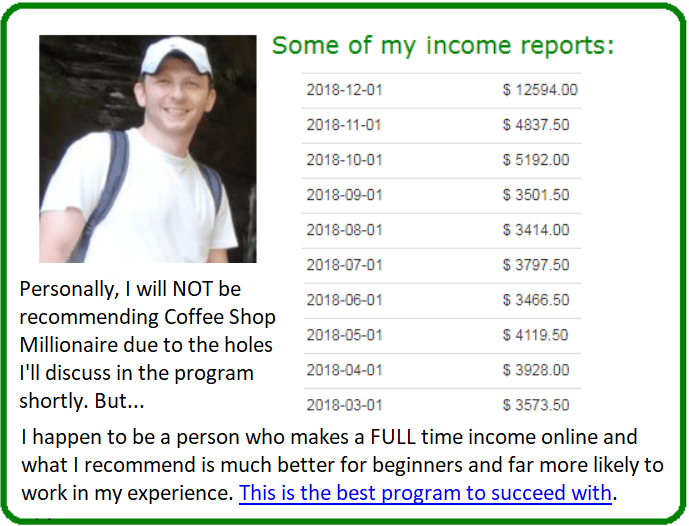 A review of Coffee Shop Millionaire's training modules:
Much of these modules extensively go over things such as Email marketing, SEO, local marketing, ect…
However one thing to note is that the training itself in many areas is outdated such as Ezine article submission being that article directories no longer hold the same page rank prestige they once did.
Additionally much of the other training is quite vague when it comes to actually going in-depth on what you need to do. This may and will most likely present a MAJOR problem for people who are new to internet marketing since most of the techniques and training is geared towards more experienced users.
I would like to point out that Anthony in his sale's video suggests that the newer you are to internet marketing, the easier it will be to work with this system. This is mostly false from my research.
There are forums available for each module where people can post questions, but as for general support, there is hardly any when it comes to this program. This presents another issue that I take seriously. Support is a key factor, especially in this business as many times people can and will get lost when starting.
Though Coffee Shop Millionaire promises support and you can email/call them, I have read from reliable sources & former members that many questions go unanswered.
Finally, one thing you will have to endure upon joining this program is the up sells. Many programs utilize this "shady" approach to marketing by offering you a glamorous sale's page, promising a lot for very little, and upon getting you to join, immediately bombard you with up-sells.
In Coffee Shop Millionaire's case, the up sell is: 
Six Figure Secrets Club:
Costs $297. This offer is given before you even gain access to the members area. It's an 8 week training course where you are shown how to create a $100,000 yearly using a system provided to you.
Supposedly some people who claim to be current/former members complain about being called up by other companies and constantly being sold other up sells once they sign up to Coffee Shop Millionaire. Whether this is true or not is something I cannot verify, but if you're reading this now and you know about this, please share it below.
Pros:
You can make some money with this program.

The training you get is pretty average.

Anthony is up front about how much you make varying and there being no guarantees.
Cons:
You're promised free access in the presentation video to the training. But after you finish, you are asked to pay $37/month.

Contrary to what the sale's video claims, you will need internet marketing experience to understand & make money with this.

Several very expensive up sells once you join.

Much of the training is very difficult for beginners to understand.

Much of the training is outdated and may not work in today's online marketing world.

Most positive reviews of this program come from affiliates who are trying to promote CSM, making it difficult to get an unbiased perspective.
 Final Rating: Coffee Shop Millionaire.

Yellow Flag
3 out of 10 Stars: Too much hype, up sells, outdated training and shady business tactics. Not recommended.
Final Thoughts: Some key things you need to know about Coffee Shop Millionaire:
I mentioned in the beginning of this review that I was not a member of this program and after watching their sale's video I knew I made the right decision. Here's what you need to know:
Anthony is a brilliant sale's man. In his 15 minute video, he basically sells you his product in a way that removes any doubt in your mind. However, being in this business for 15 years, I know how to spot online scams and/or illegitimate programs.
Here are some questionable things I noticed with Coffee Shop Millionaire:
1) The promise that he would give you the system for free.
This is absolutely not true. I tried to sign up, but was then asked to pay $37. Though there is a 60 day money back guarantee, this doesn't change the fact that there was no free system access. I also know in these types of companies, these small prices are "Gateways" to up-sells, which as it turns out was the case. Most companies actually do this BS.
Few are legitimate. Here is the top one I recommend called Wealthy Affiliate.
2) The video uses the time sensitive sale's approach.
Anthony mentions how this system is so popular that he is worried about 1 bad apple using it the wrong way and may not have this page up for long. If you ever see this kind of "Act now or it'll be too late" tactic, don't fall for it.
3) He uses the "Go ahead leave" method:
A clever marketing tactic to create spite and trust from this man. In the context of CSM, he basically says, "Go ahead and leave if you want to continue being normal". If you ever encounter things like this, be very careful.
4) I constantly heard him say "I'll show you the EXACT steps in this video". Did he ever show them?
No. I watched the entire video, nearly fell asleep and the only thing close to him explaining the steps was him saying to use his system to generate sales. That's it. If a sale's video never actually backs up their promises, that's a red flag right there. Webinar scams do this a lot too.
5) All he does is brags about his sales.
As I said before he never actually shows how his system works. He just shows how much he's making. This is not proof of the system working! These sale's activities are most likely from his affiliates generating sales for him (affiliate marketing is actually what I do, and it can really work, but this doesn't detract from my point about Coffee Shop Millionaire).
I could go on and on, but I think you're starting to see the point here. There is too much hype without actual proof to back up these claims and whenever you see/hear these things, never fall for them. Yes you can make money with this program, but the training is vague and in some cases outdated.
Though this day n age, I doubt this training will yield great rewards. If you need truly legitimate training methods to succeed online, I would highly recommend my #1 recommendation which is Wealthy Affiliate.
If you were/are part of Coffee Shop Millionaire and would like to share your experience with them, please leave a comment below this video. I would love to hear your thoughts on this program.