After seeing positive results from using Thrive Leads, I decided to buy myself their Architect plugin. This review will explain if you need it.
What is Thrive Architect? 
It is a paid WordPress plugin you can purchase from the Thrive Themes website. This plugin allows you to create any new pages and blog posts and/or edit existing ones while putting things on them that the normal theme would not allow you to do.
For example…
Just about every single theme, especially free ones come with their own limitations. So a person who wishes to customize their blog will be limited to the settings the said theme has. Unless you possess some truly other world coding skills, you are bound to the rules of the said theme.
However, this plugin breaks down that barrier in many ways and allows newbies who aren't the best coding experts of designers (such as myself) to make better looking pages and posts thanks to it.
What the architect plugin does is that it doesn't change your theme, but adds an extra editing button to your existing posts and new ones you make. When you click it, it opens up a new page, where you can edit the existing/new post and add buttons, things like table of content, and MANY editing features.
Here is how Thrive Architect looks on this very post (in the editing section):
Here are just some of the options:
These options open up once you go into the editing section and you can do the following types of things:
You can take an existing blog post you have, keep it in tact, but use the Thrive Architect features to customize that same blog post.
You can also completely omit the existing blog post you have and just create an entirely new, blank page, and just edit it entirely with this plugin.
Many of these options are great for creating highly beautiful sales pages and personally speaking, I'd say this plugin is probably best used for sales pages and/or email list collection purposes.
Basically the options you see on the right hand side, I can add to any existing blog post or just a fresh, blank page if I wish. I can then input my content there or use existing content from a page.
Why I decided to get this plugin:
At this very moment, I am creating a special members site. In order to make a great looking sales page (which as I said I feel this plugin is great for), one of my friends who uses architect suggested it to me and told me it's the best for creating them.
While I have seen a few other sales page themes over the years, I have to say, for sales pages this may be one of the best and it's add on customization options for your existing blog and the open ended opportunities of editing or creating a new page, whilst keeping your theme in tact make this a highly recommended tool for vendors who make sales pages and/or those who wish to make their blogs look better and convert better.
An example of Thrive Architect in action:
I don't have a good looking sales page yet to show you as I'm still building up the page, but what I will show is how the editing affects the look of an existing blog post I have. 
What I am beginning to do with this plugin is, I am adding a table of contents (one of the options within this plugin) to some of my most important blog posts.
What I am aiming to do as a result is see if adding a table of contents affects my bounce rates, improves conversions and so. What I typically find is that VERY long blog posts typically lose the majority of readers and even if you are awesome at marketing and keeping people's attention, it's just normal for most people to get bored and leave if they have to read for a long time.
How does adding a table of contents change this? Well it gives readers a preview of the blog post very early on and what they will see. This basically prepares them better and raises their curiosity better. This kind of table of content option also allows people to click on specific sections of the blog post to skip to it.
Let me show you an example:
The following page I have here is a review I did on a program (full article on Savage Affiliates here). It's over 1,000 words long (why longer blog posts rank better):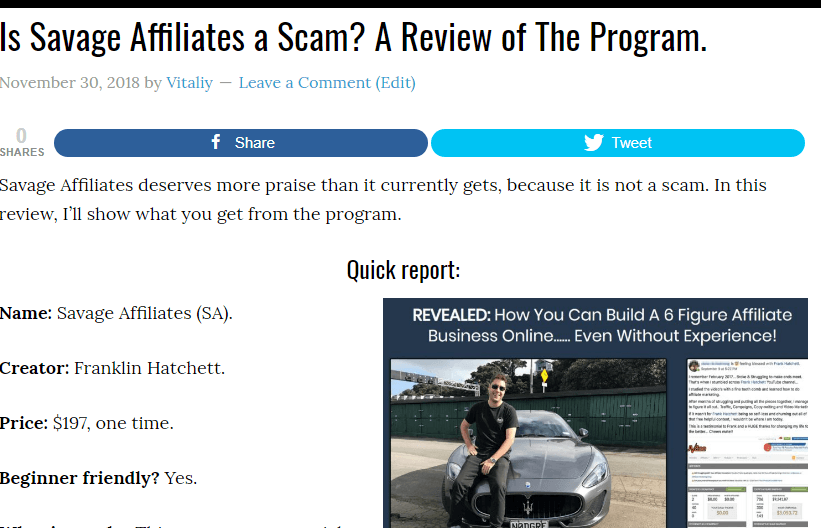 It's a good looking review in my opinion but it lacks that table of contents option and my theme doesn't have this, so what I did was, I went to edit this article, and like I said once you install architect, it will show up in the editing section. 
You can then open it up and do the editing on the post. So here is what that looks like: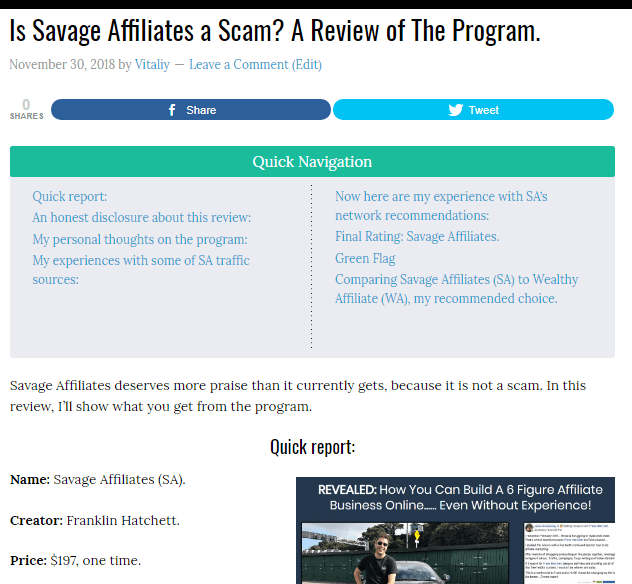 I know it's not very pretty but it's just a first draft example. Now at least people see the preview of the article clearly and that may improve their ability to read my content and not get bored.
Now I just used one example, the table of contents on, but there's so much more you can add to existing posts through this plugin:
Sign up forms, columns, revealing content, buttons, check out buttons, ect… 
There's LOTS of options.
Can you get these types of plugins for free? Yes.
Even though I am promoting this plugin, I have to be honest in that you would be able to find many of the things this plugin does in terms of editing, for free in the WordPress plugin section of your site. Things such as Table of Contents plus is one example of a plugin you can install that would also be available with Thrive Architect (but for free).
There's also many other free editing tools available besides a table of contents one but the benefit of using Thrive Architect vs the free option/s is that:
All these editing options are consolidated and easy to put into your content. With free ones, they all have their own installation and user options which may be tough for beginners. 
My final thoughts on Thrive Architect.
If you're just a beginner blogger, I would not pay so much money for this plugin, I'd keep building up your blog until it has serious monetary visions in mind and then to get it. And if you require help for that, try this program, Wealthy Affiliate, it's #1.
People who are vendors like I am going to be in the near future, will GREATLY benefit from this plugin so for those types of people, yes, get this tool, it's great.
There is a learning curve with it, but given how little I know and how bad I generally am at editing things on my site, I found this plugin pretty simple to understand. Granted, I still don't fully grasp it's uses, but I've seen enough to know it meets my needs from a vendor stand point (making sales pages) and editing some blog posts I currently have to improve the reader experience.
So for me, I like this plugin and recommend it, but I also gave you guys a reason not to get it. So based on that, I hope this review has helped you make a decision on this tool.
Also if you enjoy this product and are doing things like list building, this same program also has something you should check out called Thrive Leads, which as I said earlier, I own too. That plugin greatly helped me increase my conversions and opt-ins.