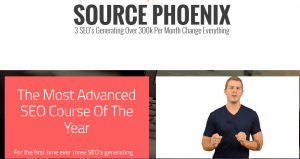 Let me get the full disclosure out of the way: I did not purchase Alex Becker's Source Phoenix and my arguments for not doing so stem far beyond just the price it's currently at ($997).
It goes into much deeper issues I personally saw while looking at the sales page from an experienced point of view as you'll come to find!
Quick Report on Source Phoenix:
Creator: Alex Becker.
Price: $997 (for now).
Overall Rating:

2 out of 10 stars
There is a lot of information and value in this program, but it's way too expensive and there is something else that worries me regarding the way it teaches you to do SEO which I'll get to in this review!
Source Phoenix in a nutshell:
It is a course divided up into 4 modules that go over various ways to become successful in the world of SEO. A lot of the courses show you the exact strategies successful marketers are using to rank their sites very highly. There is a lot of focus on private blog networks.
Is this approach to marketing new? No.
There have been many programs in the past and present which have compiled the knowledge of famous and wealthy marketers, put them on one course essentially and sold it for a huge price.
Someone who is new will probably believe that what they're getting is a treasure chest of knowledge and that's too good to pass up. And while I won't argue that the information you get is certainly high in quantity, what worries is the usefulness of that information in today's SEO world. 
Here's exactly what worries me about Source Phoenix:
The sales page itself pointed to a lot of what you'll find within the training. However it doesn't get into too many details which is normal for sales pages. What it did however point out were a number of key terms that I personally have advised staying away from on many occasions.
Throughout the sales page, in a video, Alex discusses the many successful marketers that provide training within the program and what they'll teach you. While Alex was showing this, here are a few terms which came up (and the images):
Link packages: Whenever I see this, I am reminded very quickly about my horrible experiences with them through Bring The Fresh, a program whose link packages I purchased and what ended up happening. 
In my personal view any sort of link packaging represents backlinking and of the black hat sort. Even those which claim to be high PR, high quality and whatever name they can slap on to make it sound good in my opinion will eventually lead to problems with Google. And here it is shown on the site: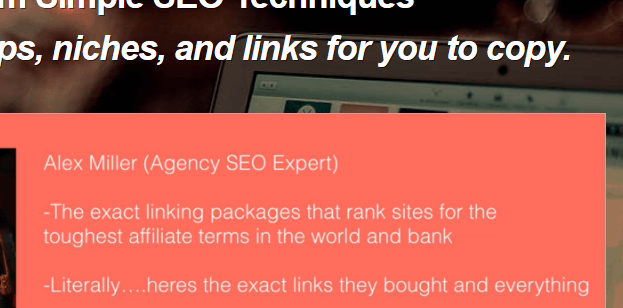 Other things listed on the site were methods such as trading links through PBN's, how to safely do all of these things and not get Google slapped and a number of other things I personally never want to associate with. 
PBNs: I don't know why PBN's are still so popular, even with the recent update that came around which penalized websites which used them, no matter if they were public or private.
With Source Phoenix the term PBN's pops up a lot and the more I see it, the more I am convinced that trying these strategies out will not end well. 
But aren't these guys experts? Surely they'd know about this right?
I could talk about the other things I saw, but the truth is that in spite of the fact that the strategies in this program are given out by "experts", you also have to take into consideration that because SEO and succeeding with it changes and really evolves, many of the strategies used a week, a month or even years ago may not work tomorrow.
And with every single update that Google releases, the most obvious lesson learned is: Don't try to them. 
Let's not forget Alex Becker himself:
Alex has made a number of products in the past. I've "only" reviewed 5 (including this one) and one thing I keep noticing is the same tone in the way he sells this one. Take for example this one: ROI Optimization.
It had a lot of similarities to Source Phoenix in the way it was marketed, including the price. And the problem with that is that I don't trust any marketers who have multiple products on the market.
I have an entire post on online marketing gurus dedicated to explaining why, but it really comes down to it being hard to believe the same people running the same claims over a series of products. I may believe it once, but if I see another program, by the same guy promising me essentially the same thing, I'm going think something fishy is up.
Note: I have actually purchased one of Alex's programs, Market Hero and at first I liked it, but then I changed my opinion due to outdated stuff I saw.
One particular product of Alex's that I REALLY like is his book called 10 Pillars of Wealth. Now that one really provides the best value out of all the products I've seen Alex produce.
Pros:
There is certainly a lot of information within the program. 

I overall like Alex Becker, but this program is just not a recommended buy for me…
Cons:
Price is too high.

A lot of the methods aren't good for SEO, especially with recent changes that occurred. 
Final Rating: Source Phoenix

Red Flag
2 out of 10 stars. I don't agree with a lot of the methods described in the sales page. A lot of them have side effects in my view. For good SEO training & practices, see Wealthy Affiliate, my top recommendation.
My final thoughts:
I can tell you that if you apply the tips within this program, you will possibly get first page Google rankings almost certainly and even quickly, but this is what always happens in the early stages right up until a new update is passed by Google. 
And all this talk of being protected from it which you do see on the sales page is just nonsense. You can't expect to try and trick search engines and not be caught doing it eventually. 
If you're ever going to see long term success, you need to stop trying to beat the system and start working with it. Very few programs teach you the right way to do this and Wealthy Affiliate is one of them. 
Remember that Google is way smarter than anyone who tries to play them. And I've run into a lot of so called experts who keep pushing the same old methods that I know aren't going to work long term only because they need to keep making money of their program.