I have tested a number of landing pages for different niche topics I though could be successful and I have noticed that usually, the ones which have the greatest success (I'm talking 15% or higher conversions) have a few things present which I will reveal. 
I'm going to show you exactly how I create these sites and more importantly, how I market them. 
But first, what is a landing page and what is it used for?
It's basically any type of site where people go on (aka land on) if they click on a link. In other words, if you:
Clicked on a link through an ad, a site, a social media post you saw, an email or a search result you got from a search engine, then the site you will be taken to is called a landing page.
In online marketing there are different classifications of what a landing page can be.
Examples of what a landing page is:
Remember if you land on any page on a website, that page is the landing page, so whether it is:
A blog post.
A squeeze page (for email opt ins).
A review or sales page.
A webinar page.
It doesn't matter, all of these are landing pages.
What is the purpose of a landing page?
Every page has a goal and usually it's to make money, so when you take the above examples, the end goal is this:
A blog posts's goal is either to sell something on the blog post itself or to build a following.
A squeeze page's goal is to get people to sign up to an email list.
A review or sale's page's goal is to get people to buy something.
A webinar page is meant to get people to sign up to the webinar and eventually buy something on the back end.
The real measure of a landing page's success is it's conversion rate.
For a blog post, the more people comment, buy from it and share the blog post, the more successful it is.
For squeeze pages, the more people opt in, the more successful it is.
For a review or sale's page, the more sales it gets, the more successful it is.
For a webinar page, the more people that register and then buy what's being sold on the back end, the more successful it is.
To do this, you need to focus on the content of these types of landing pages, and by that I don't mean looks.
Looks are the last thing to worry about when it comes to landing page success:
In my experience, I find that people, particularly beginners put far too much attention on a landing page and how they look, focusing only on it's conversions (or potential conversions) vs the more important thing which is:
A landing page is simply part of a whole sales funnel and if I were to put a percentage of importance on it, I'd say it's about 5% important and the rest divided into things like:
What are you doing to get traffic?
Things like SEO and PPC are great for this and I'm going to show you how I use both options for this topic. 
And more specifically, are you using the

right

and 

relevant

traffic methods?
Other than SEO, PPC and already having a great email list, I do not believe there is anything else that can be classified as "the right method" for driving quality traffic because in my experience, nothing is more relevant or more profitable than those 3 options and they generally lead to the best results.
If your sales funnel doing those 2 things right, consider yourself having 95% of the sales funnel down, then the rest is to follow the directions I am going to put below: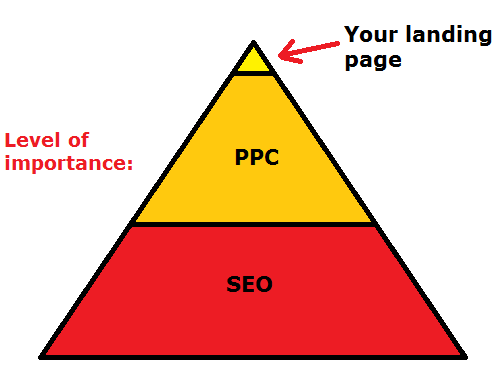 And to quickly re-iterate on the beginner note I just mentioned, a lot of them generally make a major mistake in over rating the importance of a landing page. Sometimes they'll make them themselves, and sometimes they'll get them from a company that they want to promote (typically MLMs do this) or they'll buy it from a program which says they have high conversions for their sites.
But in reality if you don't have the other pieces down (traffic, a good sales funnel, ect…) your landing page is frankly speaking…worthless. 
So if you are the type who is searching for the "best converting ones" and even worse are ready to spend MONEY on them, do not do this! You can easily make these sites yourself and based on the example I will post below (a very bad looking, but high converting example), you're going to see that you don't need to make them look that good!
Think of it like this: A landing page is basically a small chapter in a long book:
You obviously can't get the full experience of a book by reading just 1 chapter right?
Well in the same way, you can't get the full potential of a sales funnel out by just focusing on 1 tiny landing page.
While it can certainly play a major role in making you money, I cannot talk about how to improve it without stressing just how important it is you look at the whole picture and not over focus too much on just that one little thing.
Note: Every single example below is based of the strategy to help you create great converting landing pages. So the way I am going to explain that is in complete context to the 3 ways they are used (Squeeze, sales and blogs sites).
Note 2: I also want to put this into perspective so I will be applying actual examples of how I used these tips for my sites.
How to improve the successful rate of your landing page (using the 4 above examples):
Remember I gave you the 4 examples of what a landing page could be? If not here they are again:
A blog post.
A squeeze page.
A review or sales page.
A webinar page.
Let's get into details on how to make each one succeed well.
1) Improving your landing pages (on blog posts):
In this sub topic of landing pages, we're covering SEO because typically blog posts are meant to be written to be ranked on search engines and accumulate visitors from that. So when they do visit your site, they're going to visiting those blog posts.
Nearly every blog post you write is going to be a landing page (people are going to go there) and from there it's your job to LEAD them to a sales or an opt-in area on the site so if you have great blog posts that are getting attention, comments, shares and clicks to where you want the traffic to go, you can consider that to be a great landing page.
The question is how do you do that? 
If you're doing SEO, do what I consider to be the best proven formula for SEO: This article on SEO explains that. As long as you follow the outline there, your blog posts are going to have great engagement and be considered awesome landing pages. 
Then if you do follow that outline but still have problems, read this article building successful sales funnels on specifically improving their stats.
2) Improving your squeeze (opt-in) landing pages: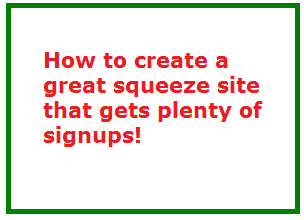 If you already have a great blog, you can experiment with monetizing it by gathering leads. In this sub topic, we're going to shift to lead generation, specifically how to make to make a great squeeze site to make this happen.
Note: If you have an SEO focused website, you should already be linking most if not all your articles at least once to this opt in area with the goal to get as many leads as possible. 
Note 2: The example here only focuses on 1 site I made and that I funneled traffic to through PPC, not SEO. Don't worry about how I got the traffic there, worry about the opt-ins I got for the traffic which went to the site, because that is the focus of this example…
Anyway…the measure of a good squeeze website is how many people sign up on it vs the amount of traffic that comes there. So if was 1,000 visitors that got there through SEO or 1,000 visitors that got there through PPC, in the end, the mark of a good squeeze funnel/site is how many people out of those numbers signed up…
I find the best converting opt-in sites are the ones which focus mainly on:
Having a short description of what the person is signing up for. Typically let them know in bullet points or any kind of CTA wording that they are getting incredible value if they "just" sign up. 
Adding to that point above, it's important to target keywords with people who have immediate problems or serious concerns and to make it VERY clear that you have the answers. In my example below, you're going to see that there was a specific problem that I was saying I could help people with. Making it clear you have a solution (a free solution in many cases) makes it much more likely for people to sign up.
Obviously on the back end, you better deliver on the promises you make, otherwise the sales funnel isn't going to last very long. You may get opt-ins on the front end, but on the back end, having them stay and buy from you, it's a matter of keeping the trust which means you need to deliver. I won't get too deep into maintaining subscribers because that is a whole other topic, but be sure to back up what your site says. 
In many niche topics, such as weight loss and making money online, it helps to provide a quick intro about yourself. If you've made money, show an image where you're holding up a check. If you lost weight on a diet, show a before and after picture. These images can greatly raise the site's trust value and improve sign ups. 
On the actual form where you ask people to sign up. I don't really experiment with any other autoresponder other than Aweber. 
Here is an example of a recent site I made to test this…
Basically I was targeting a niche revolving around helping people with knee problems. My goal was to test it out by just making 1 site, providing a personal PDF I wrote up with Amazon links.
The site took me less than an hour to make. I used Siterubix to create it initially, then did a few edits on it to make what you see now. Basically it just involved clearing the default theme I used of any distractions (default menus, widgets, unnecessary menus, ect…) and basically making it look as blank as possible, then adding the necessary content and opt-in form, a simple task to do on most WordPress themes.
Here is what a successful opt in landing page looks like: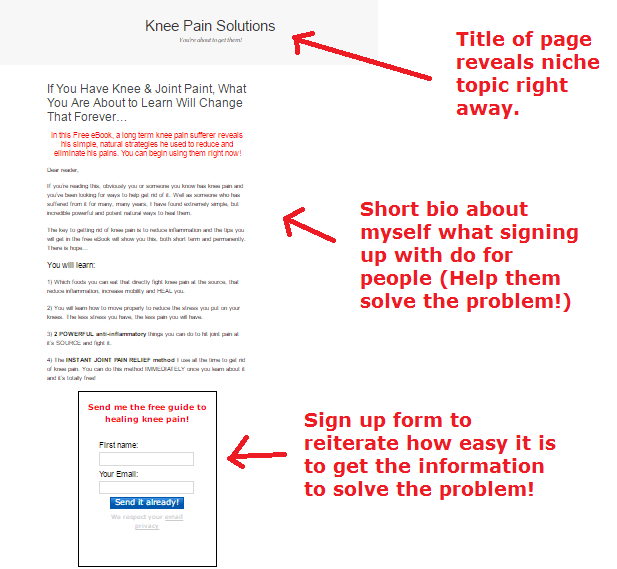 Ugly site right? But check this out: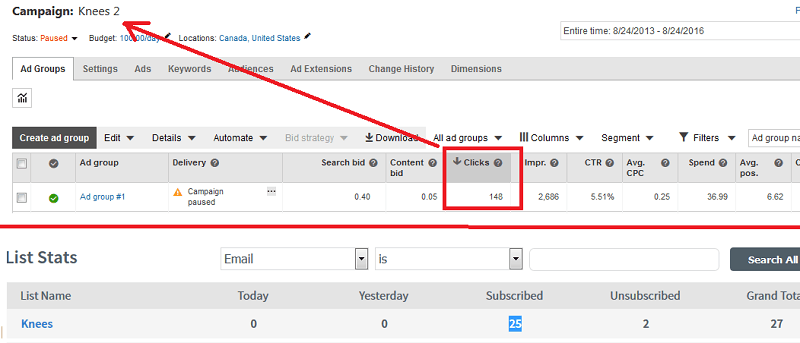 What we have here is a PPC campaign which got 148 clicks and 25 subscribers in the process. Given the math, that's a 16% conversion rate, for an ugly site I barely even tried to set up.
I could have done a lot with this topic:
I could have continued to get traffic and a good flow of signups and kept testing which products I could sell to profit.
I could have gone deeper, focused on SEO and made a niche site on this knowing that the traffic was there. Eventually the traffic from the SEO would be much greater than that of the PPC example and it would be free so I would have had a much higher profit margin.
Given that I made a "great" simple site with the tips I provided, all this was a possibility… 
But unfortunately I just couldn't spend more time on this. I was only looking to see what the traffic potential behind it was and there was definitely a lot. But the point here is the site was very ugly. However, because:
It was getting traffic via PPC the RIGHT way and getting the right visitors, it was very easy to get them to sign up. If you follow those same bullet points and steps, you can easily set up similar squeeze sites like this (without having to buy any nonsense opt in sites like I said beginners make the mistake of doing!).
Note: You can also create sites for free. Remember, I said I used Siterubix (free). It made no sense for me to buy a new domain each time I wanted to test a new PPC campaign out so with the ones that proved to be promising like this one, I could have then gone back and made a much more thorough site, whereas with the ones which didn't work well, it would cost me nothing. 
Note 2: Now in this example, I used ONLY PPC, which you can too, but only go that far if you have a solid base first. In my example, if I didn't have any money, I would do SEO first instead of risking it with PPC, write a bunch of high ranking blog posts on knee topics (all great landing pages too, remember?) and link them all back to that same opt in example above. In that case, it would also be considered a very good example. 
Also here is an update to this particular landing page and how I actually RAISES the sign up rates.
3) Improve your landing page via a sales page:
A sales page is the type of landing page where you try to convince people to buy things through your affiliate link (or you're selling a product of your own). How do you actually do that?
Well, I also wrote about writing good product reviews and you need to read that. If you add the things I recommend in that article to your sales funnel, you are going to make a lot more money than you currently are. 
4) Webinar landing page success (literally copy the squeeze page example).
Since the goal of most webinars is to collect an email lead, the same flow and analogy of getting success with squeeze pages applies 100% to webinars.
One more major point you need to read:
Notice that in the above sequence of me explaining landing pages and the different kinds there are, as well as offering examples on making them great, that I started from blog posts and specifically linked you to an article about SEO. Why?
Because like I said before, the landing PAGE (singular) is worthless if you don't get traffic to it.
SEO traffic if done right is the BEST traffic in my experience and therefore anyone who decides to make a website with the goal to sell something on it should not focus on making 1 landing page that sells great product/service review, they should focus on making tons and tons of great landing pages that link back to the great product/service review. 
Then I moved into a more advanced strategy (PPC) and explained how I can also use that, but in that case, I had 1 little site set up, however, if I didn't know how to do pay per click, again, that site I made would also be worthless.
And finally in the last example about sales, it really ties into the previous 2 examples because without any traffic, there is no need to worry it.
My final thoughts:
Most tutorials on landing pages really neglect the BIG picture I talked about in this article (and the articles I linked to which also stress that importance) and it's a big reason why so many people are still lost on this concept.
In fact, I still see many people go around and ask me extremely basic questions on how to make a better landing page or where to find some to copy and paste. Given what you already learned by reading this, do you think I can actually give them a simple answer? 
Absolutely not! Sure I can refer them to JUST those tips I listed, but then they still just have a few pieces of a much bigger picture that's missing and without that big picture, they're never going to succeed. 
And you can see that big picture in this article in that proportionally, there is WAY more information on it about how to make the big picture work vs just focusing on that landing page which is the way it should be. 
Important note:
If you put in the effort and work on that big picture (SEO mainly…) and then get good results from it, then afterwards you can begin to put the exact steps I listed in this article to use on improving the actual conversions of your affiliate/opt in areas.
Whatever happens from there is not a big deal because even if your site doesn't convert well, you can always and I mean always test out new converting strategies. At the very least the traffic is already going to be there! And I promise you the tips (and resources) I added here are going to really help when you get to that point.

Now a special note to the experts who "get it" about that big picture:
The only people who should ever focus on landing pages are those who:
Already have a lot of traffic coming in through SEO or have great PPC campaigns set up or have email lists that they can send to squeeze sites (like in the knee example I used) to test out new sales funnels.
Basically those who already have a good online business going and understand that big picture. In that case, the BEST tip in this article I can give you is in the example I used for opt-ins where I had a 16% conversion which was based on a FIRST draft attempt I barely put much effort into!
Imagine what would happen if I put more effort into the site and promoted better products? This campaign could have easily been making money and frankly, I am still debating on retrying it when I have a little bit more time available! 
But absent that, you should not be in the business of only making 1 landing page and putting all your hopes on it, you should instead be starting from SEO and driving traffic to the site before worrying about how to make a good landing page.