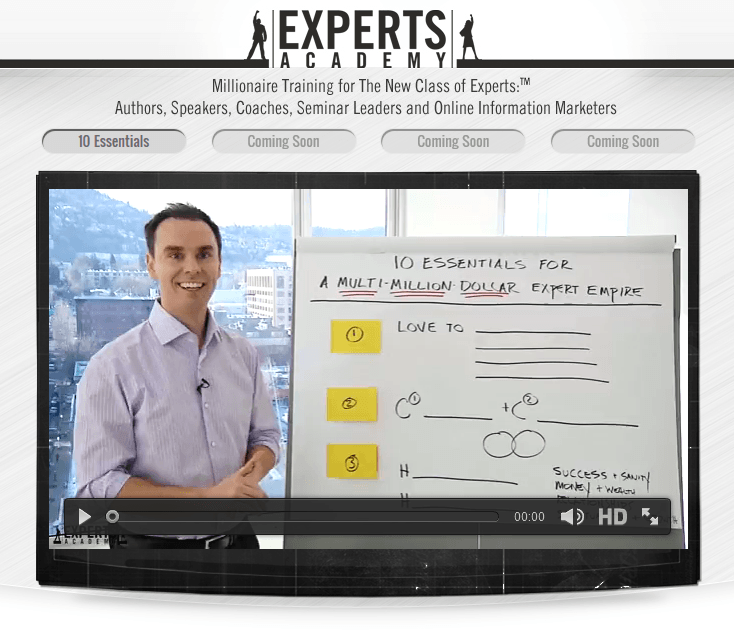 I've heard a lot about Brendon Buchards's Experts Academy and decided to do a review on it.
Though the program is not a scam and there are a lot of golden nuggets of information that can help people truly become financially independent online (mostly), I feel a lot of it is impractical because most people will simply not be able to follow through with all the advice.
But you be the judge after reading this…
Experts Academy in a nutshell:
Brendon Buchard teaches you the step-by-step process to becoming a millionaire online via creating products that are based on YOUR interests, knowledge & hobbies. Basically if you possess knowledge, you can sell it, period. 
The next obvious question is how? Well this is where Brendon introduces the Experts Academy formula in which you take your knowledge, create a product of it, market it and become rich. The good news is that much of this formula is briefly explained in his introductory video which you can watch on his website.
The video is nearly 1 hour long and on a side note, after watching it, I've gotta say I was VERY impressed. The guy didn't read off a teleprompter and did the whole presentation on his own. This is a sign the guy knows what he's talking about. And I can further vouch because I know this stuff personally.
A lot of what he said resonated with me because I too run an online business (how I do it) and understand how the process of making money online works, so a lot of what he said, though not new, showed me there is a lot of honesty behind his product.
Too often I see make money products hype themselves up to make you believe it's a simple system. With Brendon, he basically is up front.
However, back to the main point. The video is called 10 essentials which goes into the formula I mentioned above. Rather than having you watch the video, I'm going to summarize it for you. 
Often times presentations like these are really good at hypnotizing you, especially if you know next to nothing about the subject. This can lead you to making rash and expensive decisions. So I'll not only be explaining the 10 essentials, but also giving you the honest truth about it in layman's terms. 
On a side note, a lot of the training you go through in Experts Academy is video training along the lines of the video you see on his websites. This is good because it's explained very thoroughly. 
The 10 essentials explained:
Remember this is the basic formula Brendon uses to build an online business and the steps you'll be "mimicking" in your own business ideas.
1. Choose a subject:
Knowledge can make you money. Do you possess knowledge in an area which others do not? If so, make that your subject. Let me
give you an example: 
When I began online marketing, I possessed a lot of information on health & dieting. Thus when I began, this was my subject of choice because my knowledge on it could help people and I could make money in the process. 
I can almost guarantee you that there is something you currently know that can be used to make you money, even if you don't believe it. If you're still skeptical, leave a comment below and I'll help you out. I also recommend my #1 recommendation that teaches you how to take ideas and create an online business from it. 
2. Stories:
In this step, you are going to basically market your knowledge by sharing stories and experiences. This will help you gain trust and credibility from potential customers.
One thing that is almost always guaranteed to succeed is connecting with people. Let me give you an example:
A person makes a website on how to spot online scams and share his/her own personal story on how they fell for scams. Since so many fall for internet scams, the website owner can easily connect with these people and then move further into selling products that may help them. 
3. Strategy:
This step means you show a strategy to succeed in whatever it is you're sharing you knowledge on.
If I were sharing with the world my knowledge on dieting, I'd show them a strategy on how to lose weight.
If I were sharing with the world how to make money online, I'd show them a strategy on how to do it honestly. Oh and that's actually the case with the site you're on by the way ;). Here is where I recommend everyone goes to get started.
4. Create sellable products:
This is where you take your knowledge and create something that embodies it. We're talking ebooks, DVDs, hosting webinars, seminars, courses, speeches, ect…
One of the most important things when creating products is having a website. This is where people will go to actually buy what it is you're selling. If you've never created a website before, I can promise you it's much easier than you think. In fact it will only take you  a minute and cost you nothing through this method.
So as an example, if I were sharing with people how to lose weight, I would create a website on dieting and perhaps create an ebook will specific strategies to do just that. I could sell that ebook for a price. Make sense? 
5. Sales process: Create leads, gain trust.
This actually goes back to #2 (stories), but on a materialistic scale. Here on your website, you share your knowledge to create trust with people. Then you can do things such as collect email lists which is also known as "creating leads" and then sell products to those leads down the line.
6. Gain social presence:
We live in a world that is intertwined with the internet. If you're going to create a successful and highly selling product, odds are, you're going to have to make yourself known to the world and the best ways to do that (for very little) is through social networks. 
A lot of high end internet marketers do this kind of stuff. They get fans and create hype for their products which gets attention and people sharing this information with others. 
7. System & structure:
This is really a repeat of: Build a website, collect emails and sell to them.
8. Self confidence.
If you're going to sell something to someone, you're going to have to believe in yourself. 
9. Self discipline.
You're going to have to be very busy if you're going to make this work. Creating an online online business isn't easy and it certainly will take time and effort.
10. Service mindset.
You are sharing your knowledge not just to make money, but primarily to help people. This is very important to understand. People will not buy from you unless there's something in it for them. You are giving away your knowledge to help people with a problem. 
Ex: Dieting. I will be helping people lose weight. This service will help me gain trust from them.
And that is basically the 10 essentials summarized and what the Experts Academy will teach you to do (for a VERY expensive price however).
Pros of Experts Academy:
Very solid way to create an online business.

Very informative training.

Brendon doesn't hype his product up. He just explains things in a very thorough way.
Cons:
In my opinion, this approach to online business building is too long and not for everyone. 

Not recommended for people who just want to make an extra income.

VERY expensive. Nearly $2,000 for training + possible future upsells (extra offers).
Final Rating: Experts Academy 

4 out of 10 stars. Very good program, but VERY expensive. There are much simpler/cheaper ways to create your own business and get training to do all of that. See my #1 recommendation for details.
My final thoughts on Experts Academy:
The foundation of this program is pretty solid. In addition to it, Brendon also hosts seminars and has written a book (The Millionaire Messenger) where he basically explains the same things. In many ways these seminars and books are actually a funnel to his Experts Academy which is good because he basically practices the same model he teaches (step 4). You don't see a lot of that with internet marketers.
However, the reason I gave this program 4 stars out of 10 (anything 5 stars and higher is a green light) is really for 2 reasons:
1. It's very expensive. In the past such a price would be acceptable, but the internet has changed as have ways to make money on it. I believe it's wrong to throw down SO much money on something you don't really get to see or test until you buy it. It's a major gamble that I wouldn't advise taking.
This is another reason I recommend this place above Experts Academy. It lets you try out it's training for $0 (no strings attached) and shows you how to build a successful online business in a much shorter/direct way. 
2. This program is not for everyone.
Not everybody is ready to create their own product.

Not everybody is ready to throw down so much money for a service.

Brendon's formula is not a 1 size fits all approach. There are other ways to create successful online businesses. 
For example: Did you know that you do NOT need to own/create your own product to sell it? It's true. You can become an affiliate for companies and sell their products for a commission.
This takes away a lot of unnecessary hassles/headaches in creating your own product! And you can be just as successful if not more so through this approach. Again, this is the program which teaches that and it's the cheaper alternative to Experts Academy.
Though good, it certainly has it's cons and like I said in the beginning of this post: there are better alternatives.