Recently a commentator asked me what I think about My Lead System Pro (MLSP). I didn't know it at the time, but I took a look, so here is my review: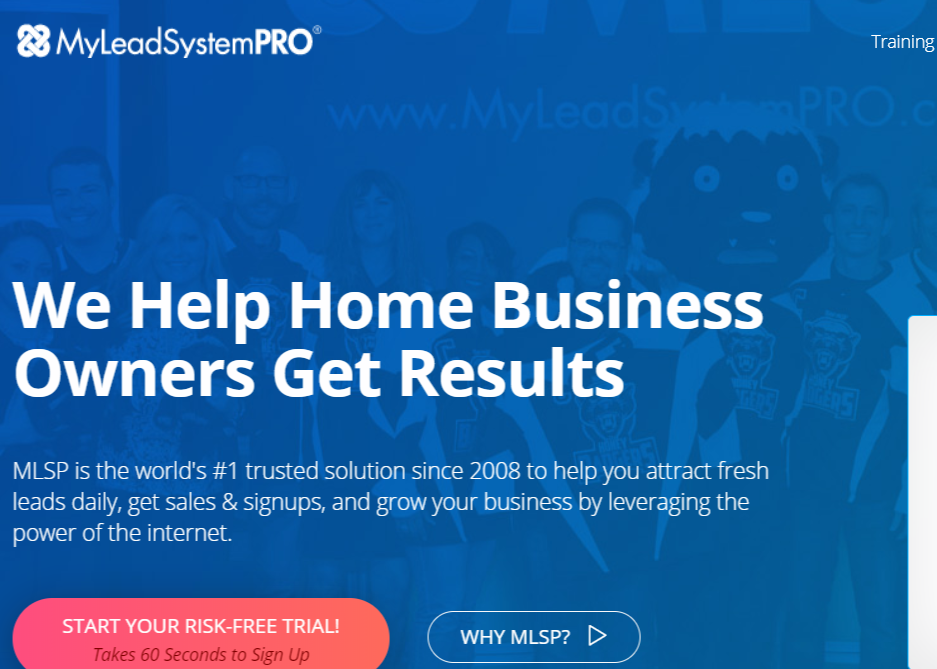 My Lead System Pro in a nutshell:
MLSP is basically an "MLM training center" where people learn to utilize the ideas taught at MLSP and create MLM's of their own OR become successful in current MLM programs and system.
There's also training on general LEAD marketing such as how to get people to convert and buy your offers through truly legitimate psychological sales tactics such as using curiosity and appearing very wealthy to attract customers to buy your offer. 
Some people who join this program already have business ideas of their own and this organization shows them how to market it and get more leads to their business, while others are just seeking to promote the MLSP system to others.
Either way when you join (there are 3 options), you learn to promote the MLSP system to others through training given to you as well as using the training for the above purposes (getting your own leads, for your own promotions).
A number of things are provided to help you do that with MLSP:
Done for you websites.

Video training.

Article directories to post articles on to get traffic & more.
But the basic idea of this company when you become a member is to get other people to join it for which you (the referrer) will receive compensation. You can certainly elect to do otherwise and promote a personal business.
Note: Some things have improved and changed within MLSP since certain options to get leads from also changed.
For example, article directories are not a good way to get leads and if you see any program suggesting that, forget that advice.
MLSP is not an MLM program FYI.
Many people mistake MLSP as being an MLM company itself. From what I've seen it is not by definition an MLM.
You can promote the company to others and earn commissions, but it is only from direct referrals that you make money rather than the typical MLM formula where you can earn money from not just direct referrals, but referrals your direct referrals make.
Confused? Let me explain:
If I promote MLSP to someone and they sign up, I get a commission. Let's call my referral Bob.

If the same person I referred to MLSP (Bob) refers someone else (Linda) and that person signs up, I do NOT make a commission. Bob is the only one who makes a commission in that exchange. 

In short, if you're going to be promoting MLSP to people and making money with it, you are essentially an affiliate marketer for it, not an MLM promoter for it.

In MLM companies, I would be earning commissions from Bob's referrals and even Linda's and whoever else they refer.

If that looks like a pyramid type formula to you, that's because it really is and is one of the MAJOR reasons I advise against all MLM's but MLSP is neither an MLM nor a pyramid scheme, it's a legit program. 
What does MLSP actually offer you?
It is said that MLSP is really just one big tool that if used right converts on it's own. You learn to promote this company to others as I said before by linking them to the main MLSP website which then does the work for you in getting the visitors you send there to join. You then can make money in the process.
For the most part, a lot of what you learn within MLSP are ways to build a website, get traffic there and refer that traffic (leads) to MLSP. You can do this directly or have potential leads sign up via an autoresponder and if you plan on using one, whether for this purpose or other online business ventures, I recommend Aweber above all.
You also get video training as well as weekly webinars in which you learn more ways to both increase your business & refer others into MLSP. I can't really vouch for the training, but there is a lot of it and a lot of it centers around SEO & email marketing. The only thing I see being a con here is that it can be very overwhelming for a newcomer to internet marketing. 
If that is the case, I would instead recommend a much more newbie friendlier program like Wealthy Affiliate. It costs nothing to try and you get a much more organized, structured training, which is NOT on MLM, but rather how to create a successful online business, which gets a thumbs up in my book.
My Lead System Pro's pricing:
There are 4 options (1 is free and the rest are monthly, see MLSP pricing details) but if you select one of the paid options and pay annually, there is a slight discount, vs paying month to month. Here is a screenshot of the month to month costs:
All of the membership levels provide a lot of things, but mainly training and ways to get started. For example, you get access to the system's article directory where I believe you can write up articles which can either link back to your site and/or rank high on Google which allows you receive a lot of potential leads. By the way, in 2019, I do not believe this method will work due to content farms not being viable for this strategy anymore.
You also get pre-built websites which already have text within them which are said to do all the work for you on auto-pilot, although this is BAD SEO practice as it can be considered duplicate content by search engines. You absolutely need to create unique content if you're going to run a successful website.
Pros:
You can make money through this system.

There is a lot of training offered within the members section.

Weekly webinars and value offered.

This program has been around for MANY years and is one of the most known for lead generation training

.
Cons:
Some refund issues have been noted.

I do think the training material is expensive and while there is a discount for going annual, you'd spend far less with my alternative program Wealthy Affiliate and still learn the same kind of valuable material.
Final Rating: My Lead System Pro

Yellow Light (Caution)
4 out of 10 stars. Using MLSP's training can definitely work, but I advise major caution if you decide to join it for MLM success. There ARE better alternatives. My top recommendation would be Wealthy Affiliate.
Final thoughts on My Lead System Pro:
Overall, MLSP was a pretty good program for learning lead generation and succeeding with MLM programs. Even though I don't like anything that has MLM attached to it, I can definitely see someone using the training for things like affiliate marketing, promoting their own product and things like that.
But overall, for the price My Lead Systems Pro charges, I can probably get training on the same and possibly better level FOR LESS with Wealthy Affiliate, and that program teaches lead generation and creating online businesses with affiliate marketing, a method of making money that I find more legitimate than MLM or network marketing in general.