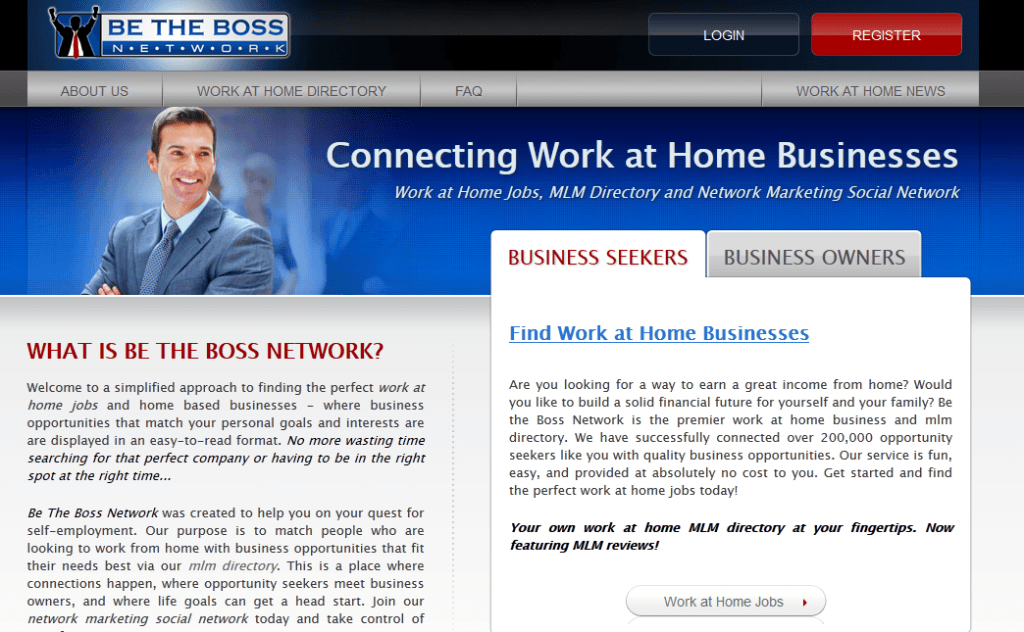 Be The Boss Network is a company which shows people where they can find online/offline jobs/opportunities.
But it's not the type of jobs you'd think are there and that's my warning which I'll be explaining in this review.
Be The Boss Network has listings for a lot of different businesses including MLM (Multi-level-marketing) companies.
And to be honest, I personally wouldn't recommend using that place for a number of reasons I'll explain below. 
Quick Report on Be The Boss Network:
Price: $0.
Creator: Unknown.
Overall rating:
1 out of 10 stars
There's a lot of problems in my opinion with this site, the opportunities it offers and more, which I will break down in a moment.
How Be The Boss Network works:
Be the Boss Network is basically a directory which has MLM type organizations and other opportunities listed on it's site in alphabetical order. When you join it and submit your personal information, you can find "work at home opportunities" which can match whatever preference you want. It may be in something you have personal experience in. 
But these same work at home opportunities may not be the type you are thinking about. And this is why I need to explain: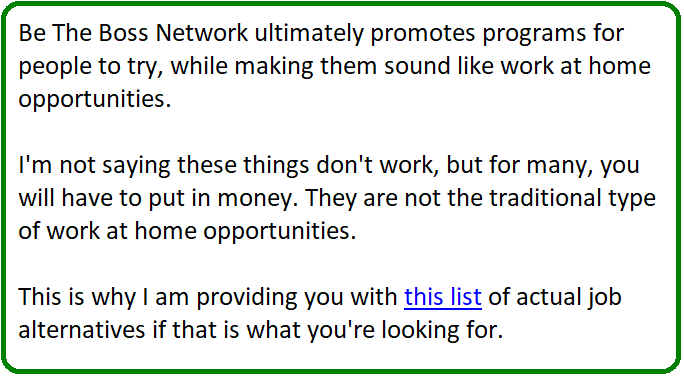 Why I don't recommend using Be The Boss Network:
There's 2 huge problems I see:
Problem 1: It promotes MLM programs.
There are A LOT of MLM companies shown on the Be the Boss Network (BTBN) directory. Now I personally do NOT like most MLM companies. And the reason being is that I feel most of them are just flat out pyramid schemes.
I do like that BTBN does have descriptions of the MLM and explains what it costs to enter them. However, a common theme with many MLM companies is that they never advertise their REAL prices until you join them.
Then once you do, they bombard you what's known as up-sells in which you are given additional offers for A LOT more. I doubt BTBN has the information to know the true cost of these programs which is why a lot of people who see the advertised price don't really know what's up until they join.
Case point:
One of the companies on the BTBN directory is Empower Network, one of the LOWEST rated programs on my website. Now the advertised price of this organization is $25. But that doesn't actually get you anything if you know the truth about Empower Network.
The real price can be anywhere from $50-$,5000+ (high ticket programs). 
My major issue with this is that there are a lot of people who aren't very rich or just flat out broke looking for ways to earn money from home. I wouldn't want to join any place that charges me if I already have trouble with money and need to make some. Unfortunately through MLM's, they are probably going to end up spending a ton of money and end up making very little, if any.
Once you join MLM's, you will likely be asked to buy higher priced "training" where you'll learn how to refer others into the same MLM program. And many times the price of this training is VERY expensive and you won't be able to promote the company or make money off it unless you invest into it as well. My experience has shown me this is how many of them operate. This is why I consider MLMs to be pyramid schemes.
Now I'm not saying BTBN is guilty by association. I think they legitimately are trying to show people opportunities to make money. I just think a lot of these opportunities are more bad than good and don't recommend them. 
Problem #2: 
When you join Be The Boss Network, you will have to provide information on yourself. The privacy policy page of BTBN says (among other things) your information will be used for advertising and to get in touch with you. This means you'll likely be receiving emails and calls talking to you about "opportunities" and ways to make money.
I personally feel these calls/emails will be sale's pitches to get you to join the companies shown on the directory or other third party companies. I personally do NOT like to be advertised to and when I read that someone will get in touch me with about things like these, it translates into sale's calls. 
Final Rating: Be the Boss Network.

Red Flag
1 out of 10 stars. So like I said, this isn't the site you think it is. At least that's not the site I though it was. And frankly, I would be VERY careful with the opportunities listed there. I have 10 other personal ones and many of them are actual jobs, not "opportunities". See 10 real work at home opportunities here.
I do promote companies like Wealthy Affiliate on my site, and that is an opportunity for people who wish to build an online business, but honestly, I suspect you're probably looking for real work at home opportunities, not business opportunities, which turn out to be MLM programs (And I don't like those personally) so check out the list of options I have provided (there's at least 10 or more).
My final thoughts on be The Boss Network:
In theory this site does offer people the opportunities to find jobs through MLM's and/or other type or organizations to make money through and be their own boss. However since a lot of the places shown in the directory are MLM's and you already know my position on that, I am going to have to say no to this service. Not to mention the issues I had in problem #2. 
Am I being presumptive? In certain aspects yes.
I obviously can't go through every company listed in that directory and tell you which is legit and which isn't, but I've seen way too many examples of MLM companies and repeat formulas being used on people over and over again to know better. If I see it's an MLM, my alarm bells go off. I just don't trust them, period. You can certainly try them if you want, but there's much safer alternatives.
For anyone who is looking for a legitimate way to earn money from home or perhaps even start an online business, I would strongly recommend a program like Wealthy Affiliate as a starting point.
It isn't an MLM. It is a training center to help people learn online marketing. And in my experience it's one of the few which shows you legitimate ways to succeed in the industry.