Very often when people approach you with a business "opportunity" of some sort, the word "network marketing" or "MLM" almost inevitably comes up.
These 2 terms are so synonymous with one another that it wasn't until recently, that someone asked me the difference between the two, that upon research, I had discovered there were in fact things that separated them and in this article, we are going to figure this out.
Truth be told, until I was asked about this, I must plead ignorance, because I really though there were NO differences between these business models.
Did my opinion change after learning more?
Not quite, if nothing else, it evolved, but the bottom line is that both are almost always interconnected and function as 2 sides of a coin basically. Let me explain:
To show you the difference between network marketing and MLM, I first have to:
Define each of these business opportunities and we'll start with MLM: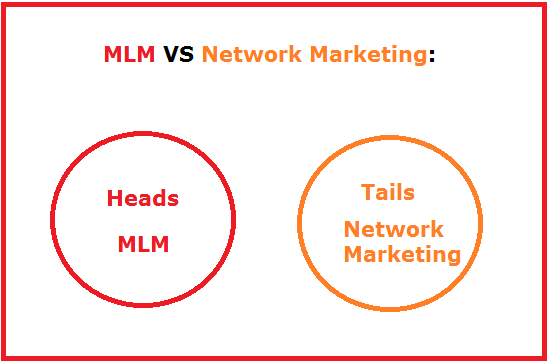 What exactly is MLM? 
It is basically a business model that relies on referring people into a referral program that in of itself has multi tiers of referral opportunities. What this means is that if I refer someone into an MLM and they refer someone else, I can get that "someone else's" commissions through my original referral. There are issues I have with the MLM model, which is why I do not engage with it.
Here is what I do for business instead: Affiliate marketing. And it has similarities to network marketing, but isn't exactly the same (here's where affiliate marketing and network marketing are different).
In these specific kinds of programs, this example would be considered a 2 or 3 tier referral program since we have 2-3 levels of referrals going on:
Myself, my referral, and their referral. 
In addition, in many of these programs, the tier program can span further down, in many cases to 7 or above levels, where things can REALLY get confusing, but to those who are unaware, may seem extremely lucrative.
Very often, when we get this deep into an MLM program, we also get into the very shady areas of it, where people start to make assumptions that it's a pyramid scheme and frankly, I am of the opinion that ANY multi tiered referral program is downright, borderline a pyramid scheme.
And I actually make the distinction between pyramid schemes and MLM programs here so if you are interested in pyramid schemes and how to identify them, that article will greatly help you.
Alright, so what's network marketing then?
It is a type of business model where a company generally markets directly to what they call "distributors".
What these people are, are basically those who are looking to become business people of their own and sell products of the company on their own time and generate businesses of their own. It's almost like a franchise…
For example:
Say there is a company that sells wellness products like Kyani, Amway or any other like it out there.
Instead of marketing to the general public, they pitch themselves to people who would "distribute" their wellness products and approach those people saying they have great opportunities if they buy their products and sell them.
Most of the time, you will see people practicing network marketing by trying to sell products they purchased from the main company to their friends and family. 
Here are some of the reasons many network companies practice this form of selling/marketing:
1) By selling to distributors, they essentially guarantee an initial sale. If they only sell distributors products that they can then resell, it doesn't matter to them if the distributor sell those things or not, by that time, the product is off the company's hands, a profit is made and they basically broke even at least.
2) Very often network companies do, what I like to call "force" distributors to "talking" their network of buyers they sell the product to, to become a recurring buyer.
So if I sell a wellness product to someone, I can also talk them into continuing to buy the same wellness product on and on to guarantee myself and the network company a consistent profit. Many times, these companies also like to set quotas for distributors to have in order to at least have them and a certain amount of people they sell their product to be on their re-billing orders to keep the profits coming in.
3) People that get sold the product by the distributor can also then become a distributor for the said company and keep points 1 and 2 coming along. 
4) Most (I'd actually say all) of the companies I have seen with this, also offer a referral business model which doesn't involve buying and distributing the product/s, but referring people into the network marketing company through an MLM model (and that's where things begin to slide…).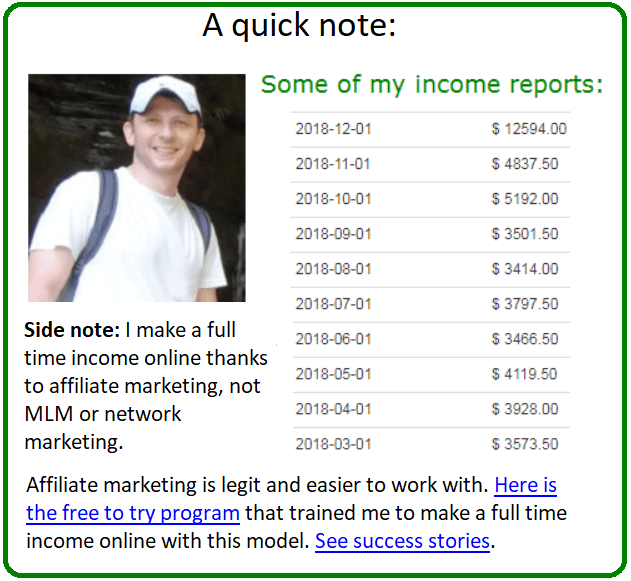 Back to comparing Network Marketing and MLM. Here's the truth: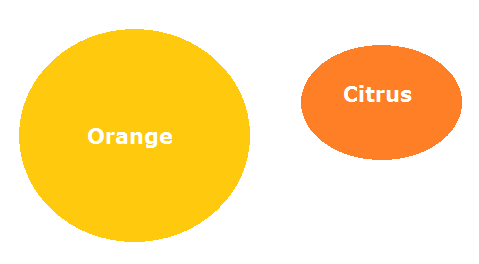 Comparing these 2 businesses is like comparing oranges and citruses…
While they are different by definition and in SPECIFIC practice, very often, one is connected to the other which is why there is so much confusion and mistaken association when someone approaches you with a network marketing opportunity that turns out to be an MLM.
In reality, what we have is a program that has products it sells to distributors but in addition has a referral program attached to it which is an extra way the distributor can make money (that's where the MLM shows itself).
I have personally never seen a network marketing company without an MLM added to it.
BUT I have seen an MLM being pitched without any actual product and THAT is almost ALWAYS a pyramid scheme.
Note: Always LOOK for a real product existing in ANY company you see. If you just find that there's a referral program, be very, very careful. Often digital programs don't have physical products.
In those cases, look to see if the digital program has service that have tangible value that's attached to it. 
My final thoughts:
Theoretically, some would argue this approach to business is not only ethical, but it makes everyone money. I argue differently and believe, through my own experiences that:
Most products offered by network marketing companies are scams because they are essentially knockoffs of better products and they also get sold to distributors for much more. So basically inflated knock offs. Add the MLM and the pyramid scheme starts to take shape. 
I am all for GOOD valued products being sold and being sold for a good price, but when they are not, and the quality is bad, and you are forced to buy and re-sell more products for access to the network marketing company + the MLM model is in place, well that just ruins the whole thing.
This is why I am all for affiliate marketing being the better, more ethical practice. 
One other thing to keep in mind is that most of those other businesses fail, but they fail because distributors fail to make the sales quotas and/or the people they sell to usually don't buy it in the amounts they need to in order to make the distributor a profit, so their business fails.
And/or in many cases, the MLM is also hard to sell to people because it relies on the stimulus of more referrals coming in and so it eventually falls. 
Now I know that many people will "cite" that most regular businesses fail too, but I assure you, there are distinctions as to why THAT happens vs why THESE specific business models fail and most of the time, it's because of the reasons I just stated. 
Here is the bottom line:
As someone who is a businessman and has seen his fair share of different selling models, which ones work and how to make consistent income from home, I know about what it takes to have a good business that REALLY makes people happy and again, I go back to the whole affiliate marketing thing or at least having your own product to sell.

Whatever option you choose, I would personally steer far away from network marketing and the other model and stick to being an affiliate instead and if that's what you want to do, then there's no better way learn it and to do it through Wealthy Affiliate, the program I learned from. 
Now I know there will be fans of the other models that will disagree and agree with me and I'd love to hear from you guys, but as long as it's a calm debate.