Quick Report: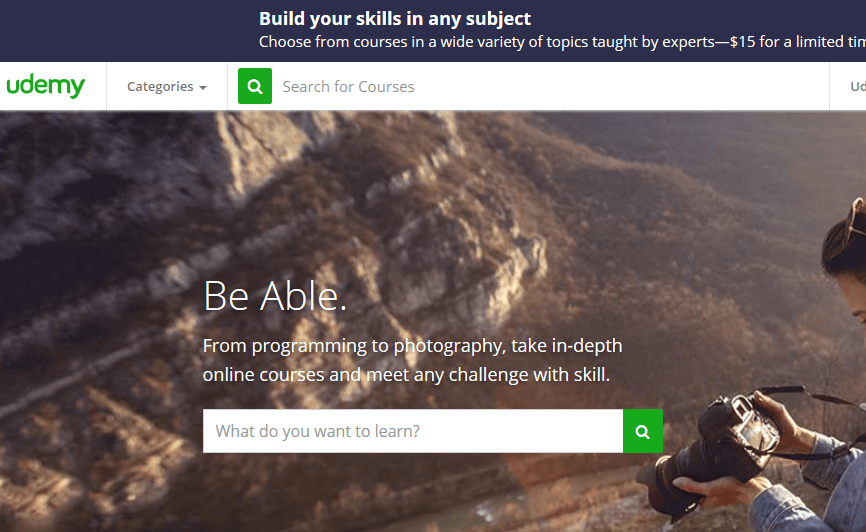 Name: Udemy. 
Price: Free to join for BOTH students and instructors. 
Earning potential? Yes, but it varies on 8 different circumstances and ONLY applies to instructors. This will be explained as well as what would be the best "course" of action you should take to maximize earnings there.
Overall Rating:

8 out of 10 stars

.
Undoubtedly, you can make money from this place and it is legitimate. I will discuss the more "smarter" ways of doing it, but there are in my opinion shortfalls to the system that's been built in which hinders earning potential and there are more profitable ways to earn as an instructor, just not through the actual program.
Spoiler: In short, if you (correctly) make a website which teaches what you would have taught through Udemy, you can potentially make far more and I will prove it later.
Udemy explained in a nutshell:
There exist a number of websites which gather knowledgeable people on any topic and pay them to create classes on those topics. Then people can come, pay for the classes and the instructors will earn money.
Out of all the websites which apply this formula (Lynda, an another good one is Skillshare, InstaEdu, ect…) none are more popular than Udemy. It is the biggest of them all as it contains hundreds of thousands of students and tons of instructors who constantly make courses. 
An example of how Udemy works and if you are qualified… 
In short, the formula is simple: 
Let's say you are an excellent painter. Great, head over to Udemy, make a course on painting and sell it for whatever they allow. You can charge per student and however many register, that is how much you'll make (minus fees).
Let's take something else…perhaps you're a retired economics professor, why not create college level courses on that site teaching what you know?
What if you're not an expert?
Well in that case, I would say you may very well be one and not know it. For example, in this articl on becoming an expert in niches, I pointed out how people may be good at a topic, yet believe that they are not qualified to teach it to anyone else.
In many cases, you may very well be wrong and that's a great thing, because even people who aren't "pros" can still make courses on this site!
Have a look on the right at some of the subjects you can create courses on. I'll cover them more below, but here's some to get your ideas running:
Either way, if you find you're "qualified", making courses there is free, but this place will take a portion each student's payment.
How much? Enter…
How much you and Udemy make for each student who buys your lessons/courses:
As I stated at the very beginning of this article, there are by my count, 8 different scenarios in which IF a course you make sells, how much you make will be different. 
By my understanding, your commission for EACH course sold (as an instructor) varies between 25%-97% depending on HOW that course was sold.
For example:
Scenario 1:
This site allows affiliate marketers to promote their courses and if a person they refer to your course buys it, the affiliate needs to make a commission right?
Well in that circumstance, they would, they'd make 40% so if you sold a $100 course, they'd make $40, Udemy would make $25 (25%) and you would also make $25 (25%), the remaining 10% ($10) go to another party that is affiliate related. You will have to check the official Udemy support to see exactly how the revenue breakdown works.
Scenario 2:
You make a course, someone heads to the main site and finds it. In that case, you and the site split the earnings 50/50.
Then there's other scenarios where you would make 97%, but in that circumstance, from what I have seen, your course needs to be discounted in order to be eligible. 
Why is this important? Well because…
You're here obviously because you're considering starting a career with this site, monetizing the knowledge you have, but you obviously want to know, how much, realistically you can make. 
With the above commission rates briefly summarized, you can now begin to estimate how much you'd make. It's not as simple as pricing your course at a certain rate, then the math is simply from there.
It's actually a bit more complex and really…circumstantial as you read through the scenarios. But now let's get to a VERY important subject that connects with this:
How does one make the most money off Udemy? 
If you go to the main page, you will see the most popular courses sold in droves. We're talking 100's, 1,000's and even 10,000's of courses sold by a single person.
Adding up that these courses each cost somewhere between $5-$15 (typically), you can easily estimate that the people who make these are quite happy right? 

Well I would say yes, but how can YOU mimic that type of success? Enter the tips I would give you. Now fair warning, I am not an instructor on this site, I am however a successful niche marketer and know how to sell my knowledge through Google for a lot more than most would make in Udemy (and I'll prove it shortly).
But my point here is that system by which I sell my knowledge (call it courses if you want) is not that different than if I were applying that knowledge to creating courses at the other site and it didn't take a lot for me to realize this…
So let me now discuss tips to succeed with Udemy if you choose to join it to make money.
Here are 5 tips to attain success on Udemy:
These tips are basic tips I advise for anyone seeking to make an online business and if you consider Udemy as a place to make money online, then it is also a type of online business and the tips apply equally as well there too:
1) Be at the very least very knowledgeable in

1 popular subject

.  
There are 15 main subjects one can make courses on within this site and each of these 15 categories have their own sub topics. For example, health and fitness is a main topic and has more specific topics within it such as self defense. 
The key really is to try and aim for a popular topic and by that I don't mean ANY of the 15, but one that is big. For example, looking over ALL of the options for topics available, here are at least 10 I personally feel from my experience in marketing would sell well on this site: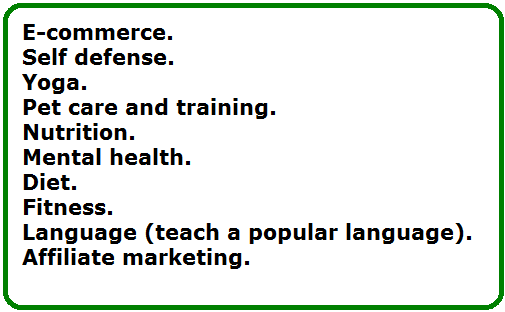 And based of these 10 examples (there's way more than 10), here's some ideas I would personally consider to make courses on:
E-Commerce: Make a course on how to set up an E-Store. Show people how you make a website and put things like checkout carts in it. 
Self Defense: I've often considered making a site on this topic as I personally study this. Make a course on helping women defend themselves (a breakdown of this niche).
Diet: If you know how to lose weight, make a course on the way you approach the whole weight loss topic. 
Language: Perhaps you speak Spanish, a popular language. Perhaps you have an easier way of teaching it than most do, great, make a course there. 
Tip: Of course to do any of this stuff, you have to first know it, and know it quite well, so make sure that's step 1.
2) Mimic the "big dogs". 
What I mean here is take the concept of the first tip, but go deeper in looking at the most popular selling courses, the topic they are part of and seeing which ones get the highest ratings + highest numbers of enrollment.
Match the ones you find with the ones you have great knowledge on. You can even cut down on research time by simply taking your knowledge then looking at the most popular selling courses that are closely related to that knowledge. Another way this strategy is known as is piggybacking (and it works).
This can give you some good insight at to whether or not the course you're looking to make will do well. For example:
If you have knowledge on dieting and see that dieting courses are selling very well on this site, guess what, you can absolutely consider adding your own course there.  
Now when I said mimic, I didn't flat out mean copy, I just meant, see which courses are successful to get an idea of what you may want to try on your own when you're ready.
3) Make a high quality course when you're ready. 
Although Udemy provides lots of tools to do this, in the end, the quality of content YOU create on your courses will not be based on the tools offered, by but the knowledge YOU possess in the topic you make it on. 
I have countless times seen in my marketing endeavors that the highest quality content isn't always the prettiest. Even if you make a course and do something like record yourself talking about how to say…diet, as long as the information and you put out is concise and practical, you will be taken seriously and appreciated for it. 
Understand that many instructors who put out courses there aren't really all that different from you. They are also just knowledgeable individuals in their fields.
4) Ideally, the popular subject you choose should also match something you're passionate about. 
In my business, which is online marketing (Learn how to get started here), the people who make it far are those who can combine their passion with a popular topic. Not having one or the other is going to make it very difficult to succeed. 
5) You may have to subject your pricing to be low, to get featured more often.
I have read a number of blogs which did not say the best things about this organization (most review are good though), and while issues with customer support was one of the main ones, the other was that the system is set up to reward the company itself and those who price their courses at a low level. 
If someone makes a course, prices it at $100, they will not be featured on the homepage from my understanding. In fact, head over to the site yourself and look at the popular selling courses. They are ALL low priced at $15 and that is actually a knocked off price from the ORIGINAL price:
So on one hand, pricing your courses at this rate is beneficial to get more reach, but on the other hand, if you want to make more, you have that right, but you lose out on potential reach. As I read it, the low priced courses like in the screenshot above are the ones which get marketed in what they call "flash sales". 
This is actually (and supposedly) how this platform makes a lot of it's money and why not?
Constantly selling to a LARGE group, low priced courses is a guaranteed money maker and it's something you additionally have to consider as a potential, future instructor of this site. 
Final Rating: Udemy

Green Flag
8 out of 10 stars. I have on several occasions referred to this organization as being one of the most legitimate places to earn money from the internet and I stand by that. However, having seen the earning potential from running a personal website, that is on the "outskirts", there's more potential there. Nevertheless, it's legit, it has holes, but it is a legitimate opportunity.
My final thoughts: Why I don't make courses on Udemy (More money can be made outside of it):
I do online marketing and I make websites (About me). My conclusion (and I will prove it) is that if you correctly make a website and do exactly what you would do through Udemy, you will make more money through your own personal website than the other option and you will reach a lot more people.
How? 
Allow me to explain the system through a perfect example and it is literally the same as making an online course, the only difference is that it's on your own website:
On one of my personal websites (this one), the topic I teach people about is how to make money online. My site instead of getting featured on Udemy, gets featured on Google.
While one gets 100,000's of hits, the other (Google) get's millions. My reach through having my site show up on Google is exponentially greater than if it would appear on Udemy. 
And to prove it like I said, allow me to take ANY best selling course there, their overall (estimated) revenue and compare it to how much my website has made:
Here we go (the proof):
Following my own advice on success tips for Udemy, I went to look at the MOST popular course on making money online (since that is what I'm good at). So I first looked at affiliate marketing since that is a branch of online marketing.
Here is what I found: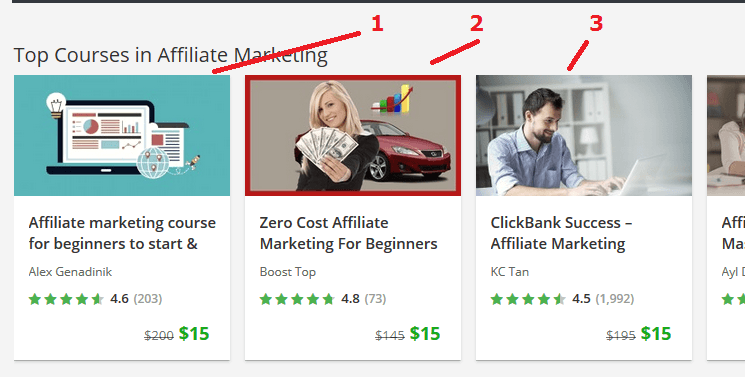 So I labeled them 1, 2 and 3. Now the key is this:
If you find and click on ANY of the courses I listed, you'll find the number of enrollments in each. The key is to take the total number of enrollments, multiply it by the price they charge and you will get the total revenue made (remember, minus the fees). But for the sake of things, I'll just assume they keep 100%. It wouldn't matter…
1. The first course (which has 203 ratings) has 14,290 people enrolled. It was made in March of 2014 (and I put in the date for a reason as I'll explain). The price of the course is $15. 
So let's multiply 14,290 by 15. That equals: $214,350.
Incredible stuff obviously, but remember this is a TOP selling course. Not everyone who makes a course on affiliate marketing will make it that far.
Also consider that it was made in 2014. If you evenly distribute that revenue across 3 years (it was made in 2014 and we're in 2017), each year this course made about $71,000+. Again, incredible stuff. 
2. The second course was made in 2016 and has 5,159 students. At $15 a pop, they made $77,385 in 2 years. So about $40k a year. 
3. The third course on the example (the one which says Clickbank Success) has 12,893 students (basically 13,000 students). At $15 for that course, this baby has made nearly $200,000! And since it was made in 2014, for the sake of argument, that's almost $70k a year. 
And on the note of Clickbank success, I've got some crazy six figure story on that here.
If you needed more proof Udemy can make people money, you just got it. But…
3 things: 
1) I did say my websites have made more. 
2) We didn't take into account how much of that revenue went to Udemy itself and other affiliates. Chances are the the REAL revenue made by the instructor is FAR less than the amount I estimated. 
3) I took the rarest and most successful examples. Most of the courses on their site will simply not get as far as these 3. 
Nevertheless. I can honestly say I have made more through owning a website and doing what these people have done through Udemy. 
Let me prove it: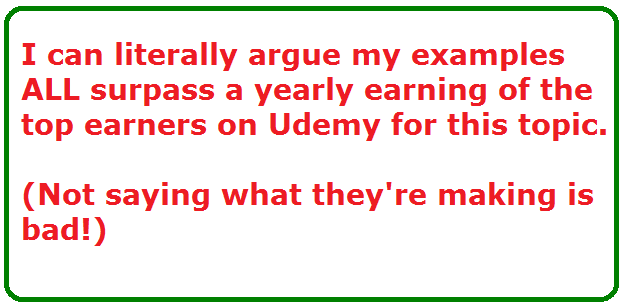 Here is a report where I indicated that my website last year made 70k+. And that is after all fees. That is MY total revenue.
Here is a report where another site I had made nearly $200k in a single year. 
And I have more if you want to read it…(top right where it says case studies). I did for the sake of honesty single out the most popular ones, although I have had another $100k+ site in the past I didn't mention. I feel those 2 examples will suffice. 
And I would not call myself the most successful website businessman, yet my 2 examples alone either match or bypass even the most successful instructor's courses above. 
Can you do this too?
If you can make a course on Udemy, you can do what I do (because it's basically the same thing!).
Let me explain again.
In my example, I have a website on making money online. I teach people this subject.

How is that ANY different than if I were making a course on Udemy? 
The blueprint is nearly the same, the only difference is the platform. You are essentially doing the same thing in both scenarios.
Now in my case, the subject is making money online. But will yours be different? Probably.
Whatever the case is, let me ask you this: 
If you pick a topic you want to make a course on, would it be more profitable for you to build your own website on it OR make a course on it? 
Reasons to go with a personal site over Udemy:
1) Your reach (your audience potential) is FAR greater with a website than it is through Udemy. No question about it. You're comparing it to Google and it doesn't matter how inexperienced you are at marketing, you already know for a fact Google is bigger.
2) Your earning potential therefore is more since the audience reach is bigger. 
3) Udemy may be easier to start with, but with a personal website and proper training, what you can earn may be far more and that's because the reach is always bigger in any niche topic you choose, because again, you're comparing it to Google.
4) You are FAR more in control of everything. Your website is YOUR property. You can price your services the way you want. 
5) In terms of marketing, you will still have a huge number of people visit your site, more so than through Udemy if you do it right. Therefore, you can charge what you feel is fair and let them decide.
What I'm saying is…
Perhaps your efforts would be better spent and rewarded if you had a personal site where you taught of this vs if you taught it at Udemy…
Now can you do both?
Sure, I will never say not to and I've proven both options work. You can even say that Udemy feels more of like a salary type job whereas my option is more of a business. 
In any case, if you have the knowledge for a particular topic, you can totally make courses and/or a website on it. And I prefer the latter because I am in control and I can make more and can help more people.
What to expect and how to increase success rates:
Now the truth is that not every single course/website you make will be successful.
Your odds of making your efforts bear fruits will depend on your personal effort and having the right platform that'll help you do it. 
You can't just expect to join Udemy and make a gold mine course from day 1 without knowledge and you certainly can't expect to make a gold mine website from day 1 without training. 
So for Udemy: If you choose to go this route, use the 5 tips I gave to increase your odds.
And if you choose the personal website:
That said, I hope the tips I gave you for success in one area or another will help you! I really wrote a lot more than I should, but think about it, I just provided an extra course on my site.
This article will get a lot of reach and the fact that my site has 100's of articles, each reaching out and getting countless visitors every day shows the far bigger potential you can get if you take it and combine it with your knowledge/passion.