I don't recall if I said I'll ever do an earnings report post on this website, but whatever, I decided to finally do it because I had writer's block and I also wanted to show readers I don't just say how to make money online for no good reason, the same strategies I suggest to you as well as programs are the same ones I use to make me what I am making today and in today's "case study", we'll ONLY examine THIS website. 
So has this website made six figures? 
So far, in a single year it has not, BUT it has gotten close. and by close, I mean $70,000. Now if you take into consideration all the years this website has been up, then I have actually made over $300,000 on this website, but the goal is to hit that six figure mark in only one year.
I really don't like to talk about earnings, but I think people who check out this site and wonder if it's making money deserve to know if that is the case. After all, I do help teach people to get started with making money online and I didn't do it myself, why would I be eligible to teach it?
But anyway, let me explain how the $70,000 was reached in this post. Well first we have the report of commissions from 1/1/16 until 10/31/16 (If you're reading this in 2020 and beyond, this site is still growing and you can find more of my reports on this page that reviews Wealthy Affiliate, a program that helped me get this done):
Now I haven't included the end of November because it's still being calculated, but so far, here's the stats for month 11: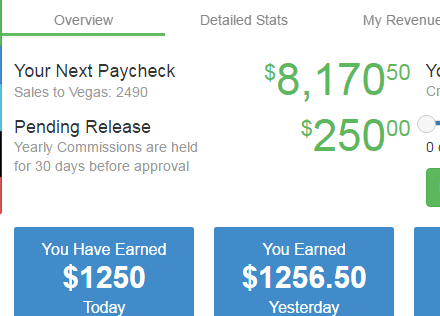 $53,000 + $8,000 = $61,000. More reports to show the $70,000 earnings to come:
If you look at my reports from above, with the $8,000 I made recently, you may wonder why it's so much larger. Well this is because my mainly promoted program on this site (Wealthy Affiliate) has had a Black Friday promotion event going on every end of November that spans for a number of days.
This event is usually the one which brings in higher numbers and almost feels like a "bonus" period for me every year. But yeah, usually these few days bring about 25% of my yearly profits. 
The black friday promotion is set to bring in an extra $5,000 in addition to the first $8,000:
Now if you add that number to the $53k above and (hopefully expected) another $5k or more for December, you will get about $70k in total, 30k shy of the six figure mark.
Now this is the report ONLY for this site and if you include my other sites where I don't pay as much attention which do make money, they combined with this one still don't get to the $100k, but there's a positive:
Besides the fact that I have just proven to you that one website can make this much.
I have also increased my profits from 2015 which was, at least for this site, $50k. Now with almost a $20k increase in 2016, that about 40% increased from last year. 
Another surprising commission report ($300 made):
I don't normally promote other products on this site, but sometimes it does pay to do it as was in this case: I promoted a program called Affilorama, but didn't really advise it as being the BEST.
Yet despite that being mentioned, someone went ahead and purchased it, giving me a nice…$356.19 and here's proof:
And so far, there hasn't been a refund, meaning the purchaser is happy for all I know and I'm glad. People may wonder why I don't promote so many other programs especially ones which pay like this and my answer is that, my goal on this site is to give people the BEST program for making money in this business and I've decided on that program as being Wealthy Affiliate. 
Even though it pays me less per lead, on a monthly basis, it adds up and the recent Black Friday sales have each surpassed $100. 
But while the commission rate is really secondary, the primary reasoning for promoting a technically less paying program is simply because the quality is better and it generally makes my customers happier.
The 4 tips I used to get to this amount:
1) I followed everything in the Wealthy Affiliate program. It is also where I made the above profits from. Most of what they taught me to build this site came from their Affiliate bootcamp course.
2) I blogged quite often, and being that this site is a few years old, I have actually become lazier in my writing frequency. This year I've so far reached about a 100 new blog posts, despite my initial goal to be 200. THIS played a gigantic role in my lack of reaching the six figures.
3) 90%+ of all my blog posts were keyword targeted a majority of which were reviews on other products in this market and the good thing is that most of them are horrible, meaning it's easier to pitch the one I stand by.
So the tip I give you reader is: Blog as much as possible and target those keywords, don't slump like I did. Even if you get a writer's block, use some tips to break it and move forward.
4) Promote more than one product if it's good enough (like I did with Affilorama), but be sure to have a single one that stands out and mention that it does. My experience has shown me that 1 main promotion gives people more calm in knowing that there's nothing better and it's easier to make the decision for them as a result.
My final thoughts:
Once the year ends, I will try to do an OFFICIAL year end report on the profits to see if the expected amount was reached, was short or more. But even if it isn't, the goal moving into 2017 will be to keep on blogging and doing the same 4 things I just mentioned above, but in a more larger frequency since this year wasn't up to par. 
Even if it somehow reaches six figures, which I'd be VERY happy about, the goal for next year would be to make more and more. 
Update: More earning reports (years later):
In 2018 I had some updates to this site's earnings and here's how much the website made in 2018.
And by the way, I have made several six figure websites before, but they weren't exactly stable. Here is an example of a 1 page website that made that amount. It later dropped in sales, which is why I decided to make this website for more stable income.