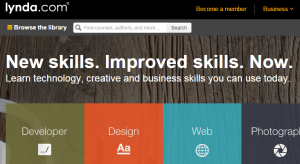 Lynda.com is one of the great info websites I've found that can teach you a great deal about just about any subject. It is on par with other great programs out there like Udemy and in this review, I'll show you why.
Quick Report on Lynda.com:
Price: Free starter trials of 10 days available. Prices range from $25/month-$375/year. 
Overall Rating: 7 out of 10 stars
I love the site for how easy it is to find information and the sheer amount of it, particularly on online marketing. It can provide a lot of amazing opportunities, but I want to point to some "holes" I found in certain subjects there.
What is Lynda.com?
This is a knowledge based website where you can find a lot of information on various topics, but most of them range in the business/online business topics. Things like web design, online marketing and business training. 
Those categories even go further down and become more specific. For example:
For web design, you'll videos and training on things such as: Making a website, videos, editing software tutorials.
For online marketing, there is a lot of extensive training on SEO, keywords, content creation and more.        

Business training talks a lot about brainstorming, handling programs like excel, organizing ideas and so much more.
I know I listed just the VERY general things, but there's really a lot of in-depth information and more importantly, that information is very high quality. 
The 3 ways you can benefit from Lynda.com explained:
1) You can find and learn information on any of the given topics on Lynda.com:
It's like a library. From the moment you become a member (you can start for free), you will be asked to select topics from which you would like to gather information. Then based on the answers you give, a number of videos and tutorials will show up for you to start learning:
When I went through this, I chose only things related to business and online marketing and thus received videos regarding those topics. I later filtered it to ONLY show online marketing because this is what was most interesting to me.
2) You can also promote the site as a partner (affiliate).
As an affiliate marketer of Lynda.com, you can earn commissions on each member who joins and pays. Although how much you can earn is not specified (you have to register first), here is a pricing plan found on their site: 
As you can see, every membership has a free trial (10 days) to check everything out. Then if people join, I assume you either make a one time commission or better yet re-occurring meaning for each month a member referred by you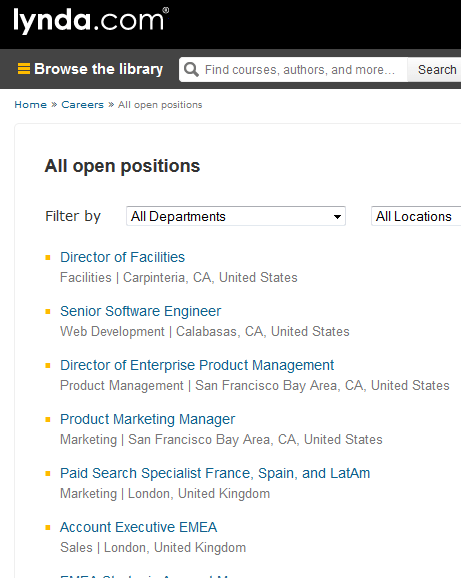 remains on the site, you get paid. I'll be registering with this program and will let you all know the details.
3) You can actually get hired to work on the site.
The positions are only open to people in the United States, United Kingdom and Australia, but if you possess knowledge in any of the given fields (you can filter them out too), you may have a chance to get hired (benefits included):
 What interested me most about these positions were 2 things:
A) Can you work from home?
I'm guessing not since these locations are specific, but I'll look into this more.
B) What if you want to write content on the site?
This is something a place called Udemy and even Skillshare does which is very similar to Lynda.com (I'll compare both in the future). I looked up content and found 2 positions open in California (not my state sadly). 
But just keep in mind that if you are knowledgeable in the fields they mention and live in the right state, you can get hired by these guys.  
How's the online marketing training there?
While most of this review has focused on the general benefits of the site, the thing that initially attracted me to this place was seeing what they have to offer when it comes to internet marketing. Here's what I got in terms of training: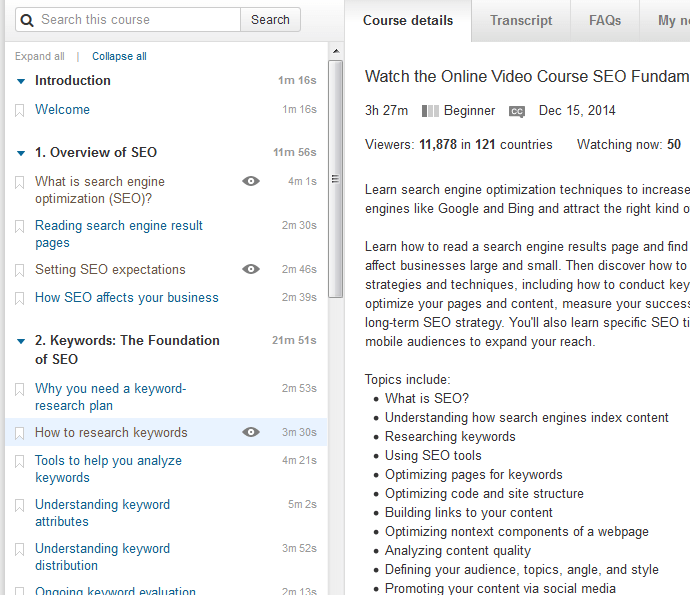 In total there were 10 lessons (11 if you count the intro) with each lesson having tutorials and it was very organized, with a video provided on each lesson as well as a transcript, FAQs and an option to take notes.
Now it's unfortunately rare to find good knowledge on internet marketing, but luckily with Lynda.com, the information was great.
I'd give it a B+ which is not something I often do!
Some information I found to be very different than how I would teach it, let alone approach it, but it doesn't mean it's wrong.
It just means it's different and that can be a good thing. After finishing this course, you are suggested more videos and training tutorials to further enhance your knowledge. 
Can people get enough knowledge to be successful through this training alone? I will say it's split. The information, although great is pretty general. There will be those for whom this is more than enough to get started. 
I didn't really see the training here as a step-by-step approach, but more of a index to online marketing and to me personally, that can be confusing. 
Also I didn't see any area where I could ask questions or get in touch with a professional. This is a huge minus on Lynda.com's part which I hope they're going to improve upon. Fortunately sites like Wealthy Affiliate make up for that and do provide help, from a whole community and pros (I'll explain what that is).
Pros:
VERY professional looking website.

You can join it for free. 

Incredible wealth of information provided. Video tutorials are also available on pretty much everything.

You can get hired by them and also promote them (promoting them can be done in any part of the country as long as you have a website).

Fair pricing in my opinion.
Cons:
I didn't see any community to communicate with or direct support for asking specific questions on tutorials. 

The information, at least on the online marketing section is a bit general. 
Final Rating: Lynda.com 

Green Flag (Very good website!)
7 out of 10 stars. I am very glad I found this site and recommend it to anyone.
My final thoughts:
It looks as though this site is constantly striving to improve which makes it that much easier to give it an even higher rating moving forward. Every website and business has cons, even my #1 recommendation, Wealthy Affiliate that I mentioned earlier and promised to discuss.
What does Wealthy Affiliate have to do with Lynda.com?
Well in the area of internet marketing, a lot, because they share a lot of common features, but as of right now, I will say WA is superior in terms of training and support than Lynda.com is and if you're looking for great knowledge and really want to get going in the business of online marketing, you'll get it in both places, but WA will be better.
And I can say that because as one of the many examples I have to show you, I made over $300k promoting them (see my Wealthy Affiliate income proof here).
You can join both places for free.

The pricing on both areas is similar. 

There is a great deal of high quality knowledge on both websites.
So if they are so similar, where are they different?
Remember, with Lynda.com, you can't really get in touch with the content creators to ask questions. With WA, you can. I think this is a key feature that is absolutely necessary.
But enough about WA. Let me conclude this review of Lynda.com by saying I see it going very far. A great deal of work has been put into making it and I can see the end goal was to make the experience for all users as convenient as possible.
Though it has a few holes, it doesn't change the fact that this site is truly amazing and I hope other places follow in it's footsteps. We need more websites like this on the internet, they are awesome resources!