Sometimes, your WordPress site will require some sort of SEO tool to help search engines recognize and rank it better. Luckily, for just that type of goal, there are a few plugins I'd recommend and here they are:
All in One SEO.

And Yoast.
Either of these 2 plugins work very well to help your site. I personally use the first one and you need to keep in mind that you can't use both at once, just pick one.
But once you do, I want to tell you 3 VERY important things you need to understand about these tools:
Point 1: These tools are not going to guarantee that you succeed with SEO.
People often make the mistake of thinking that just by installing a plugin such as the ones I suggested above is more than enough for their page to reach high rankings. This is a completely wrong way of looking at it.
These tools will simply NOT make your site rank better, they will only AID in helping Google identify what the site is about a little bit better. Ultimately, your rankings will be determined by a host of important factors such as these 5 ranking factors, and the plugins you install are not one of them.
To make this point very clear, I want to give you a simple analogy:
Imagine that you just began a new job and that you have hopes of reaching a high position in this new environment but nobody knows you and eventually, the things that WILL determine your success at this job is how hard you work and how much you accomplish.
But in order to help a little bit, you start the job with a ID tag on your shirt to help your bosses recognize you better. While that ID plays an initially important role in helping people, particularly your bosses recognize you, in the long run, your reputation on the job will not be determined by your ID, it will be determined, again, by the work you put in.
Applying this analogy to the site, it is simple:
Your site, when you first start it is just like you are, when you start the job.

The SEO plugin/s you choose to install merely plays a role in helping Google (the boss) identify the site. 

Ultimately how well your page does will be determined by how much work you put in, in this case, lots of high quality content.
Point 2: Do not stress doing what I call "overusing" these tools. 
Let's take one of the tools I suggested, the All in One SEO. I prefer and that one use the free version.
If you choose to install it, you will be greeted with A LOT of empty boxes to fill on the plugin page. Should you fill them all in?
Absolutely not, that's overkill and it's simply NOT necessary to do all of this, for the previous point I was making: These tools simply will not play that big of a role in your SEO results. You need to only fill in a few boxes and leave the rest blank.
Well that being said, what should you fill in then? Here are my suggestions, fill in the following areas:
1) Note, that there will be default things filled in for you.
For the sake of staying on point, leave everything that is set by default there AS IS. In this short tutorial, we will ONLY be filling in a few, select things (2 & 3 below).
2) Only fill in the following:
The title and description in the following area (this is an example of how I used it on one of my other sites, see the green check marks):
Now if you are a bit of an intermediate online marketer and/or have some experience, you may have noticed I used keywords in the above image. This is totally fine for your page, but use only 1 or 2 keywords, that apply to your site when you fill in these boxes, but make it natural, don't stuff keywords in here, it is simply not going to help you and may even inhibit your SEO.
There also used to be a box where you can actually add keywords in. In the current version of this plugin, it is no longer available (and correctly so) because it simply wouldn't make sense to fill in every possible keyword you can imagine. 
On a side note, I'd like to add, that SEO plugins aren't the only important ones you will want to have, here are others I highly suggest adding.
3) Use this plugin to enter your Google analytics code into.
This will help you track your page's traffic flow and a lot of other information. There will be a section further down where you can enter what's known as a UA code in.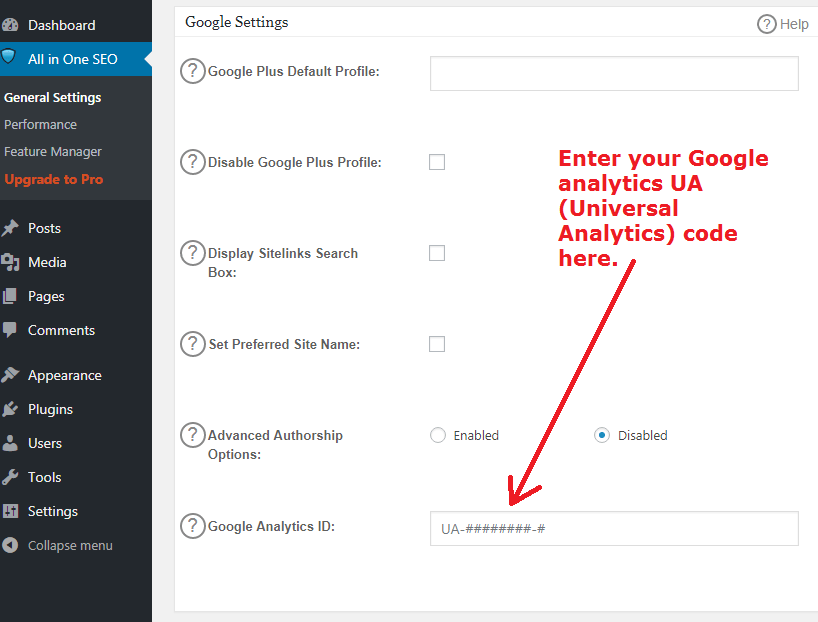 While there are other sections on your page that you can enter a Google analytics code, if you do it through this plugin, I find it to be much more dependable and easier to put it into the plugin itself. If you've never done this before, here are simple instructions on how to install Google analytics :).
And that completes the necessary fill ins you should have when you start using this tool. Apply the same idea for Yoast (Although I am much more used to the All in One alternative).
Point 3: Do not overfill part 2.
Once you've installed one of the tools above or the other, you will notice that each time you write a new page or post, there will be a bunch of new boxes and options for fill ins available to you. For example:
Underneath your main area for writing content (that being the area for the title and right underneath it the body of the article you'll write), there will be a whole bunch of blank boxes and options, some filled in, some not. Ignore them ALL, they will fill in automatically as you write your content, you need not do anything else.
Here is a 2 part example. In part I, I have a fresh, brand new post that I am about to write. If you scroll down underneath the box for where you write the body of your article, you will find the following: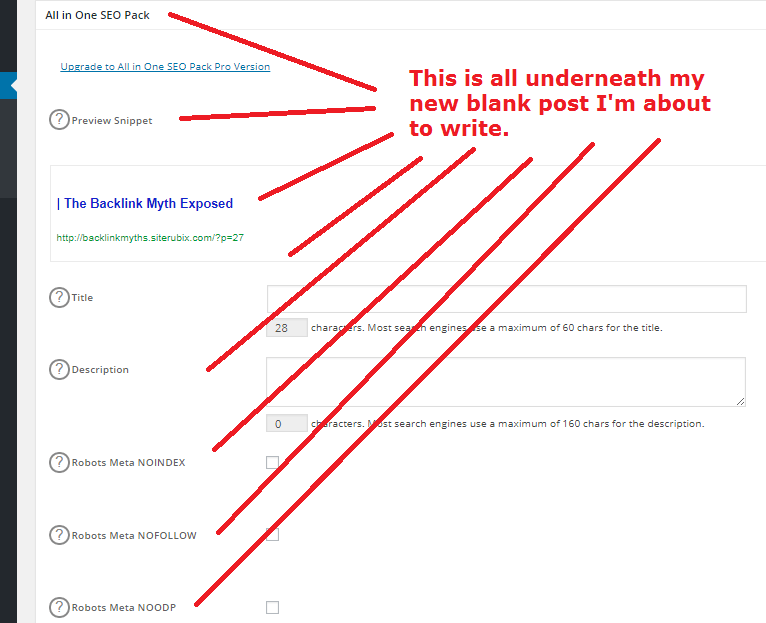 But ignore ALL of this and the reason why is because once you start writing your title and the body of the article, a lot of these blank spaces will now be auto filled in. Here is what it looks like when it's done:
Just a few quick notes:
1) When you install one of the above tools, they will basically automatically add an ID tag to any new post or page you put up. This will help with Google ranking. 
2) You only need to worry about the title and content of the post/page you're writing. The rest is filled in. However, you will want to use smart SEO tips to help the content rank better. This tool merely plays a role in reflecting the content you write, but if you write it in a way that's bad for SEO, it will simply not help.

My final thoughts:
Remember, these plugins are in large point, only tools to help with your overall site. Again, understand that they will not magically make your site rank better, they will only help with the identity of it, so it's your job as the person seeking to rank their page high to utilize the best approaches to do this and to use those tools to help with that goal.
Update: More SEO tools and plugins that will help your site grow…
Here is a list of 5 tools that I recommend using (some of which are the same as the ones recommended in this post), but they will help connect your site better to Google, as well as provide other great benefits.