Boost my Online Biz provides a service to help websites get more visitors, but is it good enough to purchase this service or is there a better option? That is what I, a traffic generation expert will explain in this article.
Quick report on Boost my Online Biz: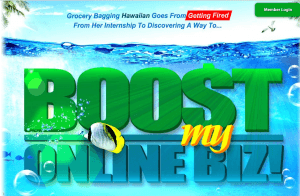 Name: Boost my Online Biz by Morgan Hale.

Price: $39.95 a month.
Overall Rating:

3 out of 10 stars

.
Based on what I know regarding email marketing and reviews I've read from other sources, I personally do not believe in this program.
Let it be known that I did not purchase it (after researching it), but I do know how you can rely on yourself to get the promised results this program is said to give you…
Recommended? No.
What is Boost my Online Biz?
This is a service which is said to send you up to 80 "targeted" leads a day from 8 different traffic sources, ranging from search engines to social media. From what I understand, you select what type of leads you wish and the "experts" in this program handle the rest, send you the leads and you take over from there and sell them whatever you want.
In short, this is a lead generation service on auto pilot.
As list building itself can be very hard, this service outsources that problem for you. It's creator, Morgan Hale claims to know how to get leads and for a price of nearly $40 a month, you'll get those leads too.
Here is why I have problems trusting fully in a service like Boost my Online Biz:
I've dealt with enough of these kinds of services and possess a lot of experience with good and bad traffic generation methods to know which ways work best. 
There's actually several major issues I see with Boost my Online Biz which will explain why I didn't recommend them:
1) These auto pilot type programs have in my experience never been dependable.
You don't really know the exact type of visitor who is signing up to your site. They may be junk leads and even bots. 
This has been my experience traffic exchange type programs and this list building program sounds very similar in nature.
2) It is hard to trust programs to send you qualified leads.
This is another big issue and it's why I don't trust things like solo ads which act similarly as this program does.
To send truly laser targeted visitors/leads to a site requires pin point marketing skills and very few places truly possess the skills to do this. 
3) I personally rely on getting qualified leads my own way.
It's actually pretty simple:
I simply identify a niche audience, then use PPC traffic to generate visits to a squeeze page. This technique has consistently produced for me qualified leads in the dozens DAILY.
I have a case study on this regarding the niche of people with knee problems and how I took this niche, used PPC traffic to collect an opt in list. See the email list building case study.
4) How do I know that the same leads being driven to my site aren't being driven to other sites too?
If they are, this dilutes the trust of the lead when they know their email is being shared with other users. I certainly wouldn't want to be a lead and get various offers from different email collectors daily. It would annoy me and have me marketing their emails as spam…
It's FAR better to have a lead land on your site organically than have a third party company send them to you in my experience. Again, this is why I do not rely on solo ads, safe lists all these other type of places which I very much think Boost my Online Biz sounds similar to.
What I found out about Boost my Online Biz from research:
One of the sources I used to find reviews was the Warrior Forum.
While I do not trust their product recommendations, I do look at that site for info on programs I am seeking to find more info on before I buy them and it just so happens that Boost my Online Biz was reviewed on that site. Here's the link to that.
The initial 2 reviews I saw were positive, but then those same 2 reviews were called out by people who mentioned having negative experiences.
Their main issues were that they believed the leads sent to them were bots and that they couldn't use tracking software to identify the leads, which is frankly a big deal to me.
But then the continuing reviews (and this ended up being a big post) were mixed. I was surprised to see that some people were saying that they were surprised by the number of opt ins they were getting and one person went in-depth on revealing that they were getting real lead sign ups from using Boost my Online Biz. 
In short, there wasn't really any screenshots or evidence provided for the positive reviews, and the negative ones too, so in the end, I was left relying on either taking the plunge and using the service or relying on the same tactics that have worked for me, for years. I decided to stay with the latter.
Final Rating: Boost my Online Biz.

Yellow Flag.
3 out of 10 stars. It's very hard for me to trust third party marketing programs like these, especially ones which are said to generate you with leads and traffic.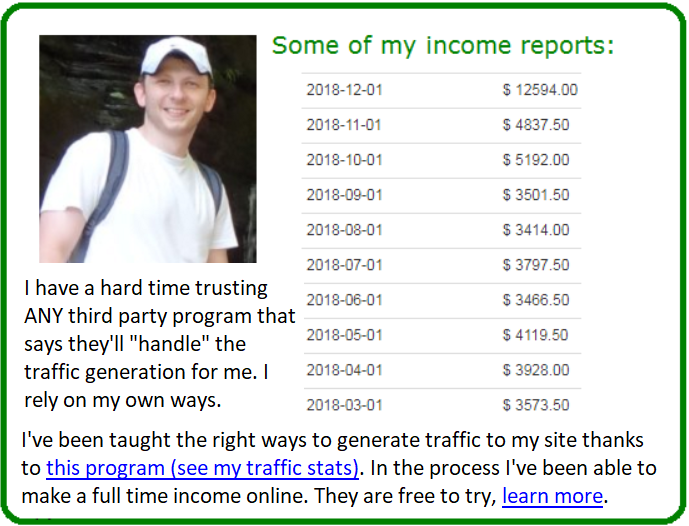 My final thoughts:
Even if somehow this is proven to work, then the difficulty becomes in creating a sales funnel that makes them convert and without being in control of your own traffic generation techniques, your own squeeze page and sales funnel, it's hard to make these 3 things align and work, which is why I make sure to do it all myself, and this has been the reason I have had success over the years.
With Boost my Online Biz, you are in control of the latter 2 things from my understanding (squeeze page and sales funnel), but the traffic/leads is a big mystery and it comes from them. They say it's from 8 different sources, but the quality of leads generated from those sources is a question mark to me and in my opinion, without knowing if this part is correctly set in place, it's tough to make the latter 2 things work.
Certainly you can test this out with your own projects and the Boost my Online Biz program, but make sure to see if the leads you get are real by seeing if there is sales activity going on.
As for myself, I will continue to get my leads though SEO and PPC methods and not have to rely on another company to do that for me:

With the program I am recommending, you do the traffic and lead generation yourself, but they teach you to do it accurately which leads to better profits in the end. I've had tremendous traffic results and high rates of sign ups as a result of using their techniques.
I will conclude by saying that I still firmly believe that any sort of traffic/lead generation that is done out of your control is a risky thing to engage in.