After buying Traffic Robot, I honestly fail to see it's use, because aside from how it's marketed, I saw a different program and this review will cover that.
After getting it initially and looking over the basic idea, I was thinking to myself "that's it?" and after cooling down, I decided to take a second look, just to make sure my first impression was correct and sadly it was. 
A quick report on Traffic Robot (TR):
Price:
About $30 with 5 up-sells and I am very grateful I did not get any of them (except the main software).
Creators:
Billy, David, Justin.
They also have other programs they create and put up on JVZoo and I reviewed at least one of them before, poorly as well and this actually is an unfortunate history I've come to expect from these creators…
So what's so special and not special about Traffic Robots?
What this program markets as on the sales page, that being a system that can bring you viral traffic is indirectly NOT that once you're inside.
YOU have to grow a social media following on several networks and then what TR does is consolidates all those networks such that you "press a button" and it broadcasts to all those networks, and the followings you have on it.
For this program to work as it's marketed, you NEED to build up your own social circles and networks on numerous social networks, otherwise, TR is USELESS and furthermore, there is literally just 1 video with basic tips on building up that social media following, and it's not very useful.
Final Rating:

1 out of 10 stars

.
Even if you have large social media followings, I still fail to see TR uses considering you can literally use free programs (and the social media options themselves) to press a button and notify your following of something you put out on that particular social media channel. 

Let me get into details on what Traffic Robot is all about:
Let me pull up this screenshot for you, where without much detail, the impression this program gave me wasn't the same as when I actually got it. Look at these "3 steps" to viral traffic screenshot on the sales page:
Now obviously, I have my own subjective opinion on these 3 steps listed, but my impression is that with TR, I can get a lot of traffic to promote stuff to without much effort. Read the Traffic Robots sales page yourself and tell me if your impression is different, I'd love to hear your point of view.
But hey, there's "some missing stuff". Here's a few things they neglect to mention:
The rest of the sales page of TR is pretty much relaying that same type of message as in the screenshot above, but when you DIG into this program (like I did after buying it), you realize there's a bunch of missing things in order for those 3 steps to align as marketed…
1) First of all, you NEED (this is absolutely mandatory) to have at least ONE large social network following. Now you have options: YouTube, Facebook, LinkedIn, Instagram, ect…
2) If you're going to get "anything" out of Traffic Robot, you WILL need to grow one or more of those social media channels and get yourself a large following and guess what? That's stuff that you need to do on your own, without the help of this program.
3) ALL that this program does is "once" you have a social media following in at least one of those places, then you can just send out a broadcast through Traffic Robot and it'll relay it to your following on the said social media channel you link with it.
4) And like I said, there's literally just a "basic" tip on growing social media channels within this program, which is very vague and I would not consider paying nearly $30 for this tip to be a worthwhile investment, nor would I consider the software itself useful.
Why is this program even needed? This is why I ask:
Suppose I work hard and get a large following on: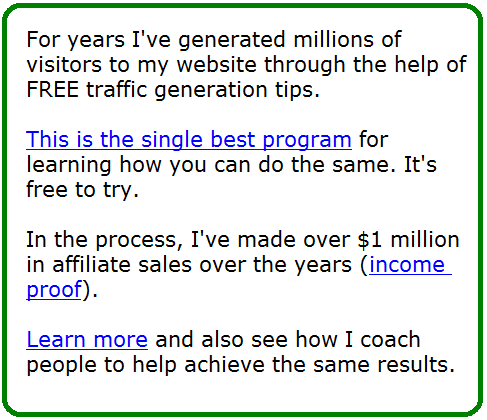 Ok great, then how hard is it to log into one of those accounts above and just send out a broadcast manually?
Why do I need Traffic Robot in this case? I don't.
It'll save me a few minutes sure, but I still don't justify paying nearly $30 for this service that I can do on my own since the ability to broadcast to social media followers takes a few seconds as it is…
For YouTube, I can write a message or make a new video and my subscribers will be notified about it.
For Facebook, I can put out a new post and my subscribers will be notified too.
For LinkedIn, I suppose it's the same thing since I don't use that place.
And for Instagram, each new post I put out (or story), my followers will also see it.
And each of these things takes seconds so I save very little time doing it through TR. 
The "ideal" scenario that may actually make Traffic Robots useful:
Once again, I bring up the biggest issue of this whole program and that is that you need to build your own social media following and this program doesn't do squat to help you there, it just helps you broadcast to the followers across those networks, that's it…
If you're going to make this program as useful as it's made out to be on the sales page, you need to work hard and build your own following through intelligent marketing efforts for a long time and I'm fairly certain by the time you reach that point, you won't need TR to broadcast to your network. 
So yeah, yet again, I have to say it: I do not see any uses in this program and I paid for it, so I have some weight in what I say…
Final Rating: Traffic Robot.

Red Flag
1 out of 10 stars. I'm not happy with this software and this is the second time I've come across a product from the same guys, the last one was called Auto Affiliate Machine and it too failed to meet the standards of a positive review.
My final thoughts:
I haven't done reviews of JVZoo products for awhile, but I'd forgotten how notorious the sellers are on there for putting out products that are extremely hyped and under delivered and unfortunately, I have to place TR in that category.
Now I want to mention that as I briefly said earlier, that there are 5 up-sells to this system and perhaps, just maybe there's some done for you viral traffic generation done there, but I refuse to buy ANY up-sells if the basic product fails to meet the hype it sets and as I already made it very clear, TR very much failed to deliver for me in regards to what I expected to see…