Quick Report: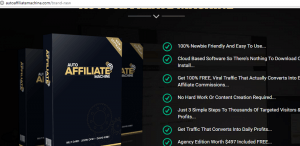 Name: Auto Affiliate Machine by Billy Darr, Justin Opay, and David Kirby.
Price: $17 with a plethora of upsell pages afterwards. I wanted to list them all, but after going through like 10 pages or so with them trying to sell me one product after another, I stopped keeping track. Just know it's a lot and I didn't buy any of them (in hindsight, this was a good decision).
Overall Rating: 1 out of 10 stars. There is extremely LITTLE value offered within this program so I'm putting that out there right now. I do not believe people will have a good chance of making money online with this program and I will list the reasons for why this is in this review. And as for better programs, oh yeah, I've got the right one…
Let me explain what is Auto Affiliate Machine is:
So this is in short a membership site with a lot of links in it. 90% of these links point you to another program to buy or a community to join where you will eventually have to buy something. 10% of the site however is where you get that little value that I was talking about, so I am going to explain that 10% right now…
The little value of this program explained:
So there are 2 things within the program where you actually get some info. You may have seen on the sales page that they will show you some "push button software" that will get you traffic (don't most of these programs claim this?). This is what I was most looking forward to discovering when I joined this site. Let me just say that I was very disappointed…
Of the 2 things that have any value, one of them is a 30+ page eBook which broadly explains making money online via opt in pages. You are given one of the most overused, overrated and simplistic formulas, that being:
Set up an opt in page, send it traffic, give them an OTO and them see the profits "roll in". 
I can't tell you how often I see it and I actually test this stuff out in my own campaigns. I've seen very little results from this. I will admit, perhaps I'm doing something wrong, but I'm a full timer within the online business world, so perhaps it may be possible that something is missing from that formula I was given, because I can tell you, there's way more details that should have included in this eBook but weren't.
The 5 traffic generation methods taught inside this program & why they aren't special at all:
So one of the most basic things this program tries to teach you is that with the "simple" opt in page formula I explained above mixed in with the 5 traffic methods I am about to show you, that you "can" make good money online with, but as you'll see, they are quite broadly explained…
So let me explain what these 5 methods are and why they are not worth you buying this program at all:
The first is Facebook. It is explained how you should start a page and give niche ideas and reviews on a certain subject and attract people interested in it, then to link them to your opt in page, but that is it.
Literally, this is all you're told. There's no instructions on set up, no detailed thoughts, no case studies, there is nothing but a BROAD explanation of the strategy. It is almost worthless…
The second is still involving Facebook but using the description box where you can leave a link to your opt in page. Billy Darr, the author of the eBook says he's seen successful marketers do this, but this is a very basic thing to say. Even if it's true that marketers have success from this, I guarantee there's more to the story, such as these same marketers having success because they have brand name awareness or a huge following and they've build this up overtime. It's not like setting up the description box automatically leads to it.
Now Billy does explain that you should offer advice on your niche subject and go to other Facebook channels so people will come back to your page to check it out, but still, like the first strategy, it's extremely broad…
The third is solo ads, something that is over advised by many good and bad marketers. It is a strategy I am personally not a fan of. You get a couple of solo ad sites in this method to check out. You sign up to them, order a package for money obviously, and get traffic to the site. The same idea to lead people from solo ads to your opt in page applies. But again, it is broadly explained.
The fourth is making YouTube videos, things such as reviews and topics on niche subjects. Now this is the only method I am for out of the 5 because it is actually a good one. I've seen results from this. Post videos on YouTube with a good keyword, a good title (do product reviews, they work) and leave a link to your product or opt in page in the description. This works and I am for it, but in this eBook, again, it's broadly explained. 
The fifth and final one is going around forums for your niche and providing links to your opt-in page/site. I've debunked this strategy and said before that it's not as easy as it looks. Putting up links in many forums is not allowed because it easily leads to spammers coming in and ruining the forum, so it's tough to get this to work nowadays. And once again…you guessed it…this strategy is ALSO broadly explained. Good luck figuring it out if you're a beginner, because you don't get a lot of steps/tutorials for it.
Now that's 1 of the 2 "useful" things in the program. Here is the second:
You get squeeze pages to download and use for your own efforts. I find this to be an "OK" thing to have, but honestly, it's not that big of a value to me.
And like I said the, rest of the site is just links to the up-sells again, other outgoing programs to sign up for and pay for and other offers. Just a bunch of ads really. Honestly though, this type of overvalued, over advertised stuff I see in the members area makes me feel like I've been scammed…
Final Rating: Auto Affiliate Machine.

Red Flag
1 out of 10 stars. I seriously would not recommend this program to anyone, especially beginners because I do not feel that there is anything of good value taught inside.
My final thoughts:
It is very common and unfortunate for me to run into these kinds of low quality programs. I want to honestly call it a scam because there was so much promise in the sales page and so much worthless training inside the members area, and honestly, I will call it that. I will also get a refund from this site, they aren't getting my $17, they don't deserve it.
I also want to add that I had experience with the same guys, with a different program they made before, called Push Button Traffic, which I have to say used the same type of blueprint for their sales page and their members area, which looked very similar to Auto Affiliate Machine was even more worthless, as a lot of it was broken. I actually expected the same stuff when I joined Auto Affiliate Machine, but thankfully that wasn't the case, it was just worthless training (oh wait…).
So yeah, that's my review of this program and yeah, like I said, I do not recommend it. I know what a valuable program which offers good stuff needs to have (because I know how to succeed in the business), and this program falls VERY short of that. Here is what I recommend instead:
So if you have experience with Auto Affiliate Machine, or know or similar programs that were made by the same people that I haven't reviewed yet, please let me know. I hope these guys put out better programs in the future, because this one (and the other one I mentioned) were horrible…