Millions of people buy domain names, and since registrars that offer them, also offer an affiliate program to sell them, I've capitalized on this and made over $1,000.
In this article, I'll be explaining how I sell domain names through a program called Wealthy Affiliate, which offers some pretty awesome deals for website domains, and incentives to promote them. Here's "some" of the proof of my claims:

Now let me be honest in saying that these numbers didn't accumulate quickly.
In fact, to get to this point in profits, I had to wait a few years, which would technically mean, I made about $1 a day.
But before you click away thinking that I'm only making a few dollars selling domain names, let me say that this same Wealthy Affiliate offer through which I've been making these "small profits" was tied in with different offers, and these "other offers" actually ended up making me over $300,000 and as you read this article, I will show you how making a little bit from selling domains led to making these six figure numbers on the back end.
So in other words, this domain selling opportunity ended up being a gateway into much bigger profits for me personally and for the consumer who purchased them, it was also a great deal, because not only did they get a domain for a small price, but they also got many tools and training services to help them actually do something substantial with that domain, which is learn to make money online with it.
But I'll get into all of those details shortly and if you're also interested in doing this too, I'll also provide you with the details. Let me start with this:

Firstly, let me say that there are 2 ways to go about this business:
The first is that you can become an affiliate for popular registrars like Godaddy, Namecheap, Wealthy Affiliate (that last one is the one I mentioned using before) as well as others and have people buy websites through you.
But regardless of which domain registrar you choose, for each domain purchased through you, there is a small but recurring commission paid out.
It can be $1-$2 depending on the program you register with. It's a tiny amount and it's one of the reasons why many affiliates don't really get too involved with this opportunities (these are low ticket offers, and naturally affiliates usually like higher ticket options).
But I've not only made it work for me, but like I said earlier, this opportunity in selling the domain names, opened up the opportunity to make much higher commissions for awesome tied in services to the domains I'm selling, such as training, coaching and tools to build an online business and as I already said, this led to me making over $300,000.
But again, I'll get into the details of this stuff in a bit.
The second is actually owning your own domain name, building up your own website/online business through it, having it accrue traffic and sales to raise it's value and then sell it on the same registrars or sites like Flippa.com.
This can produce incredible profits for people and I have talked about how to go about selling a website here. 
This case study however focuses on the first option I mentioned. And to further prove my points about making more than just the $1,000's from selling domain names, here's some more income proof:
Now that this has been covered (and you can read more about my personal experiences online here), allow me to get back to explaining the main point of this article in detail, which is…
How I made $1,000+ selling domain names (my personal formula):
1) First I created a big website in 2013 on making money online (you're on it now!) and have made it grow considerably since.
For proof of how it's doing, I have provided this 11 month earning report. And while that one is older, you'll find the most updated income stats for this site on my Wealthy Affiliate review, which goes into 2020.
2) On this site, I promote Wealthy Affiliate (obviously).
3) Wealthy Affiliate, in addition to being a program on online marketing education has also expanded and actually entered the domain name world in 2016 and began selling them to it's members. 
4) Each member I refer to WA, who buys a website name from them, earns me a commission. It is only $1 a year (recurring) and that's considering the person who purchased it, renewed it. Now this is $1 for EACH domain and some people buy multiple ones. 
Additionally, the extra offers besides the domain name offer also earn me anywhere from $8 to $175 PER person. So with all the people I get into the program, not only do many of them buy domains, but they also buy the extra offers which pay me the $8 and all the way up to $175, and this combination of things is how I made over $300,000 through this entire program.
I list the details of my $300,000 earnings here via the Bootcamp course in Wealthy Affiliate.
5) With regards to the domains I've sold through them, I've been able to generate over $1,000 in sales since this began with about 20% of those sales coming from people who have renewed the domain they purchased.
Here's a snippet of these sales I made selling domain names: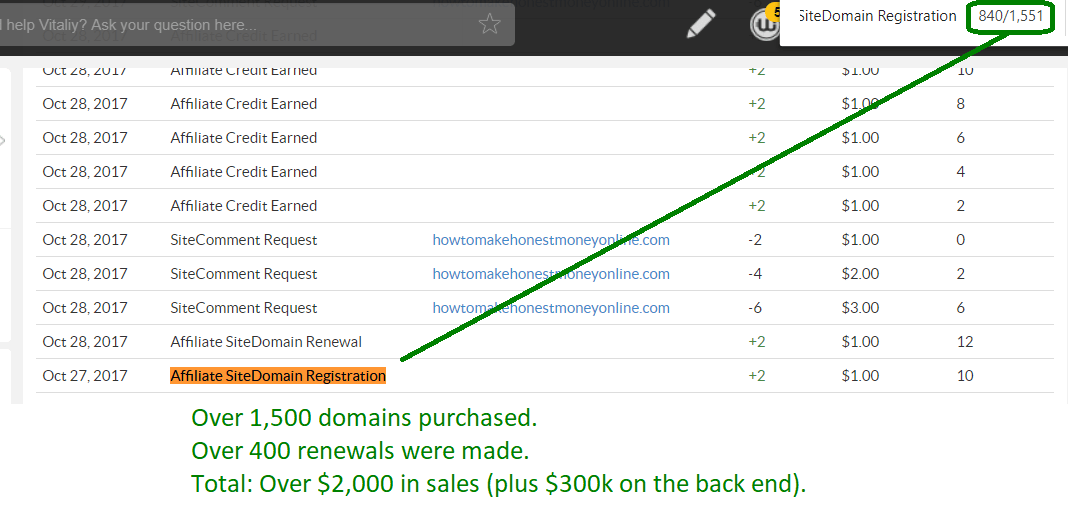 Because that report is too long to show on this article (it's 3+ years worth of reports!), let me just break down the specific numbers for you:
Since January 2016, when Wealthy Affiliate entered the domain registrar world and started selling them, I didn't even have to separably promote these offers. They were automatically tied in with my MAIN promotion of Wealthy Affiliate, which is basically found here.
Once someone joins this program through me, and buys a domain (which happens often), I get that commission from it right away and once a year passes for that person's domain to come up for renewal and they renew it, I get that $1 credit again.
So keeping this in mind, here is the breakdown:
Since January 2016 to late 2019, I've made $1,551, meaning that many domains were purchased. Some people even purchased multiple ones, and again, this is all counted towards my commissions. 
Now those sales were for NEW website buyers. But what about renewals? How many people who purchased those domains renew them the next year and the one after? Well the numbers for that are 453.
So 1,551 + 453 = $2,004 made selling domain names.
Now remember, this $2,000+ is just a small sample of the REAL money made on the back end. As I said earlier, Wealthy Affiliate is far more than just a registrar. They also offer so many more awesome things to keep people inside their program and using/buying more of their services, and it's those extra offers which I truly make the big sales from.
An ever increasing opportunity:
The basic idea is that the more members I get into that program (who benefit from it), the more people will sign up and buy websites, which will continually earn me $1 for each one initially and then $1 recurring for the same people who renew it. 
Overtime, these numbers can snowball into big profits and this is why despite there being only $2,000+ in sales for over 3 years, it's actually been an upward trend, meaning…
The first year, I made a few hundred from it.
Then the next year, I made even more because there were more, new people buying up websites from Wealthy Affiliate through me AND added to it was the renewals from the previous year.
And for the third year, this continues to climb, because I continue to bring in more and more referrals into the program.
Why not go for other registrars? Don't they pay more? Yes and no.
I once looked into promoting these kinds of things from GoDaddy.
They would actually pay me more than $1 for each website registration from what I saw. But I decided not to go for it and there's numerous reasons why (including financial):
1) While I like Godaddy and they offer a good affiliate program, the problem is that they offer too many necessary things and I felt like I'd be ripping off my customers if I sent them there.
2) To add merit to my first point, I have to personally point out that I've actually moved a lot of my sites/services away from Godaddy and into Wealthy Affiliate (domains AND hosting) because Godaddy kept increasing the prices every year and many of those services were just unnecessary and costly for me. In Wealthy Affiliate, a member can get many of those services INCLUDED in their membership.
Example: Hosting, SSL, and other tools are part of your WA membership, in Godaddy, they cost separate. 
3) And finally, I believe the services and benefits in WA, in addition to the website registration opportunities pay me more and give the customer more in the long run.
Remember, it's not just the $1 commission I am making off my referrals, it's actually A LOT more and the benefits of those other services make it far more financially lucrative for me to be involved in and more importantly, far better for the customer to be involved in because they get cheap domains, great tools for their businesses and awesome training, and they would actually end up overpaying for that in other places and eventually leave.
Through WA, because they stick around, I make more money every month than I would with the other places. It's basically not the front end sales you need to analyze, it's the long run sales. For example:
If I were to promote a Godaddy services and get 100 people to buy, say domain services and a few other things, I'd probably make a few $1,000 in a year for this. It's not bad at all! 
But through WA, if I were get the same 100 people in, and each of them would earn me $1 for a domain they'd buy, plus pay the monthly membership, I'd probably make 4-5 times as much in the same year. And they'd also be happier and that's because they get more value out of WA and all the benefits that are inclusive there.
Not only that, but the DEAL and benefits a customer gets from WA vs Godaddy and pretty much any other place (Basically they have it all included) is far better for retention, meaning the people who get these things out of WA, stick around more, ensuring they are happy (as is the affiliate).
Are you interested in doing this same thing?
You can basically do this same thing I am by becoming a member of this program Here is a full review of Wealthy Affiliate and I recommend you check that out prior to joining. 
But once inside, you are already an eligible affiliate to do the same thing I am here.
Update: Additional ways to sell domain names.
I am currently in a preliminary stage of attempting to sell domain names via YouTube, by creating top 5 or top 10 videos on things like the best website registrars, the best hosting companies and things related to the subject of creating websites and buying them. 
As I said in the very beginning, countless millions of people buy website domains and 99% of them have no clue on what to do after to make it monetize. 
Fortunately, with the Wealthy Affiliate program, not only do people get a great deal on the domain they wish to buy, but with all the other extra tools offered, they have the ability to go much further with that website they buy and this is why I will continue to promote the same offer, just through more networks than just this website alone. 
And again, if this is something you also wish to do, then I would very much recommend the same Wealthy Affiliate program.