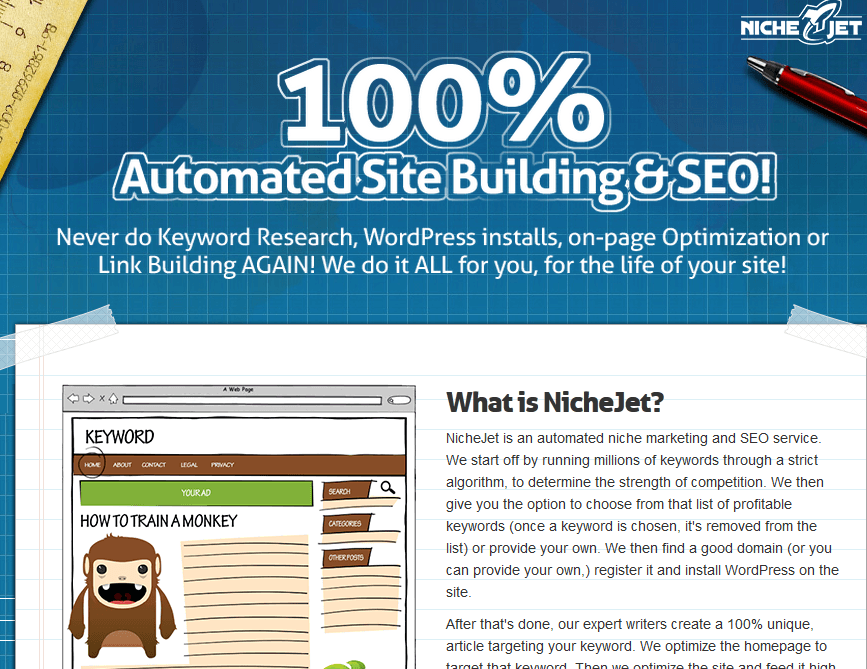 I recently read a review from a friend of mine about Niche Jet and how he tried it. Though he wasn't thrilled about the results he got, when I read that the program was created by none other than Jonathan Leger, I immediately wanted to see what was up, being a former fan of his. This post will explain if Jon's program really works and if its worth your time.
I am also adding an update to this review, because there has been a slight improvement to the service provided by NicheJet, so in addition to the regular review, I will also mention those updates below.
What is Niche Jet? 
It is basically a done for you website which includes "all" of the tools needed to build a "successful niche website". Tools such as:
Keyword research.

Niche selection.

Writing up quality content. 

Backlinks (this is one I believe is BAD for SEO). 

Article writing. 

And more…
Through Niche Jet all of this is done for you.
The idea is that for complete beginners or those too busy to build niche websites, this service does everything for you on autopilot. You just pay the $127 price (for 1 website) and they handle it all for you. Then once they are done, you take the reins and retake control. 
Essentially with Niche Jet, all you have to do is:
It's a step by step process:
1) Pick a niche you want to rank in.
On Jon's site, there is a list of "available" niches to rank in. Essentially this is nonsense since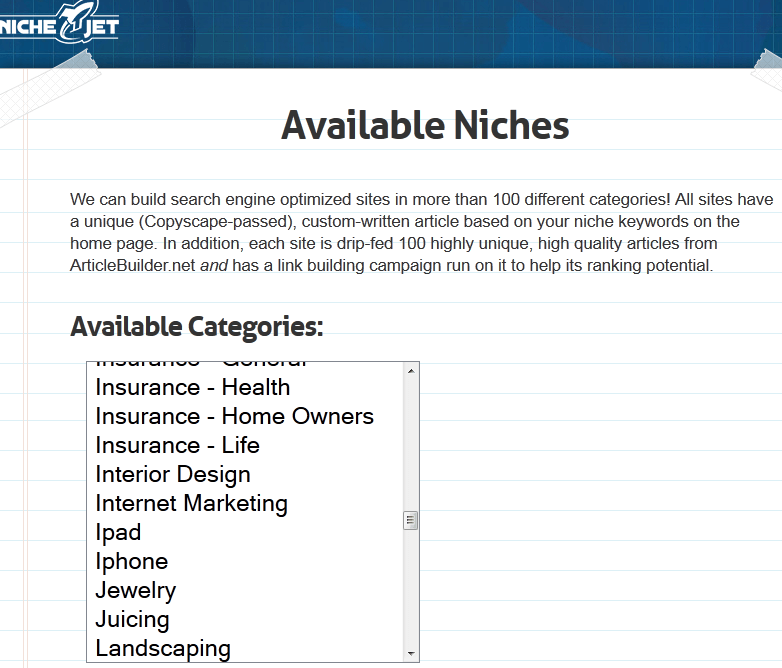 you can rank in any, provided you utilize the proper SEO tactics.
2) You get to select from a list of 1,000's of keywords which you would like your future website rank for.
Supposedly all of the keywords chosen receive over 200 visitors a month and have little competition which paves the way to high rankings.
I've heard from one person that this was false and some keywords which Jon brags about ranking high quickly actually receive less than 50 searches a month, including one that was less than 10.
Some of them don't always make sense so it will be difficult to sell to a customer who comes to your website through one of these keywords. While it isn't a bad idea to rank for low competition/low traffic keywords, the argument here was that he was told the keywords were over 200 searches a month. Fair point. 
On a side note, the real key to keyword research is to chase low competition keywords and rank under them for starters. When you do, eventually you will start to rank for more competitive/high traffic keywords, but this takes time because the authority of your website needs time to increase in Google's eyes. But enough about that…
3) Jon's team can make a website for you OR you can choose your own domain.
Usually I believe they'll choose an EMD (exact match domain) which basically means the domain name of your website will be one of the keywords you're chasing.
This is a method that still holds some value, but nowhere near as much as before. Now the content is what REALLY ranks high and that happens regardless of your domain name. I would suggest picking your own domain name if you want to try this service. 
And that's pretty much it. After you've done this part, Jonathan's team handles the rest and here's how that works:
What Jon's Niche Jet Does…
A team of writers creates up to 100 different articles which on their main site they say is 75% unique, which is code word for article spinners, at least in my mind. I don't like that, but I'll give him the benefit of the doubt.
These articles will then link back to your website, providing a backlink, something which I too am against for these reasons. 
They also write up good content on your website and help built it out. The friend I mentioned in the beginning of this post (his name is Nathaniell) said the articles written were high quality and anywhere from 400-1,000 words. This is good (if they aren't spun). 
You also get updates from Jon's team on your website including if your page/s rank and when. When it comes to support, Jon Ledger has a great reputation and in Niche Jet this is definitely shown.
How long does it take to see results? In my friend's case, there were no results and the time span of this was 2 months. I've heard from a few others that they have seen results, traffic wise and it's working for them. Certainly if you check out all of the reviews, they are mixed. If you are someone who has used this service, please let me know your experiences/thoughts on it. 
So what's my rating on it? Well I'll get to that in a minute. But first, the positives/negatives:
Pros: 
Great support.

Johnathan Leger has a good reputation for making quality products/services FOR internet marketers.

Niche Jet does follow some proven methods of successful SEO: Quality content writing. 

The official Niche Jet website is VERY upfront and honest about what services they provide. I like this a lot.
Cons:
Uses backlinks. Depending on who you hear this from, some say they are good. Others say it's bad. I'm on the latter side.

Potentially uses article spinners. Another thing I do NOT like. This kind of stuff is very risky to use. 

Results are never guaranteed. This is obvious,  but it needs to be mentioned.

It's preferable to have total control of your website and not let anyone run it for you. 

Mixed reviews. 
Final Rating: Niche Jet 

Yellow Flag.
4 Stars out of 10: Not bad. It can definitely work, but it's very risky because of some of it's methods and there are NO guarantees. See #1 recommendation, Wealthy Affiliate.
Even the new deal Niche Jet offers has some value, but I would not buy a site they offer for several $100, maybe $100.
Final thoughts: Should you try Niche Jet?
Originally I mentioned that I decided to do a review of this because the product was created by Jon Leger. The first time I actually started online marketing was through one of his products: $7 Secrets.
It wasn't successful for me, but at the time if you were a knowledgeable internet marketer, you could make that product work for you. Jon has been able to maintain a huge following since due to him constantly providing good products and ways for online marketers to succeed.
However, in today's world many of his products are outdated. In Niche Jet's case, the fact that they use backlinks & potentially article spinners is something I am totally against. These are black hat methods to marketing which will eventually crumble, meaning if you set up a website through Niche Jet, you are risking it being on a shaky foundation.
When a Google update occurs, a Niche Jet website will have a high probability of being Google slapped, which puts the entire business at risk. Thus I put this product in the avoid section. I've personally used backlinks before from another service called Bring The Fresh. It started off well, but ended badly for me. Learn from me mistakes!
Besides this, my biggest pet peeve with this service is that it takes away control from YOU, at least at first. The problem with this is that whenever you make a niche website, it is YOUR business. And having someone else handle it, even if at first is something I do not like doing.
The incentive to succeed just isn't there. Me writing for my site is very different than someone else doing it for me.

The content written isn't yours. You want your site to reflect YOUR persona.

It's disingenuous in my opinion. Anything that involves taking away your control of your website is something I'm against.
Even though you DO retake control after awhile, the fact that they use methods I'm against in addition to this is why I am not for using this service. Certainly there are places that charge you $1,000's for this kind of service (Bring the Fresh is one of them).
I DO however like that Jon is upfront about his programs. Niche jet is NOT a scam. But it is founded on outdated principals which may very well ruin your site in the long run. And that outweighs it's pros, no matter how many there are.
Any alternatives?
I would imagine that many people who are considering using Niche Jet fall into 2 categories:
1. Beginners to SEO who want experts to handle it for them.
2. Those who have money to spend on Niche sites who just want to sit back or focus on other priorities which Niche Jet does the hard work for you. 
Regardless of which one you fall into, I never recommend this done for you niche sites because the risks outweigh the benefits. Experience has taught me this. My best advice is to utilize proper guidance and be in control of your own website.
My #1 recommendation shows you gives you that proper guidance and provides the most updated and slap proof (white hat) methods to succeeding in SEO. It is up to you however to utilize these methods in your own niche sites.
Does it mean you'll succeed? No. there are no guarantees, but what you learn does work if utilized correctly. It does take time though. It can be weeks and even months for most people, but at least you know you're on the right track and you have all the power to succeed.
Plus it's a hell of a lot cheaper to try Wealthy Affiliate than to pay $100's to a service who cannot guarantee success. In fact, I just want to point out there is no such thing as a guarantee in internet marketing so any company which claims that is lying. 
If you have used Niche Jet or have any questions/comments on it, feel free to leave your comment below! I'd love to hear your thoughts on this service and if you were able to get results.
Update: Niche Jet's second option…
A recent comment on this review mentioned that this service has gone through some changes and even offers a discount. You can check out the services offered by Niche Jet here, but overall, you can now get an upgraded service to get you a higher quality niche site. 
Based on the bullet points I saw for this service, which is at $397, I don't think it's worth the cost, even with a 25% discount. Some of the reasons why are because what they say they provide you with is not what I would consider to be worthy of an authority blog. 
If you are still looking for DIY services, I'd recommend something like Human Proof Designs. But ideally, you should start fresh and build your own authority niche site, and in my opinion, here is the best program that'll help with that.