When I looked into Desktop Commission System, I discovered that it was sadly pointing to a scam program. I'll explain what program is in this review.
Quick Report: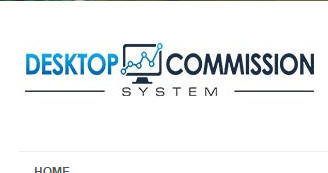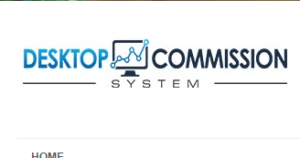 Name: Commission Desktop System.
Price: $97. 
Overall Rating:

0 out 0f 10 stars

.
Basically this program re-links to a very common scam I've been finding lately and that is the sad discovery I was eluding to.
Recommended? No! Here is what is recommended:
So what exactly is Commission Desktop System? 
It's hard to explain, because the answer may be a few things, so I'll give you 2 of the most likeliest explanations as to what this program really is, why I think it's a scam (since I have experience with it on a personal and financial level) and also what I know is far better. 
Version 1: Based on a Google search, reviews show that this program is a get rich quick scheme which doesn't get high ratings. 
However, I can't always rely on reviews so I tried to find the official site and that was actually tough (in fact, I couldn't). What I did find though was multiple scam sites that were promoting it, and I know from past experiences that sites which look like the ones I found typically act as gateways to the most popular work from home scams.
Here is a reference: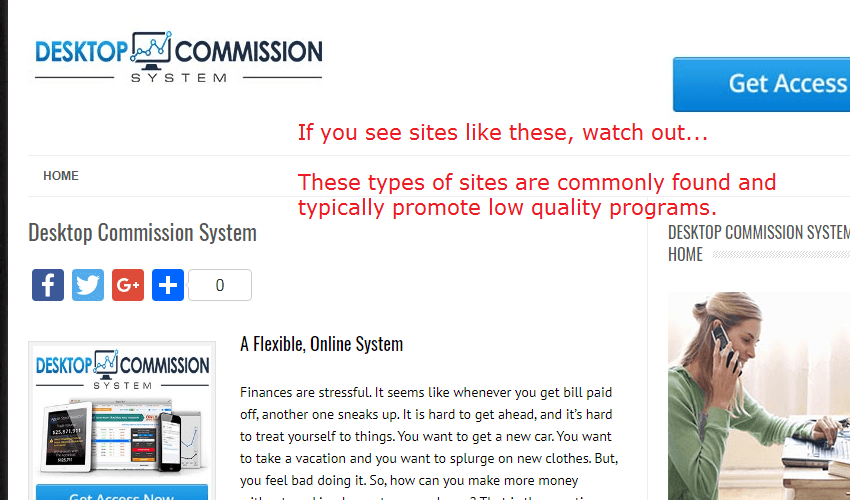 In fact, while doing a Google search for the official Desktop Commission System site, I found the above looking pages more than once. Now this brings me to version 2 of what I believe this program is:
Version 2: All of those above sites I just showed a picture off linked back to the following program: Computer Pros. Therefore, it is safe to assume that…
Desktop Commission System is now known as Computer Pros. Here's that site: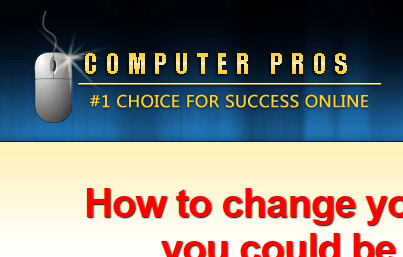 Here's why that's bad:
So Computer Pros is the newest in the same type of titled scam programs I've had experience with for months now. They are made by a different named person (in this case, Rebecca Clark) and they switch very often! They are also often pitched on these fake sites.
Because I had already known about that type of scam, it was easy to assume that Desktop Commission System, which now linked to this scam, would itself be considered a scam now, that's how I see it and believe me, it's not just based on visual experience.
I did say earlier I have personal and financial experience with this remember?
Here's my story on that:
I had tried to buy this program long ago, succeeded, disliked it, refunded it.
And then I saw how that program was being passed onto people in the form of different names so obviously, people needed to know.
But there was a chance I could have been wrong and that this new name could have been a different program, so just to be sure, I did attempt to make a purchase. But look at this:
They didn't let me and this was just a confirmation that it was the old, bad system I purchased that I didn't like.

So yeah, now you basically understand why it's tough to decode Desktop Commission System:
I wish I could have made that explanation easier, but unfortunately this was the only way I could describe it, since there are 2 possibilities and unfortunately, neither of these 2 things are good news for people thinking about buying it.
There's just so many tricks going on here that to say so and so system is just this and that is tough. I had to figure out what it was and I hope I was able to explain it clearly enough to you.
The main point is that legitimate programs shouldn't be this difficult to figure out and if you look at a legitimate list of programs like this one, or my top choice, Wealthy Affiliate, you'll see that they don't ever try to deceptively operate, change names or do any of these things, which is a factor in why they are legitimate and recommended.
Final Rating: Desktop Commission System.
0 stars
Red Flag
0 out of 10 stars. There's no real program to find here anymore, only a common tactic of linking it to another bad program to trick people into buying it, that's my opinion, my experience and one I've already spent money on to find out about all this.
My final thoughts: A quick word about these types of programs:
Whether or not you decide to try the alternative Wealthy Affiliate program I have recommended a few times in this review, I just want to let you guys know that these types of work at home scams going around like Desktop Commission System, Computer Pros or whatever that look like them are common, very common. 
It is very difficult to NOT find a program like this when doing a search for work at home opportunities, and because most of them promise that get rich quick approach, people believe it's true and if they get scammed by one program, they just go into the other assuming that next one will tell them the real way to make quick money. 
Please do not fall for that, the get rich quick programs out there, or like these in this case are lying to you (if you have already, you can do this and get your money back). They hold back a lot of the real information that you need to succeed or just straight up neglect to mention it.
Some of them even take it further and up-sell you 10x or more the original price you pay for coaching once you're in and that's where you really risk losing a lot of money.
How do I know this? Because in the 90% of these programs I've tried, they've all done that: Up-sells, fake coaching calls (here's real coaching), big money to pay, all that bad stuff. 
Luckily there is good news. Here it is:
In the work at home industry, there are indeed a ton of bad work at home programs, but I know the good ones and recommend the one which I personally think is best out of all of them, this is it:
While Desktop Commission System did turn out to be a not recommended program, the fact that you found this blog while looking for it already helps you avoid going in their direction and instead in the direction of a good program like the one I recommended. 
All this being said, I hope this whole review has cleared up a bunch of questions you may have had, including what the Desktop Commission System is/was, how the work at home industry works and how so many programs within that industry are bad, and finally what you can rely on. If there are any further questions beyond these explanations that I listed which you may have, please let me know!