If you're interested in a review of Internet Funnel System and want to know if it's a scam, I've got some very important things you need to know about it.
The first most important thing is that it "was" connected to a very bad pyramid scheme kind of program that got shut down a year ago.
The second thing is that when I first did this review, this program WAS up and so was the pyramid scheme program it was connected to. This isn't the case anymore.
And third, I will be showing you a great, alternative, none pyramid scheme system that works and in addition, will be explaining all the details of what occurred to Internet Funnel System as well as the other details.
Quick Report on Internet Funnel System:

Name: Internet Funnel System by Mark Barrett and Paul Prissick.
Price: $49 start up, then off we go into MOBE, which has it's own packages and pricing, that go well beyond $50,000 in costs. 
Overall Rating:

2 out of 10 stars

.
I actually like the people who made this program, but they lost me when I found out they were pitching a high ticket program and that it was MOBE. And here is why: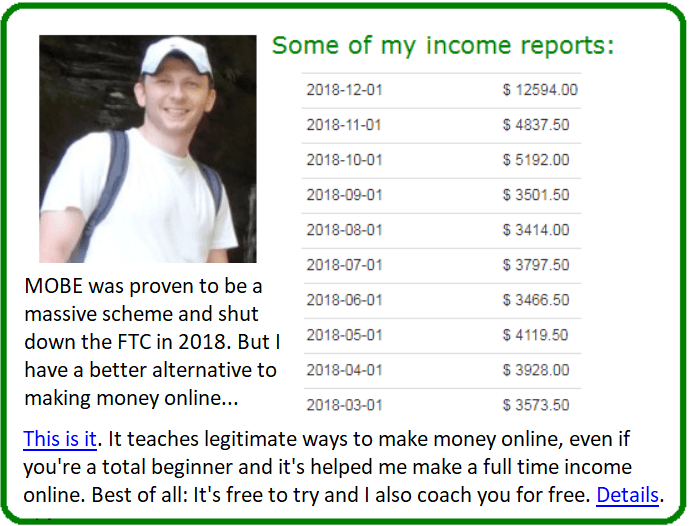 What is the Internet Funnel System?
It's an affiliate program (or was, since as an update, I couldn't find this site) that promotes MOBE (It's that pyramid scheme program I mentioned earlier, that is no longer in business).
Now for the remainder of this review, I will be providing it in a "past" explanation, as though both the Internet Funnel System was still an active program. This remaining review covers what I found out when I first discovered this program and how I wrote the review back then:
The creators of Internet Funnel System say they will be your coaches when you join and help you succeed with MOBE via private coaching and help and honestly, I believe them.
The thing is, just yesterday, I was introduced to Mark Barrett and another program he made called 2 Day Profits. I somewhat liked the program and frankly, the dude came off as being pretty genuine. But I did suspect that his program was going to pitch something more to me, such as a high ticket program (pay a lot to make a lot potentially) and indeed that was the case. That's how I found out about Internet Funnel System.
However, I did say that it was most likely the case that I would not recommend that high ticket program because I am consistently staying with my position that you don't need to pay big money for training to make money online. 
Now today, as I examined this program further and learned that it was promoting MOBE to me, my decision to not recommend this program was finalized:
Now this is my personal position and let me explain why I am sticking to it:
Let me start by saying that for years I've been involved in online marketing and through various strategies have made good money and failed many times. One of the things I've learned is that if you have the right training platform at your disposal, then you DON'T need to spend $100's or $1,000's of dollars. It really is optional.
Consider this website for instance. I started it by buying a domain name for $9.99 a year. I pay about $15 a year now (since it's through Godaddy), but there has been very little expensive when I started it up. In fact, it was under $20 and today this site makes me an excess of $60k a year.
Now I have added paid advertising strategies to increase the traffic flow to this site, but that only came around after the website started making money.
Point being: My initial investment was pretty much nothing and it's something that just about anyone can also do if they repeat the same things I did:
But here is the opposing position to consider too:
Because I like the guys who made Internet Funnel System, I want to give you their side of this whole thing, one which while I disagree with, still should be mentioned so you can make you own decision:
The way it works is this: MOBE itself provides it's affiliates with extremely huge high ticket commissions if they buy their packages. So if you see Internet Funnel System advertising making $3,000+ (or something like that) commissions of each sale, this is why.
Now usually, while I don't recommend MOBE (when it was around), one of the reasons I didn't is because besides the crazy price, I also actively run into people and programs that pitch it in the sleaziest ways you can imagine. They lie to you about how easy it is to work with, they tell you the wrong numbers, they often don't even mention it until you figure it out on your own.
But Paul and Mark strike me as different sorts of dudes.
They don't come off as these sleazy types of people and you can really see that in their sales page which advertises the Internet Funnel System (again, it's just going to take you into MOBE once you sign up).
They make it clear that you need to work a lot.

They also tell you that you can get your money back and show you how.

They also give you a point by point explanation of how they are going to help you.
And honestly, after seeing their previous program, the 2 day profits, I don't have any reason to distrust them on this. So my whole point here is that there are good affiliates and coaches out there who promote MOBE, and while Mark and Paul strike me as the good guys, I still can't recommend the whole program and the reason is the price.
While you enter for $49, you are going to quickly see that these prices are pennies compared to the upsells inside MOBE. Some of them are like $17,000+ and make no mistake, if you wish to make good money with this program, your best bet is to actually buy the up-sells inside the program, so be prepared to invest a lot of money.
Final Rating: Internet Funnel System.

Red Flag unfortunately.
2 out of 10 stars. Again, I like the guys who made it. I think they're genuine, but the cost to get into MOBE and really do well with it may be too much for people. I just think there's better approaches to this whole business and I've explained one method above already.
My final thoughts:
I have said again and again that people who are tight on money should never put in more than they can afford into make money online programs, no matter how proven they are. It is an extremely risky move and one that often results in failure.
The difference between what I suggest and what they suggest is that my options carries little to no risk, and at the same time, the room for endless success is still there, so why not go the safer route?
I hope this review of Internet Funnel System has helped you guys out. I offered 2 opposing positions on the subject of MOBE and alternatives and if you agree, let me know, and/or I'd love to hear other points you may have.