Commission Hero was advertised to me through YouTube ads and considering it deals with making money with Clickbank, something I have great expertise in, I decided to review it.
I have a lot of positive history with Clickbank as well as affiliate marketing, something you also learn about within the Commission Hero program, although my approach to this business is a little bit different and in my opinion safer to try if you're a beginner and I'll explain why in this review.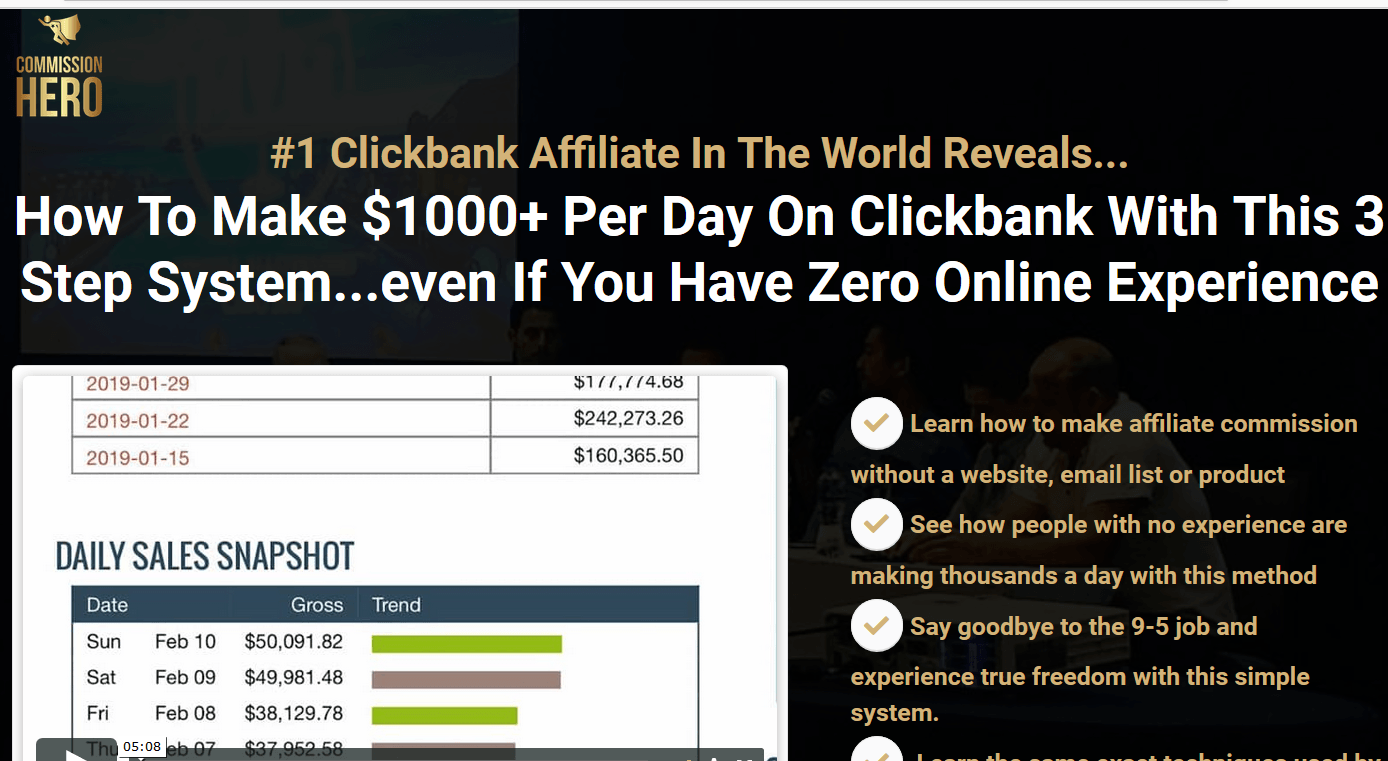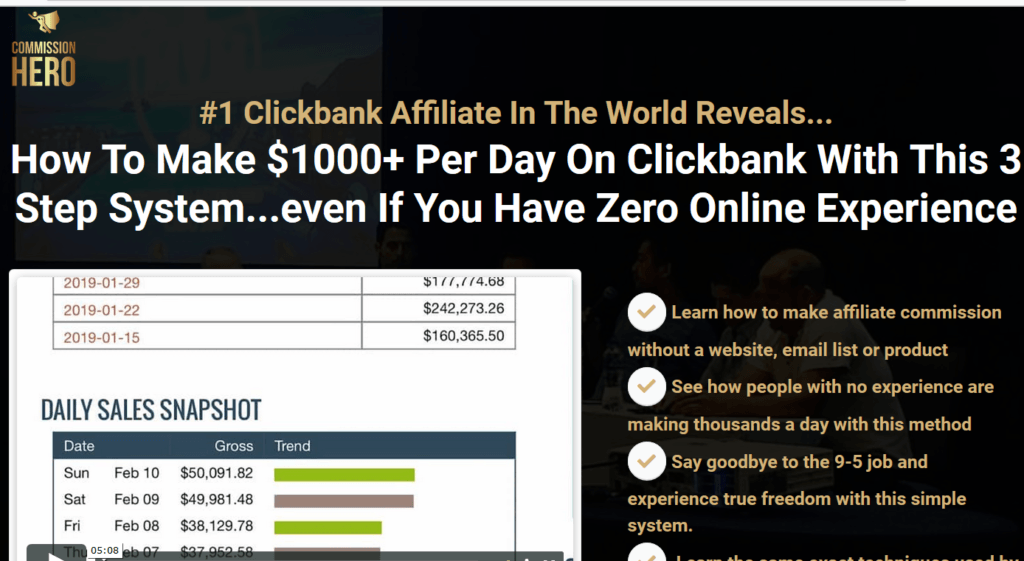 Let me say 5 honest things about this review prior to you reading it:
1) I didn't buy the Commission Hero system. Why? Because it's very expensive (though I think it is a legitimate system and NOT a scam) and I already know much about this material from my personal experiences with this business. 
2) I've researched this program from other bloggers and saw what the program contained, so I connected that info with my own experience to give you this review.
3) I 100% believe in Commission Hero's system and that it works, but I have to warn you about some serious (monetary) risks in getting it because there are paid strategies to using this program's teaching which have their own learning curves.
4) I am linking to this program in this review, but I decided to NOT promote it as an affiliate (because of the risks I'll list), so if you do buy it from this site, I will make $0 from it.
5) I know a VAST majority of people seeking to get into Clickbank and affiliate marketing simply do not have the kind of money to spend on programs like this and I do not believe in promoting extremely expensive programs when there's great, alternative programs around.
This is why I will be giving you another recommendation for an online program LIKE Commission Hero that personally helped me become a success at the affiliate marketing world (It is called Wealthy Affiliate and if you visit that page, you'll see my income reports from using that program and many other success stories too.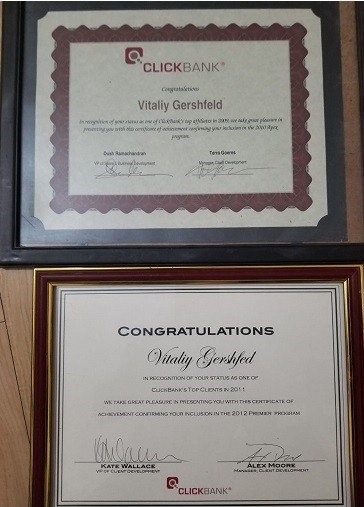 Before I begin the review…
Let me prove that I am indeed an experienced Clickbank affiliate:
Clickbank used to be my #1 network through which I earned affiliate commissions (My full Clickbank success story explained), and for 2 years, I earned several $100,000's through it. 
I am currently a super affiliate for another affiliate network and honestly, that program is Wealthy Affiliate and I managed to reach that super affiliate status due to their Bootcamp training program which had me receive a paid trip to the Wealthy Affiliate Vegas conference to meet the owners, 6 times.
But before this, I have had success across multiple places, including Clickbank.
I do admit that Robby, the creator of Commission Hero is substantially more successful than me, but his method of making money as you'll learn comes with a lot of monetary risk, but for him, this practice he teaches is easy to execute.
For you however, it may very well not be and that's because the world of paid ads which you'll learn about using to make affiliate commissions can in rare cases be profitable and in most cases, very expensive.
I'll get into the details of Commission Hero in a moment, but just know that I too am experience in this very same business (although my approach to making sales is less risky, and more monetarily friendly in my opinion).
The quick report on Commission Hero:
Creator: Robby Blanchard (right).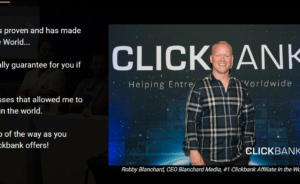 Price: Nearly $1,000 one time OR you can make 2 payments of nearly $600. 
However, I can tell you that the costs will NOT end there. You will spend more money on at least these 2 things if you wish to put the training taught in this program to use and here they are:
1) Click Funnels. While it's a great program, I believe it shouldn't be used by beginners. In any case, it's price is between $97-$297 every month, and this is ON top of the Commission Hero program.
2) Facebook Ads. You will be using this network if you wish to put the program to use and the price for this can fluctuate from pennies to lots of money spent. And again, this cost is ON TOP of the Commission Hero program.
What does this program teach? 
You learn various options to make money including becoming an affiliate for Clickbank and promoting it's products through places like Facebook Ads, intelligently, using the same methods Robby personally uses for his campaigns.
You get tools, ad copies to use, a lot of great training on making the best pitch to find niche audiences on Facebook to promote the ideal Clickbank offer to.
My rating:

4 out of 10 stars

.

Yellow Flag.
There is absolutely GREAT potential to make money with this strategy Robby uses and I'm saying it again, Commission Hero is in my opinion legitimate, but it does require a learning curve and money to be spent, with no guarantees that it can work. For a master marketer like Robby, this formula is easy to use, but for the regular newbie, it may take quite awhile.
Because there is a lot of monetary risk in my opinion and experience to making this work, I'm choosing not to promote this program. But I will link to it so you can make your own decision and I do recommend you not let any kind of hype do the decision making for you. 
As a whole, affiliate marketing is AWESOME and VERY profitable. But it is NOT a guaranteed venture, no matter who teaches it and I strongly recommend alternative and less riskier ways to make this work.
Alternatives? Yes but before I show you it, the truth is, even my alternative also comes with it's own risks such as putting in a lot of time, but based on what I know, it is one of the least costliest ways of starting an affiliate marketing business and it's very practical for beginners, which is why I recommend it.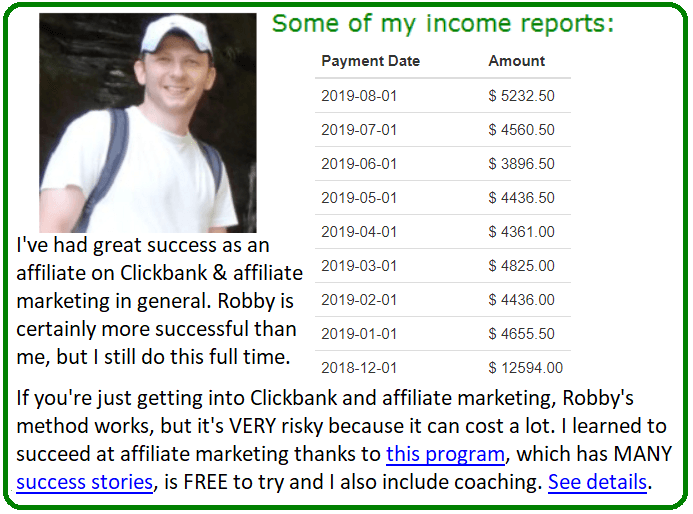 The pros of Commission Hero:
The program is designed by Robby Blanchard, Clickbank's current #1 affiliate. I would not consider him an IM guru though,

The methods taught in the program are based on the same strategies Robby uses.

The program is NOT a scam.

Valuable training is provided for the price, although I've seen cheaper programs offer similar material.
The cons:
The program itself is nearly $1,000 or $1,000+ if you do the 2 payment option.

There are more costs on the back end that can truly add up to a lot if you don't make enough money.

I always tell beginner affiliate marketers to be VERY careful with paid ads like Facebook Ads.

I promise you, no matter who teaches paid ads (Facebook Ads in this case), a learning curve exists and it can end up costing a lot.

Beginner affiliate marketers in my opinion should start with blogging, SEO because it's safer and the monetary risks are GREATLY reduced.
Final Rating: Commission Hero.

Yellow Flag
My final thoughts (why the 4 out of 10 stars):
Honestly, the premise of using paid ad networks like Facebook to make affiliate sales is 100% legit (I've made $100,000's from it, see one of my case studies for proof) and I have no doubt Robby teaches incredible things with how this is supposed to be done.
But here's a very important reality…
My VAST experience in this particular world and my history and resume with making money online shows that if you are NEW to this stuff, that it's far safer/better to start with blogging, and NONE paid ad ways of doing this stuff. 
The MAIN issue with Commission Hero is that you are not only spending A LOT of money on training, but that the back end costs of USING the training is itself risky, because the paid ad world is NOT an easy one to make money with. 
Robby is extremely experienced, so he has this formula down but even if he teaches it perfectly, you still have to go through your own learning curve to get it, and with the paid ads world, the longer that learning curve takes, the more money you'll lose along the way.
This is something I warn everyone about when I review programs that talk about paid ads and this doesn't just include Facebook Ads. The risk is HUGE in the paid ad world. If you are not ready to spend and likely lose money in it, don't get into it.
I also have these same warnings when I talk about other marketers who teach similar things like Alex Becker, John Crestani and anything involving high ticket programs, paid ads and those sorts of things.
My experience with paid ads (and a warning)….
Let me personally tell you that I know about paid ads, how they work and I've made them work for me, but even for an expert like myself, the VAST majority of times, the paid ad projects I've set up failed and this is for someone like myself (it also happens to most others).
But I can afford the losses I get from paid ads, because I already make good money from the set up I have thanks to Wealthy Affiliate which is a profitable blog that's making me money daily.
If you are a beginner, don't have a profitable blog, ad, or even money to get into this, I can tell you this is an even greater risk and I suggest that you do NOT put your money into ANY program that will have you spend a lot to gamble on it all working.
Success does not work this way! It's VERY risky.
The safer, recommended route to affiliate marketing success (on any affiliate network):
Once again, I have to mention that Commission Hero is NOT a scam, but I know about the methods taught by it and it is financially VERY risky for the beginner affiliate marketer and again, this is why I decided not to promote it. 
But you still have a NONE affiliated link to check out the Commission Hero system if you like and if not, you also have what is in my opinion a far better alternative to also get affiliate marketing success, just without that great risk in my opinion.