I purchased the Website ATM program, knowing in advance I'd probably get burned and that it'd be a scam. Read this review to see what happened.
Let me just say that I know about websites and making money from them, since I do that for a living (I'll be showing you proof and how to actually do it too), so I can spot when a program is giving me hot air on how it's "easy" and this program activated all the red flags I could name.
But regardless, I DID buy it and I will be showing why I do not recommend it and what you should truly do if you truly want to have a website that makes you good money.
The quick report on Website ATM: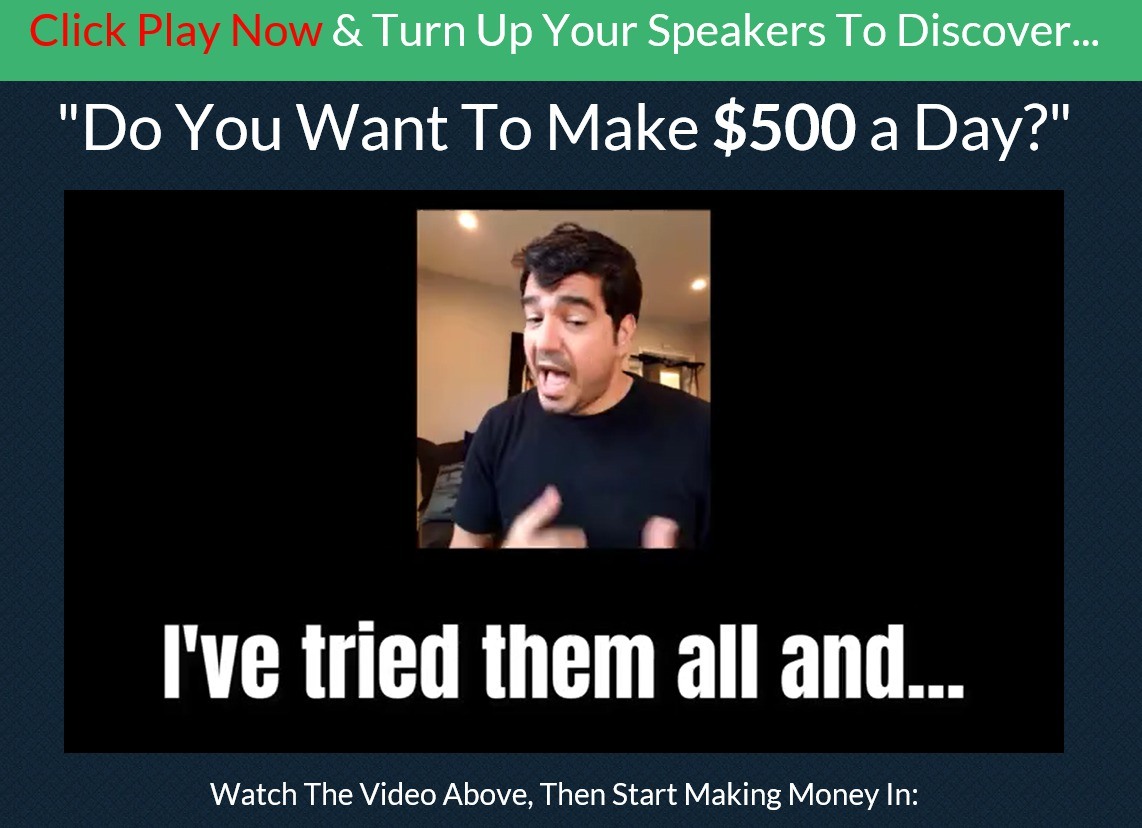 Name: Website ATM.
Price: $47 and one sneaky upsell for $297 (I'll explain why).
What is it about? It's a program that generates you an eCommerce page.
The impression I got from the sales page was that once I set this up, money would come easy (It's not true).
Overall Rating:

0 out of 10 stars

.

Yes, this is a scam program, and I am in the midst of trying to refund the $47 I paid, but thankfully, I'll show you an alternative program that will help you make profitable pages (this info is coming up VERY shortly).

First let me give you the proof that I did in fact purchase this:
And since you already know that my experience was bad, let me quickly mention that if you TRULY wish to make a website that makes you good money, here's the way to do it:
Note: 2020 income reports are available too.
And now if you'd like to see more info on Website ATM, my personal experiences with what occurred after I bough it, no problem, just continue with this review and:
Here are the 5 most important spark notes (

r
ed flags

) of Website ATM:

Firstly: All that hype talk on the sales page about making $100's of dollars through a website quickly is nonsense.

Second: The program you get (For $47) gives a VERY basic eCommerce generator, but if you want it to make money, you need to send traffic to the page (and hope it works), but guess what?

There's no training for the $47 to do that. Instead…

Third: They sell you the traffic training for $297 as an upsell. And there's NO guarantee that'll work because I know how these things function and there's VERY small chances it'll work (And that's the most optimistic way I can say it!).

Fourth: This whole program is full of hot air from the sales page claims, to the testimonials I am certain were paid for to hype up the program artificially, to the though process of making easy money with a simple website that'll be set up for you in minutes.

All nonsense. 

Fifth: Let me end with a POSITIVE point about these spark notes:

Despite this negative review I will be giving for the program (and going into details as to why shortly), I happen to be someone who legitimately makes profitable pages and am an expert at it (about me), which is one of the reasons I was able to figure out why Website ATM was a scam quickly.

If you want to truly make a profitable website, here is the best way to do it: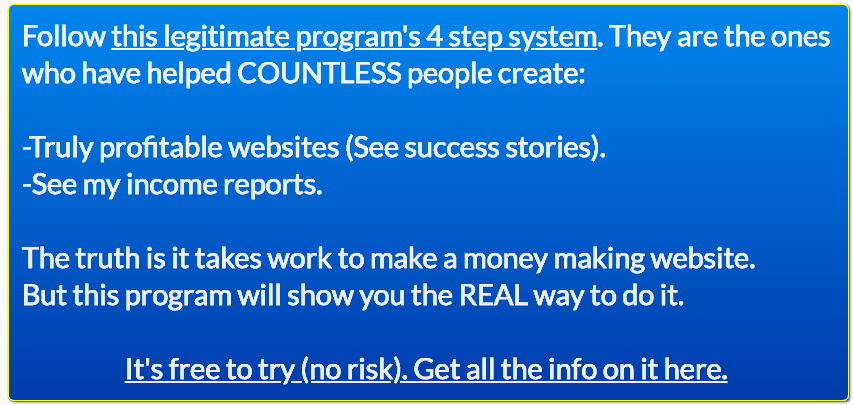 Let me get into the details of Website ATM:
1) Let me begin by saying that usually programs like these are pitched through fake promotional pages like these.
So whenever I visit them (to research and warn about new scams out there, of which I've gathered this list from), and something like Website ATM pops up as the recommendation, I'm already prepared, expecting that it'll be a low quality program.
2) Upon visiting the sales page…
Good grief did I lose my appetite.
It's been a LONG time since I've done a review on a program which so clearly tries to pitch to me how easy it is to make money if I just fork out money to buy their easy system.
And in the case of this program, oh boy, here are all the specific red flags I spotted:

Just these 5 red flags would be enough to write this review and it would be good enough, but I decided to take that extra step and buy the program, knowing that if it indeed was a scam, that I'd refund it immediately (and I am doing that).
3) One thing that surprised me in a positive way (at least at first) was that there were no up-sells once I hit the purchase button and I say this because in 99% of cases, when I purchase online programs like these, there will always be some sort of annoying up-sell diminishing my original purchase and as a rule, I never buy those. But in the case of this program, it wasn't there (it was just going to come around on the back end).
4) Upon entering the members area of this program, I took a look at the tutorials and what was actually going to be taught, with my main goal being to find out "Could this program actually meet the hype that it set on the sales page?" and the answer was no.
And here is how that members area of Website ATM looks: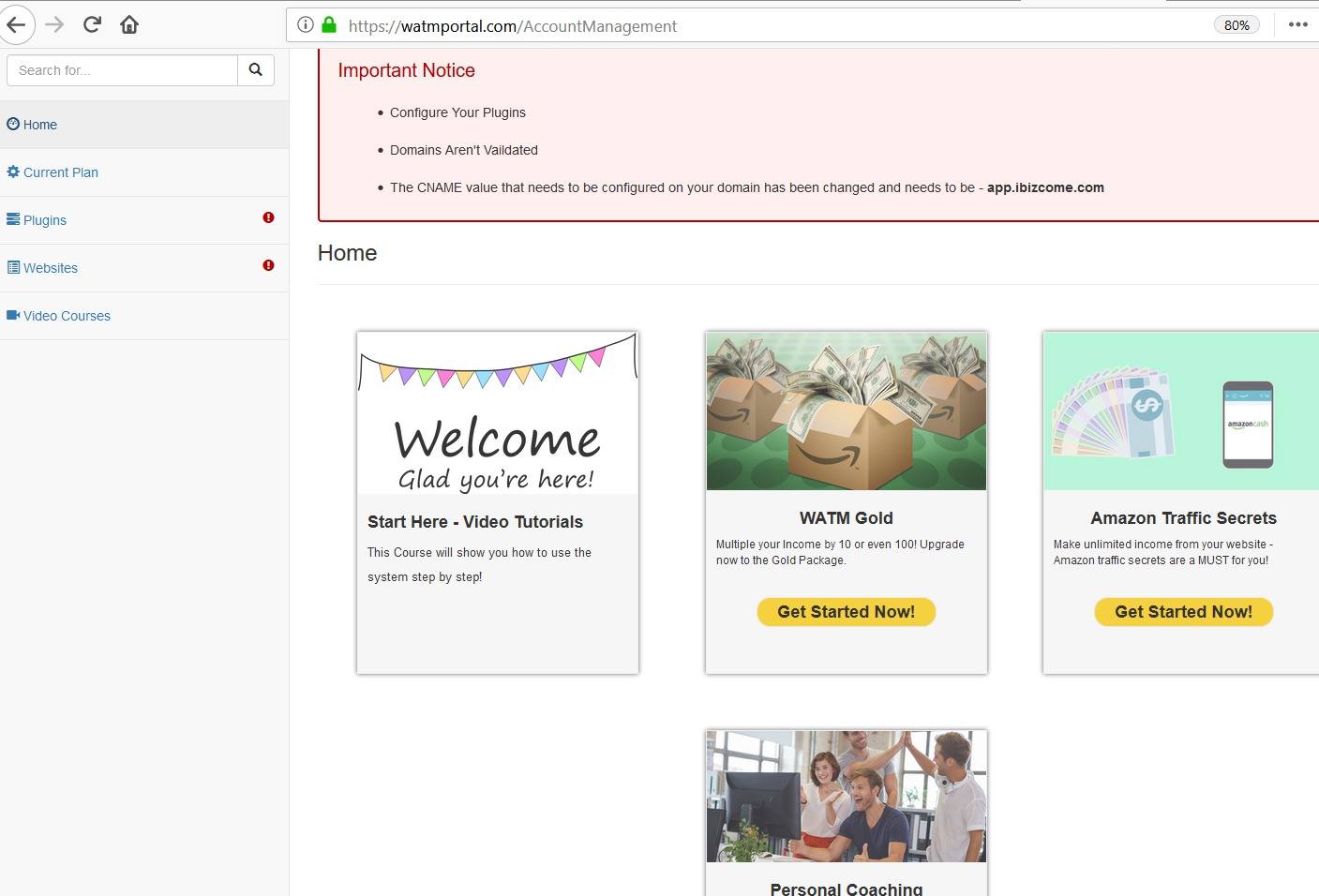 All you really get is a simple program where you enter a name of a page you want and an eCommerce page is set up for you. Here is how mine looked after I used this program: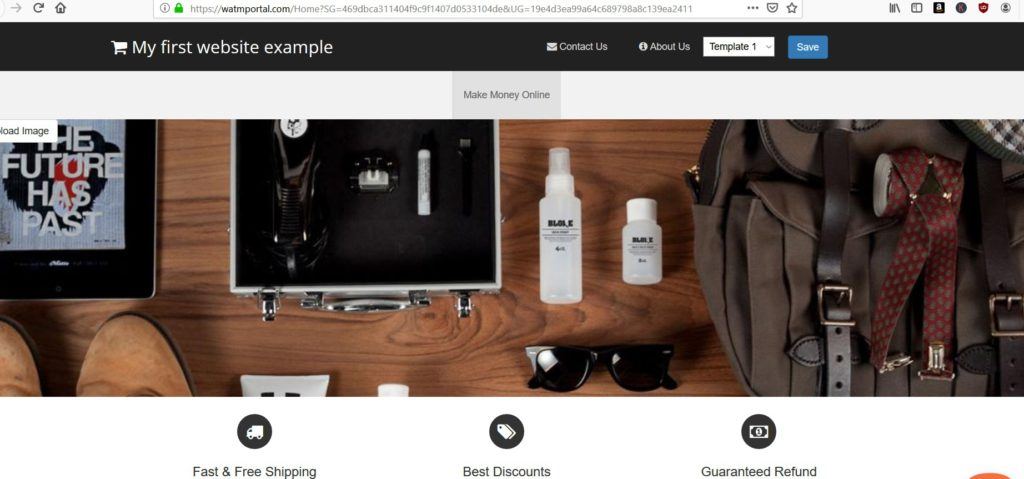 Now I'll admit, it's not a bad looking page, and obviously if I play around with it more, I can edit and make it better, put up products on it and more. But there's a problem with all this…
5) No page is ever going to make money unless it gets traffic. And isn't it funny how the basic $47 membership I purchased doesn't have ANYTHING regarding that? And this is what leads me to the up-sell talk…
6) While I didn't get any up-sells on the front end after purchasing this program, I did get this on the back end. Within the members area, they pitch 2-3 different up-sells for getting traffic to your page and this involves having to "upgrade your membership" to a gold one: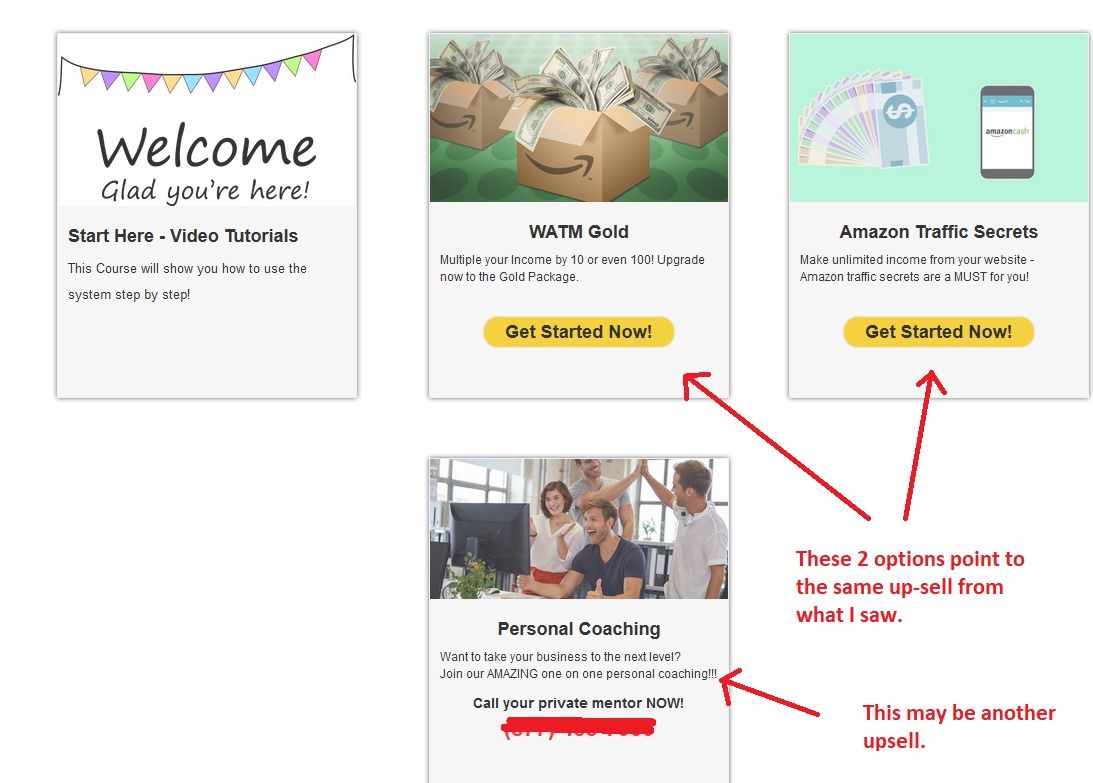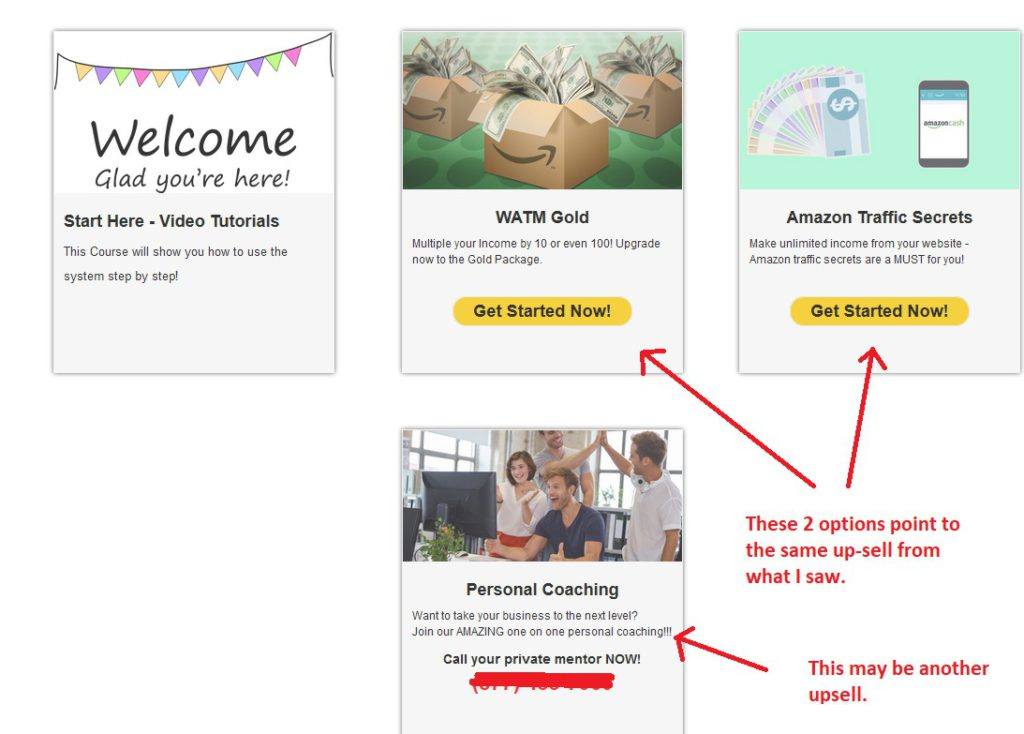 Now there is also a potential upsell for coaching which I indicated in the image above. I didn't call the number but with the way the other upsell was pitched to me in what is in my opinion a backhanded approach, I wouldn't be surprised if this was the case with the coaching.
And whenever I review programs that offer coaching, I make sure to mention that I offer my own that isn't sleazy. Here is the info on coaching.
This whole operation was very annoying in my opinion and it's why I decided to leave the program at this point and get to this review, giving you my experiences on it.
So in short, Website ATM is a scam in my opinion because…
They basically give you an auto generated site with no real tools or training to profit with it.
Anything that is extra that you need for it to grow (which is traffic) is VERY expensive to buy.
And knowing a lot about this business, I can make the argument that the traffic packages they sell to you can also be worthless.

Final Rating: Website ATM.
0 stars
Red Flag
0 out of 10 stars. All that hype about making money generating pages, to get this simple eCommerce page generator and then a deceptive (in my opinion) upsell to learn to get traffic makes me see this program as a scam. 
My final thoughts:
Again, since I have a ton of experience with making profitable pages again and again, I'm 100% telling you that the way Website ATM pitches this whole operation is false and is missing a lot of pieces, something that beginners will probably get off guard with and lose money from.
If you want to truly build a profitable page, Wealthy Affiliate is the best program for this. And I'll tell you something else, I actually explain the process in that link clearly, and without giving off a false impression.
Making profitable page takes time and work and if you see ANY program say it's easy, run away. That's what Website ATM did and look what it turned out to be.