There's an art to knowing how to sell high ticket items online and that art is having knowledge, passion, experience and relaying that to your client so they trust you.
I'll be showing you how that works (and giving you my history and experience with this), but there's something about this topic you should know first:
Lately there's been a trend online with programs being released that cost a lot and promise high ticket commissions to those who join and there's also been consultants that have released their own programs to teach about this whole "art".
People like Sam Ovens for instance and Dan Lok are examples of the types of people who have succeeded in this particular business and now teach others, for high ticket costs to do the same stuff. Each client they land, pays them upwards of $2,000 for just the starting costs.
There's also people I personally know such as an internet marketer who sells SEO services. I'll never forget how at a conference we both participated in, during a break, he went to call a client of his and after about a 10 minute conversation announced that he closed a $2,500 deal. And this wasn't a one time thing, he gets these leads over and over through his reputation in being a successful SEO consultant.
Then there's the people I consider to be scammers in this field and I always have to mention them, because over the years, they have sprouted like crazy. I'm talking about the people who make high ticket programs and offer an affiliate program alongside it that coaxes the affiliate to buy the high ticket program with promises that if they re-sell it, they'll be rich. 
With the last group of people, there are extremely low success stories and more so sob stories because while there is a huge risk in investing in these sorts of companies, people do it due to the "assurance" that a simple sale here and there will make them a huge profit and build them a huge business.
Sadly when it comes to high ticket sales, this is not how it's supposed to work, because all you're doing is selling an opportunity and not a real service that benefits the customer. Some say this is even a pyramid scheme type business.
In any case, I wanted to give you the different types of high ticket businesses that exist online (here are 13 legit ones) and let you know which are ethical and which are not, so if you ever get a sales pitch to something like a program that pays big commissions but forces you to buy that stuff first, watch out, and better yet, get away from those programs and fast.
But who am I to write this article? Here's my history with high ticket selling: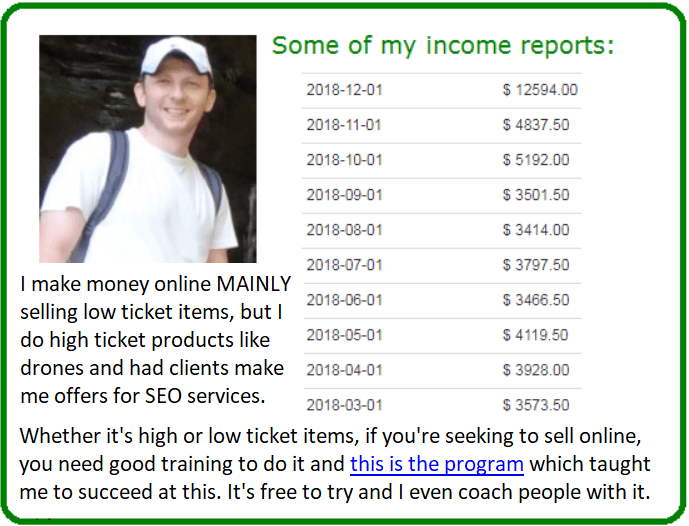 Ethically speaking, how can one sell high ticket items online? 
By following the very first thing I mentioned above, which was relaying your experience, passion and knowledge to your lead. Remember that sentence because when I put it into specific context, you will understand why at the heart of success in this regard, it's the most important thing…
Let me ask you this:
When you're considering buying a house, and you're going through a real estate agent, there's an expectation that you're going to have to pay that agent a lot of money before you buy the house.
Knowing this in advance, if you had to choose between 2 agents and who you were ready to pay big money to, which would you choose:
The agent who is a no show, doesn't respond to your messages quickly, doesn't really have a big reputation, is clingy when and clearly just trying to sell you the house.
Or perhaps you would want the agent who a friend referred you to, who said they helped them find a good home, who has a good reputation, who actually listens to what you want in a home, who takes the time to research and find what you want in your house.
I'm 100% certain that if you had to choose, you'd choose the second agent and you'd probably be happy to pay them a big commission for the house you'd buy, because you would know that you are making a good purchase and that your investment is a safe one.
Let's get into online sales specifically as another example:
Suppose you're looking to build a website and start an online business and perhaps you require consultation or even some sort of expertise and/or person who would work on the site and help it become a success. 
Would you trust a person who claims to be an expert, but has no reviews, no reputation to show, who spams your email with their offers to build you a site.
Or would you choose someone like the guy I mentioned above (the one who closed the $2,500 deal) who has a reputation, has passion for building websites for people and gets results for his clients?
Of course, you'd choose the second one.
In every example and frankly and situation where you have a lot of money to invest in, OF COURSE any smart person would invest in the safer person, who has:
The passion to put in the work for you.

Who has the knowledge that leads to the outcome you wish.

Who has the experience to back these things up.
When the person you seek to pay has these 3 things down, you know your investment is safe and therefore, if you are to become the person who is to sell high ticket items online, you need to have these 3 things down.
Now there's a 4th thing:  
The 4th thing is marketing and finding the lead who is most likely to pay you. While having the passion, the knowledge, and the experience goes a long way, if you don't have clients coming to you (and you won't in the beginning, until your reputation grows to that point), you will need to find them and for that you need to know how to market and more importantly target the right lead who would be most willing to pay you for a service.
Here's a few online marketing options you can use to find that lead: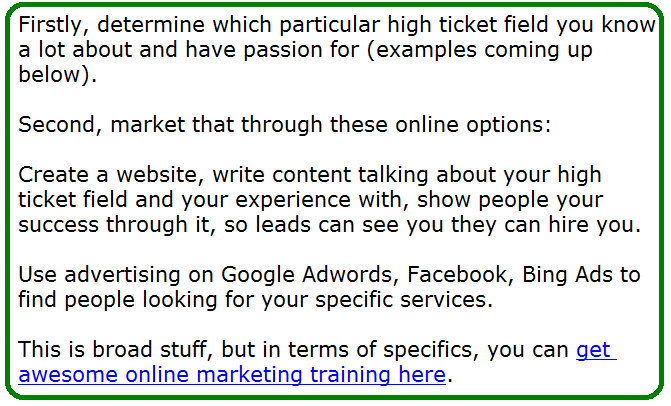 Here are ethical markets where you can sell high ticket items:
Keep in mind that in these markets, you've got to have those 3 core things I talked about (passion, knowledge and experience). Otherwise your leads will never be open to paying you large sums of money.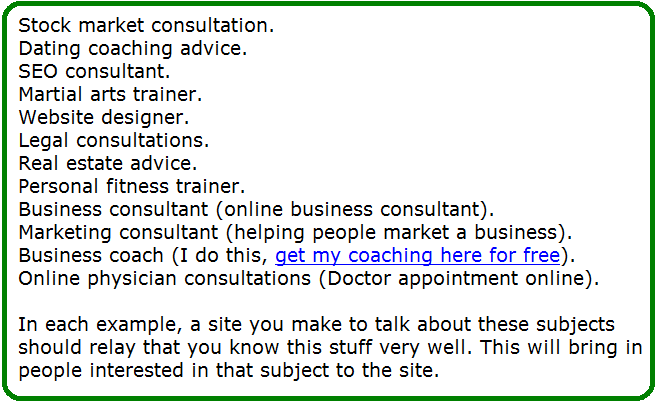 If you do this right, then you can expect leads to come to you and the closing of the sale would actually be far easier than you think with this set up. After awhile, with enough happy clients, the word will inevitably go out about your good results and this will bring in more clients and sales. 
This is how people like Sam Ovens and the person I talked about above have reached their statuses as successful high ticket sellers.
One final point I'd like to make is that in regards to things like affiliate marketing and selling high ticket items there, it's very hard to do. I actually had an article about 13 big niche topics people could make large sales from, but I have to say, this method I talked about here, as well as the examples of which niches are best to enter into, would provide you with the chances to make more sales this way.
You should expect there to be a pretty low amount of buyers since the items being sold are expensive, but this is normal. The good news is that making one or a few high ticket sales (legitimately of course) can be more than enough to keep a good income stream going.