Freedom Mentor is a quasi program that teaches you about real estate and helps you make money online with it. But is it a scam? Well it's mixed. Read this review to see why: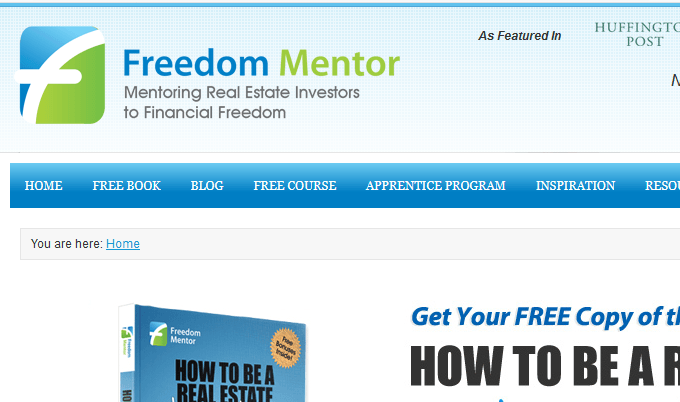 I want to be upfront about this review of Freedom Mentor:
Let me start by saying several important things:
1) I am not a real estate person, but I have gone through a few courses in my days, some of them involved seminars, some of them involved online courses, and I know the basics.
2) I actually practice what can be considered "online real estate" in that the things I engage in is building up websites (websites are considered online properties) and having them earn you money (see info about me). I find this to be easier and far less of a headache/pricey because it's all online and I have done quite well in this industry.
3) I have checked out Phil's (the owner of Freedom Mentor) site, his claims, his free eBook and think it's actually pretty good, but to pay about $200 a month and then a mentorship fee of several $1,000's is not something I personally wanted to do, so if you wanted to know the costs of this program, now you know it. 
Now with all this being said, I can totally understand if you want to stop reading this review but I would encourage you to read a little bit further, because I'm not some loser who says nothing works, I know about business and I have a lot of experience in it.
I'm here to explain what I found about Phil's program and to give you an alternative approach to business that is in just about every single regard, easier to do. And real, quick about that alternative…
Here's my summary of Freedom Mentor:
Creator: Phil Pustejovsky.
Price: As I just mentioned, expect a $200/month price to be a part of the program and an optional, but opportunistic up-sell for mentor ship which is several $1,000's.
And mentorship is another way of saying coaching. I can't comment on that, but I can tell you I coach people with regards to creating online marketing businesses.
However, let's be fair, you can view his site and blog for free and even get a free 195 page eBook where he discusses some really cool things he's learned over the years. At the very least, you may want to consider checking out the free eBook if you're tighter on money and can't go for the above options to join.
My rating:

3 out of 10 stars
Overall, the cost of this program is the reason why I can't really go further with it. I personally like what I do for business (and I'll show you how it works), but in terms of learning real estate, there's a lot of great, free and cheap content on real estate you can find on many blogs, sites, YouTube, you name it and I would really go there for that info before you put in so much money for programs like Phil's. 
Is Phil's program, Freedom Mentor legit?
Earlier I said it was mixed and allow me to elaborate on why I said this:
Firstly, if you look up reviews on Google, the first page shows some really positive ones, there's even a Huff Post where Phil is talked about.
Overall, it appears that Phil is legit, but then when you cross into the second page of results, you start to see the reviews change up their tone.
There's some that talk about his company being a scam, and other bad things, although I have to admit, seeing some of the negative ones, they kind of provide more loud talk than proof. The main issues negative reviews for this program people cite is the high ticket costs and lack of support.
I can't personally give any weight to the positive or negative reviews I found, but what I can do is explain my experience with Phil's business model, real estate and what I do for business that honestly, in my personal opinion exceeds real estate and costs way less.
How Phil's business model works: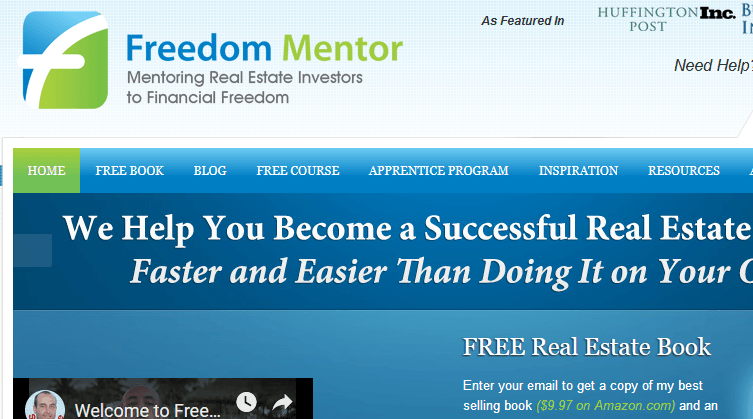 Even though Phil and I are not exactly in the same business industry, the core concepts of how he operates isn't new to me and like I said, I've gone through a few real estate programs in my time.
What Phil does is in fact online marketing (something I am well versed in). He hypes up his program and training, and I have to say, once again, his free eBook was pretty good, but then he starts trying to filter out potential leads through a questionnaire that ultimately leads you into his mentorship program. And it's all done online, so in that regard, I know this very well.
This kind of stuff is "textbook high ticket sales tactics" and that doesn't make it a scam, it's just something I've come to expect over my years seeing businesses operate. I personally don't engage in that kind of stuff, but I understand how it all works.
Phil is using his experience, history and credibility to get more leads via the online world (because there's so many more lead potentials there) and expand his existing real estate business and make more money from teaching people this stuff, it's completely understandable.
But when you consider the costs and the fact that you can access a lot info on real estate from cheaper sources, I personally think you may want to start there, even if you are serious about real estate. Unless you meet someone personally who swears by Phil's program (without trying to sell it to you), has their own results to prove their case, then I would do it.
I can't do that with Phil's program, because I don't do real estate, but I can prove my own success and even show you how my business works, which is easier, risk free and works in case you would be interested in doing it, so let me go into that now: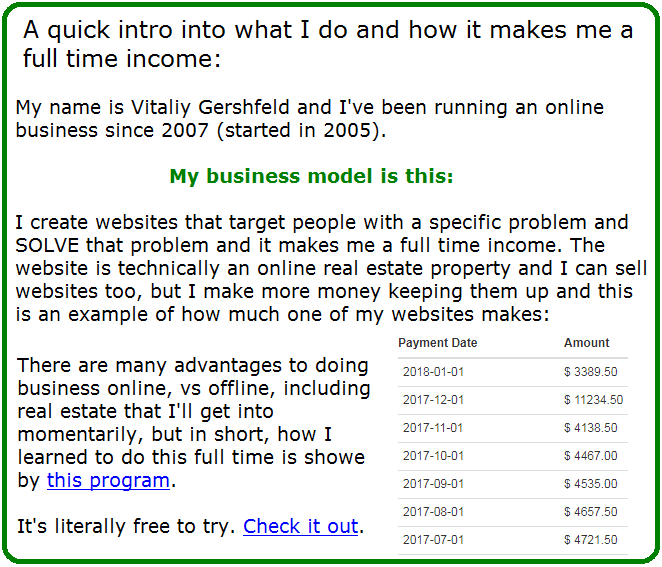 5 advantages of what I do vs real estate:
1) Websites are CHEAP to invest in and build up (how much it costs to start a website usually). You're looking at about 99.9% LESS in investment whereas with real estate, you're looking at investing money to fix up a property and take high cost risks to make money.
2) High ticket sales (such as selling homes) are generally a lot harder to make. Buying a house/apartment is one of the biggest, toughest decisions for people to make, it's just harder to do with all the extra risks involved. Online business is less risky, because people spend a lot more time online and money online to buy things that help them solve problems.
3) Getting leads to buy stuff from a website (if you know how) is way easier than selling them a house, it's just a matter of numbers and letting the lead come to you.
4) Learning to do what I do costs nothing to try if you do it through a program called Wealthy Affiliate, the very same one I became successful with. Compare that to spending $100's monthly at least and possibly $1,000's later on in Freedom Mentor.
5) And in regards to mentors, let me add something you will truly find attractive: You saw my numbers and I actually coach people without charging extra in the very same program I suggested which is Wealthy Affiliate.
Get the details of Wealthy Affiliate, but in short, there's just less risk, cost efficiency and immense potential with online businesses vs real estate, that much I can 100% claim.