As an affiliate for both Amazon and Clickbank, I'd like to give you guys a comparison of both networks in this article and tell you which one to go with for your promotions. 
Also before I get into the specifics of each network, let me quickly mention my affiliate history with both:
Here's some basic facts about each place's opportunities:
Which network has more products to promote?
Easily Amazon, it has an exponential amount more. CB is good and I'd say has probably over 10,000, but in comparison to the other place, there's no question about it, it has FAR more, millions.
So as a potential affiliate marketer, know that you have more options there. And also, if you'd like to see additional proof of my success with CB, here's my $500k report.
As for Amazon, here are some reports on my activity there.
Which network place offers better commissions?
CB in MOST cases. You're looking at up to 90% commissions vs up to 10% on the other spot. 
However, while most products you'd promote on CB would pay you more, there are circumstances in which promoting a product on the other spot would be more lucrative for you.
For example, there's far more odds of finding a high ticket product on that network which makes the up to 10% commission rate result in some pretty big paydays if you know what you're doing. 
Now there are also high ticket products on Clickbank like membership programs such as:
Ect…
Does either network charge a fee for the checks they send out?
CB takes a small portion of your affiliate check, and Amazon Associates takes a $15 processing fee from each check you get.
Now if you make $1,000's, this doesn't really make a big difference, but a $100 paycheck suddenly going down to $85 because of this fee may make people think twice. I generally make a little bit on Amazon and having that $15 fee deducted each time I get a check can be annoying for me. See details.
With CB, I never have that issue, but they DO take a small percent of your overall commissions (see details).
Which place is easier for newbies to set up on?
I'd say CB.
While I have to admit when I first started affiliate marketing, that this was the first place I joined, I honestly had an easier time setting everything up there vs when I joined the other program.
With CB, you pick out a product, click that link button, enter your nickname and boom, there's your affiliate link.
With Amazon Associates, it's almost the same thing, but there's just so many more menu options in your affiliate page, and once you find the product you want to promote, there's different ways to do it, there's an image, there's text, there's an HTML code and don't get me wrong, it's convenient, but when you know how each option's uses.
Since this is a question in which the newbie is the one on these networks, I'd say they'd have an easier time on CB.
Which place has stricter rules for it's affiliates?
Amazon.
While I joined back a few years ago, I did hear from numerous people that they often do not approve new affiliates and do set an initial sales quota for them too. I could be wrong on this, so please correct me below if that's the case people.
Which place has better support?
Both are excellent here.
You can get in touch with support quite easily and get help. I've personally been more deeply involved with CB in this regard and only had to call up Amazon Associates once, but my experience has been quite positive with both places in this regard.
Which place has made me more money?
CB. $500k actually (here's my Clickbank success story again), but in spite of that, I don't want you guys to think that this makes CB the clear choice. The reason I made so much with this place was because the product I was promoting fit in perfectly with a promotion I was engaged in at the time, so it was the right thing to do at the time, but I do also admit that I have leveraged Amazon's own popular products to promote CB products through what I wrote up on before here. 
So while CB was the bigger money maker for me, it can very well be the opposite case for you.
Which place is my personal choice?
It's all dependent on your niche (here's 100), the products you find on each network which best suite your audience and how much you know about the product/niche. I prefer to use both sites to be honest.
Which place has more high quality products to promote?
Amazon in my opinion, but this is because it just has more products in general to offer. Naturally the probability that there are more high quality products being there is obvious.
Which place is better for make money online type blogs/websites?
CB in this case as it offers more programs that pertain to this niche. I have honestly reviewed like 5 or more of these over the years, but there's FAR more on that network than just those (a place like JVZoo offers more in this regard).
Never the less, there are actual programs on CB to promote, whereas on the other spot, when it comes to the make money online niche, the best products you're bound to find are eBooks and they generally provide small commissions.
Looking to join these places? Here are their links:
My advice is to join both places and here are reasons why:
There shouldn't be any kind of "team" mentality when it comes to picking one of these places, you have to understand that you CAN join both, make money with BOTH places and can even utilize each network to promote through the other.
Let me give you some examples of how this can work:
-There's many products on Amazon which get a lot of searches on Google. I explained this in the best seller list link I provided above (you can find it here again) but those products may not pay you well or be that great, in which case, going over to CB and finding a similar product that pays better and is better in quality would be better to promote, so I'd just review the highly searched Amazon product, but pitch the CB one.
-Just the opposite, I can find a highly searched CB product on Google, but see that it may cost too much for example and promote an Amazon product in its stead while doing a review on the CB one. This scenario happens less often as there aren't that many times that a CB becomes viral.
-You don't have to only rely on product browsing on both networks, you can and should rely on bigger things such as big niche audiences and then figure out if a CB or Amazon product would be better to promote to them.
Niches are more evergreen type approaches to making money online. But do keep an eye out for big sellers and to possibly promote the product directly to an audience which knows about it. I've made GREAT amounts of money through this.
My final thoughts: To become a successful affiliate, do this: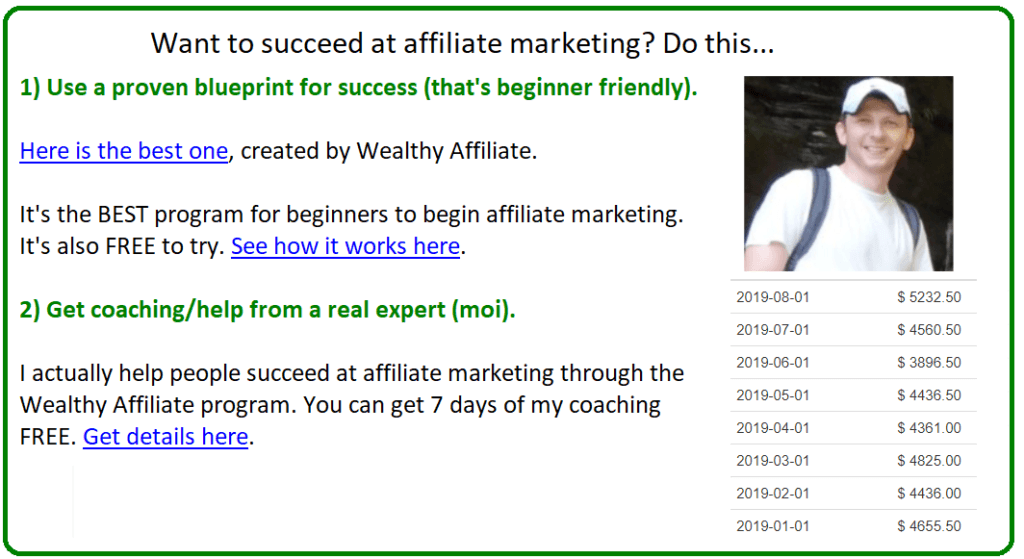 Once again, I recommend you check out Wealthy Affiliate, it's the best resource for affiliates.
It will show you how to use both these networks (as well as others) to generate income online. While having great networks like these 2 offers a lot of opportunities, to make them make you a lot of money requires you understand other important concepts like traffic generation and niche marketing. For that, the program I recommended is the best way to go to understand this and make it work.
Like I said, I make money through both places and that program showed me how to do all of that.