The Super Affiliate System is being widely advertised on Facebook as well as YouTube. I joined it briefly to give you this review and explain if there's any scam going on.
Let me say 5 very quick things before this review commences…
1) When I first joined it, there was a $1 trial to see a bunch of the training, and that's what I took advantage of. And there was A LOT to explore and study, which I will be revealing to you.
2) I did not upgrade to the $997 up-sell, which is what the program tries to move you into.
3) This program was and is still known as "Internet Jetset". But it switched names to Super Affiliate System (3.0) and I believe a big part of that was because the new name honestly sounds better.
4) In my opinion, based on the things I saw, the Super Affiliate System is legit. But the big reason I said I joined it BRIEFLY is because when I saw the prices to move forward within that program ($997), I decided it wasn't for me.
5) Thankfully, there is another program like it that I'm part of which has far better deals for the kind of great info IM Jetset offers (more on that later).
For now, let me get into the review and promised information on what I saw in the members area:
Quick Report on Super Affiliate System:
Name: Super Affiliate System (3.0). It was also originally known as Internet Jetset.

Creator: John Crestani. 
Price: So back when I first reviewed this program, like I said, it was called Internet Jetset and there was a $1 trial available.
Today it's a little bit different…
If you try to join it, there's either a webinar or a direct page which takes you into the main program (Super Affiliate System 3.0) which is $997.
Overall Rating:

5 out of 10 stars

.
When I looked into this program and got a chance to see the value behind the free trial, I really did like it, but the big up-sell to $997 which still exists and because I already get that kind of awesome training from an alternative program are why I left.
The Super Affiliate System does teach the right core principals of building an online business, but it seems like the push is being made to get people to buy the $997 upsell and that is ultimately why this program didn't rate higher.
I don't mind paying more, but this much more is just too much when you consider the other alternative I have to show you…
Sorry John, I think you and your program are legit, and I would recommend it to people, but in my opinion, this program is better:
Now again, this part of the review is based on the $1 trial and I was VERY surprised at how much it offered. The value I got out of it is one of the reasons I consider this program legit. Not many programs offer so much value, and ask you to pay so little.
But once again, as an update, this trial is no longer available as far as I saw, but my alternative program which does offer an equal and even more value (for free) is still active. Learn more here.
But anyway…
Here's a summary of the Super Affiliate System (what I got out of it):
The Super Affiliate System is a program that teaches you affiliate marketing from scratch which is basically a business where you create a website, put up links promoting products you don't own and when people buy from those links, you get paid. 
However in order to get to the last part, you need to have a website, have content on it, review products, register with affiliate programs and do a bunch of other things. 
A lot of those essentials are what's covered inside the training of the Super Affiliate System (Internet Jetset) program.
Here's an inside look into John's program when I was in it: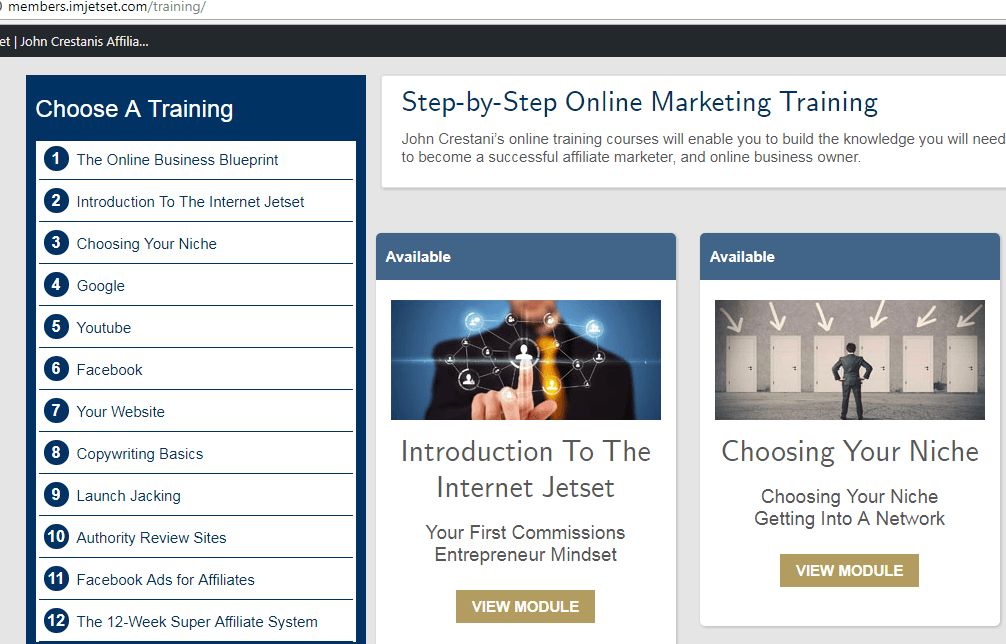 Pros:
-There are 11 high quality lessons you get to explore for just $1. These lessons run you through the steps to setting up an affiliate marketing business. Considering how much value there was in this program, it shows that there's even better value in the $997 program.
-John has set up his site so you can communicate with him and ask him questions through each lesson. In other words, good support.
-Additional bonus lessons and training is provided at no extra cost, things like YouTube marketing training and Facebook ads training. 
-Pretty organized program. Beginners will be fine with this.
-As someone who does affiliate marketing full time, I was pretty impressed with the way John set up his lessons and do believe for the most part, it's good training, but….
Cons:
-Sadly the $1 trial isn't available anymore. You can still get a course "preview" here from John. But like I said, the other program I recommend, Wealthy Affiliate is still free to try so you can get even more value out of that one.
-The training, while good, is more of a teaser in my opinion. This is in context to the $1 trial: I'd say it's 30% of what you need to get things going, which is still good, but not good/complete enough.
-There are numerous "tools" which are basically sales pages to third party programs. Having too much stuff to buy and not enough of a complete, central program all in one area is going to confuse beginners (and their wallets). Here's an example:
-The upsells. John makes it clear they are optional, but their prices…my goodness. Why does it have to be so expensive?
$297 turned into $997 if you don't act right away? And the $187 one that goes down to $97? They may even be great, but I can tell you this much: 
-No real reason to stay past the trial. The $47/month doesn't appear to give you anything else other than what you already get with the $1 trial.
-Potential upsell #3? There's a number to call once you join for a 30 minute consultation. I often stay away from these as they are generally more like sales calls. I don't know if this is the case here, but I am weary of trying it, so my review will not reflect this…
-I wrote about my opinion of John Crestani before and the content I sometimes see from him is questionable. 
Quick note: 
There is a program whose name is similar to this one, it is called Super Affiliate Network and it has a completely different creator and mindset. Just in case, anyone does know about this other system, let me say that John's program is in my opinion FAR more valuable as is the alternative program too.
Quick note 2: 
So I just wanted to cover the term "Super affiliate". It is basically used to describe a very successful marketer who is able to sell other people's products in large amount (here are details about what a Super Affiliate is).
And I would like to briefly mention that I have reached that goal numerous times with different products and programs I've promoted.
First, there's the $500k through Clickbank I made.
And then there's the $300k I made promoting another program, Wealthy Affiliate and the results I had as well as other miscellaneous sales.
And ALL of these success stories occurred thanks to the training and APPLICATION of that training (hard work) in the Wealthy Affiliate program.
Final Rating: Super Affiliate System 3.0.
Green Flag.
5 out of 10 stars. I wish that $1 trial was still up, because I'd link to it (and I did originally). But even if it was still available, I would recommend my alternative instead. But in any case, if you're on the bandwagon of joining Super Affiliate System, then I will confidently say that John's program is good.
My final thoughts: Wealthy Affiliate vs Super Affiliate System. A quick comparison:
-Wealthy Affiliate (WA) is free to try. Super Affiliate System no longer has that $1 trial.
-WA has 20 core lessons for free to see (there is also an upgrade which unlocks 1,000's of other lessons). Super Affiliate System's $1 trial HAD 11. 
-WA has 2 free websites you receive when joining. I don't recall seeing that offer in the other program or something similar. You may need to buy a website domain from a third party if you join.
-Both programs offer great information for their core lessons, but WA just has more.
-Both programs are very beginner friendly.
-Support, coaching and help is where Wealthy Affiliate TRULY outshines Super Affiliate System. It offers an IMMENSE amount of it so beginners are never lost. And I make sure you get good coaching (see the details of Wealthy Affiliate).
-WA has a premium membership of $49/month, Super Affiliate System is $997.
-The premium membership of WA gives you access to over 100,000 lessons and over 100 CORE lessons. With the other program, you don't get anything close to this, except a 12 week course which is $997.
-The premium membership also gets you 200+ webinars. With the other program, this comes once a month. I will say this, the webinars in WA are insanely valuable.
-WA is far more complete. Whether it's for free or with the premium membership, you get all the tools you need and support. With IJ, you have to optionally purchase more tools to get a more complete package and that'll cost more. 
My final rating of Wealthy Affiliate: 10 out of 10 stars.
My final rating of IJ: 5 out of 10 stars. 
Both programs are good, but I would argue (and with good merit) that WA has more tools and gives you more (for a less price) that will help you build a real, complete affiliate marketing business. And I can attest to that because I've done it through them:

I've been in affiliate marketing for MANY years (and I know how it works) so when I see the training inside programs like IJ, I can quickly assess whether or not it's legit and for a good portion of it, it really is, but it's still a fraction of what you get from WA which one of the main reasons I recommend it above IJ, and also the fact that there's those crazy, expensive up-sells which I could never recommend…