So I got Traffic Victory and went through it's training, which is mainly on SEO and it's something I know about. But this review will explain why it disappointed me.
Quick report on Traffic Victory:
Name: Traffic Victory by Stefan Ciancio.
Price: $17, with 3 up-sells containing case studies, done for you campaigns and resell rights to promote this program, the prices for this are: $27.27, $27.21 and $37-$47.
Overall Rating:

3 out of 10 stars

.
I usually like Stefan's programs (I've reviewed about 3 or 4 of them), but this time, I can't give it a good rating because the information feels mixed between good and old tactics, some of which I personally wouldn't use on my sites.
Recommended? No.

What is Traffic Victory?
So this is mainly an SEO program which shows you how to rank websites high on Google via the following methods:
1) Product launch jacking (they recommend doing product reviews on programs which haven't come out to secure a top spot in Google).
2) They show you how to "optimize" your site for SEO.
3) They show you which plugins to install to optimize your page.
4) They show you ways to secure your site (SSL certificates) and make it faster via certain services.
5) They show you how to get backinks through a specific link which has the word "blackhat" in it, but it's really just a sharing option so you can spread your page across different places to get more recognition. 
6) They also explain how to structure and do product reviews so you get a lot of conversions.
7) There's also training on growing your social media following by having a page on FB for your site.
8) Once steps 1-6 are done, it's a matter of repeating the process and continually doing product reviews.
Overall, these 8 steps grow your site and it's SEO rankings. Now at first it may be slower, but the repetition of this formula is what will help it grow, gain authority and grow it's profits overtime. 

Specifics on what's inside the members area of this program: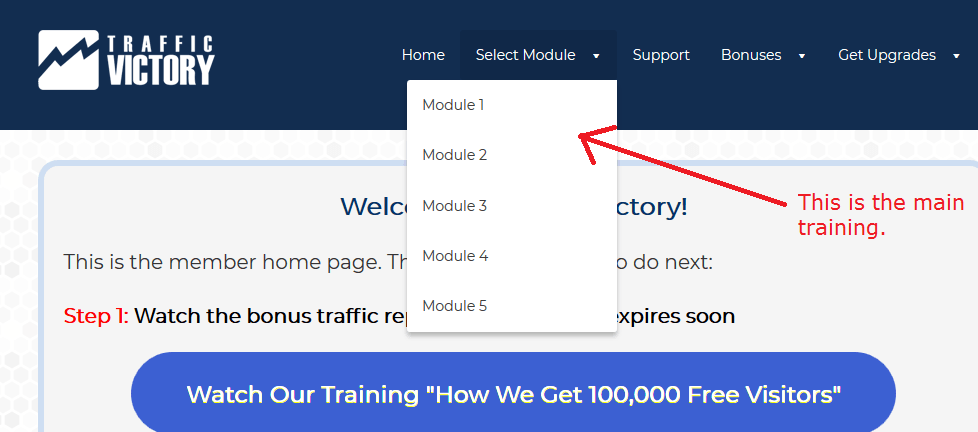 So right when you land on the members area, there is a link to explain how to get 100k visitors.
This is actually an explanation of a previous program of Stephen's that I reviewed before which was talking about Pinterest marketing, but this is not the program being pitched, it is actually one called Traffic Academy and it's $397, something I didn't get, nor want to get.
But beyond that, if you purchase the regular program like I did (no up-sells), the only place you'll find training is where it says modules. There are 5 and each has their own sets of videos to explain the 7 things I talked about above.
There's several hours worth of video content to explore through these 5 modules.
Traffic Victory sounds like a solid program, why no recommendation then?
As I was going through each module and examining the strategies being taught, I couldn't help but feel some of them were outdated, unnecessary and possibly bad for SEO. Let me explain:
1) The strategy of targeting product launches and reviewing them before they get released is a solid one and it works, but once a product is released, sites with higher authority levels WILL overtake yours.
You may get good visitor counts at first, but it will go down without good authority. However, this is still something I would do as a product reviewer myself, and Muncheye one way to do it.
This isn't anywhere near a con in the sense that I'm saying you shouldn't do what the person suggests, but the program makes it sound like you can get fast results. In some cases, this is true, but your page will be pushed down by better, higher authority sites, especially those who engage in doing the same reviews.
Again, my advice is to do product launch jacking, but to build up the content base of your site to raise it's authority, so that your page won't be pushed down by others. Overall though, my issue isn't the strategy, it's that it's well known, so I don't want to pay for it…
2) The other problem I have is that there's a bunch of tutorial videos about optimizing your site through various methods, installing a lot of plugins that I personally don't like (Jetpack for example and Akismet since they are outdated plugins and typically slow down websites) and doing things that are actually done on auto pilot by many WordPress sites these days. It feels like you manually do what is automatically done for you and this type of stuff isn't really necessary for good SEO results. 
3) Now they also explain how to get SSL installed as well as increasing your site's speed. I can't comment on this exact strategy, but I can vouch for it playing a role in your site's rankings. Now they do go over how to get this installed and frankly, I feel like my approach is WAY easier (you literally click 2 buttons and your site gets faster and has SSL installed, but it is a paid service FYI).
4) And finally, the part where you put up the content and share it on places like "Blackhatlinks.com" and get people from services like Fiverr to send you backlinks is questionable. In fact, I wouldn't even try this type of stuff for fear of Google penalizing me . Now I know Stephen typically recommends good things for SEO, but I've gotta question him on this. It may be black hat.
Although, credit needs to be given, the person who explains how to utilize Traffic Victory does have his example site popping up as #1 for one of Stephen's previous products: Traffic Rebirth and it does have a lot of competition and I assume its from backlinks, but I have a strong suspicion it may not stay up there, if a Google penalty takes place which it is known to do for people who incorrectly use backlink methods.
I don't doubt it works, I just don't know how LONG it'll work for, as it's risky in my opinion. I know my strategy though has safer, long term results though.
Aside from these cons though, the other parts of the program are pretty good, just short in length and I really would recommend people use an alternative program to get more comprehensive training on SEO…

Final Rating: Traffic Victory.

Yellow Flag
3 out of 10 stars. Not a bad program, but overall, average in my opinion. I didn't find anything to be special and there were some questionable SEO strategies.
My final thoughts:
I can't give a full recommendation of the program honestly. I believe my option to have SEO success is far better and I can say that because I've built multiple sites that each get 100's and 1,000's of visits daily from it's advice…
So when I compare something like my recommendation to this one, I can access which one has the safer, more solid strategies and I firmly believe my program is the better option in that regard. Here's just some quick comparisons on why: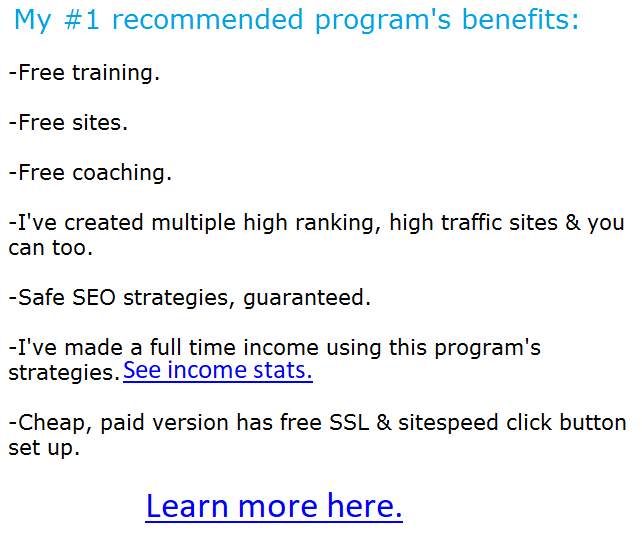 Anyway, to summarize, I don't think the program is bad by any means, but in comparison to better options, you will quickly see it's cons like I did. Again, I usually like Stefan's stuff, but Traffic Victory in my opinion isn't one of his best created programs, I do like his others far more.