OMG (One man group) Machines is a program that teaches people ways to succeed in the world of online marketing. But is it a scam?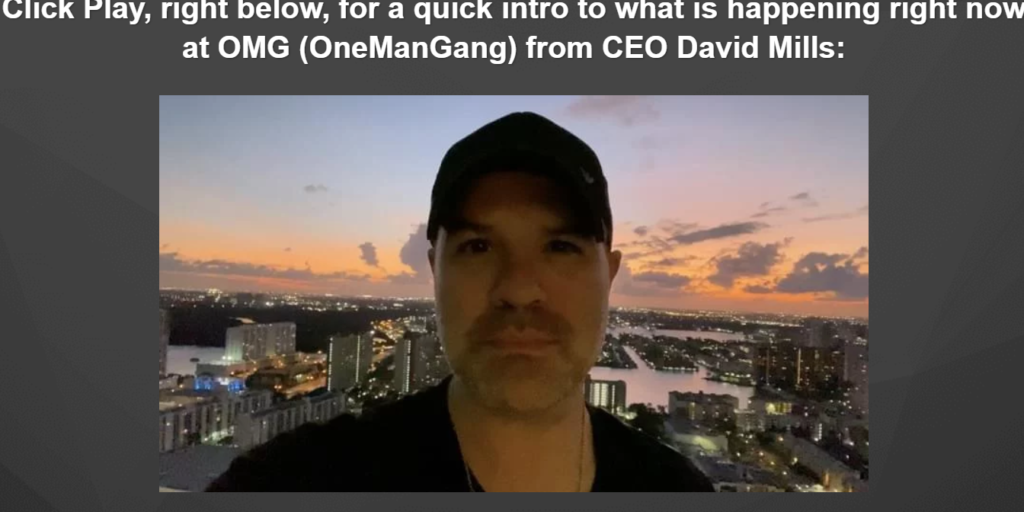 For the most part, no, it is legit, but at the same time, some of it's services back when I first reviewed it were VASTLY overpriced and I wouldn't recommend getting them, not to mention the fact that there are in my opinion better alternatives to this program.
Update: OMG Machines has changed:
Since I first reviewed this program, it has changed substantially and I cannot give it an updated score yet, but I can tell you that the better alternative is likely still the one I originally recommended, Wealthy Affiliate: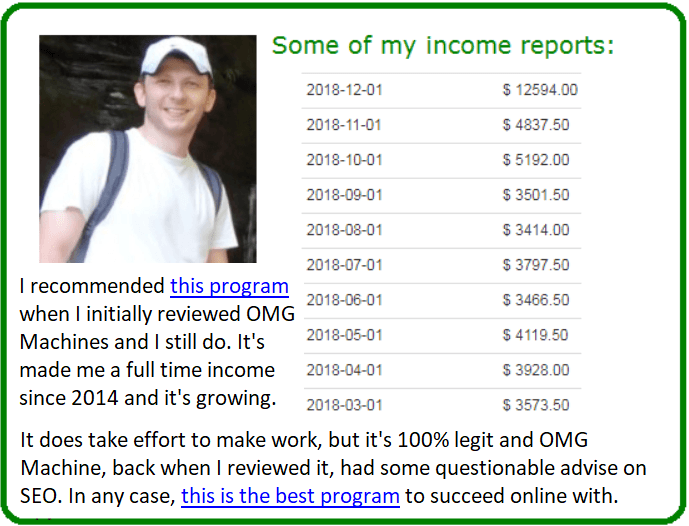 Until the new updated review comes up, I will leave the old on up, so you can see what OMG Machines used to be and why I graded it at 40 out of 100 points.
OMG Machines explained in a nutshell:
You get SEO training to get websites ranked very high on Google as well as email marketing tutorials on collecting leads and selling them products. There is also a VERY expensive course called "No Holds Barred Project X" in which you get more training as well as access to webinars, support and coaching from successful internet marketers.
OMG Machines was created by Mike Long and Greg Morrison and the site has been going through changes. In 2014, if you try to sign up to their page (which is currently free), you'll get access to a few tutorials, but mainly the promotion of their most expensive product Project X, which I already mentioned is extremely expensive ($4,999).
However, it is now 2019 and I'm not sure how the site/program has changed (if at all, so consider this review a bit outdated, but never the less, the other program I recommend above OMG Machine is still in my opinion 100% better and cheaper.
Other than that, the site did (and still does) have training on SEO and email marketing. Here's a quick look at what you get:
The Training:
Pretty much the bulk of everything you learn from this program comes from mp3 files and ebooks. Within these areas, you learn a lot of information on SEO. Other than, there isn't much support except a forum where views are mixed. But let's get down to specifics:
1) The Commission Conspiracy (Part I):
This will cost you $45.You get:
A) A guide which explains how to experience successful SEO results via making Squidoo lenses, which are basically blogs available for free. You learn how to make them and sell Amazon products as an affiliate there.
Squidoo lenses do have a higher page rank than other websites which means whenever you make a new lens (blog), it will rank higher/faster on Google than other websites.
This is a great perk, but unfortunately Squidoo does have a lot of cons, most notably that they are VERY difficult to work with and can shut down your lens anytime they please whether or not you are violating their TOS. I've personally had major issues with them as have many.
New con: Squidoo is GONE.
B) You also get access to a program called Magic Submitter which is a program that you submit content to which it then takes and submits to various areas. The purpose of this is to give your website more link juice, also known as backlinks and higher/faster rankings in the SERPS. I am totally against this approach to SEO. 
Using tactics like these is likely to get your website/lens Google slapped because it is considered to be a form of black hat marketing (and it is). It is basically a way to try and cheat the search engines and get higher rankings artificially. Google has made some drastic changes to catch people who do this and they eventually catch everyone who does it. I would NOT recommend using Magic submitter.
C) A guide on utilizing YouTube to get a lot of traffic to your website. In my experience, it really comes down to just sharing your video and using proper keyword research really.
D) Mp3's with Greg Morrison doing interviews with other marketers and them all sharing their knowledge on how to succeed online. 
2) The Commission Conspiracy (Part II):
This will cost you $99 and is an upsell of OMG Machines. You get:
A) A guide on how to build your own website (WordPress) and get it to rank high on Google. Some of the training comes down to using tactics in Part I, which as you already know can lead to bad results. Other than that, it's general information such as adding content. My point is this stuff is more hyped and you're better off taking the standard, honest path as it will yield better results in the long run.
Usually in order to build a website, you have to buy a domain name/hosting and set it up on your own. This can cost you anywhere from $10 for the domain and $1-$10 a month for hosting, not to mention a few hours of work on setting up the site (if you're new). If this the case, then I recommend my approach to building websites and it does all of these things in a minute and for $0.
B) A guide on how to set up your WordPress website so that it's optimized for search engines to spot it better. Even though this is important, speaking from personal experience, there are a number of ways to do this.
Usually WordPress sites get spotted by Google pretty quickly (within a day or two sometimes!), but the approach to building websites I explained above already has it optimized.  
C) Videos on how Greg & Mike (basically case studies) get their website/s ranked on the #1 spot on Google. This is actually pretty good, but not every single approach works for every single website, so I wouldn't consider their approach to be universally practical.
D) How to create a successful email marketing project. Basically email marketing is the process of collecting emails (leads), building a relationship with the leads and then selling products over and over to them. This guide shows you how to do this. 
But being the naysayer that I am, I can tell you from experience, email marketing is NOT something you should do until you learn how online marketing works and that means getting a website and attracting visitors to it. That will be the most important thing you need to do before you move onto email marketing.
3) Project X (No Holds Barred):
This is their most expensive up-sell which is currently being offered at $4,999, although split payments are available. This is the

service being pushed the most as of now on their website. 
You are basically given a lot of support and access to 1 on 1 coaching from Mike & Greg as well as access to webinars, other successful internet marketing and other "essential" tutorials to help you build a successful online business. 
I personally find this price ridiculously high. I would not recommend this sort of stuff to anyone. It is being marketed as a "get rich quick" approach to make you believe if you sign up, you'll make all the money back within a month. They do this by putting up testimonials and screenshots of people who are seeing successful results from using their system. 
I say do not let this kind of stuff lure you into buying it!
In my experience a lot of these programs that talk big, deliver little. I haven't tried Project X, but I have tried similar services from a program Mike Long was once associated with: Bring the Fresh. Let's just say I wasted A LOT of money and saw no results, not to mention the fact that a lot of Bring the Fresh's approaches to marketing are very similar to OMG Machines.
This doesn't mean it's "guilty by association", but I've been around the block more than once and am on guard from now on. You should be too if you are considering buying this product or ANY other than promises fast results.
Pros:
Some SEO training is good.

Does show some legitimate ways to earn the #1 spot on Google.

There are a lot of resources available as training.

You can promote OMG Machines as an affiliate and earn money in the process.
Cons:
Some services extremely overpriced (Project X).

Lots of up-sells. I don't like up-sells especially if they are sneaky.

Some methods of SEO recommended are outdated and bad for your website.

The system is designed to give you the impression that it's a get rich quick approach. 
Final Rating: OMG Machines

3 out of 10 stars. Some useful things, but overall not recommended. Overpriced services, outdated methods and not a lot of support (unless you pay A LOT). My better recommendation would be Wealthy Affiliate.
Final thoughts on OMG Machines:
From the very moment I landed on their website, I saw a lot of similarities in appearance with Bring The Fresh (BTF). As I mentioned before, Mike Long, one of the creators of OMG Machines, was once associated with BTF and it's current owner Kelly Felix. 
When they separated, Mike went on to make OMG Machines and a lot of same strategies the system teaches as well as how it's marketed to you is almost identical to BTF. And it's because I had good/bad experiences with BTF that I was careful with OMG machines, though I had a feeling my overall review wouldn't be overly positive.
While the overall program is not a scam and you get some good stuff, the problem is a few things: 
The get rich quick mentality. Any program which is marketed as a get rich quick approach is basically a sale's pitch and many times it means the product itself is hyped. When it comes to online marketing, there is no get rich quick approach unless you set up the right foundations and that takes times, effort as well as honest, legitimate ways of doing so. One more reason I recommend Wealthy Affiliate as an alternative to OMG Machines.
The outdated methods of marketing. The content spinner, the backlinks, Squidoo. That's 3 methods in OMG Machines that are risky to use in 2014. 
Lack of support. You get a forum, but you won't always get a response, at least no the one you're looking for. BTF had the same issue. You really only get support if you purchase…
The VERY expensive up-sells. I do NOT like up-sells, especially since products like OMG machines are marketed to have you believe you can make so much for paying so little, then when you pay up, you find out there's even more "super secret" programs to make fast money. That's disingenuous and I find it unethical. And the Project X upsell is just WAY too expensive. If you do try OMG Machines, I strongly advise against buying Project X. Don't fall for fancy wording. 
If you truly want to experience success online, you need to stop looking for answers from products that promise fast results. Online marketing is like a business and that takes time to develop. What determines success is the will to succeed and proper guidance which shows you what to do. 
OMG Machines is in my opinion not the proper guidance you need to succeed and in truth there are very few places you can count on. Wealthy Affiliate is one of the few I recommend (and these 6 other legit affiliate training programs too).
If you have a personal review on OMG Machines you'd like to share, please leave your comment below!