Clicksure and Clickbank are popular affiliate networks where people come to put up their digital products and have people promote them. But which is better?

As a pro affiliate marketer who has made $100,000's from this business, the answer is Clickbank (CB), but before you exit the page and head over to CB's official site, there's more to this story that you NEED to read, because despite CB being the better network for a multitude of reasons, you should NOT neglect Clicksure (CS) and furthermore, I'm going to show you a even better network than these 2 worth trying out.
It's not just about which network is better, it's also about if you know how to make money from it. And also, if you need more info on me, here you go.
My experience and results with each network:
Let's start with Clickbank: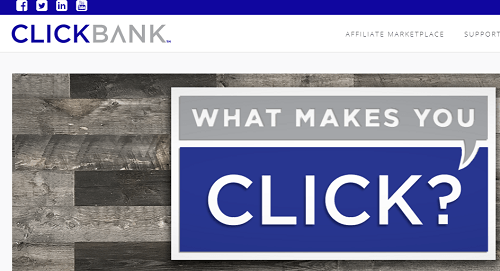 I joined this network somewhere between 2005-2006. The experiences I had with it were quite extraordinary to say the least.
I grossed several $100,000's in sales for this place and landed on their top seller list on 2 separate occasions (My full Clickbank success story here).
But this wasn't exactly due to CB itself…
Yes they provided me with a good opportunity and products to sell, but it was because of my marketing training in a program called Wealthy Affiliate (which will be the third network I'll recommend to you shortly) that I managed to utilize the proper ideas to promote the products from there. 
No matter how good a network is or the offers it provides, without marketing, there's no point in getting involved with this. CB does have it's own training program called Clickbank University to help people out with this, but to be honest, having been on the inside of that program, I still stick to Wealthy Affiliate to teach and show me how to promote stuff online. 
With Wealthy Affiliate, I've also had a separate success story (six figures as well). Here is my Wealthy Affiliate success story.
Anyway, here are the main things to take from Clickbank:
1) It's a great program for marketers to be involved with, on just about any level.
2) Signing up with them is free and their support is great for both customers, promoters and vendors.
3) Not every product that goes up on that place is good though, I've encountered a few scams and a bunch of low quality products too, and this is often because a lot of vendors, want to milk of the popularity of CB and put their products up there. Luckily CB itself does a pretty decent job of weeding these people and their programs/products out, but it's often not at a quick enough speed.
4) This network continues to grow with more affiliates and vendors coming into it. I still actively promote at least 1 product on this network (here's a case study).
5) They offer pretty awesome compensation services for all parties and great refund policies for customers. 
Let's move on to Clicksure: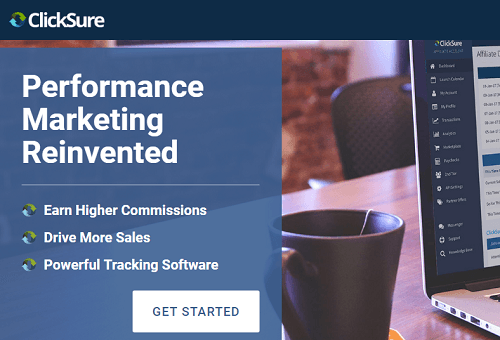 I've reviewed Clicksure before. And I cannot honestly say the same good things about it as I can about CB. Why? Well because this place doesn't exactly have the same standards or reputation CB does.
As I became a more and more experienced at marketing, one of the things I began doing was looking around the internet for products and programs to review and promote.
In my experience, the VAST number of bad programs I found were unfortunately tied to the CS program. The other large amount of times, they were tied to Clickbetter, a similar program.
Point being, because I had found so many low quality programs associated with this network, to this day, I have never promoted any of them.
You may ask then, how can I justify reviewing this place as an affiliate? Well 1 simple answer I have for this:
Very often CS programs get marketed around the internet and attract a lot of people to them. I use this opportunity to talk about those products and let people know if it's a good investment or not. Generally, because they aren't, I recommend something that is better, it is sort of an act of consumer protection (and I won't lie, a way for me to make extra sales).
Here are the main things to take from Clicksure:
Are there good products there? Sure. The problem is that they're hard to find though. 
The biggest problem with CS is that they just don't do a good job of vetting their vendors or affiliates for that matter, and thus, this attracts too many bad apples, that they give the whole network the bad name.
Truth be told, with the many products I've purchased from this place (to review and test), whenever I needed to get a refund, CS always provided it without question, so they are legitimate themselves.
Do I recommend promoting CS products as an affiliate? If you can find it sure.
The problem is that many affiliates don't have the same standards I do, they simply look for any opportunity to market anything, as long as the commission is good and I don't like that personally.
A third network to consider…
This third network is specifically for affiliates who market anything within the make money online niche and it happens to be the Wealthy Affiliate program I suggested earlier. They even have a bootcamp course to help you do this.
What do make money online programs in both CS and CB do? They teach people how to make money online obviously, but the problem is, they often teach unrealistic ways to get it done, so the consumer ends up getting screwed (even if they don't know it).
However, Wealthy Affiliate has a far better success rate for it's members (see Wealthy Affiliate success stories) in that regard and because it provides overwhelmingly MORE benefits to the consumer, it is a far easier/better deal to the consumer and therefore a better offer for affiliates to promote.
Not only that, but…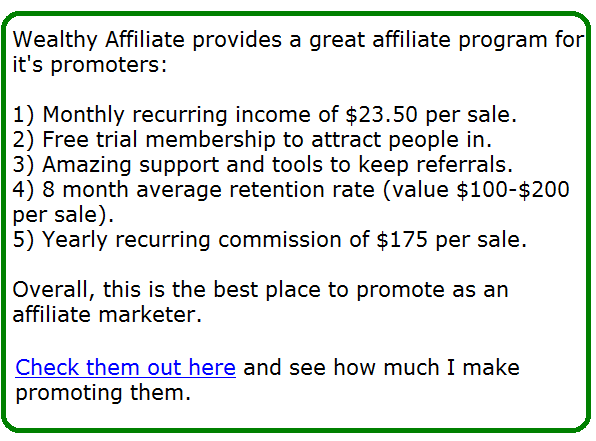 The thing is, both CB and CS provide A LOT of opportunities to promote make money online programs, but the problem is, those offers are generally average or sub par. But you can still use the products popularity to promote something better to consumers, aka, a program like WA.
I have made this same argument for programs like JVZoo, Warrior Plus, Clickbetter and others like it as well by the way, because in many ways, it's products on that network are also similar to the ones I find on CS. 
In the end, your success as an affiliate marketer relies on the knowledge of how to market the best products to the best suited audience for it. With that, you can market anything, but it's also important to note that the consumer HAS to be considered here, they need to be happy and they need to get results.
While CB has a far more likely chance of providing on it's network a good product for you to promote, if it's in the make money online niche, go with WA and become a promoter for them and I say this knowing full well I may have more competition, but it's totally fine for me.