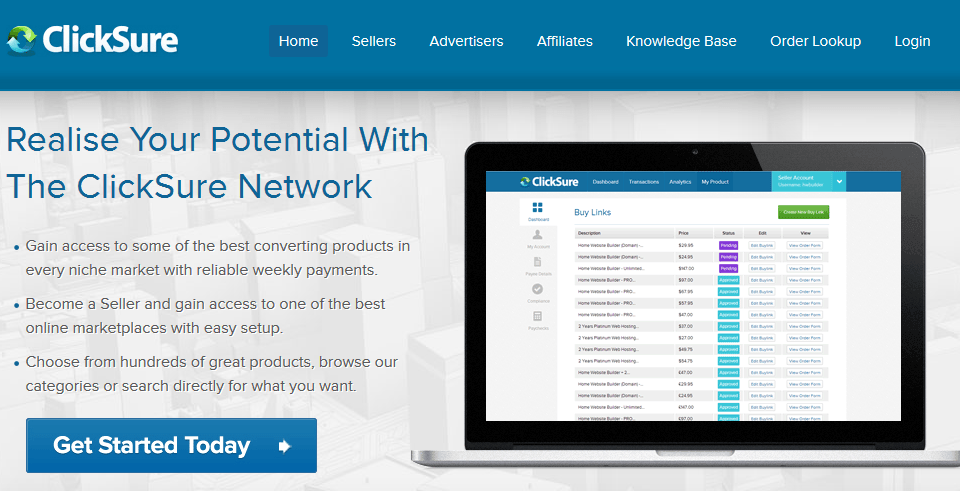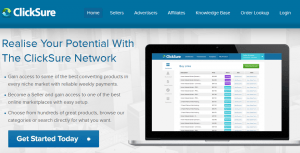 I have to say that Clicksure in my experience has turned out to be a bad place to buy programs from. I often find there are scams there.
I'd like to give you my point of view on this place and tell you why it's not worth buying products from there (but in terms of advertising, maybe).
Quick Report on Clicksure:
Price: Free to join.
Overall rating:

2 stars out of 10 (Proceed with caution).
Many times when I do reviews on products/programs/services that teach people how to make money online, they are often associated with a place called Clicksure.
However, another thing I unfortunately and often see is that many of the programs that are part of this place are scams and/or low quality products.
This begs several very important questions that need to be asked about Clicksure:
First: whether or not you can trust this program when buying products there (it depends).

If it's a safe place to be an affiliate/vendor for. I'd also say it depends, but for me, I'd never do it due to high scam programs there.

Do they have good customer service/refund policies? I believe so.

And more.
What is Clicksure?
In short it is a digital marketplace where people come to put up their products and then affiliate marketers come to promote those products. Let me give you a simple example:
If I wrote up an eBook on how to make money online, I could sell it myself OR I could join Clicksure and have the book be sold there by anyone who is an affiliate for it. 
The pros of using Clicksure:
The first benefit of going through Clicksure is that I have the potential to make more money because when affiliates promote the book for me, I'll make less money per sale, but I'll also have many more people doing the hard work of marketing for me.
This means that in spite of making less per each sale, I could end up making much more money in the short/long run because I can have a lot of people selling it for me. 
Another benefit of using Clicksure is that it offers access to tons of affiliates who are ready and looking to promote products that come into the marketplace. But I have to say, you're better off doing this exact same thing, through a network like Clickbank instead. While I will get into details of Clickbank, it's basically a "cleaner" version of Clicksure and I think it's safer to work with (I work with Clickbank, see how I do).
As I have also noticed, their support is pretty decent and they do have a pretty good reputation for offering refunds should you request them. However, I am currently going through one with a program called Full Money System which was made available through Clicksure. I still have yet to receive it and it's been 3 days since I requested it, although I am fairly confident it'll go through.
The cons of using Clicksure:
And there's more with cons to using this place than pros in my opinion:
1) In my experience, there are A LOT of scam products there. 
This is really the only major disadvantage that needs to
be mentioned. Including Full Money System, I have seen many products advertised through Clicksure that were very much scams in my opinion. A lot of the programs you see advertised there are make money online products and they are hyped to no end.
I would hope that Clicksure fixes this (for their sake) by mandating that people who put up products on their network are required to be more transparent and honest. So far, I don't see this and this is causing a lot of people to buy products due to their hype, but it's also leading to another major disadvantage:
2) Refunds.
If you're going to try and make money through Clicksure, I would recommend finding a product there that is legitimate and not hyped. Because if you don't and you start promoting one of these scam products, you're bound to see a lot of refunds which basically means all your work leads to nothing.

3) Reputation.
Compared to other competitors on the market like Clickbank, Clicksure doesn't have the best reputation (at least in my eyes) and that is again due to the large amount of scams that have come from it.
Personally if I see a product from Clicksure, I become very skeptical because they are known for having low quality products.
You can also look at places like JVZoo for similar opportunities.
Is Clicksure itself a scam?
The answer is no.
Clicksure in itself is actually a legitimate organization. It's just that it's policies have created the environment for "questionable" people and products to be hosted there and it's because those products are bad that they give the entire organization a bad reputation. 
How to make money with Clicksure:
The "rules" for making money with this place are just like with any other. If you know how to do online marketing, you can promote any product/s and make money with this organization as you would be able to do so with any other. If you're a complete beginner to online marketing, I would recommend starting here.
Do I recommend Clicksure for making money with?
Again if you can find a legitimate product, then yes. But I prefer other places that have a better rep like Amazon.com or Clickbank which is almost identical to Clicksure in many ways. This leads me to my next point:
Clickbank vs Clicksure:
I think of Clickbank as a "better version" of Clicksure because after having years of experience with them, I found:
Their customer service is better.

Generally their products are of better quality (not many though).

They have an excellent reputation for refunding.

They have greatly improved their platform.  
Now it is true that Clickbank is far from perfect. In fact, many years ago, they were very similar to Clicksure in that there were a lot of scam products being advertised there and it greatly diminished their reputation.
However, unlike Clicksure, Clickbank has done a much better job of cleaning their house in that they introduced some very strict policies on who could put up products on their site as well as guidelines for promotion, not to mention the fact that they banned MANY programs which were having high refund rates, most of the time because they were a scam and it just so happens many of these products then went onto Clicksure as a result.
So if I had to choose between both, I'd pick Clickbank, even though I personally promote products on other platforms besides it. I have no problem working with Clicksure, but only if they start to improve their policies and kicking out the people who ruin their reputation. They should really take a page out of Clickbank's book. Again, I have a separate article comparing Clicksure and Clickbank.
Summary of Clicksure's pros:
Pretty good customer service/refund policies.

Easy to use their platform to put up products and promote them.

You can make money through this place.
Summary of Clicksure's cons:
A lot of hyped and "scammy" products are there.

Potential for high refunds to occur if you promote products from there.
Final Rating: Clicksure.

Yellow Flag (Caution)
3 stars out of 10. They are OK, but until they make improvements to their policies and kick out the bad products, I would recommend other place/s if you wish to promote products through. If you learn online marketing, you can promote products from ANY place that has an affiliate program. The most important thing is to learn the business and Wealthy Affiliate is my #1 recommendation for doing so.
My final thoughts:
As I said before, Clicksure itself is a legitimate place and I believe you can trust it. But it's because of the VERY large amount of questionable products being hosted there that I find working with them to not be worth it.
I do hope they make improvements and if that's the case, I wouldn't mind adding an extra star or two to their rating to boost up their rank, but until they do I will recommend you proceed with caution if you wish to promote/buy products through them.
Do you agree/disagree with my opinion of Clicksure? Let me know in the comments section below!
Update: 5/4/19: Clicksure is apparently out of business (I'm not surprised):
And I am only a "year" later to find this out.
But I suspect that it went down because of the same problems I outlined above. If I'm right, it makes sense. You can't run a business and allow anyone to promote whatever they want. It invites scammers, people complain, want refunds and the whole network gets poisoned.
That's my theory on why Clicksure went down. And it further points out that the Wealthy Affiliate program I originally said is best to learn which networks to truly do business with is even more recommended now.