Everywhere I look, Russell Brunson's Traffic Secrets is being advertised and recently I finally decided to check it out. I'm going to be providing you with a summary of that book and my review of it, and I have to say, it's quite an awesome read.
Let me just quickly say that I admire Russell, but don't exactly recommend his programs such as Click Funnels or other programs he's released to push that program. Aside from that viewpoint, I have nothing but good things to say about Traffic Secrets and you'll see why shortly.
Quick report on Traffic Secrets: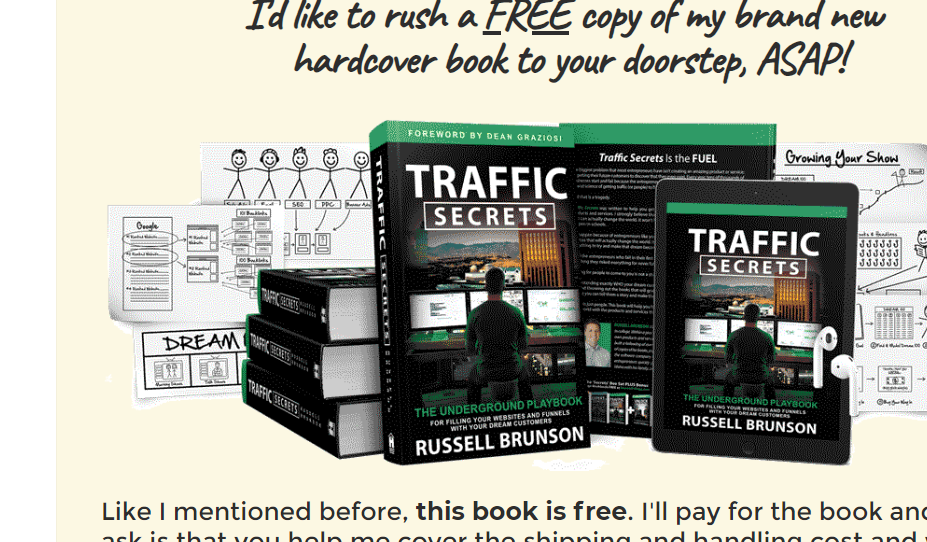 Creator: Russell Brunson.
Price: I got the kindle version for $0.99. Hardcover and eBook versions are available too.
Overall rating:

9 out of 10 stars
I went into reading Traffic Secrets thinking that I would probably just be pitched Click Funnels and in truth, there was some mention of it, but that was like 1%.
The other 99% was great story telling, case studies and an awesome blueprint for succeeding online and making a long term income at it. This book is highly recommended and I rate it as one of the top 3 eBooks I've read on internet marketing.
What is Traffic Secrets? A summary of it:
There are 3 main parts to summarizing Traffic Secrets:
1) Russell Brunson's Traffic Secrets talks about his history making money with search engines and paid ads and how he learned not to rely on them because they constantly go through updates and policy changes that often end up screwing the little people, whether it be raising ad costs or changing their rules for ranking websites organically.
2) Because you can't rely on these options long term, Russell advises still using places like Google search, YouTube, Facebook, and Instagram to get leads, and provides specific blueprints for doing this, but the goal of these traffic sources is to collect an email list through them to create your own reliable traffic source (your email list) to use to sell to in niche markets you love, that also need help (hungry niche markets).
3) He teaches you to find your ideal niche markets, and utilize those traffic sources to collect an email list and then sell them products you own or compile an army of affiliate marketers to do it for you. He also teaches about upselling and making long term income from this.
So in short, these are the 7 things you learn from Traffic Secrets:
1) You find your ideal niche market that has a specific problem they need immediate solutions to (your dream customers he calls it).
2) You get worksheets to help you identify your dream customers and niches.
3) Russell Brunson also provides his own take on researching what your dream audience looks for on search engines, so you can capture that audience better to grow you list and content that they'll see.
4) You find people in that niche through Google, YouTube, Facebook and Instagram.
5) Russell shows you how to piggyback off each network via finding authority websites, channels and so forth and basically using the same ideas they do in terms of what content they create, but to make yours unique and better, so you can get the traffic. This is called finding your "Dream 100".
6) Russell teaches you the art of creating a small priced product to get people in your list to buy it, but then to up-sell them so you get more equity from that product.
7) You learn how to then also hire affiliate marketers to sell that product for you to scale the business.
Where I agree with what Traffic Secrets teaches (pros):
1) Russell is right when he says search engines and paid ad networks change the rules and eventually it hurts the little people who can't afford to use them.
2) Russell is somewhat right in my opinion when he says that an email list is your best option for success.
3) Russell is spot on when he talks about finding niche audiences that have pain, or need solutions to problems as well as finding your niche, as these are always the evergreen niches that will make you money.
4) Russell's approach to making money from YouTube, Facebook, Google and Instagram is quite awesome and I learned various new strategies to add to my online business.
Where I disagree with what Traffic Secrets teaches (cons):
1) Search engines and paid ad networks have gotten harder to use, but that has not cancelled out the opportunity. I still use these places actively and if you can find good, low competition niches (which there are many off), it's still very possible to get good traffic from them and rely on this to make you money.
2) As for email marketing, he is mostly right, but passive income online isn't as easy as owning a list, especially since that is itself a difficult business to run with no guarantees. Making recurring affiliate sales or constantly tapping into an evergreen niche market can provide you a passive income without having to start an email list.
Final Rating: Traffic Secrets
Green Flag (Great book)
9 out of 10 stars. Pragmatically speaking, I can't disagree with anything Russell says in his book. But I do I want to say that if you seek to start an online business with his advice, then what he offers in his eBook is a great start to doing it.
But for a more actionable plan (which is where he recommends his DotComSecrets and Click Funnels), I honestly recommend the Wealthy Affiliate program instead because you basically learn the same methods of success as what Traffic Secrets teaches, but you invest far less into doing it.
Side note: Other great eBooks on online business worth mentioning.
My final thoughts:
This is honestly the first time that I have reviewed something of Russell's that I could get behind recommending. His other programs, namely:
Were in my opinion ways to get more audiences to buy his central Click Funnels program and make him an incredible amount of money. And I always have to mention that it's not that I don't like Click Funnels, but I just don't find it necessary to succeed (and it's too expensive).
Traffic Secrets however really helped improve my opinion of Russell as this eBook offers a lot of awesome value and advice on starting a great online business.
My advice on taking action with Traffic Secrets:
About 90% if not more of what I learned from Traffic Secrets, I already knew thanks to Wealthy Affiliate, which if you don't know is actually where Russell got his start from, as did I.
The same core principals taught in Traffic Secrets are taught in Wealthy Affiliate, specifically on finding niche markets and building your own websites to rake that niche traffic in and make money from affiliate marketing with it.
While that's core, the other stuff on ranking on search engines, YouTube, and so on is also taught, but the main reason I recommend it is because the entry price to Wealthy Affiliate is free to try and then cheap to stay at, whereas if you wish to take action with Russell's stuff, it's legitimate, but more expensive and in some cases, unnecessary for the beginner (possibly confusing).
So if you read Traffic Secrets and/or wish to take action with starting your business based on it, I 100% suggest starting with Wealthy Affiliate as it'll put you on that right path Traffic Secrets teaches you to go on.