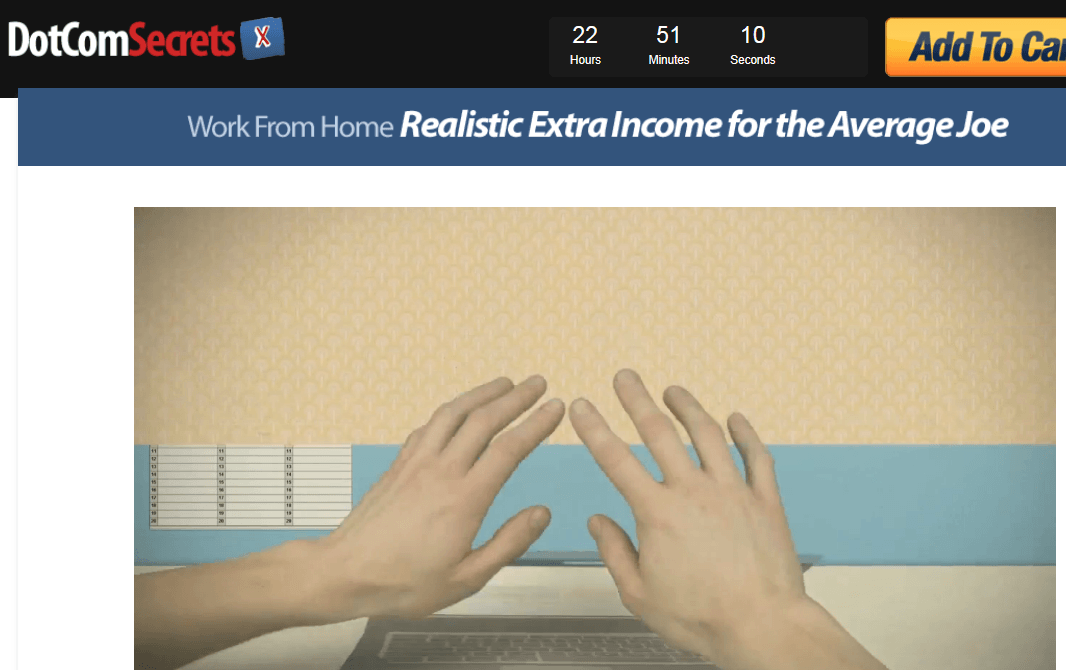 Dotcomsecrets X is a followup to the original program created by Russell Brunson (same name, but without the X). But is it a scam?
Based on my review of it, I say no, but what it teaches you, although geared towards newbies is not something I'd recommend for a number of reasons.
Let's get this review started so I can give you these reasons:
Dotcomsecrets X in a nutshell:
You learn to basically market Russell Brunson's products through email marketing.
Many of these products come from the original Dotcomsecrets program which you will be "persuaded" to sell. 
Russell has created a pretty clever way of making himself a lot money at your expense (technically) and although some of the methods and training is legitimate, much of it has been over used and is more difficult to succeed with today.
Russell himself is actually a legitimate individual who has created awesome programs like Click Funnels and is one of the richest internet marketers alive today and a lot of this has to due with him making programs like these and more recent ones in 2019 like affiliate bootcamp and programs One Way Funnel Challenge.
What you get from DotComSecrets X:
The program features a 90 day action plan which is "revealed" to you every 7 days. This is really done for 2 reasons:
It's meant to keep you as a member of this program for at least several months. So the $1 trial they offer won't get you much.

By revealing little by little, you aren't bombarded with too much information and have less chances of getting lost. This really applies more for newbies than anyone else. 
Personally I think it's a ploy to make Russell more money because of the way the whole system is designed. 
Within this 90 day plan, you are going to be following what I mentioned above: Learning how to do email marketing and promoting Russell's products. That is the broad idea, but specifically, you will do things such as:
Create a website & purchase an autoresponder. The website is where you will put up your email form and collect leads. There are video tutorials on helping you set this up. I'm not, but if you do decide to do this program, I'd recommend utilizing Aweber as your autoresponder of choice because it's pretty simple to use. 
As for the website creation, you can either purchase your own domain/hosting or if you're trying this program for experiment's sake and want to save money, I advise this approach to making your own website since it costs nothing.
Once you have these 2 elements down, you will then begin to utilize the next phases of the 90 day action plan which comes down to:
1) Choosing programs to promote (there are about 20) from Russell's list. These are all HIS products (except 1) meaning each time you earn a sale, you will make him money. 
2) You will then promote these programs through the website you created by bringing in traffic (visitors), having them sign up to your email list and then sending them promotional emails where you recommend Russell's products.
2 very important things you need to know:
1) One of the products that isn't Russell's but he recommend promoting (above all else) is Empower Network.
This is what set off my alarm bells! Empower Network is one of the BIGGEST pyramid schemes I have ever encountered.
Now it's important to note that Empower Network is no longer around, and Russell HAS moved onto making his own products and services, so his original promotion no longer stands and I do think the quality of his products is very high (Clickfunnels for example), but very expensive too, which is why I will show you what I think is better for you to get in this review too.
2) Even though you are limited to promoting Russells products, you can apply the same principals of what Russell teaches you and utilize it within other niches/markets and promote other products from other places like Clickbank.
But it's much better to promote products within the make money online niche than anything else. Otherwise, you may find the same principals don't apply to other markets (diet, fitness, ect…). It'll be basically like trying to promote apples to people interested in oranges. 
How Russell teaches you to get traffic to your website:
One of the ways you will learn to get visitors to your site is through:
Buying Solo Ads. This is a way of gathering email lists by contacting other people who already possess them and asking them to basically inform their leads about your site. The leads are then sent to it and those who sign up will be potential buyers of whatever it is you're offering. But this is a tough tactic to pull off for because solo ads have cons.
A couple of things to note about this approach:
1. It can cost you money to do this. Some places do traffic exchanges where if 2 people possess email lists, they can "swap" them in hopes of helping each other out. Odds are if you're new to this business, you won't have this leverage at your disposal and will have to pay for this service.
2. I'm not a fan of "buying leads" which is essentially what you are doing. I argue (as do others) that the visitors you get from other people's emails may not be interested in the product you are promoting. For all you know, you may be promoting to a whole other niche through these solo ads.
I've personally never used Solo Ads because I want to be in full control of the people I market to. I don't think this form allows you to do that.
Speaking from experience, I once tried to promote a make money online product to my dieting list. I received A LOT of backlash and 0 sales in the process. I'm not saying this will happen to you, but in my experience, people are not very open to receiving emails trying to sell them something.
3. I have heard that at least one of the places where you can buy solo ads do not want you to advertise Dotcomsecrets X to them. This is probably because the people who are going to be sending out emails feel their reputation/relationship may be damaged with their lists if they send out a recommendation of a product like this.
Now I did say one solo ad did this, but if my guess is correct, there are more advertisers who simply do not want to swap email lists with people who will be promoting products like these to them. And frankly I don't blame them.
What does this mean? It means that one of the potentially profitable sources of traffic Dotcomsecrets X recommends has holes in it, making the overall process of succeeding with this product less likely. 
Other things DotcomsecretsX contains:
You get weekly training sessions and a "vault" where you can watch videos pertaining to the subject of improving your overall online marketing endeavors. The information is pretty solid, but at the end of the day, you'll find yourself focusing almost entirely on following the 90 day plan. 
There is also going to be a cross promotion for a DotcomSecrets coaching program. Even though I've never tried it, in my experience, costly offers like these are not worth their price tag. In most if not all cases, you can learn all the "secrets" places like these teach you. All you need is proper guidance and Wealthy Affiliate gives that.
Upsells:
There are 3 up-sells once you buy Dotcomesecrets. I didn't bother because I hate up-sells in general, but here is the price of each:
1st upsell: $197

2nd up-sell $297

3rd up-sell $297
It's really up to you if you want to buy them. I don't recommend it because these things are always hyped to make you believe you need them. In my experience, this hasn't always led to good results. And plus it's an unethical way of marketing in my opinion because you're led to believe you can try Dotcomsecrets X for $1 for a month, then with these up-sells you will feel like you've been tricked. At least that's how I feel. 
Pros:
Geared towards newbies.

Quality training in certain aspects.
Cons:
Uses a form of marketing that may not be very useful (Solo Ads).

Contains up-sells some of which are linked with the original DotComSecrets program.

Really only discusses one form of online marketing: Email marketing. 

The program is designed around YOU promoting Russell's products. You can make money doing this, but I personally prefer people have a choice in what they promote, like something they may be VERY interested in (their niche).

You can get the type of information from this program for free. 

Recommends Empower Network, a MAJOR red flag.
Final Rating: Dotcomsecrets X
Red Light (Not Recommended)
2 out of 10 stars. You can make money with it, but it's methods of marketing are fading because too many use it. This program is designed around you working for Russell. I don't recommend it. There are much better alternatives. See #1 recommendation (Wealthy Affiliate).
My final thoughts:
Even though I have major issues with Russell having your promote his products and promoting Empower Network, I don't deny it's possible to make money with this, but as time goes on, I believe it will become more and more difficult to do so.
When it first came out, the same tactics this program utilized did work. To some extent they still do, but as more and more people are doing the same things through following this system, the odds of making money through it are decreasing because:
They are following the exact same instructions.

Sending out the same kind of newsletters.

Utilizing the same forms of traffic through places like Solo ads which would explain why some advertisers aren't allowing it anymore.
Another complaint I have is that this program doesn't really go beyond email marketing and PPC. It kind of reminds of the Academy of Online Success in some ways.
Regardless, the main point is there's more ways to succeed online than just sending out emails or using paid forms of traffic. Let's not forget that most people who try this stuff probably don't have much money to spend as it is. In addition, as someone whose been in this business for over 8 years, I feel if you're a beginner, it's not a good idea to start with email marketing.
You should first learn how to build a website and get natural traffic to it from search engines. This in many cases can yield incredible success. Very few places actually teach you the whole of internet marketing success, Wealthy Affiliate being one of them.
Then once you have that foundations down, you can move into email marketing, but even then it's really optional. I prefer people pick what they like and stick to that rather than having 1 path to walk through. Email marketing isn't for everyone. I've seen great success and failure in it, but the bulk of my success came from making websites and getting visitors to it. Natural search traffic.
As I said before, Dotcomsecrets X isn't a scam, but it's methods of making money online are becoming more and more saturated. I just don't recommend this place at all. 
If you have a personal review/thoughts you'd like to share on this subject, please leave it below. I hope this review was useful to you 🙂