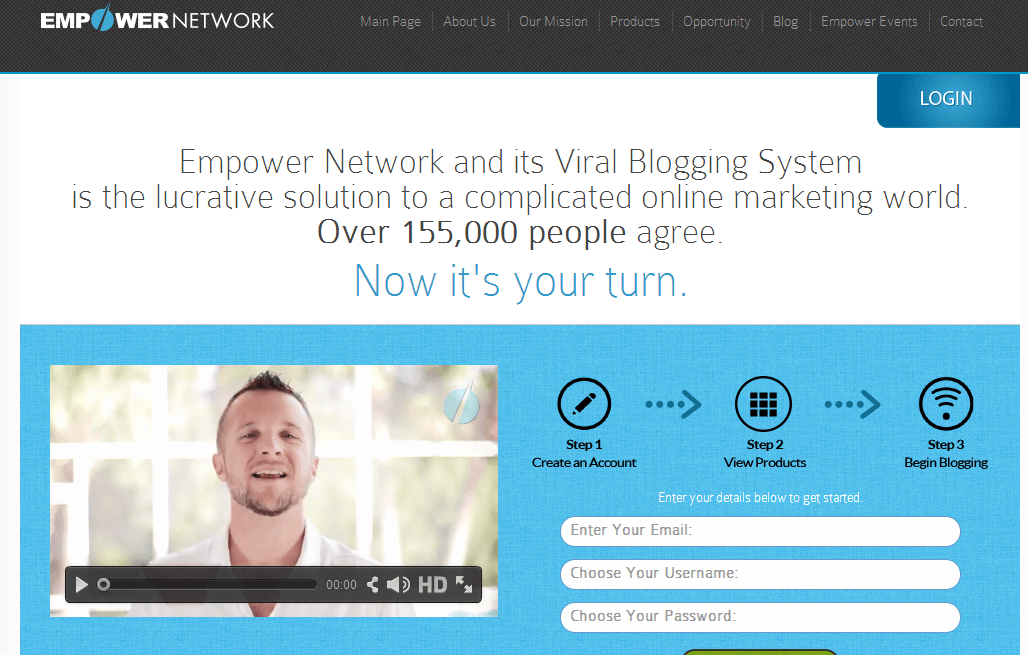 A lot of people wonder if Empower Network is really a pyramid scheme. I believe it is and in this review, not only will I explain why but also will reveal exactly how this organization operates and help you save tons of money.
So if you're contemplating joining this program and forking over the $25 they "initially" ask for, I'm about to tell you why this is a BAD idea. I'm also going to provide you with real complaints from former Empower Network (EN) members. Their stories will shock you.
What Empower Network Is:
Empower Network claims to be an organization that offers you training and blogging tools to help you through the unnecessary hassles of making it through the online marketing world.
What sort of tools? Well if you join their network for the initial $25 a month, you get your own "personal" Empower Network authority blog which supposedly helps you earn high rankings in search engines, attract visitors and make money promoting EN and other affiliate type products. The idea is that the blog does all the work in the sense that it ranks high and you just fill in the blanks, reel in the visitors and make money. This is how they sell it to you.
What sort of training? Well you basically learn ONLY to promote EN to other people and if they sign up through you, you'll get 100% commissions from them. This is why you see tons of EN blogs saying how they made $10,000, $20,000, ect… through EN and then lure you to join it in promises you TOO will receive it.
If this program were legitimate I wouldn't have issues with it, but I don't believe it is. And with that in mind, it's time to blow the cover on this organization and it starts right after you join them. Here's what happens:
Empower Network: Understanding What it REALLY is:
To understand the whole scam EN is about, I'm going to go through the entire list of things it consists of and why each of them is a chain of scams that you ONLY find out about once you join (or unless you read this page first). As it'll become more and more evident, you'll find out one VERY important fact about EN:
All it does is lures you into buying further offers, charges you outrageous prices for them, really only offers you training that's basically an opportunity to promote EN to others. However one statistic I found through EN itself is that less than 1% of all it's members actually make a profit in this business and these are people who invest anywhere from $25-$5,000+ (as you're about to find out).
This means even if you are successfully referring others into this program, most of them will NOT be able to profit and will end up losing money. So in essence what ends up happening is your job will be to refer people into the same problem to got yourself into. I believe this is unethical, illegitimate and a downright pyramid scheme.
Some make the argument that in any type of money making "opportunity", the very smallest minority will always end up being successful. While this is true in most cases, when it comes to Empower Network, what we're talking about is completely different. You are promised one thing and then are revealed a whole other story. That is disingenuous. 
What really happens when you join: The initial $25 you spend will eventually lead to massive up-sells that if you purchase will total over $5,000 dollars worth of what I consider worthless products that they claim you'll need to make money. Let's start from the very beginning:
1. You join the network for $25 a month either on your own, through a friend and get your own Empower Network "Authority Blog" which is connected to their "Viral Blogging System".
First off, the EN blog you get has NO authority anymore. It once had them, until people started spamming EN in efforts to promote it which caused places like Facebook, Youtube & Google to de-list EN blogs and even ban them. So what authority is there? None. The only way to earn authority with your blog is through these legitimate methods.
Secondly the blog/s you make through EN are NOT YOURS. Even if you choose to quit EN, your blog will forever belong to them which means your hard work becomes their property. Nothing you do through EN's blogging platform is ever really yours. How's that for BS?
Thirdly, you'll quickly find out that the $25 isn't what it really costs to access EN fully and promote it. You do get 100% commissions, but this is a hook to get you. The lowest price it'll cost you to promote EN will be $45. This is because you'll have to pay an additional $19.99 a month to receive checks from them through their "e-wallet" service.
Fourthly, (and this is the most important) there are higher level memberships which you CANNOT promote unless you join them first. I will be going over each and every one of them below.
Additionally IF you join EN through what's known as a sponsor (basically an affiliate), you may get the short end of the stick in regards to some sponsors and groups called prosperity teams bullying you and trying to get you to sign up to the higher level memberships. 
Why do they do this? Because they will make money of you buying the products, plain and simple. I've heard of some sponsors flat out ignoring the people under them unless they would upgrade to additional packages (shown below). Others would harass you or do things such as call you a "wussy" for not joining. Some however are nice about it but even they have their motives. 
Note: I'm going to be providing some REAL complaints from former members at the bottom of this post who have gone through this ordeal with EN at the very bottom of this review.
But going back to the main point, joining the $25 membership is nothing more than a gateway to the upsells. You don't get access to all of the training at EN & as you already know the "authority blog" doesn't really have much authority.
And if you want to potentially make more money through the system, you need to join the higher level memberships. This leads into the next part of the EN scam which is it's upsells (Further offers once you join):
Empower Network's Upsells:
1. The "Inner Circle": $100 a month.
Though you now get the opportunity to promote the $100 level membership and get commissions from that, the problem is that this new membership offers you pretty much nothing. You get some audios which give you training on guess what? How to promote EN. This is the ONLY training you get.
I want to make one point very clear about this membership level: You're really only paying to promote a higher level membership. You are forced into the system to promote the system. And the system only shows you ways to promote itself and NOT how to make money online through other markets. There is no actual product but video training and the value for this training is BEYOND absurd. This is a typical characteristic of a pyramid scheme.
But what if you want to promote another niche/market? Can the same teachings you get from these audios help you? I'm not saying it's impossible, but it'll be difficult because different niches/markets require different approaches so you'll basically be stuck only promoting EN itself.
And most people who join EN are complete beginners to online marketing which means they will not know anything else but how to promote EN to other, which in many cases may involve using the same shady tactics EN's affiliates are well known for. And so the downwards spiral continues… 
But it doesn't stop with the Inner Circle. You'll also be pushed into buying the other upsells EN "offers" which are in total pretty much nothing more than…more audios that continue to teach you how to promote EN. Here is the next phase of the scam:
Costa Rica Intensive for $500 (One time payment):
This is a long term business plan which teaches you how to make a long term living through promoting EN. Again like I said, there is NOTHING this program teaches you but how to promote itself. But it gets even worse…
The 15k A Month Formula which costs $1,000 (One time payment)
This is the final upsell they offer you. In it you are given MORE training to promote EN, but through places like Youtube and Facebook through 9 videos which amount of hours of training. But hold on a second, didn't I mention above that Youtube & Facebook banned the promotion of EN? Yes they did, which means this payment is rendered pretty much useless!
And even if those places DID allow for EN, you can learn how to promote niches for MUCH less than EN charges. Furthermore why would you want to promote a totally unethical scam to other people? This is where the ethical dilemma comes into play. If you consider yourself someone who wants to earn honest money online without screwing people over, here is my #1 recommendation for just that.
There's also another one for $3,500.
More training videos and really the only perk this up-sell has is that you can re-sell it and earn $3,500 for most of the sales. Good luck with that. I'd never purchase a product that expensive, nor the other up-sells. And I'd never shamelessly sell this to anyone either. I hope you wouldn't either.
Final Rating: Empower Network

Red Flag
1 Out of 10 Stars: Scam & pyramid scheme. I would not recommend this program to anyone. See #1 recommendation.
All programs on Howtomakehonestmoneyonline.com are rated on a 1-10 star scale, with 1 being the worst and 10 being the best. Empower Network gets 1 star (worst score) because it really offers you NOTHING, but how to promote itself which you can learn to do in other places for less & even free. Furthermore, based on research, I believe this company's tactics are completely unethical & disingenuous. 
This is a downright scam which pulls people in for $25 a month promising big and then ends up "persuading" them to buy the higher offers which only teach you to promote the company itself, not how to make honest money online and once you're in the trap, to get out of it, you'll need to refer others into the scam to get yourself out of it. That's just wrong and I said before, it's a downright pyramid scheme. 
Final conclusion: Should you join Empower Network?
The only people who really make money with this program are those who possess internet marketing knowledge and an email list of people who trust them. It's safe to say that 99.9% of all people who join Empower Network do not possess either of those 2 components. I've been in online marketing for 8 years and I know this.
You do get audio training. But support? Good luck. Furthermore the training you get only talks about how to promote EN and in essence only make the owners richer. Who really gets the short of the stick here? Pretty much the 99% of people who are in the lower parts of this pyramid.
Unless you wish to potentially drop $1,000's for "training" you can get for free and try to promote a disingenuous program to others, join Empower Network. I will not even link to their site from here due to the sheer disgust this program brings me and how it scams people out of money. Even if EN was a good place to learn online marketing, the fact that Google doesn't like EN blogs and the fact that Facebook & Youtube have already banned promoting them cuts off a huge chunk of the marketing pie. Keep that fact in mind.
Again, you are only taught how to market EN itself.  And if you try to promote other niches through their training, you'll often find the same tactics do not work. And that's when you'll realize to get out of the hole you put yourself in, you'll have to get others into it. And that's what it was designed to do. And yet they go on, like a sinking ship trying to attract more clients, even as it takes on more water.
One additional argument some Empower Network fans (who I expect will be commenting here) will say is that I'm only promoting another program at the expense of Empower Network. While I am promoting another program (Wealthy Affiliate), unlike this one, it's legitimate, there are NO hidden costs, you get actual support, it's literally free to join and most importantly they teach you the REAL deal when it comes to making honest money online. You be the judge:

Empower Network Complaints:
I promised to provide you with real stories of former EN members and their complaints against this company. Well here they are. The same place I recommend as an alternative has former EN members. Here are their experiences:
Complaint 1: A not so favorable review of Empower Network from a former member.
Complaint 2: An EN review. Scratch that. WARNING!
Complaint 3: A chart of EN complaints on the rise.
Complaint 4: Former EN member spends $8,500 on them and his results.
2 questions that will decide if Empower Network is for you:
Imagine for a moment that you did join this program, without prior knowledge of the up-sells. You though $25 was all it took get started. After all that's what was said. Then you find out the $25 aren't enough and you need to invest more. Furthermore in order to make any real money through Empower Network, you'll have no choice but to buy the higher level memberships/products.
Let me ask you this: Would you feel that you were lied to? Would you feel like you were played for a fool? I would. If your answer is yes. Here's my follow up question:
Would you feel comfortable promoting this same program to others knowing they would go through the same experiences, monetarily and emotionally? I personally wouldn't. And if you answered no to this question, then I don't believe you should be involved with Empower Network. 
My bottom line is this: I don't think it's ethical to promote something you personally have issues with. 
I'd love to hear your take on this, especially if you already had experiences with this organization. Share your experiences below in the comments section!