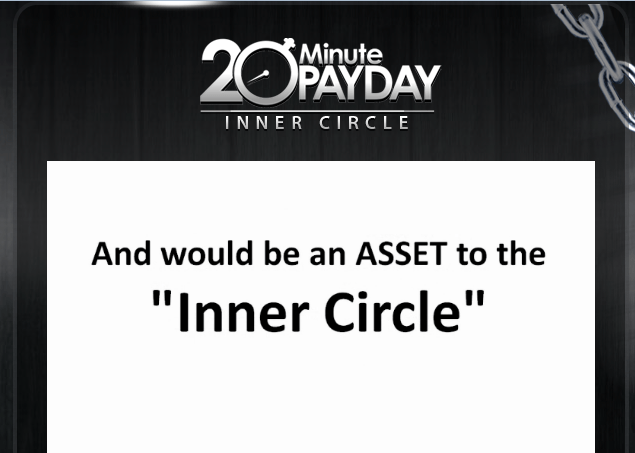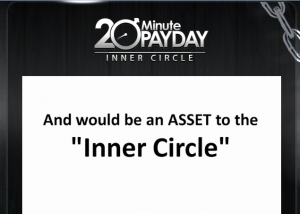 I have reviewed several of Russell Brunson's programs, and today I'm going to be covering 20 Minute Payday and explaining why I don't recommend it.
Quick Report:
Name: 20 Minute Payday.
Price: Free to join, but then promote 3 paid programs to you whose prices vary.
Overall Rating:

1 out of 10 stars.
A lot of material are provided, but it promotes scams so I can't recommend it).
20 Minute Paydays is one of those programs which I was both impressed and disappointed by. Let me explain…
I was impressed because there is a lot of free material to work with that is pretty easy to set up.
But I was disappointed because what you are going to be doing is promoting actual scam programs which is the big picture. 

20 Minute Payday in a nutshell:
It is one gigantic referral program created by Russell Brunson. Expect to be sold into 3 different places. Unfortunately 2 of them he recommends are without a doubt (in my opinion) total scams while the other is borderline. 
20 Minute Payday has also created a system where you can also promote these 3 places through the actual 20 minute Payday site by giving you an affiliate link.
What this means is that if someone visits your affiliate link and lands on the page, joins, if they sign up to any one, two or all three programs, you get credit for the sale and make money. I have more explanations on affiliate links and more importantly, affiliate marketing here.
You also get more than just affiliate links and there are various tools provided to help you promote this program and the other 3 which I'll show you. 
The members area of 20 Minute Payday:
Again, access to this is free and once you're inside, this is what you'll see (Screenshot):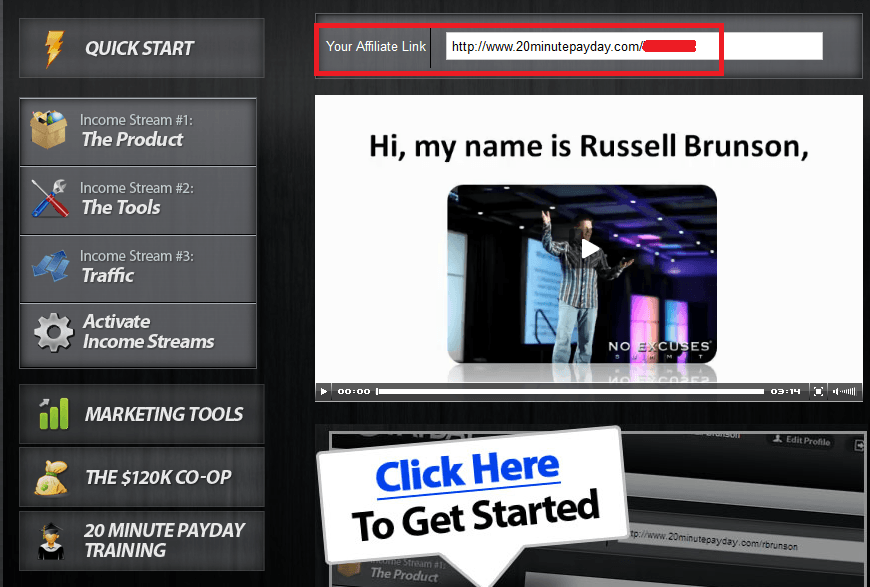 Quick Start:
This provides you with the video you see. Above that is automatically generated affiliate link which you get to promote this system as I mentioned earlier. Basically if I were to use this link, email it, share it on social networks or anywhere else and if someone would join this program through it, I would get paid IF they joined any of the 3 programs and I first signed up with them.
Income Stream #1 (The product and the first scam):
This is where you are promoted a program called Empower Network. You get a video promoting it and talking about what to expect. First Russell talks about how it'll cost you $25 to get started, but in the video promoting this place, he mentions how he highly recommends joining one of their up-sells known as the Inner Circle. 
Watching that video made me realize why on the main sales page Russell kept making inner circle references. The inner circle costs $100 a month and he does talk about up-sells within Empower Network, some of which are much more expensive.
Empower Network is one of the scams being promoted here. You can't promote any of their expensive products unless you first buy them. 
Income Stream #2 (The Tools, aka the second scam):
This is where you are promoted another questionable program called Pure Leverage, which in some ways reminds me of Empower Network. I have also done a review on this place and would never recommend it. Never the less, another video is provided where Russell talks about joining Pure Leverage for $1 and then, just like with the Empower Network video, talks about the up-sells.
On one hand it's good that he's letting you know about these things, but it also shows that if you're going to make money with this system and the big commissions, you'll have to put in a lot of money as well. 
Income Stream #3 (The Traffic):
This promotes DotComSecretsX, the only program out of the 3 which I didn't rate as a scam, but still a program I wouldn't recommend. 
Activate Income Streams: 
This will help you take all of the affiliate links for the above 3 programs and put them into an autoresponder. The idea here is that 20 Minute Paydays will take people you refer into the system and send them out emails promoting themselves. If they join and then join one of the 3 programs, you'll get credit for the sale and this section shows you how to do this.
Note: You will have to register with Pure Leverage to make this work.
Marketing tools:
This provides you with a number of emails you can copy/paste and send out to friends and/or people you know. These emails may sound good, but after reading them, I feel if someone would send me this, I would probably hit the spam button right away. But they are optional to use and just there to provide more resources to you.
The $120k co-op:
This was unavailable.
20 Minute Payday Training:
Provides 9 videos of training through seminar recordings.
Update:
It's been awhile since I saw this program from the inside, BUT since then I have reviewed other programs by Russell, such as Click Funnels and things like Affiliate Bootcamp and also the One Way Funnel Challenge. I'm mentioning this because it's possible these kinds of programs may be pitched by Russell through this program or perhaps through his email list newsletters.
2 things to note:
1) When you join this program and then sign up to any of the 3 programs being promoted, Russell and/or whoever referred you there is going to make a commission. This is why Russell went through all the effort to set this up and make it free, because if you join, he wins.
Obviously if you get other people to join, you also "technically win", but I wouldn't use that word because you are going to be promoting programs I would never recommend to anyone. 
2) I know that Empower Network and Pure Leverage are MLM programs and what this means is that not everyone you refer to 20 Minute Payday and then these programs will pay. The way these systems work is that they give you a commissions on a majority of sales you make, with the rest heading to the person who referred you. I call that a pyramid scheme.
Pros:
Free access. 

Tools and decent resources provided to help you get started. 
Cons:
Promotes at least 2 scams (MLM programs) which I personally would never promote to anyone.

Expect massive up-sells within each program promoted.
Final Rating: 20 Minute Payday
Red Flag (Scam)
1 star out of 10. No matter how simple it is to get started, I don't feel it's right to promote the programs this place endorses. I believe in legitimate affiliate programs when it comes to making money online.
My final thoughts:
Take away the hype and this is what you get in my opinion:
It's just access into 2 pyramid schemes and 1 questionable program which you then sell to others. Would you really want to do this? I know I wouldn't. I know there are better and honest ways to go about online business:
That's all I have to say regarding 20 Minute Payday. I generally like Russell Brunson, but programs like these make me wonder about him…