Most people who enter the world of SEO and attempt to have high ranking websites fail to do so because they really don't understand just how much work is needed to reach the point where their page is respected and recognized by Google.
This lack of understanding leads them to become frustrated and eventually, in most cases, makes them quit. I would like to help those of you who are struggling with rankings to understand WHY this is happening and what you can do to fix it.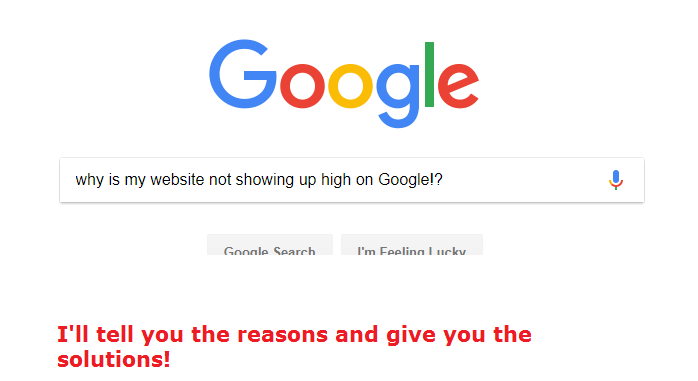 There are MANY people who come to me with this question and I always provide the same answer. However, to help those of you who are currently struggling with SEO and/or eventually will be, this article should help you a ton…
I also have a website for SEO topics called HelpingHandSEO.com. You can also get good advice on rankings there too.
Let's start with the main point on how rankings work…
Google's job is to identify the content on a page and put it on their search engine in a way that is most relevant to browsers. Simply put, if I write an article on my website on something like…
How to raise children,  how to grow plants, how to become a successful marketer, ect…
I will rank on Google for anyone who types up searches that relate to that. This is pretty simple stuff so far, but:
There's another piece we need to include: Competition & quality.
Imagine for a second that we take one of those topics I just wrote about, let's say the topic of how become a successful marketer. Then let's imagine (and this is probably fact anyway) that there's millions of articles on the internet written by people out there which talk about this information. 
Finally, let's imagine a crowd of millions of people trying to get through a small door that only let's 10 people in. Those 10 people represent the first 10 search results you'll get on Google when you type in a search term. 
If you can be one of the lucky 10 that enters, you're going to get a ton of traffic and see success. But with all the people trying to cram and pour into that 1 little doorway, how can Google (the doorman) determine who deserves to fill in those top 10 spots?
"Simple". They need to identify which page/s deserves it most:
There is a "filtration process" every website goes through with Google where based on certain parameters, called ranking factors, the page will be placed on the search results in a certain position.
Now there's a number of these factors I talk about in the article I just linked to, but to summarize them:
A website needs to have in my experience 5 very important things:
1) A lot of articles (typically niche focused content) that are high quality.
2) A lot of comments.
3) Have a certain age to it (new pages do not generally get high rankings, you need to give it several months).
4) Be targeting low competition keywords.
Note: If you don't understand all of these things I just mentioned, please read that article above, as it'll really help you gauge the reason as to why your page may not be doing so well on this search engine. 
Those above parameters, when used properly, will absolutely help your page's position improve.
Now if we take those parameters, and put it into the example above of the millions of articles trying to rank for how to be a successful marketer, it suddenly becomes MUCH easier to see which pages deserve a higher position, and which ones don't…
For example: A website which has only 1 article on becoming a successful marketer will NOT do well vs a website which has, say 100 articles on this subject. 
Let's take those millions of articles again which talk about that same topic and consider that example and the fact that most likely 99% of them do NOT have those factors I talked about. I can assure you, that 99% statistic is probably true given the number of pages I've seen people make…
But now suddenly that remaining 1% becomes easier to see and that's what Google does. It takes all those pages, sees which ones have the highest amount of those parameters, and then gives them higher positioning.
This is probably the biggest reason I personally occupy SO many first page positions, which I also wrote an article about here about ranking on Google's first page. 
In the end, the goal is always to reach page 1 and like I said before, only 10 websites are allowed to be on the first page. So let's take those 10 that made it, the lucky pages if you will…
They will also be graded by Google with the same filtration process and again, those same factors I talked about will play a pivotal role. 
A website which has 100 articles and thousands of comments will generally outrank the one which has 100 articles too, but less comments. 
A page which has been around longer in business and has that same amount of content (100) will probably outrank the page which is younger, but also has a 100 articles (domain age counts here). 
As you can see, as we take each of those parameters and plug them into an equation, it becomes much easier to see which sites get that higher position. So if you are currently struggling with this problem, here's…
How to improve your website ranking in Google:
The important thing to consider here is that you need to make a content RICH site that has those ranking factors I talked about earlier. 
You need to write as many articles as you can on whatever topic the site is based on. In fact, you should never stop writing. When I started with my first page, I was aiming to get a few dozen articles up, then when I did, the goal became to write 100's of articles, now the goal is 1,000's. The work shouldn't stop because as the page grows, your traffic grows and the profits do too, which should stimulate you to write more anyway…
You also need to look for low competition keywords and use them. You can even look at keywords in terms of that doorway analogy I used. The lower the competition for your keyword, the easier it is to get through that door Google made to only let 10 people in.
You need to encourage and get comments on your page/s. Here's a tutorial that helps with this. 
These 3 things alone really help your page grow as a whole and Google does recognize this. Their "filtration" process is very advanced and constantly evolving so they know how to differentiate a page which has 100 articles vs one which has less for example. 
Overall this is the BEST method I recommend you use. Think about this:
Each new article you write catches Google's eyes. And every website which has ever ranked high on this search engine has done so because it carries with it a ton of articles and content. 
So naturally if you start a page, write 10 articles, even if you target low competition keywords, it will get noticed by Google, but it will not occupy any high positions. 
Side note: Ever wondered how to get your website on search engines?
This is EASY. If you make your page on a platform like WordPress, know the process is handled on it's own. You don't really need to "inform" Google about your page, they WILL find it. The only thing/s you can do is improve the speed by doing things like "telling them" to find you and "fetch" your page faster through the following methods.
As for other search engines, the process is ALSO the same. In short, don't worry. Even if you write on your site, publish it and do nothing else, it will ALWAYS get picked up by search engines so again, don't worry about this at all 🙂
Back to the point:
Improving your page's position through proportionally publishing more content:
If you reach the point where 10 articles turns into a 100 and then 500, then a 1,000 and each of them has high quality content, targets the right, low competition keywords, that's that much exponentially more attention you will be getting from this search engine and that will lead to MANY more rankings, I absolutely promise you this.
No matter how many different strategies of SEO and online marketing I have tried, this has been the ONLY one that always works. Though it is not easy and is time consuming, the beauty is that this work, will work for you meaning the positions your page occupies will rise, stay high and keep giving you more and more traffic. 
Furthermore, the authority your page carries (which is another important way of saying Google recognizes your page as a major player) proportionally grows with the content base you set up…
This means a site with 10 articles has little to no authority vs one with a 100, has 10 times that. Think about that.
And again, when you reach that point, you will see your page more and more often ranked on Google and this will be shown in the form of more and more traffic. This is why it pays to be patient, to keep on writing, to keep on finding and targeting low competition keywords.
My page gets well over 600 visitors daily on autopilot at this point. Yours can reach that level too (and further).
What happens if I do all of this and my position is still low?
The answer is simple:
Keep doing "those" things and by those, I mean…keep the page growing, keep the comments growing. 
A VERY important thing to consider is that those 10 sites which occupy the first page of Google very often do NOT stay in those positions. Just because you make it through that doorway doesn't mean you'll stay there forever. This search engine continually readjusts the pages it ranks high and low, lets other pages occupy/reoccupy those spots and that often involves "kicking" other pages out ALL the time.
There is specifically an algorithm in place by this search engine to do this, and this algorithm is not only genius, but it also keeps evolving all the time. There's literally a thing called the Google dance which takes place across this search engine which re-adjusts all the pages the search terms they are trying to rank for every single day.
Now one can take this info and think that it's difficult to reach high positions and that you can fall of anytime, but…
To ensure that doesn't happen and that…
You reach those first 10 spots and…

That if you have one of those 10 spots, that you don't lose that position…
You need to again keep focusing on those growth tips I mentioned. I'll use one of my personal examples…
When I first started this website in 2013, I started with no articles, no comments, and nothing but an empty template. I built it up through the same tips I am giving you now and occupy A LOT of high positions on Google and get a lot of traffic.
When I started, there were a plethora of pages which occupied high rankings that I was aiming to get into and only through working on my page and growing it as a whole did I manage to eventually reach those positions and bypass the pages which originally were higher. 
The important rule to note on SEO:
I personally believe that ANY person who creates a page and grows it the same ways I recommended will also see great results. But it is a lot of hard work to write and grow the page and most people simply do not have the patience to do this and I think one of the reasons (besides not wanting to work hard) is because they don't understand the process by which SEO is filtered and by that I mean, what determines if your page/articles will do well or not.
I hope that if you're personally struggling with the issue of rankings, that after reading this article, you understand how this system works and that you can absolutely break into it and be successful. 
So if you're the type of person who recently made a website, that has only 10 articles, I hope that after reading this post, you understand why currently your page isn't ranked high and what you need to do about it.