A recent comment/question about what the future of affiliate marketing will look like inspired me to write this post you are reading now. In a few months I'll be entering my 13th year in the business so I'd like to share what I personally believe will happen to this industry, if it'll ever stop and what will happen in the next few years.
The interesting thing about this post is that I remember, many years ago, I also had the VERY same question that I got today. As someone who at the time who was fascinated by this industry but not exactly seeing success, I found myself asking if this type of business was something that would eventually fail and at the same time, and in order to find the answers, I also sought the answers from experts, specifically Travis Sago and Kyle from Wealthy Affiliate. 
Both of these guys who were and are still far more successful than me told me basically the same thing that at the time I didn't quite fathom, but looking back at that answer, today, I realized what they really meant, and now I find that my answer to this question is also the same.
So what's the future of this industry going to look like? 
The more I learn about affiliate marketing, the more I believe this awesome opportunity isn't going going to vanish. I think it will continue to grow, and at a rate that honestly will not be able to keep up with the rise of people that use the internet.
Furthermore, the more I though about this topic, I could not find any negative reason that this wouldn't be the case, unless of course, some doomsday event takes place and completely destroys civilization or perhaps governments around the world become very totalitarian and enact laws/regulations to limit the usage, and even if that happens, it'll just create a black market for people to use the internet outside the knowledge of that authority anyway, so in short…it's just going to grow.
But if you need specifics, let me give you some numbers and rational theories to ponder that would be hard to disagree with…
3 big reasons affiliate marketing will not go away:
1: Statistics show there is consistent, gigantic growth of people who use the internet.
A few years ago, it was estimated that over 2 billion people use the internet. Checking that number today, it has surpassed 3 billion. Here is an interesting stat I found. Notice how on this graph, nowhere on this graph will you see a decline happening throughout the years. It's just constant growth: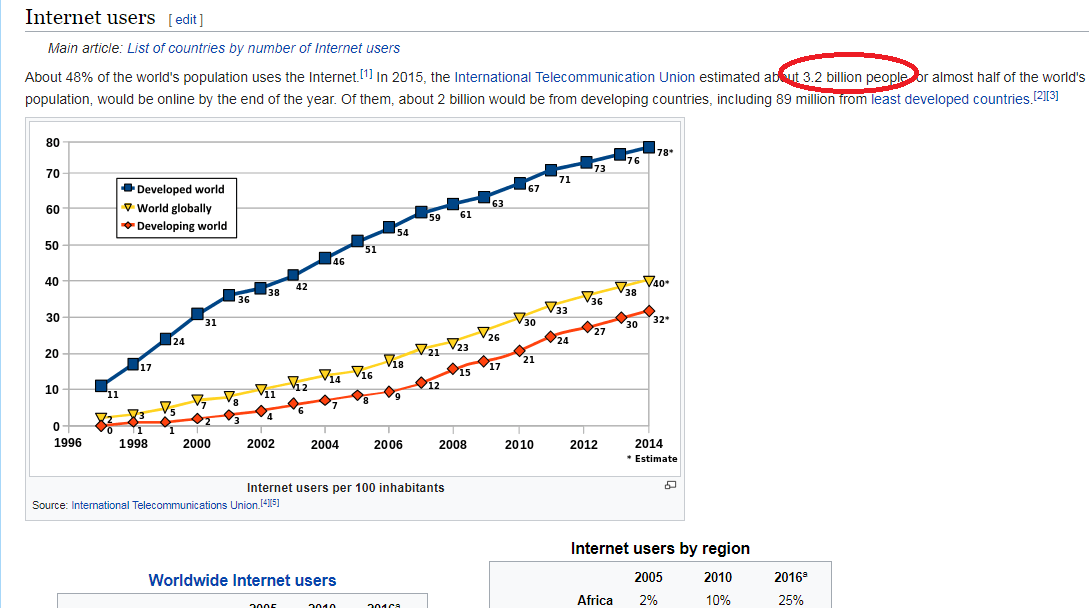 I want to add that there is a statistic right below this graph which shows how many people across different countries use the internet from years ago, until today. You will see that even in the WORST cases, usage has gone up at least 2 times. Here is a link to the graph, as well as other stats you should look at if you ever think this is going to go away.
In the past, internet usage was mainly centered around western countries, due to their technological advancements, but an even bigger boom started to occur when more and more third world countries began to grow their economies and technology which also gave them access to enter this digital world. 
Also, with the growth that was occurring, many digital companies to help support this exponential growth, turned to third world countries and outsourced their services through employing people of those nations. This is why a lot of customer service representatives nowadays are usually from India, China and other areas.
But at the same time, this exposure to that digital world, helped those countries enter into it.
And let's not even get into detail about how mobile devices helped fuel this too! I think we can all agree in that particular instance, having mobile devices has done a tremendous service for internet growth and opportunities to make money from it in general.
2: With that growth, the opportunity to start an online business also grew.
Make no mistake, being an affiliate marketer and selling things for other companies is in fact a form of business. And naturally with more people using the internet, your opportunity to sell to that, new, larger crowd, also grows substantially. 
3: This is an industry where traditional work is essentially…impossible.
Imagine a company like Clickbank, or Amazon which has millions of affiliates essentially, would force those people to work from offices to keep things traditional OR to go out locally in their areas and sell the products of those businesses to people. 
It would hinder their growth in ways that is unimaginable. Instead, by providing freedom and an opportunity to earn through it, affiliates can go out, work for themselves, without having an office or space limits in general (because they are working through the internet), and thereby providing the affiliate with more opportunity to grow, and cutting costs for the company that would otherwise have to pay for things like office space, medical costs, ect…
Also, in this business, an added benefit, especially for the company employing the middleman is that their failure will not add an extra cost burden on them. It will only really impact the middleman themselves. 
With all these savings that companies will have thanks to this business, and the freedom for both parties that comes along with this new form of selling, how can either party hate this or think it's ineffective? It's not…
In short:
Big companies, if they want to grow, need the internet, and they CANNOT supply this growth and scale properly without affiliates. And they also can't grow without people who know how to grow an online business either. Think about that…
3: Even if something happens and things fall apart, this idea of selling for other people will not go away.
Even before the internet, affiliate marketing was just another name for being a middleman and selling for individuals and companies. People have ALWAYS in one way or another had jobs that paid commissions. With the internet, that form of earning became known as affiliate marketing, but the formula is still the same. 
But let's imagine a scenario in which the internet ceases to exist for whatever reason. What's to stop someone who was successful being an affiliate from being successful in the offline world? 
I would say nothing. With all the knowledge I've personally gained about selling to people, I see no reason why a lack of internet would hinder my ability to recreate a successful business outside the internet world. In fact, here's a sample idea:
In internet marketing, success really comes from targeting niche markets. Let's suppose I had a site which sold self defense tips.
Now let's say things fall apart. The internet dies and I have to adjust. What's to stop me from selling those same items to the same niche market? Nothing really, I would just have to find them through other means, but they are there.
Niche markets in the online world are the same as they are in the offline world, the ability to connect with them is just different, but if you have the niche market and can sell to it, it'll be possible to do the selling in an offline environment just like in an online one.
My final thoughts:
There have been many people who have speculated that the internet will die because it's a bubble.

There have been many people who have said the internet will die out because of government interference.
There have, in short, been MANY naysayers about what will happen and that of course would impact affiliate marketing. But I think with all the evidence I have provided with the stats and personal experience, there's really no reason to fear that this industry will die out.
If you can establish yourself in this industry, you will insure yourself even if things crash and this is why:
Affiliate marketing has taught me how to become a successful businessman on the internet, but in the process, the same steps of success would also, as I said, apply to the offline world. 
However, this is still NOT an easy industry to grow in. There are a MINUSCULE amount of people who are successful in this business.
You can certainly look at this and see it as an opportunity to take over , but I would go further and say that RIGHT now is the best time to become successful at this business.
Thank to this industry, I have learned how to create a business and the beauty is, unlike traditional businesses, I saved a lot of money and headaches on costs and learning curves as a result. Again, I see no reason why this industry will ever fail, but EVEN if it does, I'll say it again…
If you can become successful at it, you can take that knowledge and become successful in the offline world as well because you're still doing the same things which is selling.