So I had a look through Affiliate Bots 2.0 and want to tell you that it's not a scam. However, despite all it's fancy tools, I don't see a reason to use it. 
It just so happens that after I purchased and went through the members area, I had a deja vu moment in that it looked like I had already reviewed a program like this. Further looking through the program, I had discovered that indeed this was the case.
This program is apparently a recycled and better version of another called Affiliate Titan 2.0 (similar names, same creator apparently) and I was happy to see that how I graded that program, was pretty much the same way I'd grade this one.
But anyway, because this program wasn't a duplicate of the other and offered more value, I didn't call it a scam. BUT since affiliate marketing is literally my full time business, let me explain why I'm not crazy about this system and probably won't be using it. But first, let me give you some basic details on the program:
Affiliate Bots 2.0 explained:
Price: $27. And there are 3 up-sells.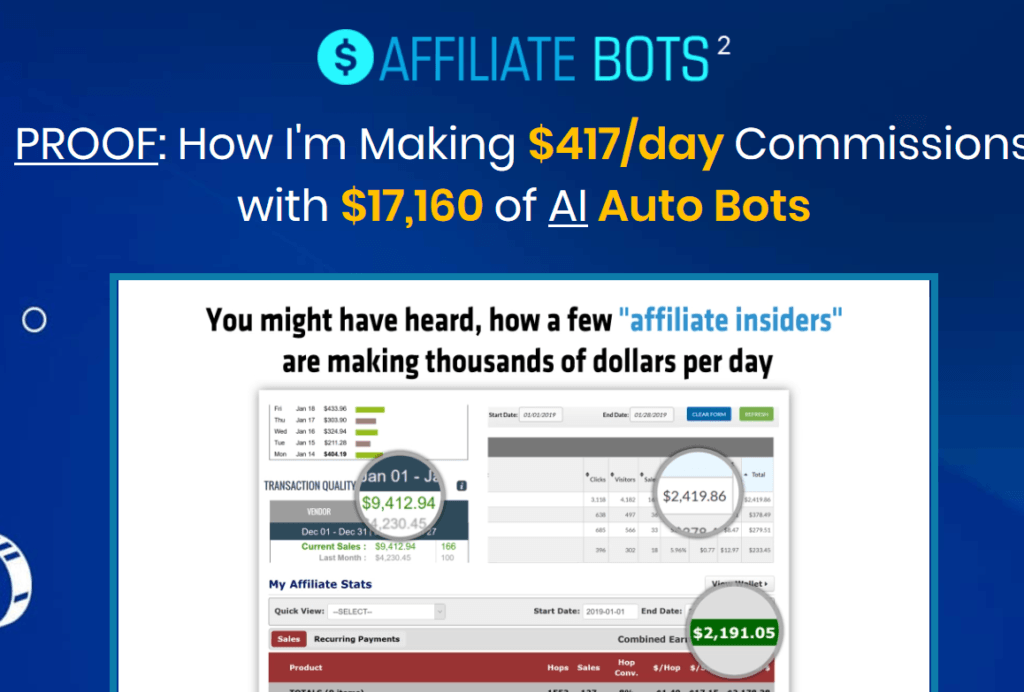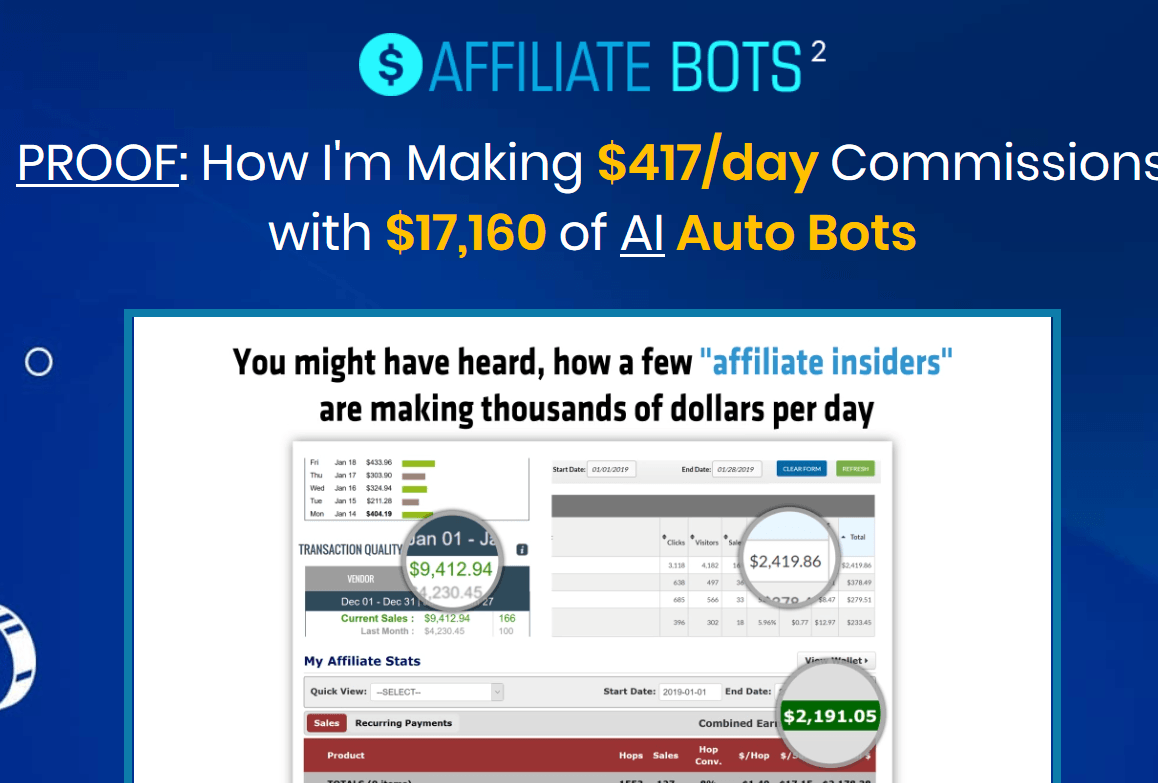 Creator: Chris X.
What is it? Affiliate Bots 2.0 is basically a mix of software programs that helps you find the most popular selling products on popular networks like Clickbank, JVZoo and other places.
The goal is to use this software, spot the hot selling products, then use your own marketing methods to promote those hot sellers and make money in the process.
There are also many promotions for other programs within the members area, which I personally didn't really like seeing. But overall, there's at least 10+ software programs you can use, including a fast start guide on showing you how to use them.
Overall rating:

4 out of 10 stars

.
Do I recommend it? No. I just think that much of the software, despite the information it provides is a distraction. I'll explain that pretty much most of what it does, I can do without it, and easily as well.
Sometimes more information and access to information can itself be a negative and there's honestly TOO much in Affiliate Bots 2.0 to digest.
Furthermore, if you're a newbie, I would 100% NOT recommend this program because you really won't know how to use it right. It's one thing to see all the hot selling products that you can promote, but it's a completely different story when it comes to properly promoting it and that's where most people will probably have issues.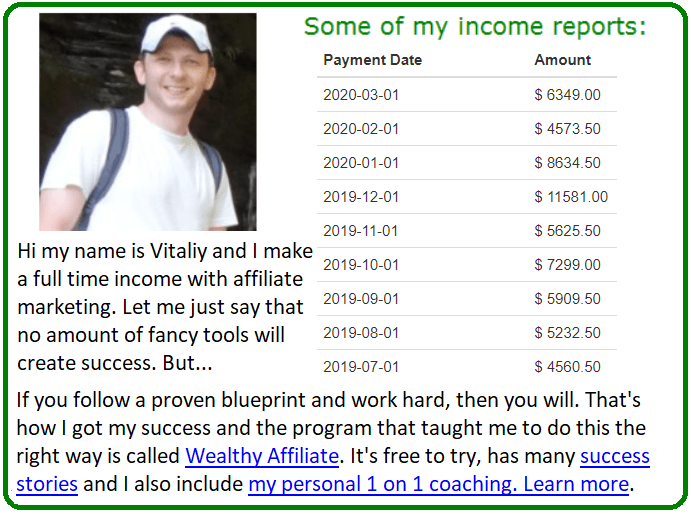 The pros of Affiliate Bots 2.0:
-It legitimately shows you best selling products on popular affiliate networks.
-The way much of the software and branches of that software are designed, save you time in researching which products are selling well.
-A person who is very advanced and successful at this business can make good use of this software and probably get sales from it.
-This software consolidates hot sellers across different networks and displays them to you and even shows how well they are selling.
-Includes editing software to make squeeze pages pretty quickly (for email list building).
The cons:
Now these are my subjective cons, but I have good reason to label them like this, so here goes:
I don't like that there's so many additional offers (up-sells) before the members area and in it.
There's up-sells for coaching, training, other systems, and those sorts of things and they are also thrown at you before you start accessing the system. This is annoying in my opinion.
Just give me a good software, training and value, and then later on, hit me up with up-sells. This current way they're doing it seems spammy.
It takes awhile to understand the software and how to use it.
Because there's so many software systems inside this program, it may take you awhile to figure it out. Certainly there is value in knowing how to use these software systems and if you're the sort that loves everything to be displayed to you in charts, this may work for you, but for me, I know I'll never use all this info anyway and will just rely on my current way of finding hot products to sell, so I don't need this.
In my opinion, this is not something that beginner affiliate marketers would be able to use well.
If you're just starting with affiliate marketing, I do think you'll be able to use this software for research, and you will see hot selling products, but if you don't know how to ACT on that information and take the right steps to profit from it, then I don't think this software is for you.
You need training and guidance to be able to succeed at affiliate marketing.
And again, the Wealthy Affiliate program is where you'll get that.
Let me give you some examples of why I don't need Affiliate Bots:
And just as well, why you may not need it either.
1) So much of the software like I said before shows you best selling products in marketplaces like Clickbank, JVZoo, Warrior Plus and more which are HUGE affiliate networks for those who don't know. This is great info, but I can also get it on my own…
2) For JVZoo, I literally visit their best seller page which is publicly available, pick out a product that's selling well, and then go from there onto reviewing it and then recommending it if it's good.
3) For Clickbank, I need only look at the marketplace of this site, select a category of a products I want to promote (Say weight loss), and I'll be displayed with the best selling products in the category I chose. I will then select the one which sells best and consider selling it too.
4) And finally, there's also a site which basically consolidates these 2 networks and displays products that are going to be appearing on the marketing in the future, so you can start promoting them early and it's called Muncheye.com.
These 4 starting methods alone render a program like Affiliate Bots 2.0 useless, at least for me. But there's more:
5) With regards to the squeeze pages you can build within the program, it's good, no doubt, but again, if you're not experienced in making them and USING them PROPERLY, there's just no reason to get it. Again, you need to training in affiliate marketing through Wealthy Affiliate to make this software actually useful to you, but when you use the training, you'll probably also feel you don't need Affiliate Bots.
Sure the $27 it costs to use all these things is a steal, but it's only a steal to the person who will actually know how to use it, and even though I am personally one of these people, who does understand how to use the system, I still find it useless for me. Here is another screenshot from within the members area as I promised to show you: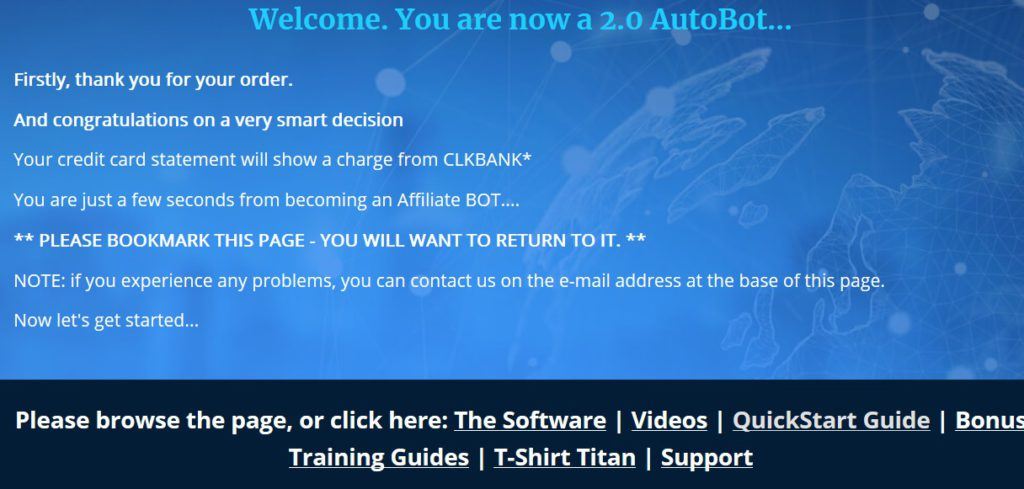 Final Rating: Affiliate Bots 2.0.

Yellow Flag
4 out of 10 stars. In my personal opinion, I look at Affiliate Bots 2.0 like a great looking toy that I bought, but would never really use like I should. And that may sound like a mistake on my part, but I'm honestly not looking at it that way. What this program does, I can do on my own.
Bottom line: Get affiliate marketing training, stop focusing on software tools.
I used to be the sort of person that would look for fancy tools like Affiliate Bots 2.0 as the solution to getting success in this business, but without core understanding of the actual business and ways to really succeed at it, these tools would only distract me from reaching that success.
Today, when I advise people on getting success at this business, I always tell them to start with a passion, and then look for popular products IN that passion to sell. Most people seeking to succeed at affiliate marketing do that backwards and think that if they just find a popular product to promote, that the rest is handled. This is a huge mistake.
I can literally take 1 minute right now, and find 50 hot selling products from the 3 alternative sites I use for research, but that doesn't mean I've made it.
Here's the reality of finding hot products (and actually being able to make sales from them):
1) If I don't know anything about the product or don't really like the subject it's categorized in, I won't be able to make sales for it.
2) If I don't know how to create landing pages, there's no reason for me to even get into this.
3) If I don't know how to drive laser targeted traffic to the landing page, again, there's no chance of success.
It's these 3 things that TRULY make an affiliate marketer succeed. If you have these 3 things down, THEN and only then can you TRULY find hot selling products and promote them, successfully.
The thing about this software is that it won't really teach you these 3 necessary things from what I saw. It will promote some coaching for you, but I looked at that is about $200 a month, which is WAY too much, so here's something way better that'll help you get all the necessary things to work:
I know from experience that the best way to make all of this work is to start with great training, and then to go from there. This place I just showed you is the best place to begin and grow a successful online business.