I came across Click2Sell.co not too long ago and decided to explore if it's a safe, legit investment. Let me explain, in this review, why I decided not to use this service (there is a good reason).
There are a couple of serious points that need to be made before I get to the details of this service and why I am personally deciding to not use it, one of which is that I do paid advertising and feel my approach costs less (But I'll explain later).
First, there's 3 programs and services with this name, and they each have different each websites.
There's a Click2sell.com which apparently is a service that gives you virtual assistants and content writers for your online business. 

There's a Click2sell.eu which is an affiliate/vendor network and apparently, from what I saw, it had no association with this company.

And finally, there's the Click2Sell.co which is what I am reviewing here today and it is a network that you pay to display ads on and for each person who clicks that ad, you get money.
So now that I've explained the 3 different programs there are, I want to ONLY focus on the last one, because that is the one which gets the most questions from what I noticed.
Click2Sell.co, the overall explanation & review:
Creators: Apparently this is unknown and considering how much it costs to use this service, I would HOPE such a thing would be more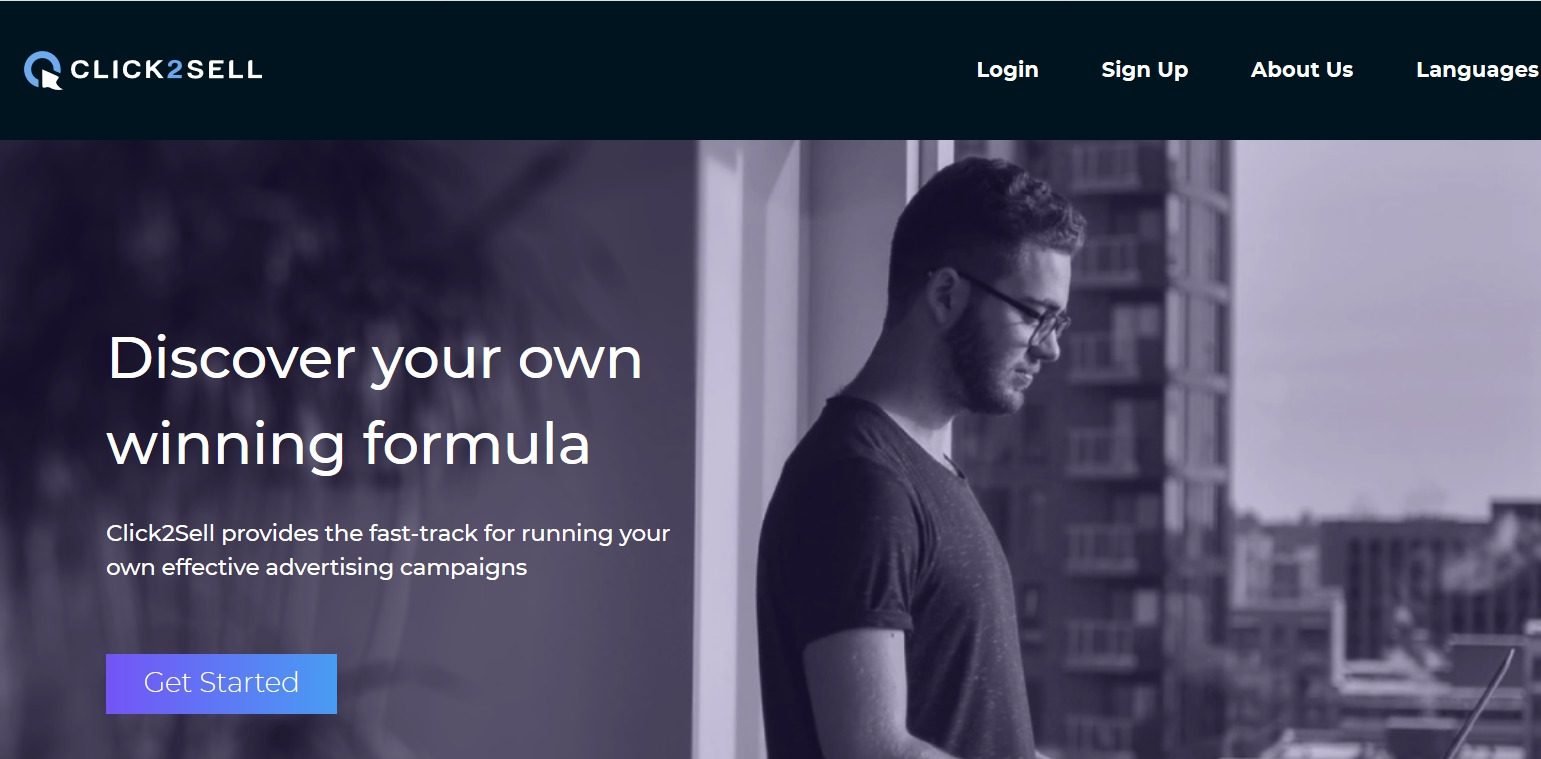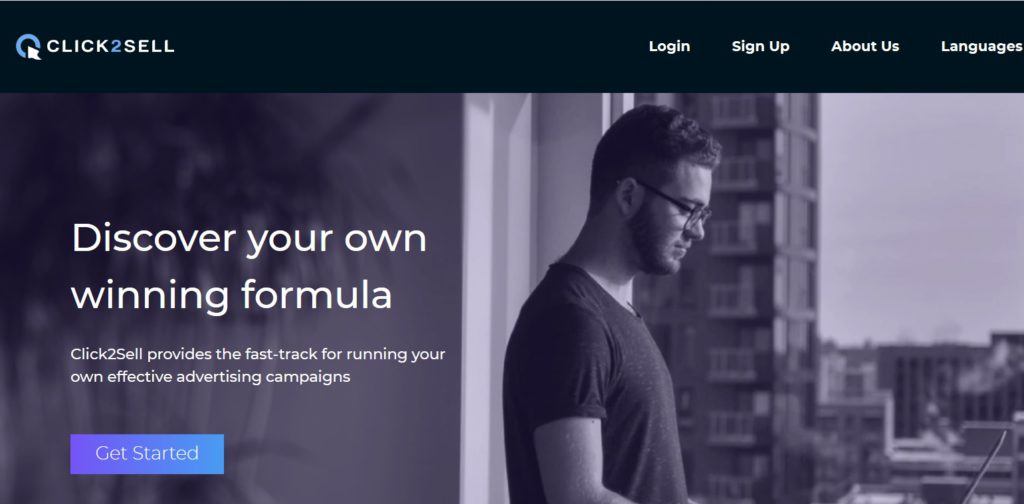 transparent. Because it is not, it's a major red flag.
Price: There's 2 packages you can buy, starting from $250 to almost $1,500 and then one from $1,500 all the way up to $5,000. 
How does this service work?
You buy one of the packages and it gives you ads you can run.
You select a title, ad, and image, and let it run on whatever networks Click2Sell.co is associated with.
The idea is that for each click (hit) received, you will make money.
So THEORETICALLY if you spend say $250 on an ad, and get 1,000 hits on it worth $1, you can make a profit from this investment. And theoretically spending more on packages allows you to potentially get more hits and profits.
There is an element of "simplicity" and "easy money" and I got that impression from this service, but knowing about how display ads really work, I have massive reluctance in trying this…
Overall Rating:
PENDING
.
I have very strong suspicions that there may be something going on, but I cannot offer my own proof of this, so instead, what I would like say are the following things:
Here is what you need to know (3 things):
First, I'm going to say that Click2Sell.co is not a scam so I will remain neutral there but when I list the cons, they will legitimately show why I'm skeptical.
Second, if you're looking to make money through paid ads in this type of fashion, I'll show you ways you can do that which are 100% legitimate (I've worked with this stuff so I know how it's done) and you simply will not have to risk so much money.
Third, I'll show you an awesome program which teaches all of these ways to legitimately monetize through a website with both free approaches and paid ads and here it is: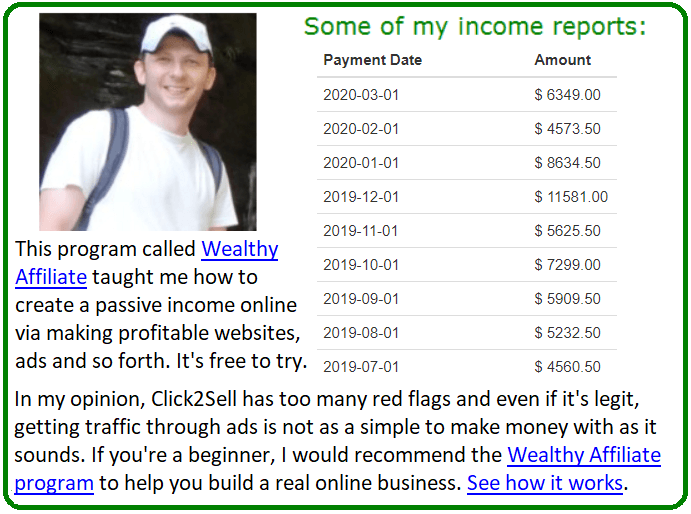 Now I want to continue this review of Click2Sell.co and explain the issues I have found with it and why I don't recommend it, so let me get into the pros and cons and you'll understand what I mean:
The pros of Click2Sell.co:
1) Honestly, I cannot think of anything and the reason why is that the claims are in my opinion hyped.
2) It is possible to make good money from paying to run ads and getting clicks and paid from that, but for the crazy investment they ask for, I don't see how this is worth it.
The cons:
1) There's no real info on the creators.
Like I said before, this is a huge problem.
They're asking you for $100's and $1,000's in investment, but they can't even show their team and their creators? They offer an address and support number, and that's good, but again, without real faces of the creators, I will never trust a system like that.
2) Second, the investments themselves are just nuts.
$250-$5,000 for this type of way of making money is a MAJOR risk.
Their own risk disclaimer says this, so it's not just me speculating here. There is no real guarantee that these ads you run will lead to enough profit to make the price you pay worth it.
3) Third, I've monetized my websites through running paid ads, I know how it really works.
And that is in different ways and I can actually document my own case studies on how much safer my methods are than doing it the way this service is trying to lead you to believe it can be done.
Here my winning formula to making money from paid ads online:
Like I just said I've got a ton of expertise in paid ads. I've made crazy profits through the 3 methods I'll describe here and I've consulted companies and people on how to do the same. In the process, I've saved them a TON of money and increased their ROI substantially. 
The key to running any successful paid ad campaign is to do the following things:
1) Choose ones which are mainstream.
Google Adwords, Bing Ads, YouTube Ads and Facebook Ads are all good (see how to make money with these pay per click networks).
They are transparent, they are trusted and they are used by millions (but not always easy to use though). I have mainly made my money through creating ads on Adwords and Bing Ads (6 figures in profits through things like one page websites on each, while investing a few $1,000 at best, and those are insane profit margins).
2) Always target a laser audience and bid as low as possible.
I don't like targeting a broad audience when I run ads (this results in cold traffic).
I like to make it specific because it brings in the most targeted, buyer visitors and I also do not like to pay a set amount for the ads I run, I like to bid on each click and through this approach and the above networks I just suggested, I can pay as little as possible, and bring in the right people who WILL buy from me.
The ultimate reason I am not going to use Click2Sell.co:
The bottom line and major mistake companies and people make with paid ads is that they blow away all of their money on general ads, thinking that they are magically going to make profits, and this is not how it works. And this is what I feel is going to happen with Click2Sell.co, and that's considering it's legitimate and you get lucky with the ads you run there and when a lot of money is on the line, it's not a risk I'd take…
You have to be SMART is which networks you choose, the audience you target, the ad you create and the offer you pitch to the audience and knowing these things is what will make you earn the most profits.
Final Rating: Click2Sell.co
Pending.
Yellow Flag
Pending. Until I can get more information, I have to stick to the the following info I did find, which is:
There's no creator info.

Lots of money to invest mixed in with.

A formula of profiting that has low chances of working in my opinion.
And these 3 reasons are why I will personally not be using this service.
Here's at least 3 safer ways you can make money through paid ads:
Allow me to showcase my expertise by showing you 3 REAL ways to make money from paid ads which in my opinion is a much safer way to do this, than with how Click2Sell.co is offering you to do it.
While there is risk in paid ads in general (because money has to be spent), it's significantly reduced if you do it these ways:
1) The safest: Start a blog and monetize via free traffic.
There is almost 0 monetary risk with starting a blog and getting free traffic. Here is how it works:
By running display ads. In this formula, things are flipped around and instead of you paying companies to run ads on their network, they will pay YOU to run their ads on YOUR site and you can literally make $1,000's this way.
For example: Mediavine is one of the most legit companies that pays blogs with high traffic numbers to run their ads and pays the blogger for every single visit they get. Read more about Mediavine here.
2) Run ads on Bing Ads and Google Ads to your site/blog.
With these 2 particular ad networks, you have more freedom to target specific audiences, and thus spend the most to minimize investment risk whilst maximizing the amount you can potentially make. I'd honestly start with Bing Ads and then move into Google Ads because it's safer to use for that.
I use Bing Ads regularly to run ads on the Bing network for every major site I run. I create ads that specifically target the right audience. For example, you probably landed on this page by one of the following ways:
You Googled Click2Sell.co review or you went on Bing and typed that same thing in. My site came up on Google and/or it came up on Bing as an ad.
Well guess what? That makes you a targeted visitor to my page and I'm much more likely to make sales that way. That's how you intelligently target specific audiences.
3) Run paid ads through method 2, and collect an email list, then sell to it.
Another intelligent way good marketers and smart companies run their online businesses is that they use the power of intelligent paid ad targeting like the way I showed you to bring traffic to their sites, and then what they'll do is they'll collect an email list to later on sell to the person who visited the page. This can potentially make the visitor coming to their site a recurring buyer.
4) There's also a none paid ad option which is affiliate marketing through blogging.
You may notice that on this site, I do not run ads. But I do make money none the less. How is that possible?
Well I do that thanks to affiliate marketing and it's also a great alternative to placing ads on your site, and it would also be free. And another awesome thing is that you can combine affiliate marketing AND run ads on your site to combine the profits generated from both methods. This also works.
Want to make these 4 methods work right? I can help you there:
All of these options are not only the smart and right way to market online, but the risk involved is SO much less than it would be if you'd gone through Click2Sell.co, and that I can definitely assure you.
I've reviewed and checked out many companies like this and I know the risks involved (they are major). And again, this is all taking into consideration that it's legit. When you add that they don't even provide you with info on the creators and they ask for a lot, then I think you can definitely see why I'm not recommending it!
And by the way, I also maintain this position on other ad platforms like Click2Sell, and even if they are legit, buying traffic which you're not in control off is not a smart way to do this. This is what I learned from Wealthy Affiliate and they taught me how to correctly target the traffic that comes to my website, thereby helping the site get more sales/profits.
If you agree or disagree with the logical reasons I didn't recommend this service to you (as well as with the ways I prefer this whole thing be done), let me know!