In any niche market you enter and/or any site you create, for whatever content you write and wish to rank for and/or create ads for, you can be sure of one thing: You will absolutely, always have competitors, whose rankings and website traffic in many cases beat yours. 
But is there a way to find out what keywords your competitors are ranking for and check how much traffic they get? The answer is yes.
There are many ways to check and track a competitors website traffic. but…
Unless the competitor actually gives you their stats (which would be the best thing imaginable, but nearly impossible) the next best options which I will show you, will only provide you with an ESTIMATE of the numbers they're getting. 
There are also programs which get pretty close to the truth of how much traffic your competitor gets and I'll also cover some of those options in this article, but be forewarned, they cost a lot of money.
Let me explain:
Suppose you meet a financial adviser and you see that they are living well (good car, nice house, ect…) and you wonder if you should get into the same field. Would you actually go up to them and ask them how much they make or their secrets to living the life they do?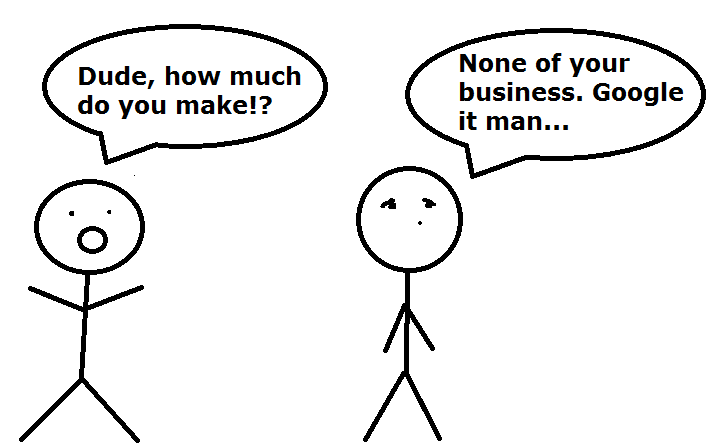 Possibly, but I doubt you'd get too personal, as it would be rude. More than likely, you'd hop over to Google and type in how much financial advisers make. In that instance, you're also looking at an estimate, but the fact of the matter is, that same person you were looking up to, more than likely makes a different number than the estimate you were given. 
That's how these tools that I'm going to show you work and while there are bunch, there's really only 2 that I would ever take seriously:
1) SEMRush. 
I was first introduced to this tool when I attempted a local marketing campaign many years ago. I was being helped by someone who knew about these things and they suggested I use this tool.
What SEMRush does is pretty simple:
You enter the URL of a competing website (or any for that matter) into their search bar.

It will scan the website and what terms it ranks for.

Then it will estimate the search traffic for the same keywords the competing website ranks for.

Then it will combine them together and give you an estimate as to how much traffic that website gets. 
Here is an example (I am using my website URL for reference):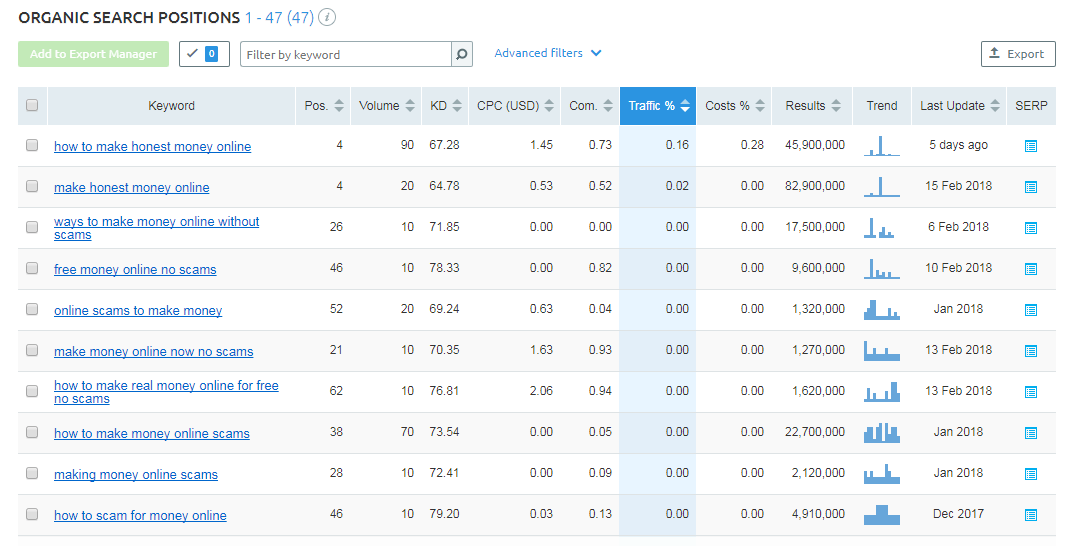 Now the results you see above are a teaser from SEMRush. They typically give you the most obvious terms a page ranks for so you can then make a preliminary estimate of how much traffic it gets, but if you want to explore it further, you have to purchase their paid upgrade which is $99.95 a month (you can do a 7 day trial prior).
Now one way that people use these types of reports is they take the keywords that the site is ranking for, record them and attempt to rank for them through their own website and reports like the one SEMRush provides can help you make a list. 
It's a form of "spying" on the website competition out there. Now there are other tools on the market that are similar to SEMRush, but this one is arguably the best of it's kind.  I would hold off just yet on buying it because I have an important point to make about this whole topic coming up that you need to hear, but first, the second option…
2) Jaaxy.
Jaaxy is actually a keyword tool, not really a spying tool, but it can be used for that type of thing if you wish. It has an option called "site rank" where people can type a URL of their page or someone else's, input a keyword and do a search to see where it's ranked. Here is an example:
Now typically, you can also do this with a simply Google search, but Jaaxy does a lot more than this (here's all it's good stuff). 
Because in addition to the site rank option, it has a very thorough keyword search option, which I honestly think provides FAR more accurate data (not an in the ball park type estimate) than SEMRush, the Google keyword tool and frankly, any tool I've ever used, and this means…
If you can find keywords your competitor ranks for, and get pretty accurate data on how much search traffic those keywords get, you can get a pretty good, and possibly closer estimate of the amount of traffic the site in question gets.
Now you do have to take into consideration that the position of a competitor impacts how many clicks that gets. The first three positions on the first page of Google get about 90% of all clicks, but it's an estimate, not an accurate depiction, so again, this just goes back to my main point about the closest you'll ever get is still going to be an estimate.
But still, Jaaxy will get you closer in my opinion than any other tool (it'll just take more manual work to do, unless it's just keyword research in which case, it's super simple and extremely convenient). More on Jaaxy.
3) Ahrefs.
Think SEMRush, but in my opinion it is better at see the rankings/traffic of competitor websites and I've personally seen it used to help me figure out how my competitors are doing, as well as figuring out how I can piggyback off that (ethically!) and make my website grow.
4) My favorite…
10 reasons you should stop caring about how much your competitors get in traffic and start doing this instead:
This is huge guys. If you're crazy over these kinds of tools I just showed you, don't let that feeling overtake you, it's a massive illusion and the following 10 reasons will prove why:
1) Focus on ranking high for as many profitable keywords as possible.
What I mean is, the ones which get a lot of traffic. Find as many as you can find in your niche topic via writing high quality content. Stop worrying about what your competitors rank for.
They may have high rankings for a keyword you want to also get traffic from. But the only way to beat them is by providing better and more content on your website, while also chasing the same keyword. 

2) Knowing how much traffic your competitor gets doesn't really do much for you.
Keyword tools will give you that info. Why bother with expensive software or info you can't do anything with anyway?
3) There's TOO much ambiguous info out there to truly determine how much traffic your competitor gets.
They can be doing social media stuff, they can be running ads, they could be doing SEO and a host of other things you would never know about from any of the tools out there, but that could be giving them more traffic than you can possibly comprehend.
4) But what if…you actually do find out how many visitors they are getting.
I'm talking a FULL audit of their website is revealed to you and you find out all the stuff.
I say so what? What are you going to do? Send more backlinks to your site to make it rank higher?
That won't work, Google put a stop to that a long time ago. The only way you'll outrank your competitors now is by having more content on your overall site, more content and comments on your page/s, more social shares and basically improving the overall quality of your site that LEADS to that happening naturally.
It's not a simple "cheat" solution anymore guys, it requires massive effort on your part, so get to working on that! And on the topic of backlinks…
5) It doesn't matter how many your backlinks your competitors get.
Backlinks do not mean much anymore. If nothing else, they should be bridges between you and other websites with relevant visitors to come to you page, like it, share it and comment on it.
The backlink itself does nothing in terms of SEO ranking anymore so I look at a competing page in my niche and see it has a 1,000 backlinks, I don't care, I'll still outrank them by using the same stuff I told you about in #1. Quantity of backlinks is NOT a ranking measurement anymore, so even if you tell me a site has a million, I don't care, it's not an important number anymore…
6) You don't even need to look at what a competitor ranks for. Here's another reason why:
Use your imagination and your logical reasoning to find keywords to rank under yourself. It's not complicated stuff…
No matter what type of niche site I am running, I will always review the related products and general topics within that niche and those 2 things right there will always offer me a plethora of ideas to work with. Need ideas for your case? Here you go. You'll probably be set for years with that article's ideas for content…
7) If nothing else, use the "piggyback" option to get ideas from competitors.
If I am running a make money online type website and I find 10 other pages that are in my niche and ranking high for terms I also want to rank for, what good does it do for me to see how much they are getting in terms of visitors from that? I can always look up the keywords and make a conclusion just on that. 
Instead, wouldn't it better for me to just look at their content, their keywords and see what they're doing and get ideas from that?
I have several websites in each niche market I look at as an authority and while copying is something you should never do, you can always come up with new ideas from the content created on competing websites.
I know there's plenty of competitors out there who do the same piggybacking off me. You just can't stop that and as long as you're original with the content you write, it's not a big deal…
8) Stop trying to figure out every single keyword your "opponent's" site/s rank for.
It could be a number into the millions…
Google ranks websites for not just the main keyword being targeted, but also for it's similar terms (called LSI). Not only that but it is absolutely NOT uncommon to have rankings into the 100's, the 1,000's and even more.
Are you actually telling me that you're willing to go through the effort and find every single ranking that competitor has? And even if the good tools out there do that job for you, the reasons I stated above should be enough to show you that is a meaningless effort.
Here, let me show you my example. Through Google Webmaster tools, you can see I have this many rankings: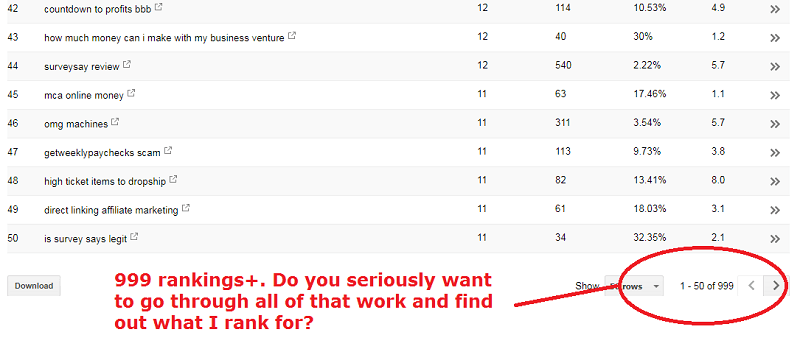 And if you notice, in that same screenshot, you can even see some of my own keywords I rank for. Am I worried a competitor will see that and overtake me? Nope, I couldn't care less because they will have to also work hard to get to that point and people, I'm telling you, most never do.
So that's not a problem and neither is if they know how much traffic/clicks I get from that. Again, I ask, who cares? It doesn't change anything on my site and even if I withhold this information, my competition can always visit my site and find it if they really want…
9) Rankings fluctuate. So whatever numbers you initially get (albeit estimates) will move around. 
There is a natural tendency for websites that rank on Google to often bounce around through what's known as the Google Dance. A site can hit 1st page rankings in the first hour and then drop out of the first 5 pages of results, then reappear back later. 
However, while this ALWAYS happens to new websites often, the fact is, more authoritative websites generally experience this less, but the point still stands the same:
Initial estimates you get on a competitors stats will NOT stay that way and to figure out their rankings and traffic is a ridiculous waste of time. 
10) If your overall worry is that a market is saturated, calm down, it's not.
I suppose people look at this whole topic because they want to know there's room for their site to squeeze in the rankings somewhere and take a part of the money out there. This is a huge misconception and wrong way of thinking people…
I've tackled the myth of niche saturation before and I'm here to tell you, no matter how many competitors you find in a niche market, there is ALWAYS room and constantly new content ideas coming out to take advantage of as well as new keywords coming out (new products, new topics, ect…) to leverage and grow your site with. 
My final thoughts: Checking your competitors website stats is often a distraction.
It's a distraction from doing what you need to in order to beat them: Find more good keywords, write more great content, and keep growing your site.
If you do this right, you will naturally get the things Google and other search engines love: Positive visitor feedback, comments, shares, likes, ect…
All of these things are today's indicators of a good website and those same indicators (including quality of content) lead your overall site to grow and rank on search engines.
I don't know how many competitors I have, but I know each time I look at my rankings and see so many on the first page, I know that's an infinite number of potential competitors out there who I've already outranked without even bothering to examine who they are and I don't honestly care. 
My eye is always on the MAIN focus:
Keywords, content and growing my site through that and that should be your focus too if you want to make it in this business. Understand this:
No matter how much your website grows, there will always be some sort of competitor out there that has a website whose rankings beat yours and vice versa, that's the way this whole system works and it's OK. It's the person who constantly grows their page through the same thing I've said over and over in this article that will come out on top.
Want to ensure you have a massive traffic and profit generating website?
You have to simply do the simple things I told you, but if you're uncertain about where to start or where to go if you have an existing website, here is my advice:
They taught me not to worry about which website has what, how much traffic they have or that other nonsense. They taught me to go straight forward, how to find the best keywords, how to write the best content and how to grow the website correctly, so that Google loves it, rewards me for it and thus gives me high rankings.
In my opinion, all roads to a successful, profitable, start from that program. Have a look and you'll see why it's so awesome.
And lastly…
I just want to go back to that financial adviser example I mentioned before in regards to spying tools to track your competitor's info.
Say you found how just how much that same financial adviser makes. What good would that do for you?
You'd still need to go through the training, the courses and put in the work to become that successful anyway. So in the end, if nothing else, that info wouldn't serve as anything more than (in optimistic cases) ambition for you to get to work!
Well with the program I am recommending above, that is the training that'll get your page to that high point so it can make the same and more than your competitors are making.