If you're considering doing affiliate marketing and want to know how much you can make, I'm here to tell you that it's quite substantial.
And I am about to show you my personal stats for multiple sites and other types of projects where I do this and how well it works, and here's one preview (of many):
But despite that, let me make a few disclaimers:
1) It's not an easy business.
2) It takes a lot of work for 1 site to become huge and make sales. How much you make as an affiliate marketer often varies on the work put in and…
3) If you work hard, implement proper techniques, you can make well over a full time income.
4) This business can become one of the most rewarding things you can ever do. There's a peace that comes in knowing that you can go anywhere, and pick your own hours, while an entire website business is doing work for you, but again, you have to REACH that point before you experience that…
5) Here's my about me information if you would like to know more about me personally. But if you're fine with that and want to see how much you can make with affiliate marketing, continue onward and we'll start with the definition of it: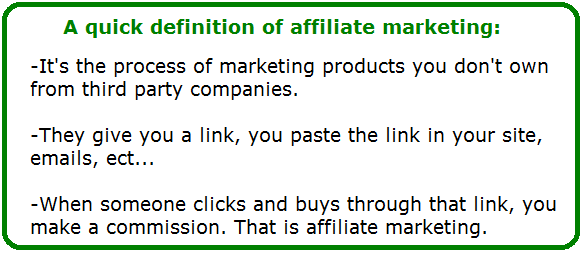 Using that example, allow me to share:
My personal affiliate marketing case studies:
The following are examples of successful projects I had in which I utilized different forms of traffic generation, but ultimately used affiliate marketing to make money through them all:
Case 1: I compiled an email list, sent out an email blast and made over $1,500 in a few days.
One my first gigantic breakthroughs in affiliate marketing was during the time when article directories were a huge thing (many years ago). 
I mainly wrote for a site called "Ezinearticles.com" and several of the dozens of articles I wrote ended up becoming "viral", amassing 10,000's of reads and in some cases well over a 100,000.
What I did with this traffic from all these articles is I created a short squeeze page (where people sign up with an email) and gave away a short eBook on weight loss that I personally wrote. Over the span of a few months, I ended up getting 10,000's of subscribers. 
One day, I sent out an email blast to the list promoting a diet product which paid me $20-$30 per sale. I ended up making about 100 sales in this endeavor, over a period of several days, the total of which was $1,500 and sales still kept coming in after that (not everyone opened the email or got to it quickly).
And in this case, through using affiliate marketing and email list building, I was able to do pretty well with it.
Note: Do not use article directories anymore. They are not good ways to generate traffic anymore. I'll explain what's better below.
Case 2: Created a short YouTube video promoting an expensive backpack.
I have a 4 minute video I made on YouTube where I'm standing on a mountain ledge reviewing a popular hydration pack (backpack with water pack inside) and I've been able to make numerous sales by just making this short video, and in the description providing an affiliate link for people to buy it (off Amazon).
This took VERY little work and it still pays me today. For each sale made, I only make $5, but considering the work I put in which was next to nothing, it's not bad at all! 
Here's another video example, but in this, over a few years, the video I made grossed $10,000+.
Note: For your own reference, YouTube does NOT allow affiliate links to be placed in annotations within a YouTube video, only in the description, so make sure you know this. You can however DIRECTLY link to a product/program within your description and that works very well.
Overall, I explain all of my YouTube affiliate marketing projects here and estimate I made about $20k in sales.
Case 3: One of my best examples to date ($1,000's per day doing the following).
One of the best ways to generate EXTREMELY large profits over a short period of time is to find a popular trending product. Those get a lot of attention from the internet and by setting up things such as ads which promote it OR utilize it's popularity and promote something else, you can make a fortunate in a short time.
I don't want to re-explain the whole case study, but it's explained in great detail here where a 1 page site made me 6 figures.
It involved promoting a high paying diet program while leveraging the popularity of another big diet program that was trending at the time on TV and on the internet. I was getting 1,000's of clicks a day on my ads and making $1,000's a day in the process (it was a good time to be an affiliate marketer!).
Now so far, out of all the examples I listed, this is the only one where I actually paid for advertising to get traffic, and its a risky play, but it paid off BIG time for me in this case.
Case 4: Targeting high ticket niches and making websites off them.
I've wrote about this several times, but high ticket niches can be one of the biggest money generators for affiliate marketers as each sale made can really make you a lot. In my case, I am currently running a drone site where so far I've sold 2 drones (the site is still in it's infancy so to speak) for a little over $100 in total as well as accessories that pay me a few dollars (people love to buy accessories for drones).
Thus far this site doesn't get a lot of search traffic because I'm still building it up (It's gotten about 2,000 visits over 3-4 months, which isn't really huge), but the whole thing about this is that sales have been made indicating potential and should I continue scaling and building up the site, thus multiplying that traffic, those existing sales could easily multiply and yes I am working on doing that.
Drones are just 1 example of high ticket niches. Here's more high ticket niches.
Note the keyword in that article is "ethical" as not all high ticket niches are like that, let alone niches in general. Please make sure the one you get involved in is legitimate and doesn't rip people off.
Case 5: Multiple niche sites, each on their own can make you more than enough to live off.
I have 2 more examples (technically making it 6), but the basic idea here is that I pick a niche, make a site on the niche and sell products. The 2 sites in this case each get 100's of visits a day, I am actively building them up daily by writing more content on them and as an affiliate selling at least 1 program on that pays me pretty well!
For affiliate program 1, I used a training program called Wealthy Affiliate bootcamp to get these results and that by the way is another case study you need to check out!
For affiliate program 2, it was mainly a promotion of a weight loss program called the 2 week diet.
Here are the stats: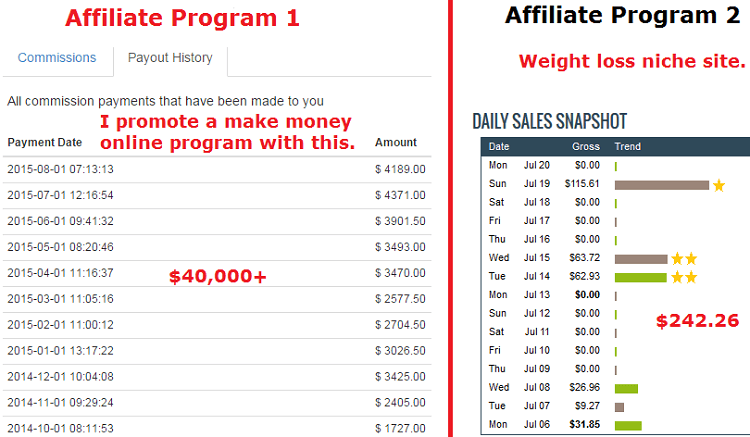 My final thoughts: To succeed with affiliate marketing and make good money:
You need to remember those 3 things I mentioned at the very beginning of this article. These numbers I listed didn't just happen from doing nothing. I had to learn the right material on this stuff and then I had to work hard for this.
Now every single bit of success I've had with these 5 cases has stemmed from one program that showed me all these ways to do it:
Now another important disclaimer I need to make is that I can go on an on about the types of sites I've made that have made money through affiliate marketing, but the truth is, it's really not a lot.
I've had A LOT of failures and attempts at what I though would do well, only to see it fail, but the truth is, just 1 site is often enough to provide you with all you need. I've just had a lot of years of experiments and time to practice different strategies and I have had multiple success stories as such, but in the end, if you're looking to become successful at this, start with that Wealthy Affiliate program I talked about and let them teach you to do what I did and how you saw how well that worked.
Update: My full affiliate earnings revealed ($1 Million).
While this article explained many of my successes within this business, I updated it and really went into the details of HOW the money was made. If you'd like to learn how I did it, here you go:

That article is very long, but if you're seeking the best way to learn this business and succeed at it, there is no better article I would recommend.