Quick Report:
Name: Evergreen Wealth Formula (2.0 actually) by James Scholes. 
Price: $197 for INITIAL access to the program. Then you have a really pushed upsell for $147. 
Overall Rating: 3 out of 10 stars. Being a gullible guy who principally has to pay for programs to review them, I decided to fork out the $197. What follows is my experience with James program and it's not the best one…
In short, this program is has in my opinion a FEW good ideas that people can use to generate traffic/leads and make money, however, there's several elements within the program within which these same good ideas are in my opinion used in an unethical way, such as creating fake accounts and copying content that I am against. I will get to that below. I will not call this program a scam, but I will also not recommend it. Before I get to the review, first let me get this out:
A personal message to James and a disclaimer…
When I first found this program, I looked through the sales page and saw an important message by James at the bottom. Here is the screenshot:
The reason I put up Jame's message was because that link in the screenshot above goes to a blog post written by James. On that blog post, James talks about how there are negative reviews being written up by many bloggers about his program.
Those negative reviews point to a program those bloggers are selling, which just so happens to be the same program I recommend to people on my site: Wealthy Affiliate.
The thesis James makes in his blog post is that people are purposely writing up negative reviews about his Evergreen Wealth Formula in order to push Wealthy Affiliate. 
Now that I've said that, let me make a 5 points to you, the reader and to James (and then I'll get on with the review):
1) James, I read your blog post on that topic and I totally agree with you when it comes to people doing negative reviews without actually reviewing the program they are bashing. It is an unethical practice and I completely disagree with this form of marketing. 
No body wants to have their hard work be bashed, especially if it's done in a cheap, deceptive way.
2) It is because I agreed with your point of view that I decided to buy your Evergreen Wealth Formula 2.0 and give you a truly honest review. Here is the proof:
3) When you made your point in the blog post, it gave me the impression that your program was indeed worth looking at and while the price in my opinion is extremely high, you deserve a fair review as I said. 
However, upon making the purchase I was hit with one of your upsells for $147:

While I did not buy this one and will not "discount" it as being bad until I truly see it, from my point of view, asking me to invest $300+ to someone I don't know is the type of marketing I am completely against. 
I very much dislike upsells like this being pitched after I just spent so much money. So what I want to say here is that I am going to review your program a bit below, from what I see inside the $197 purchase and if I believe that it does not warrant that investment, I will request a refund. 
4) Now let me point to what you said in your blog about Wealthy Affiliate. Right away I want to say that this program is the one I recommend to everyone. I have been with them for over 10 years and have made full time income generating websites. 
This place is legitimate. Here is one of the many reasons. And to my final point:
5) Wealthy Affiliate's training does NOT endorse that people "bad mouth" other programs. I say this because I am a prime example of their training. I provide fair, honest reviews and it is because of this that I am one of their leading affiliates.
The people who you have seen provide the negative reviews (and not being able to back it up) are those who are not adhering to it and doing their own thing. It is their quality of character I would judge, not Wealthy Affiliate. 
Now that I've listed these 5 points, I will review your program fairly and hope you understand IF my position isn't overly positive:
Evergreen Wealth Formula 2.0 in a nutshell:
The business model is made up of several parts: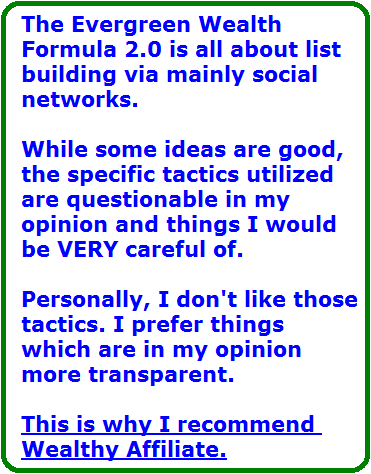 1) You create a website with the sole purpose of collecting emails from which you then sell products to the subscribers.
2) You fill that site up with either your own content or copied content. The reason is you want incoming visitors to trust you so when they see good content there, it gives them a reason to stay and sign up to your email newsletter,
James allows you to copy content from his blog to put on yours, but there's others where if you do this, you're literally just copying and pasting without consent (Ezinearticles.com is an example). So if you're going to do this, please use your own content…
Even if you're an unethical person, copying content to your site will destroy it's rankings, even if you use Jame's content. "Luckily" the bulk of training within Evergreen Wealth Formula is NOT SEO. 
3) James provides you with follow up emails and training pages to send to people who visit your site. For example, he has training on making money online that you send out as lessons daily to people who sign up to you over, I believe a 16 day period.
When people follow that training, at the end of that "funnel" you are going to sell them something. The free training is meant to keep them hooked and trusting you.
The training modules you can give can be either copied ones James gives you or edited to fit whatever niche topic you choose (typically this will work better for make money online topic, otherwise, you'll have to write fresh content making Jame's training modules essentially useless).
4) Finally, the traffic part. You obviously need traffic to make this whole formula work and the way James teaches you do this is several ways:
A) You create fake aliases (Yes I said fake).
B) You sign up with multiple social network places (Pinterest, Twitter, FB) with EACH of the aliases you create.
C) You then join groups in the social networks such as FB which fit your niche. So for example make money online groups on FB.
D) You post from each alias on each group to funnel the community from those groups back to your social network page, then ultimately back to your website you made in step 1 above, which then leads them to sign up, run through the 16 day sales funnel and make the sale. 
The more aliases you make and the more you post with each alias to each page you join on FB, the more exposure you have which can funnel potentially more traffic from each fan page back to yours and your site.
E) You scale this by making more aliases through the steps James provides. You even use fake images and names. Some would classify these things as blackhat…
F) There is a section on YouTube training which I would say is the "only" SEO part of the program. You simply find keywords on Google's keyword tool and make videos targeting them, then naturally funnel them back to your site.
G) There is also a section on doing solo ads, where you buy traffic.
In short…
Most of these tactics are what I would consider spam (multiple fake aliases) and duplicating content, with the sole purpose of amassing as much traffic back to your site as possible to essentially get as much of that traffic to subscribe to you and then for you to ultimately make money selling whatever it is you're selling. But when I see stuff like this, it just repels me: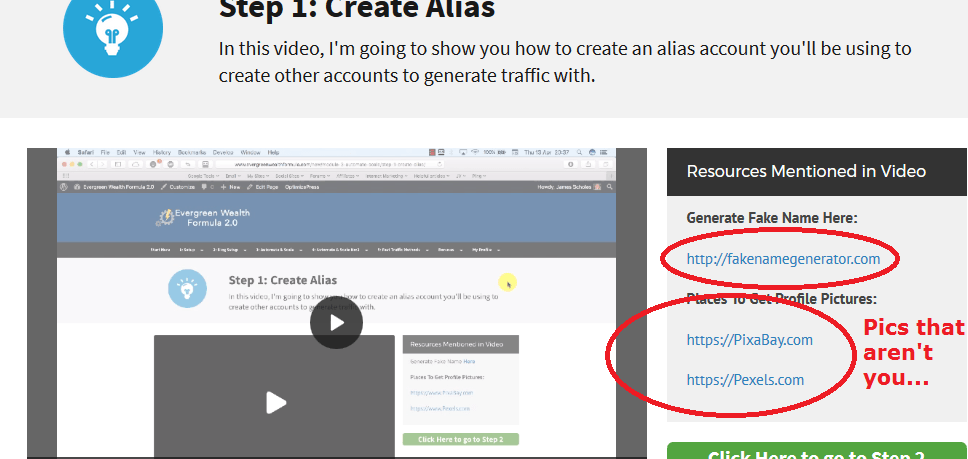 Pros: 
-There are detailed instructions throughout the program.
-James responds to everyone's questions thoroughly.
-I like the idea of joining FB groups to get the word out on your product/site, but I DO not agree with spamming these groups with fake names and FB pages.
-The training is pretty organized. You're looking at essentially 6 modules of training with well over 30 lessons altogether, although a huge chunk of them involve setting up accounts and organizing all your aliases, messages. Here's an inside look: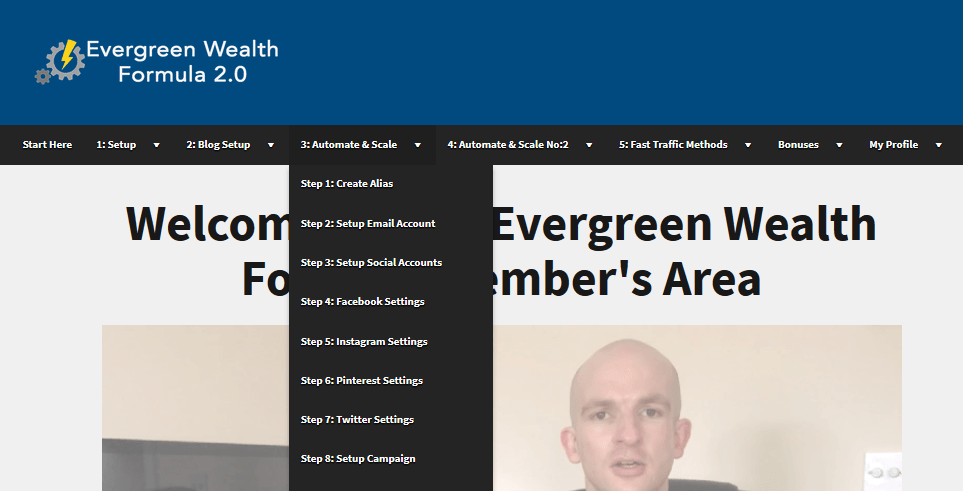 Cons:
-There's really no actual SEO training. Some people may disagree with me here, but I find SEO to be one of the more safer/cheaper and even free ways to get traffic to your site.

-The whole idea about duplicating content is NOT good. It's cheap, lazy and like I said before, it'll destroy your site with Google. While James is OK with you copying his content (make money online topics), the best thing you can hope for doing this is that his methods I pointed out above work.
-I really, really dislike the whole element of making fake names, getting multiple sim cards, making fake users and using images that aren't you. In the first section of his training, James talks about trust from subscribers in providing them good training throughout their 16 day subscribing feed. Yet, when you do this through fake names, it's totally contradictory. I cannot stand behind this. If you're going to make a business, stand by it. Show your face.
-It's just too expensive. For the type of information there, I would not charge more than $50 for this stuff. Yes there are many videos and training, but a lot of is just not the type of stuff I agree with.
-There's a lot of spam like behavior which passes for "marketing" in this program. What else would you call posting to relevant channels on FB with fake aliases over and over to bump up your message for the groups followers? 
-I made an earlier point about how if you used the free training lessons James gives you to provide to your subscribers, that if your topic of choice is NOT making money online, but something unrelated, such as health, these training videos are useless. People interested in health will have no interest reading about making money online.
Those pre-made training lessons you give out for free will be useless and you'll just have to redo them yourself. 
Final Rating: Evergreen Wealth Formula 2.0
 Yellow Flag

3 out of 10 stars. If you can use part of the formula in a less "questionable" way, I suppose you can potentially make money with this program, although I won't lie, I do believe you can make money if you follow the system, I just personally think it's unethical in multiple areas. 
Ultimately though, I cannot recommend this program and feel there's better ways (through my own knowledge of this business) to actually do this sort of work.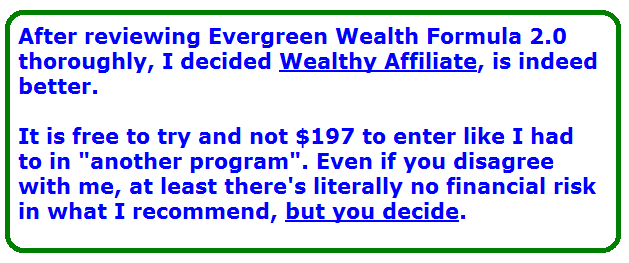 My final thoughts: 
When I wrote my 5 points and message to James, it was before I had fully looked through the program. I sincerely felt for the guy in that there were people, without actually looking into his program, giving it bad reviews.
But as someone who HAS looked through it and paid the huge price for it, I can give you a credible review here and personally say I am not a fan of the Evergreen Wealth Formula. 
The ONLY 2 parts I liked and would be interested in personally exploring was the advice on FB groups and posting there and the YouTube advice he gives, which in all honesty, is common sense. Absent those sections, the rest is just not my style of doing business. 
Final message to James: 
James I wish I could have given you a good score, but I just can't. I still stand by Wealthy Affiliate and it being better. I will be requesting a refund for the $197, I just don't think your program is worth that amount and the things it teaches are not a transparent way to do business, sorry.
And before you say that I purposely paid for the program with the "intention" to refund it, you are mistaken. I've purchased and kept similarly expensive and more expensive programs in the past if I felt they were worth their price. I don't believe your Evergreen Wealth Formula 2.0 is worth the current price.