Affiliate marketing in my experience can be done both legitimately and in a scam way (both make money) and I'll give you examples of both in this post.
Many people look at affiliate marketing from different points of views such as:
Not knowing what it is, which is actually most common.
Knowing what it is, but not taking it seriously, because it doesn't fit the norms of work standards we've come to understand.
Understanding it and building a legitimate business of it.
Understanding it and not limiting yourself to what you can promote, which can lead one to promote some bad, scam businesses, unethically.
Whatever point you can relate to most, what we can all agree on is that affiliate marketing is still a very new and often mysterious concept, at least to those who barely understand it. With that, many people will rightfully question if it's legitimate and I'd like to answer that here.
The fact is though, the answer is not just subjective, but there's really no one big answer to it. In my opinion after doing this for well over a decade, affiliate marketing IS legitimate, but that is dependent on HOW you use it and for what purposes and that's what I'll explain here…
What is affiliate marketing? How does it really work?
Here is the most simplest explanation of it:
You basically get a link to promote a product/s for a company. You provide that link to people through your website, email and other means which if they click on and buy, you can make something.
In affiliate marketing, you typically earn commissions and they come whenever someone purchases something through YOUR link. Other times, purchase isn't necessary and you can get paid for things like signing someone up through your link.
So if you want to explain it clearly, think of promoting other people's stuff, but through the internet, that's basically it.
And through this blanket explanation, I doubt you can find anything wrong with that. You're just promoting stuff and why is that wrong? Just about everything you buy has a marketing angle to it. 
However, I think we can all agree that some forms of selling can be deemed unethical and illegitimate and this rings absolutely true for affiliate marketing as well. Just because it happens online doesn't mean it's any less or more fair, and it should be held to similar standards.
The question is though, what forms of it are legitimate and which ones are not? That's what I'll cover right now:
Scenarios in which it's

ethical

in my experience:
1) You promote something for the same price as it would cost had the person buying it were buying it directly through the vendor.
Say a product is $10 on it's own. If you promote it, you should also sell it for the same price.
2) If you are providing a good valued review/recommendation of it. 
Recently, I purchased myself 2 high end drones, it's something I've been wanting to do for quite sometime.
Prior to buying them, I digested a bunch of hours of YouTube videos of people reviewing them and recently purchased a backpack to hold both my drones straight from an affiliate link a person provided for me.
Now I knew it was an affiliate link when I bought it, but the price was the same and I felt the review I was given was very well done and gave me a good choice of what to buy, considering I was looking for a good backpack to hold them.
I had NO problem buying it through the person's promotional link. It was my way of thanking them for helping me make a good choice. By the way, here is an affiliate marketing success story on the person whose affiliate link I purchased the drones from. It explains how he's been able to grow his own business without a website.
If you have questions about sending people somewhere to buy something, you may want to rethink what you're promoting. Be absolutely sure you stand behind what you promote. 
3) Usually if you buy the product, it gives weight to your recommendation.
Typically nothing is more ethical than purchasing the product you're promoting (and trust). Although sometimes being an expert in a certain type of product, you need not buy everything to prove if it's good or bad, just simply having the parameters and other info about it is enough to make you give an accurate review. 
A good example of this is laptops. Why buy every laptop when you can just look at it's specs as an expert and deem if it's good for someone or not? 
4) You are actually selling things that solve problems.
This is also a major part of the model. If you're not promoting things that solve the problem of your customers, you're not really doing affiliate marketing legitimately. And the greatest success I've had in this business came when I actually solved people's problems with the sites I had. Read more.
Scenarios in which it's

not ethical

:
1) If you promote something you have no knowledge in and just make up things. 
This happens a ton in the work from home programs you may likely see or have seen. There's pages saying you'll make tons of money, but I would bet that the people who make those pages have no understanding of the program nor consideration for who is buying it or what will happen once they do.
2) The program promoted has hidden, GIGANTIC (and that's key) upsells behind it. 
Sometimes upsells aren't bad and in cases where they are optional and cheap and there's actually a good purpose behind them, I am fine with them. I even buy them sometimes. With my drones for example, you can count an up-sell as extra accessories I could get for cheap to make it safer to preserve it. Why wouldn't I want to buy that? 
Sadly though, in the make money online world for instance, this concept is ridiculously exploited and multiplied in terms of price. And I want to use that topic to illustrate the illegitimacy…
For example, there's tons of high ticket items and typically MLM programs which sell these types of high ticket items that try to funnel people in for low prices and then hit them with exponentially more expensive upsells. Here's a perfect example: Digital Altitude.
Here's other reasons why high ticket programs are dangerous.
3) There's a hyped promise and misleading information being given out. 
I suppose this point ties into points 1 and 2, but say a program promises you that you can make six figures your first 30 days (this is a common pitch you see these days) and it's free or you can join for a low price to find out how. 
Then when you join, you discover there's an up-sell (point 2), a BIG one and by buying it, ONLY then can you possibly make those big sales to lead to six figures. 
That's not right. 
Note: I did say one legitimate aspect of this business was buying a product, but sometimes, this can be in the grey area. For example, you purchased a gigantic high ticket up-sell, but didn't tell your visitors about it. That's lack of transparency and probably wrong.
4) Promoting products that don't solve problems. 
Point 4 above talked about solving problems for people. Well when you do this the opposite way, unethically that is, you usually give people the illusion of solutions.
For example, if an affiliate promotes a high ticket program which promises to make people money (the supposed solution is that it'll help people out financially), but it gets them into more financial troubles, you didn't solve their issue, you just enhanced it more.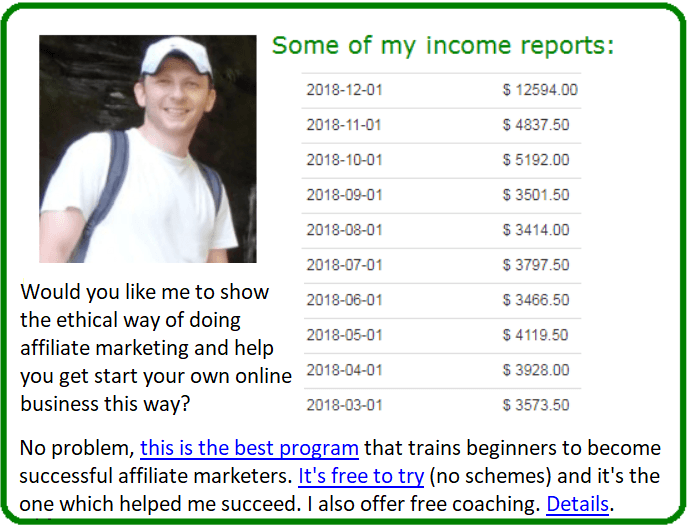 My final thoughts:
If you really use the ethical points I eluded to throughout your affiliate marketing efforts, you're not just going to build a great, ethical business, but you'll also have people come to you with questions and, something I recently wrote about: Trust. 
Now not everyone will trust you, but you can definitely build some credibility by being the type of person who promotes things that help people and the more you do that, the better it'll look for your credibility. That's one of the reasons why being involved in a personally involved niche is so helpful.

Now I will say all these points are based on my opinions. Certainly if you feel differently, I'd love to get your thoughts!