Quick Report: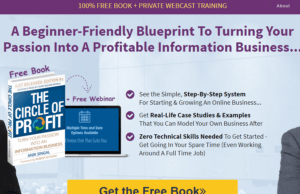 Name: Circle of Profit by Anik Singal and Robert Kiyosaki.
Price: Free eBook.
Overall Rating: 7 out of 10 stars. Although I've reviewed some of Anik's previous programs a little bit negatively, one thing I cannot take away is that the guy delivers awesome content in the eBooks he writes, particularly this one.
But I have to say that in reading this eBook, you have to understand that the end goal here is that…
Anik is trying to get you into a webinar and eventually one of his programs (Inbox Blueprint) to get you to spend good money on him. That's his business model and while I have to say that he provides some high quality training, I feel that financially, you are better off getting other proven to work systems/programs, for less cost. In particular:

What is Circle of Profit? 
It's a 200+ page eBook that basically combines Anik's personal business stories, how he overcame adversity, how email marketing is one of the best ways to build success online and how you can take an interest you have, collect an email list of people who have that same interest and sell to them. 
But besides that, you need to know that Anik Singal, one of the internet's biggest success stories has teamed up with Robert Kiyosaki, one of the business world's biggest success stories to make this eBook and eventually a sales funnel into the main program being pitched behind that.
I first spotted the Circle of Profit from a YouTube ad I saw and it peaked my interest. So I signed up, got the eBook (it was indeed free) and saw what came next. What happened was that a webinar was provided for me to watch and it is there where Anik pitches the main program that essentially Circle of Profit tries to funnel you into:
Circle of Profits is a backdoor into Inbox Blueprint, a $1,000 product (And possibly more spending).
Well I finished the webinar and in short, it's promoting Inbox Blueprint, one of Anik's main email marketing products that's over $1,000. I honestly didn't really like the webinar itself because I though it was cheesy and was a little too one sided on the positive side of email marketing rather than going into too many details or explaining that it's not as simple as it sounds.
Overall, the webinar quality was opposite of the good quality in the eBook, but the point here is that this is what will be pitched to you after you sign up to get the eBook.
While I didn't like the product pitched, is Circle of Profit itself a good read? Yes.
With over 200 pages of good content, you will learn a ton of things from Anik but I have to say, I have read his previous eBooks and the content in them is pretty much the same type of stuff. While first time readers will probably enjoy what Anik has to say, I've kind of come to expect it because I've read it before, it's just essentially a different title with the same kind of advice/content (find your passion, make a site, grow an email list, sell that list products that they love, that's the basic message).
But either way, if you're a complete beginner and are looking to make something on the internet, this is a decent starting point, for ideas that is. 
One thing I have to say is that there isn't much of an action plan within the eBook, it's more of an autobiography and hype of what can occur if you team up with Anik and join his program (which he does pitch throughout the eBook and in your email following you signing up).
So basically, the eBook warms you up and Anik provides the next step in getting all those ideas done (via joining his program). But I have no beef with that, all marketers do this, including me.
The question however is whether or not what Anik is selling you will work…
And my answer to that is yes, but it will cost a lot of money and time and it isn't guaranteed. Like I said, I've reviewed more than a few products by Anik and most of them I have rated as being things you should be cautious off because of the financial investment. Essentially, you are pretty much learning email marketing from him and again, the quality is good, it's just that I wouldn't pay such a high price for it…

Why I recommend starting out from the same point I did:
I was once a beginner in online marketing and I went through many different programs and sales funnels which looked similar to Anik's. I found executing these the advice in these programs was not as easy as it looked and very often I failed, but back then, the price of the programs I invested in wasn't as costly as it is today.
I believe every beginner who seeks to make a business out of their interests needs to have some sort of risk free program that will help them explain the same type of stuff Anik is explaining, but provide to them a risk free action plan to do it. Circle of Profits does not provide that, but what I recommend does:
It's through that program that I not only learned the same and more kind of info that Anik teaches, but I was also given tools and training to put this into action, and without having to spend a penny to try it all. This is something that is imperative that beginners do because if they fail, hey, there's no loss whatsoever, but at least they gain knowledge to pick up the pieces and advance.
Now I'm not saying you're going to fail if you try Anik's program or my alternative. They are both great resources of training and they WORK (I have proved that through my own experiences, see proof), but there's also another side of this whole thing which determines your success and that is: Your personal work ethic plays a major role.
So if you're the type who understands this point and works hard, then take the next step in a risk free approach, which is through the program I have recommended you get.
And you can also apply the same mentality and invest in Anik's program too if you wish. Either way, know that good system to generate money with only work when you add your ambition to the mix.
Final Rating: Circle of Profits.

Green Flag
7 out of 10 stars. Once again, Anik has delivered a great eBook, but if you wish to take action, but reduce the risk, I'd say my alternative will be way better for this than Anik's program.
My final thoughts:
I've gone through many of the same types of experiences Anik has, though I haven't lost as much or made as much as he did (I've made and lost 6 six figures in the past, but now I make a stable income), I reduced my risk and found an awesome program that I've recommended to you guys throughout this article, which taught me HIGH quality ways to generate income from your ideas.
I would even risk saying that the same program I used to make an income from the internet was the safest and best option that I've tried to date and I didn't need to spend tons of money to make it happen.