Inbox Blueprint is probably the most expensive program Anik Singal has put out, but is it worth the price or is it a scam? Well let me show you 3 cons in this review.
Overall, let me say that Inbox Blueprint IS legit, but after you read these 4 cons, you will decide if this is a program for you.
Quick report on Inbox Blueprint:
Creator: Anik Singal. 


Price: 3 monthly payments of $300+ or nearly a $1,000 one time charge. 
Overall Rating:

4 out of 10 stars

.
There is good training, the reviews are pretty positive, so you do get good stuff, but the 3 main cons are worth considering before you make a final decision are that:
1) There's no refunds.
2) It's very expensive.
3) There's better options for learning this same type of material.
4) I've done email marketing a lot and I strongly believe it ISN'T for beginners.
For these 4 cons I listed, here is a good alternative for all of them: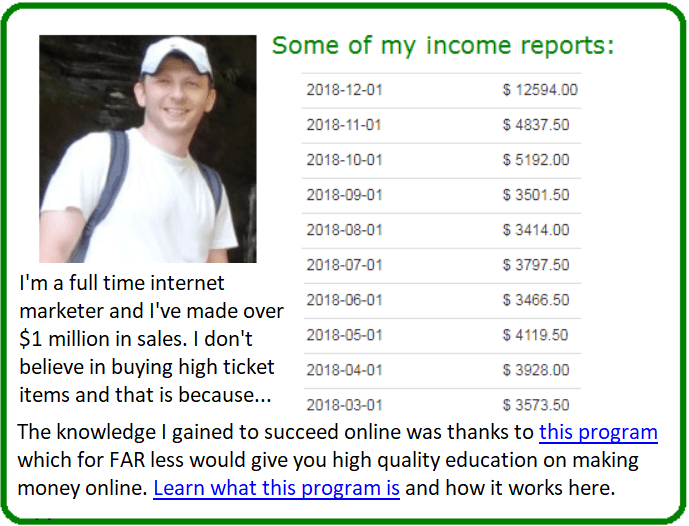 Let me quickly explain what Inbox Blueprint is:
The general heart of this program is how to build an email list and profit from it and ways to get high traffic numbers to a single site where you can collect those emails. Anik himself is a well known name in this market and he actually has a free eBook where he explains the strategy behind this program.
He also has programs he created like Clickonomy and Lurn where he also offers ways to collect traffic and learn online marketing material like list building.
You are welcome to Google it and get it for free. I did and I enjoyed it, although the content wasn't exactly new to me. I've read several good email marketing eBooks and the info was just about the same there.
Now as for the Anik's program, it is very comprehensive and goes beyond email marketing. His program also offers done for you services which come with the membership cost as far as I saw.
So overall, what you're getting with this program is a way to build an online business selling stuff through emails and there is indeed a lot of money there. I also have to admit that I did not purchase his program, as the price tag is quite high and knowing what I know about email marketing from personal success stories and failures, I felt that I didn't need it.
Pros of Inbox Blueprint:
-Coaching is provided inside for members.
-More than just email marketing training is given.
-A lot of good quality training is provided on email marketing, traffic generation and other online business building strategies. 
-Generally, the reviews I spotted on this program were good (they were on the Warrior Forum).
-Anik himself is a legitimate dude in this world. 
Cons of Inbox Blueprint:
There are 4…
1) The price.
My general position on online marketing products is that they should be priced reasonably. I understand some programs need to be expensive, but at least provide people with a smaller membership to see the benefits and give them strategies that work to help them pay for the bigger one.
That's just an opinion and having seen good, low priced internet marketing programs like this one, I can tell you that GOOD INFO, that you can build a full time business out of exist for small prices, and I have proof of that working:

With Inbox Blueprint, it's just 1 big membership price (or 3 monthly payments) and that carries a risk (especially when I get to con #2). 
2) Why no refunds?

If the price was an issue for many people to pay, then adding the no refund policy on top of that makes it even riskier. Look, I get that not everybody who buys legitimate online marketing programs will always put in the work, and/or some of them may lie to try and get a refund back (there's bad customers too just as there are bad online marketing programs), but someone who is considering spending this much money may be less convinced to buy it when they know there's no way to get that money back if they don't succeed. 
To be fair, there is an assurance that you get enough 24-7 support as a member which makes it unnecessary to get the refund, but still…
3) Believe me, there are alternatives.
Time and time again when I reviewed expensive programs like this one, I've constantly said that spending more does not equal to making more.
There is indeed a stereotype that paying more for these types of programs means that you'll get access to secrets that lower cost programs don't provide and let me tell you, this is not the case.
For example, just by reading the free eBook Anik provides in which he explains his email marketing strategy, I skimmed through a bunch of it, because the content was basically the same as I read in other sources, such an eBook called Attraction Marketing, which actually cost me $27, but when comparing these 2 sources, the info is very similar. It's like 2 different people telling the same exact story and it's not the only time that I read a source that said this same stuff.
Now of course, Anik's actual program is more detailed and strategized so you get more out of it, but the core strategy is the same thing.
Second example: I make GOOD money through training I receive in a program called Wealthy Affiliate. The info is very low cost, especially compared to Inbox Blueprint, you get high level support and free tools and more. But just as importantly, the training is TOP NOTCH where you don't just hear the same stuff on collecting an email list, there's FAR more and in fact, the email marketing training is just a small piece of the much bigger value training you get there, and again, for a SMALL price. 
4) Email marketing is in my experience a lot more difficult for beginners.
There is what I believe to be a myth about email marketing, and that's how simple it is. How if you just get emails, you'll make money online.  I debunk how the money is not in the list here and basically point out that it's not true unless you're truly skilled at marketing in general.
Final Rating: Inbox Blueprint.

Yellow Flag
4 out of 10 stars. I don't mind the program, but I see this training material too often, so this program's value is kind of lowered from that, but I do agree it's legit. I'd give it a green flag frankly for the training quality, but the price and no refund policy made it go in the caution region. You saw my cons, decide for yourself. But…
My final thoughts:
While I do like Inbox Blueprint, I am honestly tired of programs only pitching email marketing as the best way to make money (It is not, even though in this program, there's more than just that). There is indeed insurance in having an email list to sell to if things go wrong with your site, your ads and other means by which you make money, but it is overemphasized and saturated among too many online programs.
And even though I hear it so often, I am going to say it again, I make money online primarily through OTHER means and have done so for years. Email marketing is not the mandatory way to go if you wish to make money online, I want to make this clear! 
In my case, the main driver of income for me personally is SEO, where all the free and large quantities of traffic come from. I do white hat marketing, it works and I can always switch to email marketing and add it as an extra layer of my business, but the point is that I am already succeeding in this and the opportunity to fluidly switch/add a new layer of business is there.
I can tell you that from the program I recommend, you'll get quality email marketing training (and MUCH more) as well as amazing support, which quite honestly, I have not seen even the more higher expensive programs come close to.
Update: New email marketing program by Anik?
In 2021, there appears to be a new program being pitched by Anik called Email Startup Incubator and I review it there. Ultimately, my review would be the same for that program as it is for Inbox Blueprint based on what I saw.
Inbox Blueprint
Almost $1,000
Pros
Inbox Blueprint is a legitimate, high quality program.
Teaches you same things that Anik uses to make good money from list building.
Cons
Very expensive.
List building is typically a very advanced way of doing marketing.
The other cons I mentioned above are also a big deal here.