I've come to an interesting and temporary conclusion about marketing through social media and search engines. It's that the latter, in my personal, and again, temporary opinion is better.
And to prove it, I'd like to share a number of case studies I've done on both platforms and what I've gotten out of it that led me to conclude this.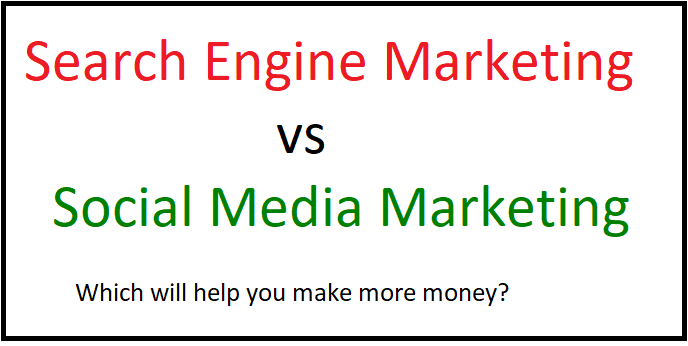 Let us quickly dissect each platform so we know what's up:
Search Engine Marketing (SEO):
Here, we are aiming to make high ranking websites, particularly on Google. Here, our main goal in order to achieve this is to create high quality websites that are filled with rich content, and a ton of it.
The more of this we have, the more rankings/traffic and sales we have. I've repeated this formula across many different websites over the years and when you're dedicated and truly work at it, this will absolutely lead to massive success. I have a number of cases to support this, such as this one.
Social Media Marketing:
Alright, so let me just say that my knowledge of this isn't that grand and my evidence will be anecdotal, but I have been involved in things like FB ads, fan pages, and most recently Instagram, which I will explain in a bit more detail shortly below. While I have learned a great deal, I have come to the conclusion that:
This type of marketing is mainly profitable for those who have e-commerce websites, through personal experience and reading tons of programs that talk about success on these platforms and mainly pointing to selling things on an e-commerce type site, but making the products on that page specific to a niche audience on the social media network.
Most of the success that happens will happen if you're famous, and that typically occurs when someone has a search engine presence. For example, famous marketers who became popular off Google, will have fan pages and grow a following there, then use that following to make sales. In short, it begins from SEO in my opinion…
My personal experiences, explained in greater detail:
I've tried Facebook ads on a number of occasions, but have not been very successful. I've just wasted money on it to be honest. 
I've created a FB fan page and it has SLOWLY been growing. Yet I "feed" it and grow it's popularity with content I put up on THIS website, that I later share on the fan page. I will admit, there is a GOOD reason to make a fan page if you have a website, because likes from that page, feed the SEO of the actual website, but the purpose here is to get free likes for better rankings on the back end.
I'm also "heavily" involved with Instagram now. I have a nature website I'm marketing with tons of images from my own travels. My following is VERY slowly growing, but it is frustrating at times. 
Here's a few points to show that SEM may be more profitable/better than the other:
I have found that search engine traffic is much more likely traffic to buy. The idea is that if people land on your site, they have likely been looking for something and if you have a niche page, that audience is typically one that looks for solutions to problems, thus they are in an almost buyer ready stage if not already prepared to get something.
Social media traffic in my opinion is more of the type where people are just browsing through, seeing things that entertain them and clicking on a like or whatever represents the like button on whatever platform they are using (Instagram, FB, Pinterest). Therefore, by that idea, I find those audiences are far less likely to be convinced to buy anything. 
Take Instagram:
Because my following is growing SO slowly, I've come to the conclusion is that my efforts may be better spent writing articles on where I've been to try and get SEO traffic and have that traffic follow me on Instagram.
I've also spoken to a number of GREAT marketers who agree that most social media stuff is less profitable and even distracts people from doing the real, profitable work which is SEO.
The fact is, for most of my experiences, and frankly for those who I know are good at social media, these "likes" and shares rarely convert into sales. Most of the time, people in these places aren't doers, they are more of the type who like seeing things and at most participating by liking it and if you're really lucky, sharing it. 
But the likes are not sales, you can literally call them "brownie points". They mean very little UNLESS…
The hybrid way of building a profitable business through both platforms:
While I am still open to considering that social media marketing may be as profitable if not more so than SEO, I will say that every experience I've had has led me to believe that SEO should be FUELED if nothing else by the other.
Take the fan page I talked about and how I was using it to get likes to boost myself on Google. Likes don't go a long way, but they add up and help. They help with exposure, they help with audiences who visit your site and see the many likes which adds credibility, it acts as a stepping stone to SEO success.
And then take the travel website and connecting it with Instagram that I also talked about. The standard approach I am using currently is to show the images on Instagram directly, but that at most leads to a number of likes, and very few follows which rise and drop ALL the time.
Wouldn't it better for me to have an official site with my travels and have the more relevant, interested audience see my Instagram be there, that they would then be more likely to follow me on? Also through the website, I can have a LARGER, more relevant audience flow into my Instagram page and follow me there.
Currently, I'm still in the process of testing this theory out, but frankly, there is no reason why it can't work, it makes too much sense and should absolutely work!

My final thoughts and a question to all of you:
My whole point is that an online business should ideally focus more on SEO, because that tends to have more tangible success. Use social media as a piggyback if nothing else. But prioritize the SEO and building up of your site through that means and then using social media to add to it.
However, I am totally open to being wrong on my ideas here so if you're someone who does either/both SEO and social media and have your personal thoughts on which one is better (or perhaps both), please let me know!