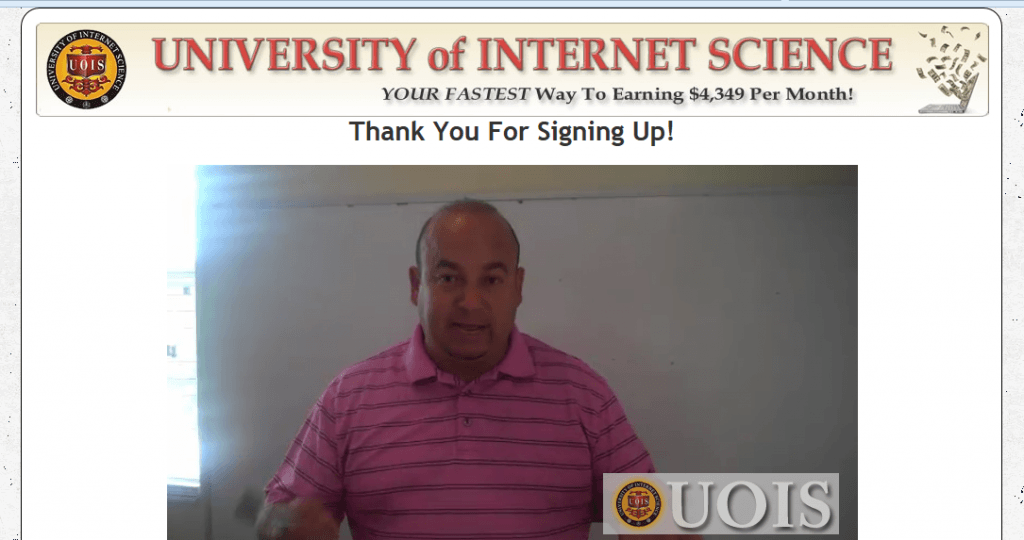 It wasn't difficult for me to quickly figure out what the University of Internet Science (UOIS) was all about.
After joining their free membership, things became very clear and I would like to share with you why I will not be recommending this program: It's because it's connected to a very big scam.
University of Internet Science in a nutshell:
This is another one of those programs which is affiliated with the now dead Empower Network (EN), one of the lowest rated programs I have ever reviewed. I believe EN was a massive pyramid scheme for many reasons and what UOIS does is teaches you how to promote both itself & EN to other people. 
Pretty much all they teach you within this program is how to do list building (Email marketing) and it will be targeted mainly at trying to promote both UOIS & EN to other people. There is also training on Craig's list marketing.
Overall nothing of note except the program's owner Michelangelo Lopez who is a very uplifting individual based on the videos I saw. But that doesn't change my opinion of this program nor EN.
What you need to know:
If you join EN through UOIS for the $25 they mention in their "members area", you will be joining EN itself and UOIS will then earn a commission for having referred you. EN pays out 100% commissions to it's affiliates on at least half of the people they refer
to them. 
In addition if you refer people into both UOIS & EN, a portion of those referral's investments will go to UOIS itself. It's an upward flow of money (here's how it works) and you can really attribute any MLM pyramid scheme company to function the same way too.
However on the flip side the potential to make money in this business does exist. I honestly have no issues with people promoting a program and making money through it if the business is legitimate.
However if it hasn't already become clear, I am not a fan of EN for multiple reasons. I actually wrote up an entire review of this a long time ago, but what you need to understand is that the company is not all that it makes itself out to be.
The $25 they ask for initially is just a starting point. You will be asked to buy their higher priced up-sells once you join which total to over $5,000+ (Yes that's five THOUSAND). It is optional, but by buying these up-sells, you are also allowed to then promote them to other people and be eligible to receive a 100% commissions on them. This makes it possible to earn $1,000's of just 1 referral. 
However, I did mention earlier that not all people you refer will earn you the commissions (about half). Some of them will go to the people who referred you, which in this case will be UOIS. This means some of those potentially high priced commissions will end up going to the business that referred you.
What is true is that it's in the best interest of the University of Internet Science to help you make referrals for both itself and EN because if you succeed, they do too. So what is actually wrong with this? Well a lot of things…
EN in my opinion is a HUGE pyramid scheme. I've mentioned this SO many times before, but less than 1% of all it's affiliates make a profit in the business. If you don't believe me, you can check out actual proof which none other than EN has tried to mask.
You're looking at a highly competitive market where you have tons of people trying to promote the same thing. Yes you do get training from UOIS to give you an edge, but at the same time there are a lot of other people utilizing the same training.
The business model of Empower Network is based on something I just don't believe in. Other than the pyramid scheme, the way they sneak up on your with those expensive up-sells is just wrong. Not to mention your main focus will be to get others into the same business. Do you see where I'm going with this? I just can't in all my years doing online marketing ever promote a business like this. There's just too many unethical red flags. 
I could keep going, but I believe you are starting to see my point. If not, read my review on Empower Network to understand fully what it's all about and why I could never recommend it.

But what about IOUS itself? 
I'm going to take a wild guess that the training itself isn't all that awesome. Remember to access it in the first place, you have to join EN. But what you should know is that it's centered around email marketing.
I've seen tons of these guides in my time doing this and most of the information can be gotten for free. Plus email marketing is not something I would recommend you start off with if you're a beginner to online marketing. This is a better starting point and you can be just as successful if not more so. 
Pros:
The training isn't bad. After all they want you to succeed so they can make money off you & your referrals.

Michelangelo certainly has an interesting personality.
Cons:
Centers around Email marketing as the primary goal for success. I disagree with this approach.

It's connected to Empower Network, a big no-no for me. 

The free access to the site doesn't give you much. You have to register with EN to get the training.
Final Rating: University of Internet Science
Red Flag (Not Recommended)
1 out of 10 stars. The training is legitimate, but Empower Network is not. If you're looking for honest ways to succeed online, here is my #1 recommendation.
My final thoughts:
This isn't the first time I've reviewed a program that turned out to be a front for Empower Network. Here are some other programs which you should be aware off that do this:
The business model for these places is very similar to UOIS. Behind all of these programs are very smart people promoting EN. They all help you succeed within the program because if you do, they make a lot of money in the process. But the incentive isn't to help you. It's to make them money.
I've rated all of these companies low because of their affiliation to EN. There are a lot of people who would disagree with me on this, but if you decide to join EN whether on your own or through these places, be aware of what you're getting yourself into.
If you really believe joining a company and spending $1,000's to sell the same stuff to other people is ethical, then I can't say much else to change your mind. If you're on the other side of the coin here like me, you already know my alternatives to this.

I do hope this review of the University of Internet Science has helped you better understand it and make an informed decision on whether or not to join it. If you have any questions/comments, I'd love to hear what you have to say.