I gave the Keyword Country Tool a try recently and have to say for the most part that I like it. In this review, I'd like to let you know what to expect from it.
Keyword Country Tool in a nutshell:
There is a lot to say about this tool. Even though the biggest perk is the keyword (KW) research itself, there is also ways to check up on competition for KW's you're trying to rank for.
Competition being pages that are already ranking on the 1st page of Google & other search engines. Here is a screenshot of their member's area: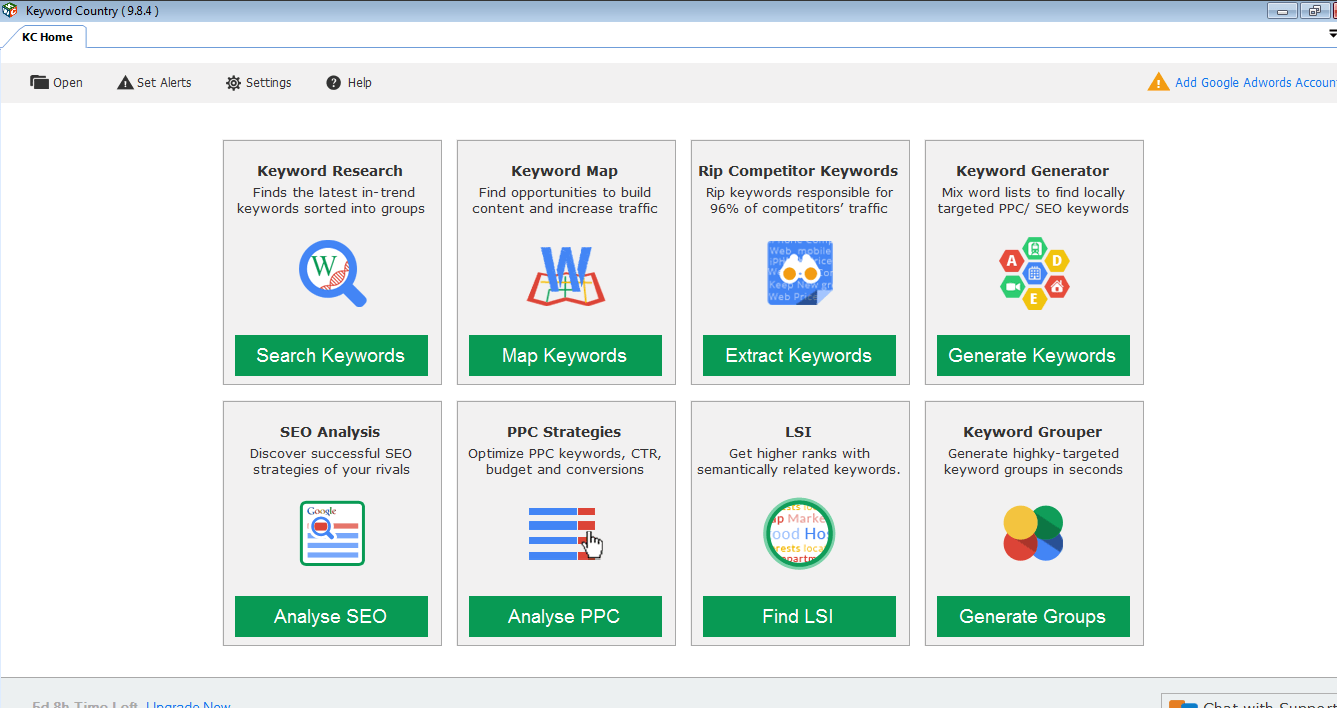 What I like about this tool:
1. There is a free trial. It's only 7 days, but it does give you the opportunity to test drive the system and see if you like it. There are 2 options to join it, 1 is the free way (No CC) while the other requires you to enter some personal info. I elected to try the first option.
2. There is a live chat available. It's always a plus when a program has good support. This is an extra thumbs up in my book for this tool.
3. Multiple sources of information: In addition to general KW research, there are a lot of other features to this tool which you can utilize for your SEO & PPC campaigns. KW stats you get can be divided up and you can see the traffic #'s from different sources.
4. Helps you identify competitors KW's. 
5. This tool very much reminds me of Market Samurai (MS). I don't actually like Market Samurai, but I noticed a lot of similarities between them in how they asked you to enter KW's as well as having similar options.
I will say this though: The Keyword Country Tool is far superior to Market Samurai, but neither of these tools are in my opinion better than Jaaxy. 
Also this one is also awesome, and it's also a free KW tool.
6. The whole product is very transparent. I didn't see any hidden fees or any shady business tactics. I like this.
Now onto some cons:
1. I don't think it's very newbie friendly. As someone who has been doing KW research for a very long time and having used many different tools, I actually thought that the amount of information & figuring out navigation in this tool can be overwhelming.
I'm not someone who likes seeing a lot of numbers and figuring out what's best. I like simplicity and with the Keyword Country Tool, I didn't really get that impression.
There is A LOT of information for you to digest once you start doing KW research through this tool. Yes it can be helpful, but if you're a newbie, I think it's a bit much and I know from experience, that most of the info you get will unlikely be used. 
This is another reason I prefer the Jaaxy KW tool as an alternative. Because it's very simple and to the point. You type a KW, it gives you the monthly searches + the actual competition numbers. And speaking of competition…
2. I couldn't figure out what the actual competition numbers were. After using some sample KW's in the KW Country Tool, I couldn't figure out what the real competition numbers were. 
When I was watching the sample videos on the home page of this tool, it was telling me how I could enter any amount of KW's I wanted and see how many pages were competing for me. But the numbers they showed weren't the exact competition, but the broad numbers.
Let me explain:
If I type in a KW like: A and it says 497,000,000 pages, this is NOT the real number of competing pages. 
If I wanted to find the actual competition, I'd have to put the KW into quotes. So: "A", then I would have to scroll to the VERY last page of results to get the REAL competition number. This is called the QSR approach.
In the KW Country Tool, I did not see this. Furthermore in the videos, if I recall, in one of the videos explaining they KW research, they say the bigger the competition, the better (?). I was stunned by this because it's supposed to be the other way around…
3. It's a bit expensive. Here is the layout:
$49 a month IF you go from month to month.

$99 for every 3 months. 

$299 a year. 
That's pretty steep in my experience. Obviously they have a lot to offer with all the information they provide you, but as I said before, in my experience, the amount of stuff provided in this tool will likely not be used to it's fullest. 
I'll bring up the analogy of some kind of fancy smartphone. It has ALL these really fancy features, but how many people actually use it to it's fullest? I doubt most. With my smartphone, I don't think I even go beyond 10% of it's potential. Just something to consider. 
My final thoughts:
As I said before, I like this tool. At the very least you can give the free trial a shot and see if it works out for you. But always remember that the best KW tool is actually your imagination! There's plenty of ways you can utilize your mind to find tons of hot KW's you didn't know existed. 
My personal preference:
Whenever I do KW research, in addition to using my imagination, I also need to "filter out" which keywords are worth pursuing or not. This means I have to know if the keyword/s I am looking into:
Have a low enough competition. 

If the monthly traffic count is "high enough". After all, what's the point of targeting a keyword no one types?
For this I do need a keyword tool. More importantly an accurate one that won't confuse me. That's where Jaaxy comes into play which for me the best tool there is. I honestly recommend that tool as the better alternative. 
It's very simple to use, is pretty accurate and actually features a lot of the perks KW Country has (absent the live chat and some other stuff). Either way, for me it's more than enough. But the KW Country tool is also good.
If you have any questions on KW Country or have tried it before and want to share your experience/s with it, let me know below!