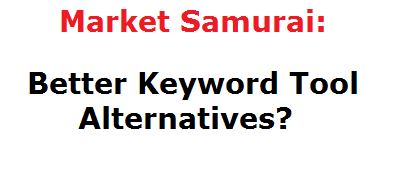 Market Samurai has been one of the top keyword tools, but as a marketer, I say it's no longer viable for proper research and there are better alternatives.
One in particular called Jaaxy. Let me explain why:
Had this issue been raised several years back, I would have said Market Samurai is one of the best keyword tools around, but as the internet evolved, I'm afraid this keyword tool just didn't evolve with it.
This brings me to my next point:
The many issues Market Samurai's (MS) has (that I don't think have been fixed):
1. It has Adobe AIR issues. I find I need to constantly have to update this when I try to open MS. It may not be an issue for other users, but it's a bug that needs to be fixed. 
2. It cannot be used on mobile phones or logged into other computers unless you install it there first. This is really a major pain for me as I'm not always at my primary laptop to do keyword research. If I am elsewhere and need to log-in to Market Samurai, I'd first have to install it there. As for mobile usage, though it's not convenient, it's still not possible to use it there as far as I know. 
Mobile usage is becoming VERY important for website rankings, research and so on and if a tool can't do this, then it's a very big deal for me.
3. It collects keyword data via outdated methods. This is really a major point I want to make. In order to first use the keyword tool, you'll need to log-in to the tool using your Adwords account. If you don't have one, you'll need to make it. 
Then whenever you search for keywords, you will have first have to enter 1 in order to receive related ones. That's completely fine, but the data you then get from MS is really an estimate based on outdated keyword collection methods.
This means the data you receive is not accurate which as internet marketers know is vital for proper research. Granted, keyword searches change on a daily basis, the results you get from MS just aren't up to date in this regard. On the other hand, tools like Jaaxy, which is the better alternative in my opinion gives you the right data which is straight out of Google's search engine results. This means things like:
Monthly keyword searches.

Competition numbers.
Are as accurate as it can be from the point of your search.
4. It's not very newbie friendly. When I first began using MS, there were many variables and abbreviations I didn't understand when I did research. This really complicated the process for me as I was only looking for simple things such as how many people look for my specific keyword/s and the real competition for it. 
Tools like Jaaxy on the other hands are very straight forward in this regard. You just type the keyword, it gives you the real competition number and searches, as well as related keywords and everything else is very simple to understand. No complications. Try it for yourself.
5. There are some outdated/risky SEO tactics utilized by Market Samurai. Certain SEO tactics such as backlinking and republishing content which from my understanding is basically spinning articles is a very bad form of SEO. Here is a screenshot:
It is considered a form of low quality content can get your website Google slapped. If you're going to keep using MS, I'd avoid utilizing those aspects of this tool. They are simply just too risky. 
But what about MS's pros? Well Jaaxy has all of those too.
The ability to track your website's rank? Jaaxy has it. 

Recording keyword data and a to do list? It also has it. 

The ability to see which SEO topics are quickly rising? It has it too and furthermore, it collects data from more places. 

The ability to find affiliate programs for your keyword searches? This is also available. 
Pretty much every single positive aspect of MS that you can find in 2014, Jaaxy already has and then some. Additionally it has things MS doesn't, such as:
The ability to see what kind of competition your keyword has. This isn't just a number. It's also a collection of places which are/aren't ranking under the keyword you're trying to achieve presence under. 
Jaaxy also includes a brainstorm section where you can find see popular trending topics from multiple places like Alexa, Google Trends, Amazon & other places. This provides a ton of research value. Here is a screenshot:
Market Samurai vs Jaaxy: My final thoughts:
As I said before, Market Samurai, though at one point was one of the best keyword tools available is just not evolving with changes happening with search engines. This means it doesn't give you the proper tools you need to succeed in online marketing these days.  Though you can certainly still use it, many of it's tools
which were once considered top notch just aren't useful anymore. 
As for Jaaxy, this tool is probably the most up to date keyword tool I've tried. Though there's certainly room for improvement and it has it's holes too, I have found tons of keywords that have led to successful SEO & PPC campaigns.
In fact, here's a case study. I attribute that find and later success with that find to the fact that Jaaxy uses Google itself to measure competition and traffic numbers. How much more accurate can it get?
The bottom line on this subject is this: Jaaxy in my opinion contains all of Market Samurai's pros and makes up for all it's cons. 
The only real con of Jaaxy is that it charges you monthly whereas Market Samurai is a 1 time payment. Yet if you can utilize Jaaxy even to a portion of it's potential, it'll pay for itself. 
My final thoughts on the subject are that if you're serious about doing keyword research, Jaaxy is a much better alternative to MS. There is currently a free trial of Jaaxy you can check out where it gives you 30 searches with full access.
Learn more. As for MS itself, I have in the past seen great results from it, but just wouldn't count on it in 2014 and up unless they change up a lot things.
If you've tried either of these keyword tools before, I'd love to hear your experiences and thoughts with them. Simply leave your comment below 🙂
Another recommendation: Keywords Everywhere.
I also use this particular tool with Jaaxy and I also very much love it. Learn more about it here. But it makes research for me faster, while Jaaxy narrows down the accuracy of the keyword findings.
Also I want to say that after years passed of me writing this article, I recently re-looked at the Market Samurai sales page and I have to say I don't think anything has changed. This certainly leaves my original advice for the alternatives, Jaaxy and Keywords Everywhere intact.
I also have to say that even if Market Samurai updated itself, it would truly need to be something else, because I am very content with the other 2 keyword tool alternatives I suggested and I know you will be too.