I saw one of David Sharpe's ads on YouTube recently promoting his Legendary Marketer program. It is called the 15 Day Challenge and in this review, I'll be covering things you have to know before you join (or if you should).
Being that I have experience with both online business, internet marketing and was even briefly part of Legendary Marketer, I want to give you my take on this 15 Day Challenge, it's pros and cons and also provide an alternative, which quite frankly in my opinion would be a better fit for most beginners into this business, especially with all the success stories and no risk in trying it, but more on that later.
Quick Report on 15 Day Challenge (AKA 15 Day Online Business Builder Challenge):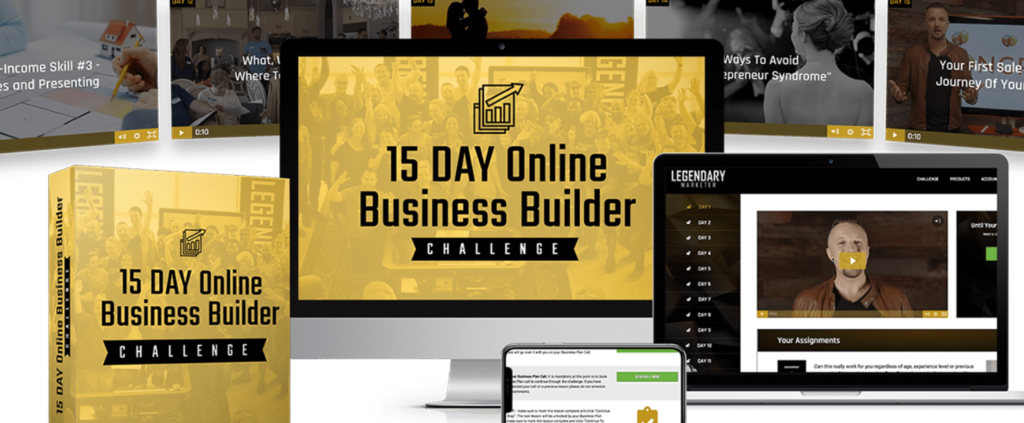 Creator: David Sharpe.
Price: $7.
What does it teach? You get 15 lessons teaching you about online marketing, particularly of the high ticket sort where you promote and make big ticket commissions off each sale.
Eventually, this 15 Day Challenge leads people to check out Legendary Marketer, which is the end goal really and while that program does have great value, there are several tiers of membership levels, all of which become VERY expensive, especially as you try to access the higher tiers.
So please keep this in mind moving forward, because the 15 Day Challenge technically doesn't actually end in 15 days. And even their own site says, they are not a get rich quick scheme, so it's not like you'll be rich by the end of the challenge.
Overall Rating:

4 out of 10 stars
Now let me explain very important things:
Do I recommend this?
The 15 Day Challenge itself, maybe. Legendary Marketer? Not really.
Based on what I have seen with the 15 Day Challenge, there is a lot of great value in trying out this challenge, especially for the $7 it's currently available for. But at the same time, the end goal again, is to get people to join Legendary Marketer, a program I left because of it's prices and because frankly, there are never any guarantees that you will make money.
Now the truth is, NO business can ever guarantee things, because there's so many factors on the business's and customers side that determine if this happens, but if you're just getting into online business, know that it takes work, time.
Alternatives? Yes.
While Legendary Marketer does eventually cost a lot to try, with no guarantees, there is an alternative program I achieved all of my online success from (and have for years). It is called Wealthy Affiliate and while they too cannot guarantee success, they do have a lot of success stories and they are free to try.
I have in almost every single instance been opposed to recommending high ticket programs, because there is no real need for customers to pay SO much, when programs like Wealthy Affiliate exist that offer amazing value for so much less: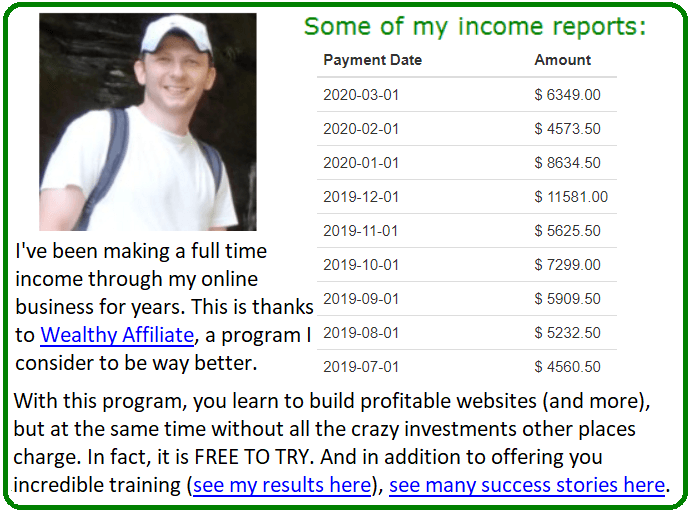 5 important disclaimers before we continue this review of 15 Day Challenge:
1) I did not purchase the 15 Day Challenge. However, I saw the training lessons on their sales page and can pretty much already tell you what they teach, but still, it's based of my own opinion.
2) I have documented making over $1 million in online marketing sales through affiliate marketing, so my opinions about the 15 Day Challenge don't come from nothing. They come from the massive experience I have in this business and you can read about my personal story of it here.
3) I HAD been a member of Legendary Marketer, through their least expensive membership and had seen their training to determine why I didn't want to move forward. Their training IS good, but the real value is only really accessible when you upgrade your membership, and that can really cost a lot of money. Much of the training I got was on Facebook ads and learning about the opportunity in promoting Legendary Marketer.
4) I don't consider Legendary Marketer a high ticket scheme, but it is a high ticket program none the less and I have personal positions on high ticket programs and why I don't usually recommend them.
I don't believe it's right for customers to pay so much money to get information and good training on online business.
5) Like I said before, Wealthy Affiliate is where I got my results from and if I and so many other Wealthy Affiliate success stories can do it without spending so much money, you can too and I imagine MOST people seeking to start an online business, don't have $1,000's to invest (again with no guarantees), so recommending Wealthy Affiliate, a very inexpensive but HIGH value option is pro consumer in my view.
All this being said, this my review of 15 Day Challenge:
So as I said earlier (and as it should probably be very clear already) this is 15 day program in which you are given 1 lesson everyday, and each lesson deals with learning about creating an online business and making high ticket sales. 
High ticket sales means you can make $100's, $1,000's or even more in a single sale from promoting something that costs a lot of money. Generally speaking, within the context of Legendary Marketer, there are 2 ways you can do this:
1) You can promote Legendary Marketer itself, but in order to be able to make high ticket commissions, I believe you do need to actually buy one of their higher level memberships, so this may require a lot of investment (and a lot of risk if you're not successful). But there are successful members of this program such as Nathan Lucas, whose blog Freedom Influencer I like.
2) You can also promote expensive products outside the Legendary Marketer realm and I always advise this option because it can be done WITHOUT you having to buy the product first.
For example, you can promote expensive high ticket items from Amazon and be able to make good sales without ever buying it. In this case, you risk very little if any investment. And again, programs like Wealthy Affiliate teach this process too, and very well. In fact, here is a Wealthy Affiliate vs Legendary Marketer post which compares them.

Now before you call me a Wealthy Affiliate fan boy (which I am, and I have no issues admitting that, its that good), I do recommend other programs that are also high quality and here are 7 programs in the online business realm that I consider to be very good, out of which, yes, I do consider Wealthy Affiliate to be the best.
Final Rating: 15 Day Challenge.

Yellow Flag
4 out of 10 stars. Generally speaking, the whole 15 Day Challenge acts as more of a prep and prelude the getting people into the Legendary Marketer system. I know from previous experiences reviewing David Sharpe's approach to marketing, he does a great job at getting people excited, which is why he is a very successful marketer.
And you can check out the 15 Day Challenge here yourself. And this is not an affiliate link to it. Again, I am not promoting, nor will I promote David's stuff.
However, in my opinion, David has a questionable history with being founders of programs I was never a fan of such as Empower Network, and frankly, this is one of the other reasons I left Legendary Marketer.
My final thoughts:
Investment risks are a major criteria in how I rate programs and mixing that together with the experience I have on Legendary Marketer, David Sharpe AND my own vast knowledge in the business, I don't consider this to be a worthwhile program to get into.
The 15 Day Challenge again has value and you can examine that yourself, but remember, there is never any guarantee that you're going to succeed (and once again, they say this as well!). There's also pretty decent programs which give you extra value in promoting it, like Affiliate Escape Plan, but at the end of the day, I just don't think this program is worth it.

So my whole thing in what I recommend people do is this:
If you're a beginner to getting started with online business.

If you have very little money to put into the opportunity and can't afford to spend a ton.

If you just want to "get your feet wet" and see if this online business stuff is for you.

If you are looking to potentially create a profitable business and work from home.
Then based on these things, Wealthy Affiliate is what I'd recommend well above the 15 Day Challenge or Legendary Marketer for that matter. You can try that program out for free, and there many more benefits other than the great training that you would get.